Shields finishing '15 as strong as he started it
Notes on Kelly, Kelley, Kemp, Norris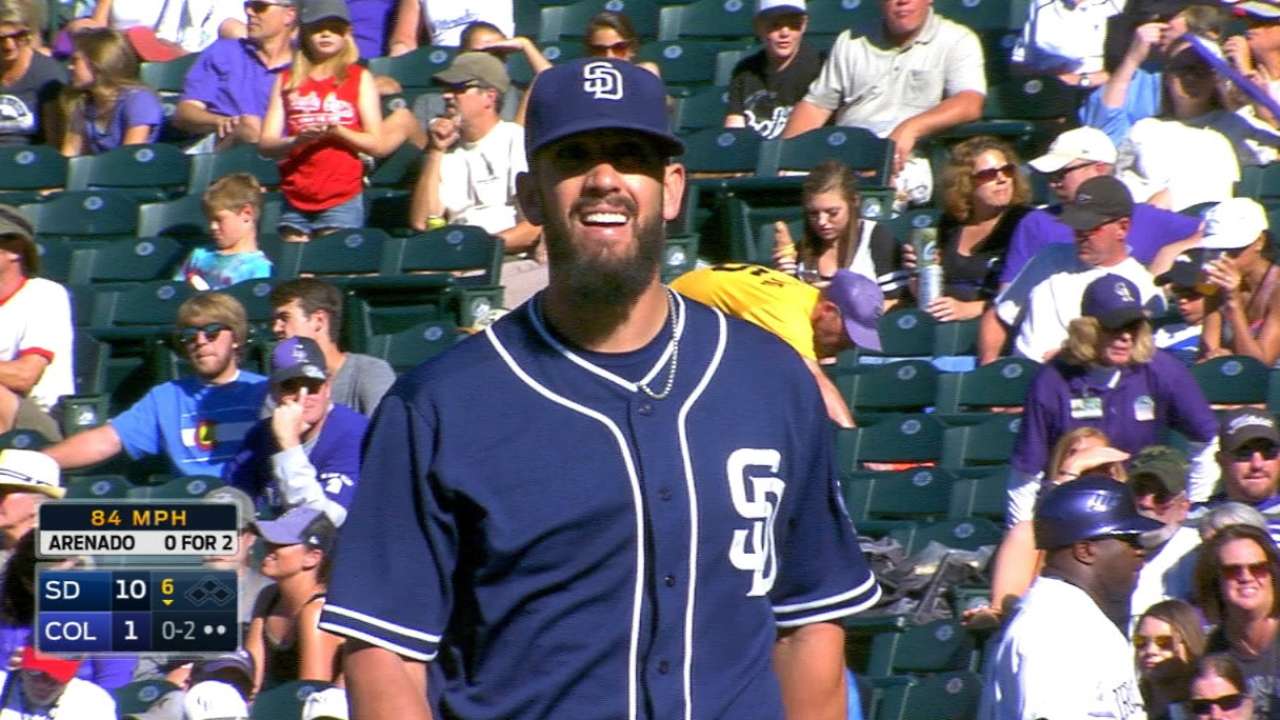 Bill Center, longtime sportswriter for U-T San Diego, is an employee of the Padres.
James Shields is finishing the season the way he started it.
After his first 12 starts, Shields was 7-0 with a 3.58 earned run average and the Padres were 9-3 in the games he started. Over his last five starts, Shields is 4-0 with 3.69 ERA and the Padres are 4-1 in those games.
On Sunday in Colorado, Shields allowed four runs on two hits with four walks and eight strikeouts over 6 2/3 innings. The two hits matched his season low.
Shields has a 13-6 record in 32 starts with 208 strikeouts in 196 innings. He should top 200 innings for a ninth straight season in his next start.
"Anyone who can put up 200 innings and 200 strikeouts, it speaks volumes," Padres interim manager Pat Murphy said Sunday before Shields took the mound against the Rockies. "He competes at a high level. He doesn't make excuses, he just gets it done. James has been a workhorse."
The Padres are 16-16 in Shields' 32 starts this season.
FROM THE SCORECARD
• On Sunday, the Padres scored runs in each of the first six innings against the Rockies. It marked only the third time in franchise history that the Padres accomplished the feat (previously in 1986 and 1990). The Padres finished their penultimate road trip of the season with a 3-6 record and were 12-7 against the Rockies this season.
• Catcher Derek Norris was 2-for-5 with a double on Sunday. In 17 games against the Rockies this season, Norris hit .397 (27-for-68) with two homers, 11 doubles and 12 RBIs. The 11 doubles is the Padres' franchise record for most doubles against a single opponent in a season. It also tied the single-season record for doubles against the Rockies. Norris has 31 doubles on the season
• Matt Kemp's solo homer against the Rockies Sunday raised his career total against the Rockies to 36 home runs and 123 RBIs -- the highest totals of any active player. In 60 games since the All-Star break, Kemp is hitting .290 (64-for-221) with 15 home runs and 51 RBIs. Twenty-two of his 23 homers have come since June 6.
• Right-hander Casey Kelly will start Friday night's game against the Diamondbacks at Petco Park. It will be Kelly's first Major League start since the end of the 2012 season. Kelly had Tommy John surgery in the spring of 2013. Meanwhile, right-handed reliever Shawn Kelley threw a final bullpen in Colorado Sunday and should be available for relief over the final two weeks of the season.