Double-A Chattanooga wins its first title since 1988
Twins' No. 6 prospect hits his third postseason homer; No. 25 throws four scoreless in relief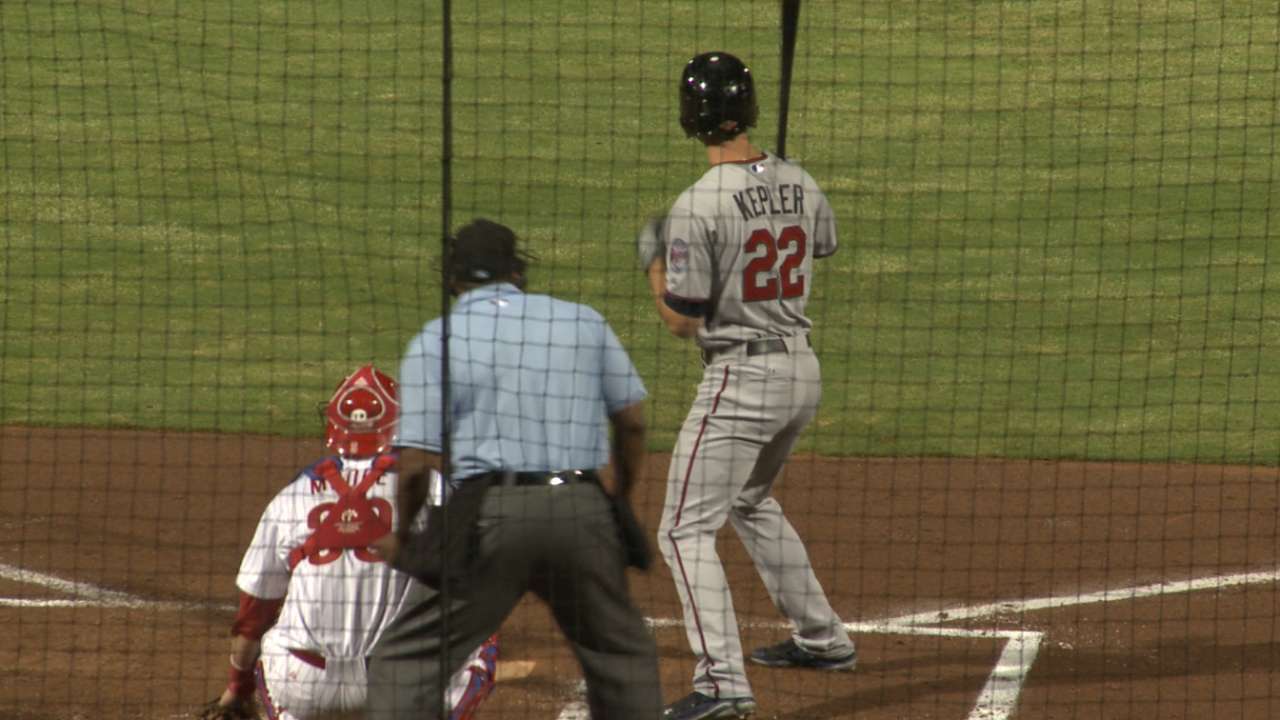 The Double-A Chattanooga Lookouts fired on all cylinders in Monday's decisive Game 5 of the Southern League Championship Series, beating Biloxi, 4-0, to win their first title since 1988.
Biloxi threatened early in the game, loading the bases with nobody out in the top of the second inning. Right fielder Michael Reed opened the frame with a single to left field and advanced to third on a double by center fielder Brett Phillips. The next batter, left fielder Tyrone Taylor, drew a walk to load the bases, but Chattanooga starter D.J. Baxendale rebounded to strike out the next two batters before inducing a groundout for the final out.
Taking advantage of the shift in momentum, Chattanooga third baseman Heiker Meneses led off the bottom half with a triple before scoring on a one-out double by Twins No. 19 prospect Stuart Turner, who later crossed the plate on center fielder Shannon Wilkerson's single.
Chattanooga extended its lead to 3-0 in the bottom of the third on a solo home run from Max Kepler, his third of the postseason.
The Twins' No. 6 prospect (No. 99 overall) posted an .866 OPS with eight RBIs, nine walks and six runs scored in six playoff contests. The 22-year-old outfielder was named MVP of the Southern League this year after batting .318/.410/.520 with nine home runs, 13 triples, 34 doubles and 71 RBIs in 118 regular-season games for the Lookouts. On top of that, he also stole 19 bases, scored 80 runs and tallied more walks (69) than strikeouts (68). After the game, the Twins announced they would call up Kepler to the big league squad.
The Lookouts would tack on another run in the bottom of the seventh on an RBI double from Stephen Wickens.
The four runs were more than enough for Chattanooga's pitchers, who combined to allow just five hits in the shutout.
Making his third start of the postseason, Baxendale completed five strong innings during which he yielded four hits and three walks while striking out three. Between the three outings, the 24-year-old right-hander recorded a 4.08 ERA in 17 2/3 innings.
Twins No. 25 prospect Jason Wheeler -- fresh off an outstanding start in Game 2 -- was dominant in relief of Baxendale, working the game's final four innings to earn the save. The 24-year-old lefty struck out three while allowing only one hit and one walk, with 26 of his 40 pitches going for strikes. The Loyola Marymount product was excellent in the postseason, finishing with a 1.06 ERA, 0.76 WHIP (seven hits allowed) and 13 strikeouts in 17 innings for the Lookouts.
"I knew I might be pitching, but I definitely didn't expect to finish the game," Wheeler, who was named MVP of the Southern League championship series, told MiLB.com. "I think the last time I pitched in relief was when I was a freshman or sophomore in college."
"But he was throwing strikes, and you don't take someone out when he is pitching like that," Lookouts manager Doug Mientkiewicz said of Wheeler to MiLB.com.
Though Biloxi was kept off the board in the series' finale, the team had several notable prospects put up impressive numbers in the playoffs.
Brewers No. 1 prospect (No. 12 overall) Orlando Arcia was held hitless in Game 5 but paced all hitters in the Southern League playoffs in most offensive categories, including hitting (.400), slugging (.867), OPS (1.337) and RBIs (10). He also accrued the most total bases (26) courtesy of three home runs, three doubles and one triple in eight games.
Phillips, Milwaukee's No. 2 prospect (No. 33 overall) -- acquired from the Astros at the Trade Deadline in the Carlos Gomez deal -- batted .286/.348/.714 in the postseason with a pair of home runs and three doubles, while No. 4 prospect Taylor hit .346/.469/.462 with three doubles and six walks.
No. 18 prospect Yadiel Rivera also fared well in the postseason for the Shuckers, posting a .389/.421/.500 batting line along with three extra-base hits and seven runs scored. Reed, the club's No. 17 prospect, batted .292 with an .846 OPS, two doubles and eight walks.
No. 8 prospect Jorge Lopez was brilliant in his first two playoff starts but scuffled on Monday, allowing three earned runs on five hits in three innings -- matching his shortest outing of the season. The 22-year-old right-hander issued two walks and struck out a pair, throwing 37 of 67 pitches for strikes. He finished the postseason with a 2-1 record, 2.16 ERA, 1.02 WHIP and 15 strikeouts in 16 2/3 innings spanning three starts.
Mike Rosenbaum is a reporter for MLB.com. This story was not subject to the approval of Major League Baseball or its clubs.