Rockies getting long look at 2 rookie catchers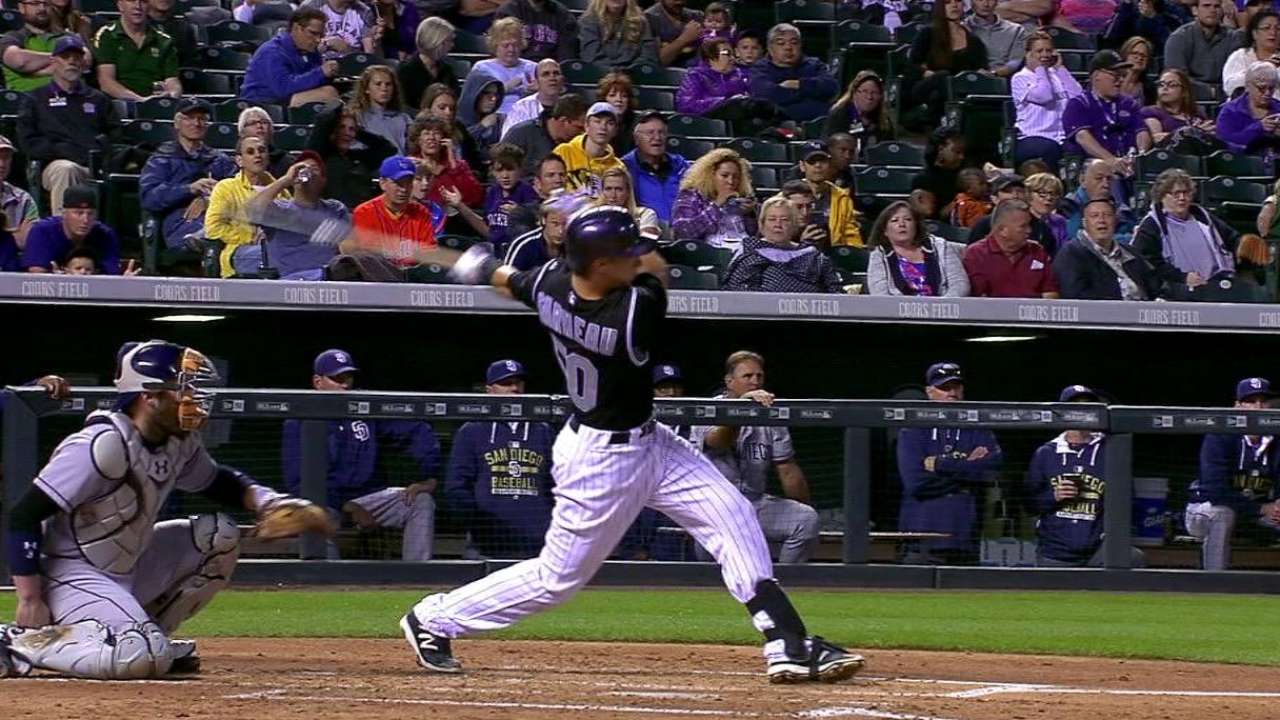 DENVER -- The Rockies have expanded their roster to a larger degree than they typically do in September. The club is about as far from a pennant chase as a team can get, but a number of injuries coupled with players easing back into regular playing time after rehabbing injuries has given Colorado a deeper bench than it's used to, with 16 position players and 20 pitchers currently in the clubhouse.
Manager Walt Weiss continues to run competitive lineups out on the field, and is resisting the urge to see September as a sneak peek at Spring Training. The Rockies are at least as interested in seeing recently rehabbed players like Justin Morneau and Corey Dickerson as they are in getting a look at prospects, and Weiss has been sparing, though diligent, in taking opportunities to get young players experience on the big league stage.
"So far it's worked out pretty well," Weiss said of his ability to see prospects in action. "I've been able to spread the at-bats around. It's not always easy to do, because you want to honor the guys that have been grinding all year. At the same time, you want to get a look at the younger guys. So far, I feel pretty good about the way it's worked out. I'll continue to do it the way I have."
The callups who are getting the most looks are Triple-A catchers Dustin Garneau, who was added on Aug. 19 when backup catcher Michael McKenry went on the 60-day disabled list with a lateral meniscus tear in his right knee, and Tom Murphy, who came up Sept. 11 when starting catcher Nick Hundley ended his season with a cervical strain.
Rather than looking for matchups at the plate or attempting to pair catchers with specific pitchers, Weiss has simply alternated Garneau and Murphy behind the dish every other day. It's given the catchers a fair look at the opposition and equal opportunity to work with the Rockies' pitching staff.
"They're both in the same boat," Weiss said. "They both have about the same amount of experience catching our pitchers. It all comes out in the wash right there. I'm really just trying to give both guys an opportunity."
Though Hundley and McKenry are both out of commission, their presence in the clubhouse has helped accelerate the learning curve for Garneau and Murphy, who are handling the staff with increased confidence.
Part of that confidence comes from the familiarity factor between a pair of catchers who spent the bulk of the season at Triple-A and a September pitching staff that also logged a lot of miles in the Minors this season. The familiar face behind the mask has helped young pitchers like Monday's starter, Jon Gray, adapt more easily.
"Our guys have history with him," Weiss said of Gray's experience with both backstops. "They've caught him quite a bit. With the two young guys, it's worked out pretty well."
Owen Perkins is a contributor to MLB.com. This story was not subject to the approval of Major League Baseball or its clubs.