MLB.com Columnist
Phil Rogers
'Workout freak' Arrieta only getting stronger
Cubs ace shows no signs of slowing despite setting new season high in innings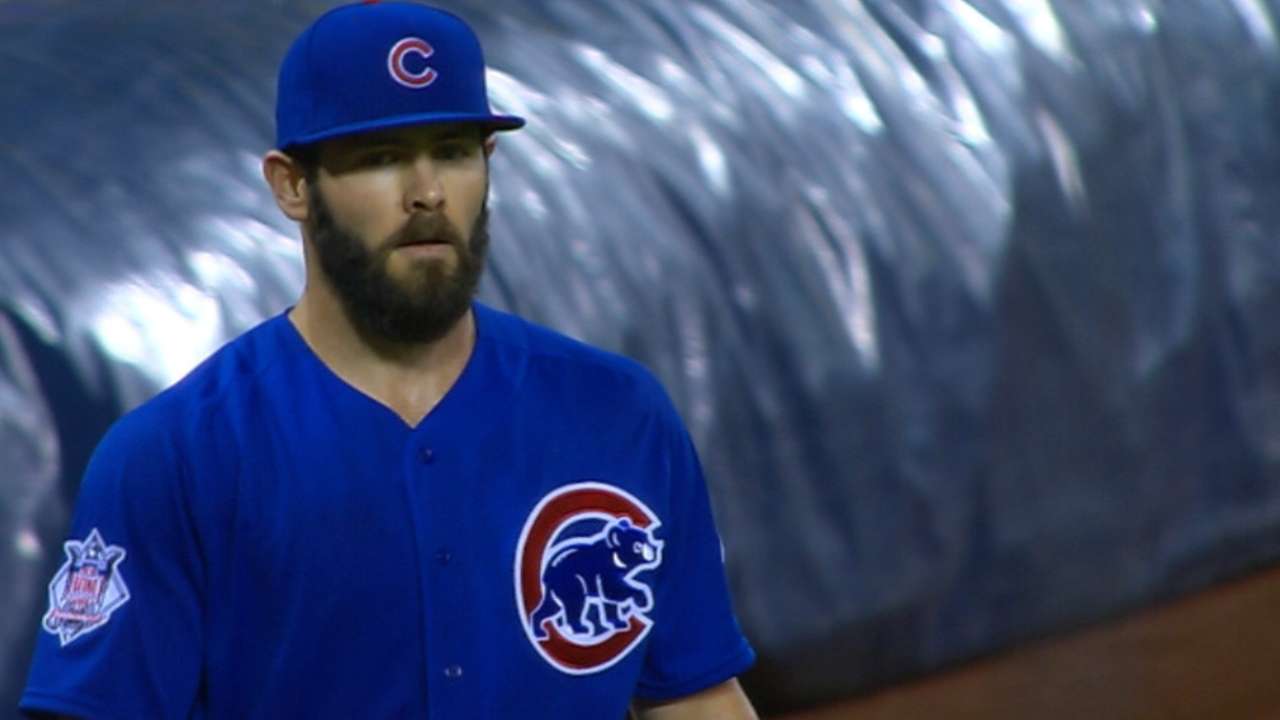 CHICAGO -- Before batting practice on Monday, Jake Arrieta was adding to his statistics. In addition to 19 wins and 207 innings pitched, please add 275 passing yards and maybe 150 receiving yards.
Arrieta joined outfielder Quintin Berry and a few others in throwing a football around the Wrigley Field outfield. His long spirals to Berry -- some of them thrown at least 50 yards -- were beautiful to behold, but Arrieta was just as intent running fly patterns as throwing them, working up a good sweat under the sun.
One pass led Arrieta toward foul territory. He had to throw on the brakes to stop short of the Cubs' bullpen catcher, who was busy working with Kyle Hendricks.
Arrieta, who will go after his 20th win on Tuesday night against the Brewers, did not look like someone laboring under the heaviest workload of his career. Far from it, in fact.
Arrieta was more like a thoroughbred dancing in the pasture, just waiting for the next chance to cut loose. No wonder the Cubs are not getting caught up in concern about the possible downside from all the innings that he is throwing.
The Cubs know that the 29-year-old right-hander had never reached 180 innings in a pro season before this year. But they are saddling up to ride Arrieta as far as possible this October, because they believe he can handle it.
"Obviously, if you have a chance to [win a championship], you go for it,'' manager Joe Maddon said last weekend. "If you don't, you may have to readjust based on the other items that are in play.''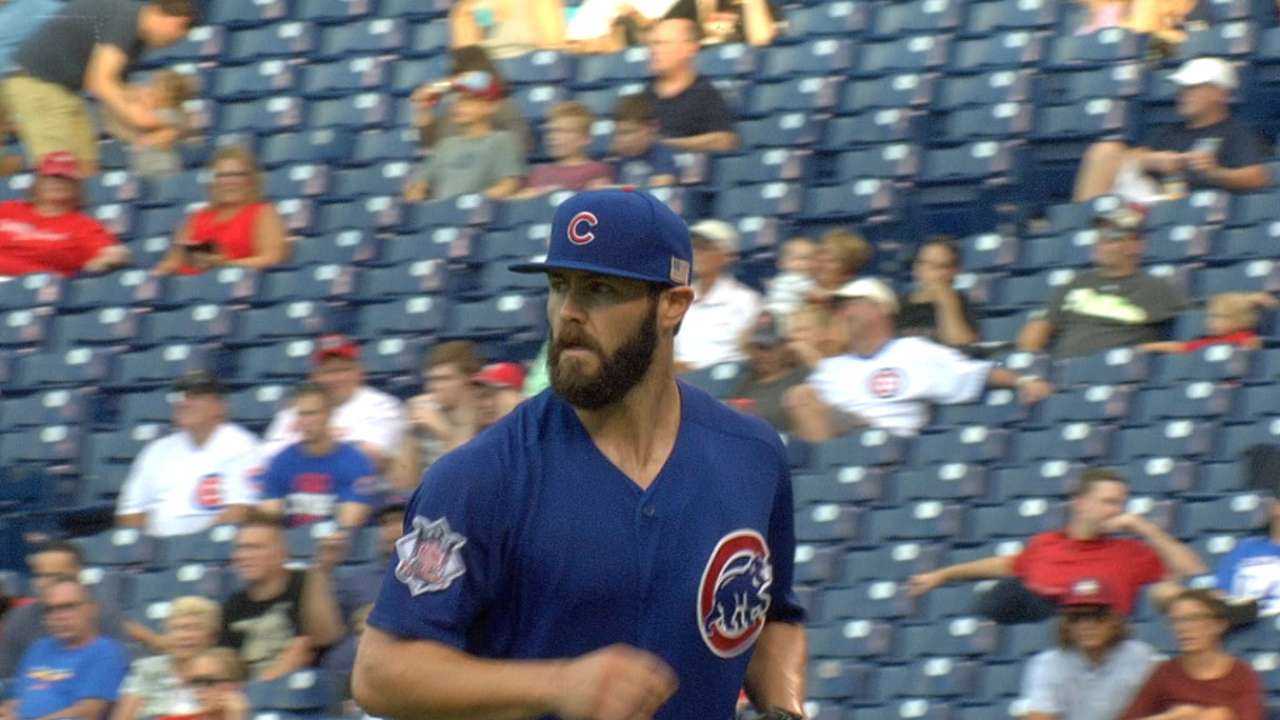 Innings limits for starting pitchers have become hot topics every September. The Nationals shut down a 24-year-old Stephen Strasburg at 159 1/3 innings in 2012, when he was coming off Tommy John surgery, and the Mets are currently limiting Matt Harvey on the direction of the right-hander and his agent, Scott Boras.
But not all organizations are as sensitive. Blue Jays broadcaster Buck Martinez jokes that 20-year-old closer Roberto Osuna will be shut down in time for Thanksgiving, and San Francisco Giants executive VP of baseball operations Brian Sabean has historically been willing to put the pedal to the metal with his stable of young arms, including Tim Lincecum, Matt Cain and Madison Bumgarner.
After holding off the Padres to win the National League West, the 2010 Giants were going to the playoffs for the first time in seven years. Sabean instructed manager Bruce Bochy to win at all costs.
"He said the greatest thing,'' former Giants third-base coach Tim Flannery told MLB Network. "'This is our time. You don't pick your time; the time picks you.'"
Arrieta ranks fifth in the Major Leagues in innings, only eight behind Clayton Kershaw, the leader, while standing second to Zack Greinke (1.65) with a 1.96 ERA. He's worked at least eight innings in each of his past four starts -- beginning with an Aug. 30 no-hitter at Dodger Stadium -- and he hasn't worked fewer than six since June 16.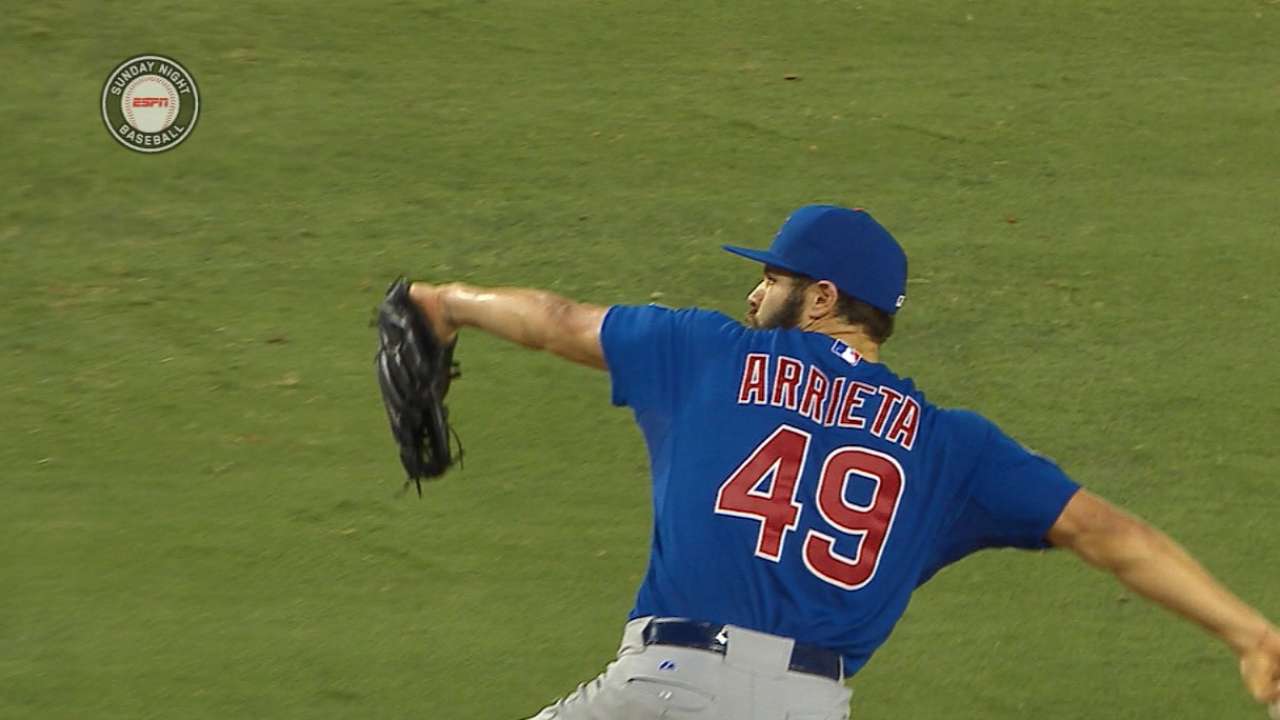 Not only is Arrieta not showing any fatigue, he seems to be getting stronger. According to Brooks Baseball, the average velocity on both Arrieta's fastball (95.9) and slider (92.0) have been career highs in September, up about 1 mph from April.
"One thing I'll say regarding Jake is this guy is a workout freak,'' Maddon said. "He's on that Pilates thing. He's different. ... I'm watching [him] closely now. We all are. There's an innings jump, but he's not 24, 25 [years old]. He's thrown the baseball for a bit. Of course you're going to be vigilant watching the whole thing, but I think he's in pretty good shape right now.''
That's an understatement. Arrieta's body is so chiseled he might knock Bryce Harper off the cover of ESPN the Magazine's body issue next summer.
Arrieta is a devoted cross-trainer who pushes himself in everything he does. A few days after his no-hitter, he was at Wrigley Field for an event that combines spinning classes with boxing workouts -- spoxing, it's called.
Jim Schlossnagle coached Arrieta at TCU and on a Team USA squad that won a gold medal in Cuba in 2006. He says it was that experience that opened Arrieta's eyes to his own potential, and he's been driving himself toward perfection since.
"He was always a really hard worker, a guy who took everything to heart,'' Schlossnagle said. "He's a very serious guy, and the more he learned about nutrition and strength and conditioning, he was a guy who was always going to do exactly what he's told. He's very driven to be the best he could become.''
Vanderbilt's David Price was the ace of that Team USA staff. Arrieta, who was the No. 2 starter, returned from the trip determined to become the same kind of elite pitcher.
"He became a guy that if 10 reps was good, 15 must be better and 25 must be even better than that,'' Schlossnagle said. "I think he was doing some things on his own at night even that we weren't aware of, all out of his intense desire to be great. It wound up working negatively because his body was worn down; his velocity was down. … But he's refined it through the years. Now, he does more with yoga than in the weight room and his diet is impeccable.''
Maddon loves the example that Arrieta sets for others in the organization but isn't sure there's anybody with the strength to try to keep up with him.
"It's one thing to say, 'Boy, I'd like to do that,' and another thing to actually do it,'' Maddon said. "It's difficult. The self-discipline component in that is incredible. There are a lot of guys who'd like to be better than they are, but are they willing to put the work in to be better? Do they have that kind of self-discipline? That's what it really comes down to. I'm sure he'd be willing to share his secrets with anybody, but you have to be willing to put in the time.''
Arrieta always wants to be the guy who is asked to get the big outs, both in the early innings and the late innings. He wants his teammates to always be able to count on him.
"That's what I'm working for all the time,'' Arrieta said. "It's why I prepare. I expect to get the most out of myself every time I put on a uniform. You control the things that are under your control.''
Maddon has indicated that Arrieta is the pick ahead of Jon Lester to start the NL Wild Card Game presented by Budweiser on Oct. 7, assuming the Cubs play in it, and he's not scheduled to get any extra rest along the way.
Arrieta lines up perfectly to make three more regular-season starts before Oct. 7, including a Sunday start against the Pirates and one on Oct. 2 in Milwaukee. The Cubs could buy him some rest by having him skip one of his last two starts, but they don't believe that will be necessary.
They believe Arrieta can go the distance -- just as he could have with a few of the long bombs he caught in the Wrigley Field outfield on Monday.
Tired? Arrieta looks like he's just getting started.
Phil Rogers is a columnist for MLB.com. This story was not subject to the approval of Major League Baseball or its clubs.