Pirates call up speedy Broxton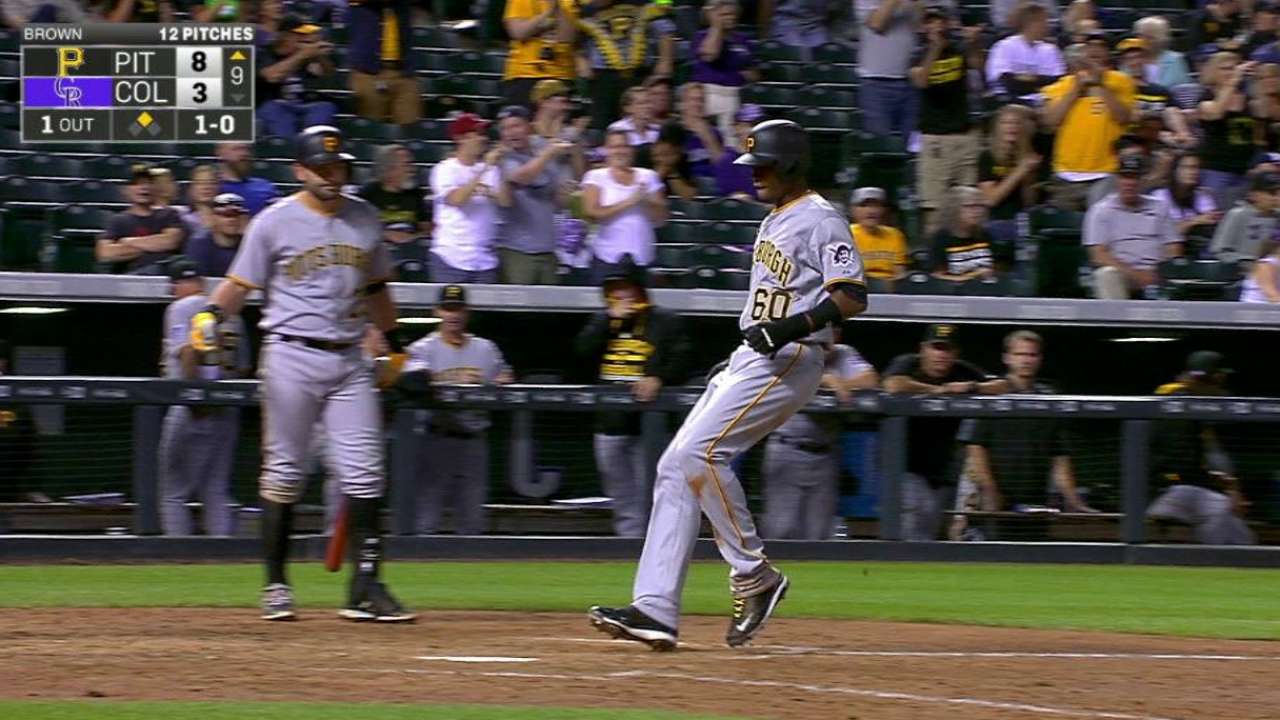 DENVER -- The Pirates selected the contract of outfielder Keon Broxton from Triple-A Indianapolis on Monday and made room for him on the 40-man roster by putting infielder Jung Ho Kang (left knee surgery) on the 60-day disabled list. Broxton made his big league debut in the ninth inning as a pinch-runner. He stole third base and scored the final run in a 9-3 win over the Rockies.
Kang suffered a fractured tibia and torn meniscus Thursday when Chris Coghlan of the Cubs took him out with a slide at second base on a double play.
"With Kang going down," manager Clint Hurdle said, "we believe there could be a situation we might have to protect [Pedro] Florimon, not use him as the first runner off the bench. Broxton's arguably the second-best opportunistic baserunner. That's a get for us right now."
Hurdle said Broxton, 25, can play all three outfield positions and is both a good baserunner and basestealer.
The Pirates acquired Broxton from the D-backs in a Minor League deal in March 2014, and he played at Double-A Altoona. He returned to Altoona to start this season and hit .302 in 45 games with 12 doubles, four triples, three homers, 26 RBIs and 11 stolen bases.
After a promotion to Indianapolis, Broxton hit .256 with 15 doubles, eight triples, seven homers, 42 RBIs and 28 stolen bases in 88 games. Broxton learned he was joining the Pirates on Saturday night after Indianapolis was eliminated by Columbus in the championship round of the International League playoffs.
"I wasn't expecting it all," said Broxton. "I thought they were going to call up a couple other guys. But I'm very excited, very excited to help the team."
Broxton received news of his promotion when Indianapolis manager Dean Treanor was addressing the team.
"Because we lost, he was a little down," Broxton said of Treanor. "He said, 'There's one good thing about tonight, and that's Keon Broxton is going to the Pirates tomorrow.' It was unexpected. It was awesome."
Broxton said he was "kind of bummed out" when he learned he was starting the season back at Altoona but realized, "I have a goal to do. I have to get better."
Hurdle said, "Every level, it's been a time of adjustment, getting his feet on the ground, and then there's been a progression and move forward."
Jack Etkin is a contributor to MLB.com. This story was not subject to the approval of Major League Baseball or its clubs.