Calhoun making strong case for Gold Glove
Defensive metrics rate Angels outfielder among best in the game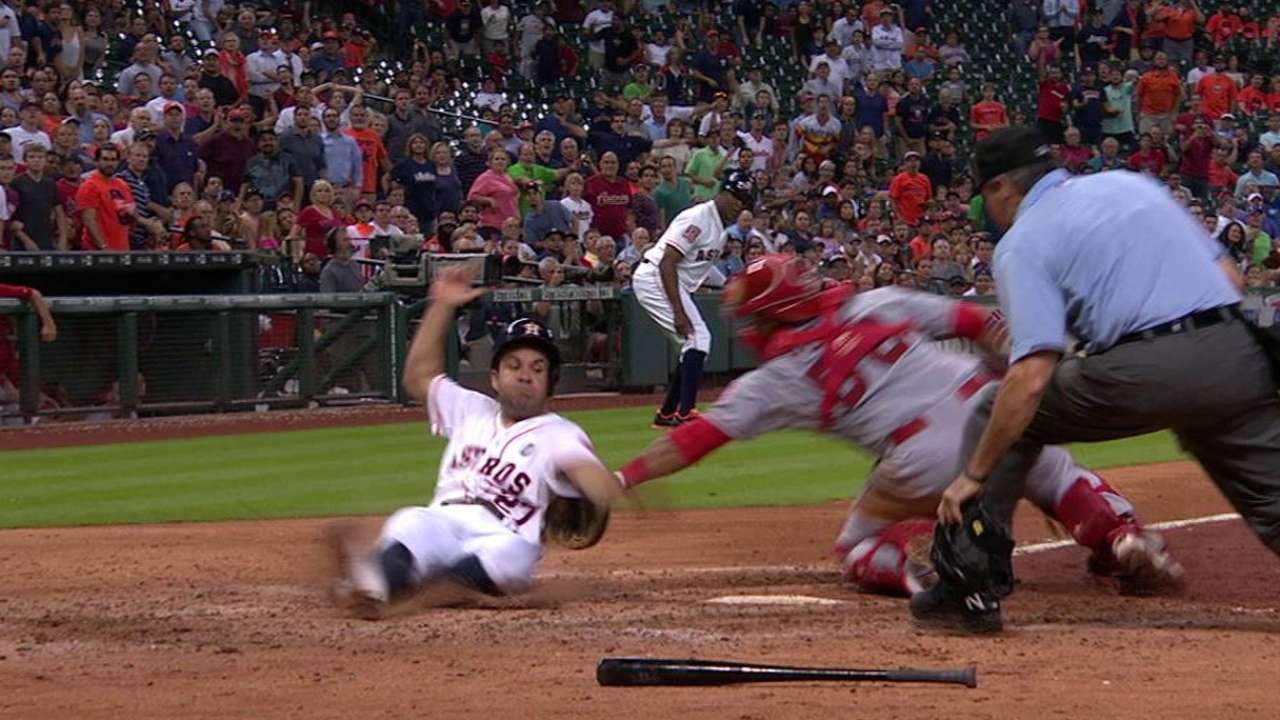 HOUSTON -- Angels right fielder Kole Calhoun grew up a catcher, which is rare for a left-handed thrower. But most of his friends were pitchers and Calhoun spent most of his childhood squatting behind the plate for them, serving as a catcher for travel-ball teams throughout Arizona and for a good chunk of his high school career.
"I was pretty good at it," Calhoun said. "I was a kid, so it didn't really matter. Obviously, as I got older, I took to the outfield."
Now -- statistically, at least -- he is the best right fielder in the American League.
The Society for American Baseball Research released its latest Defensive Index ratings on Friday, and Calhoun received by far the highest grade at his position. The 27-year-old had compiled a score of 7.2, significantly higher than that of A's right fielder Josh Reddick, in second place at 0.4.
SABR's Defensive Index accounts for roughly 25 percent of the Gold Glove selection process, the rest gleaned from votes by opposing managers and coaches. And if that all-encompassing metric is any indication, Calhoun should win his first Gold Glove at season's end, one year after finishing second to Nick Markakis, who now plays in the National League.
"He wants to be recognized as one of the top right fielders in the game," said Angels bench coach Dino Ebel, who works with the outfielders. "He got a little taste of it last year, and I think that got him a little more hungry, where he feels he can win a Gold Glove. And he deserves it. He's played his butt off out there."
Ebel believes Calhoun has "one of the strongest arms in our league," which he showed off while throwing out Jose Altuve at home to end the fifth of Monday's 6-3 loss for his 10th assist this season. Ebel has been trying to get Calhoun more comfortable with playing a little bit more shallow -- "He's adjusting well," Ebel said -- and Calhoun has focused on his throwing accuracy.
But what really sets him apart is his ability to read the ball off the bat.
Calhoun must be precise, because he doesn't have much margin for error.
At 5-foot-10 without much of a wing span, Calhoun would be only the fourth outfielder listed 5-foot-10 or shorter to win a Gold Glove since 2000. All of the others -- Michael Bourn, Nate McLouth and teammate Shane Victorino, who has won four times -- did so as center fielders.
"You have to be good," Calhoun said of making up for a lack of height. "There's a lot of times where one wrong step or quick read can result in a base hit. There's some balls that you feel you could've gotten to if you could've gotten a better read. You never want to feel like that."
The SABR Defensive Index aggregates data from batted-ball location data (using Defensive Runs Saved, Ultimate Zone Rating and Runs Effectively Defended) and play-by-play accounts (Defensive Regression Analysis and Total Zone Rating). Calhoun's teammate, Mike Trout, ranked fourth among AL center fielders, his score of 6.0 trailing only Kevin Kiermaier of the Rays, Kevin Pillar of the Blue Jays and Lorenzo Cain of the Royals.
Gold Glove Awards began to be assigned for each of the three outfield positions in 2011, avoiding a system that frequently awarded three center fielders in each league and giving Calhoun a legitimate chance to win.
"I think it's a really cool award," Calhoun said. "To be recognized as one of the best at your position, I think it's awesome. There's definitely some motivation there, yeah. Coming into the season, you want to play good and be among the top defensive right fielders in the game. That's what I strive for."
Worth noting
• An MRI on Joe Smith's left ankle confirmed a sprain, though there is still no timetable on his recovery. The Angels' setup man injured his ankle while tripping on a flight of stairs at the team hotel in Minnesota on Saturday morning. Those types of injuries usually take at least two weeks to fully heal, so Smith probably won't be available for the rest of the regular season.
• Erick Aybar led off for the fourth time in five games on Monday and will continue to do so for the foreseeable future. Angels manager Mike Scioscia wants to use David Murphy, the starting left fielder against righties, to protect cleanup hitter Albert Pujols. Scioscia doesn't expect to go back to batting Mike Trout second and Pujols third.
• Matt Shoemaker, who missed two starts with a right forearm strain, just had "normal stiffness" coming off his Sunday outing at Target Field, Scioscia said. The Angels -- off on Thursday -- will probably go with Andrew Heaney, Garrett Richards and Jered Weaver for the three-game weekend series against the Mariners, respectively. Shoemaker can be pushed back to Tuesday.
Alden Gonzalez is a reporter for MLB.com. Follow him on Twitter @Alden_Gonzalez and listen to his podcast. This story was not subject to the approval of Major League Baseball or its clubs.