Astros letting Gomez, Gonzalez take their time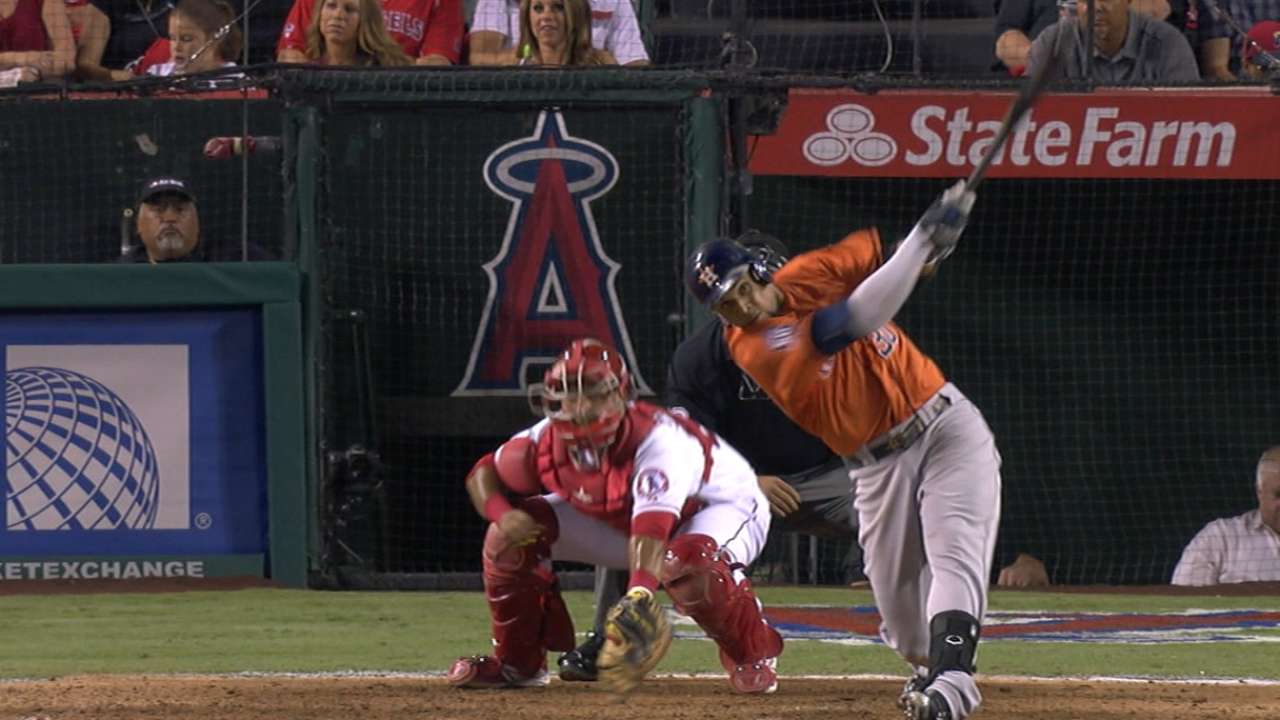 HOUSTON -- The approaching three-game series against American League West-leading Rangers isn't dictating the Astros' handling of injuries to two key regulars.
Manager A.J. Hinch said Trade Deadline acquisition Carlos Gomez will continue to intensify his workouts over the next 24 hours in an effort to recover from his mild intercostal strain. Gomez -- who has missed eight straight games -- hit off a tee with a lighter fungo bat and will be tested with running soon.
"He's got his own timeline," Hinch said. "This series is pretty important too, so if I could draw it up, I would have had him available today and during the A's series if he had gone faster. He's going to have to pass some tests for us to feel good about it. "
It helps, too, Hinch said, that the current outfielders have been playing so well.
Jake Marisnick, Gomez's replacement in center field, is riding a six-game hitting streak and has four stolen bases in his last 11 games. That couples with right fielder George Springer, who has reached base in every game since returning from the disabled list to add to a career-long 20-game on-base streak, and Colby Rasmus, who pounded two homers on Sunday and has a 1.006 OPS in September.
"We have a competent outfield that can contribute well," Hinch said. "We're a better team with Gomez in the mix as well, but we need him to be right and I certainly don't want to lose him for the remainder of the schedule by him coming back too early."
Meanwhile, switch-hitting utility man Marwin Gonzalez would be available for a right-handed pinch-hitting spot on Monday, if necessary, and he's beginning to do more work with the glove as he battles nagging injuries to his left thumb, index finger and wrist.
Gonzalez hurt the index finger and wrist when he was caught stealing during the Angels series 10 days ago and added the thumb injury to the mix when he dove for a ball down the third-base line in Arlington last week. Gonzalez said the thumb and wrist are the main source of pain now.
"It feels a little better," Gonzalez said. "Still ways to go, I've been swinging 60 percent in the cage the last two days, just right-handed. I haven't tried left-handed, it hurts more left-handed. Getting closer."
Hinch said Gonzalez's right-handed bat would be welcomed in the coming days, with the Astros set to face seven left-handed pitchers in their next eight games, though he said he'd like to see Gonzalez field his multiple positions without incident.
"When you're talking about putting a guy on the field with a glove on his hand, I don't want him having to handle the ball around first base or third base or left field without feeling pretty confident that he's confident that he can make the plays," Hinch said. "I think the general soreness is starting to get out of there and now we're going to have to test him to see if he can start."
Chandler Rome is an associate reporter for MLB.com. This story was not subject to the approval of Major League Baseball or its clubs.