Hanley will return once he's pain free
Red Sox hope slugger will play at first before season ends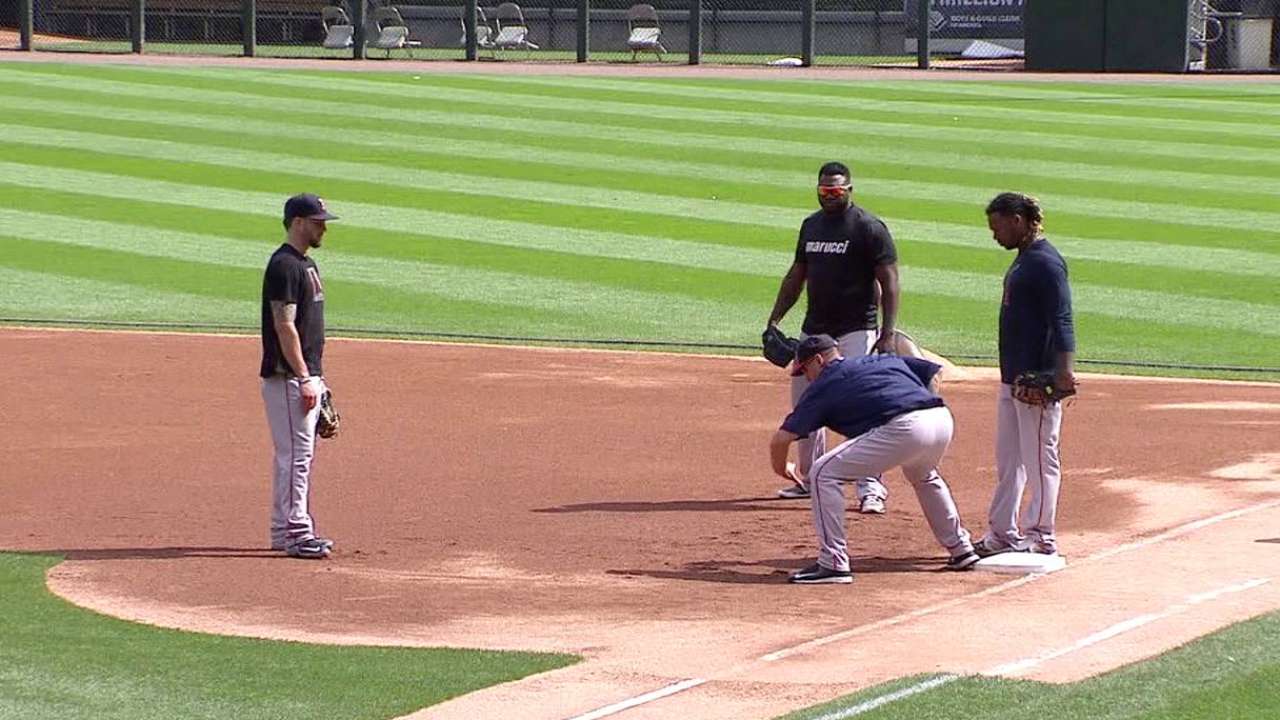 BOSTON -- Hanley Ramirez is feeling improvement with the right shoulder injury that has sidelined him since Aug. 27, but the slugger doesn't want to return to action until he is pain free.
In other words, it's hard to know when exactly that will be, but the Red Sox still feel he will play before the season ends. There is legitimate interest concerning Ramirez's return to action because he will debut at another new position, first base, once he is activated.
"He won't be taken off the DL until he can play defense," said Red Sox interim manager Torey Lovullo. "That was outlined to him in the initial meeting with [president of baseball operations] Dave [Dombrowski], that he would not come off just to hit.
"To play first base, we all know there's different angles, arm angles, footwork, you're triggering your release change just with instincts. We can't really simulate a dropdown throw of any sort, but we're trying to. We're getting to that point where we're challenging his arm angles, challenging his throws and re-evaluating."
The Red Sox have 13 games left in the season after Monday night's game vs. the Rays.
"I wish I could give you a timetable as to when that would happen, but nothing is imminent," Lovullo said. "I know that he's getting very close, because he expressed to me that he's feeling good around the bag, he's feeling good at picking up the ball. His offensive approach and his swings have been very productive. It's just the pain that he's feeling and fatigue and soreness that he's feeling in his right shoulder has limited him."
Worth Noting
• Third baseman Pablo Sandoval was sent home before Monday's game due to an illness he's had on and off for a few days. Sandoval was also sent home before Friday's game in Toronto, and he didn't play on Saturday, either. After returning to action on Sunday, Sandoval had to leave that game in the eighth inning when he began to feel light-headed.
• The Red Sox plan on having Mookie Betts start all seven games of this homestand in right field so he can gain familiarity with playing that position at Fenway Park. Betts played his first three games of the season in right in Boston's last series in Toronto. The Red Sox are experimenting with their outfield trio to determine their best fits going forward. Rusney Castillo seems set in left.
The only question is how to align Jackie Bradley Jr. and Betts between center and right. Lovullo said he wouldn't be surprised if the Red Sox don't decide for sure until Spring Training.
Ian Browne is a reporter for MLB.com. Read his blog, Brownie Points, and follow him on Twitter @IanMBrowne. This story was not subject to the approval of Major League Baseball or its clubs.