Haren's next turn in rotation to be skipped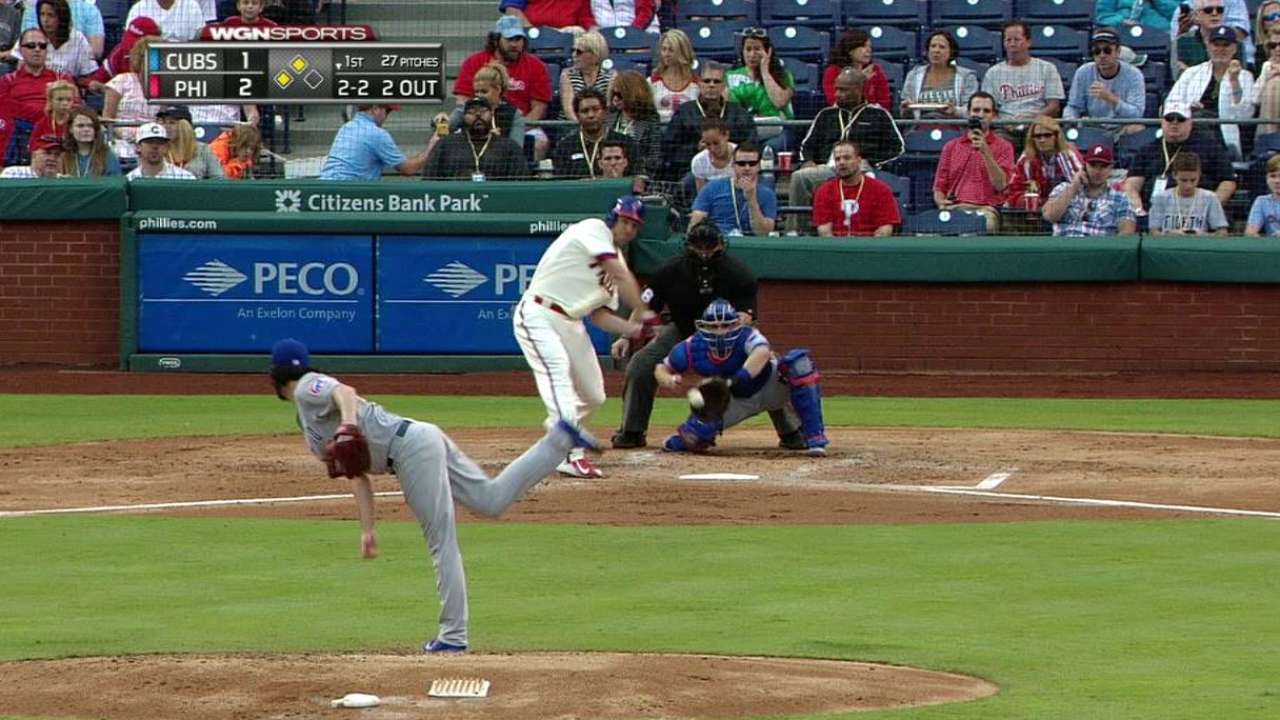 CHICAGO -- The Cubs will skip Dan Haren's scheduled start on Friday, when they begin a three-game series against the Pirates, the club announced on Monday.
With a day off on Thursday, Chicago will send Jon Lester on a normal day's rest on Friday and follow with Jason Hammel on Saturday and Jake Arrieta on Sunday.
Thursday is the Cubs' final off-day, so Haren could have one or two more starts before the regular season ends on Oct. 4. In nine starts with Chicago since coming over at the July 31 non-waiver Trade Deadline, he has tossed just 45 combined innings.
Since being acquired, Haren has only one quality start, and he has gone more than six innings just twice. He has a 5.00 ERA and has allowed a combined 10 home runs.
• The Cubs named catcher Willson Contreras and right-hander Ryan Williams the organization's Minor League Player and Pitcher of the Year, respectively. The two will be honored on Monday, Sept. 28, prior to the game against the Royals.
Contreras, 23, led the Southern League with a .333 batting average and finished with 71 runs, 34 doubles, four triples, eight home runs and 75 RBIs for Double-A Tennessee. He ranked second in the league in doubles, RBIs and on-base percentage (.413); his .478 slugging percentage ranked third, and his 217 total bases were fifth.
He's the first Tennessee player to win the league batting title since Joe Gate in 1978.
Williams, 23, combined to go 14-3 with a 2.16 ERA in 26 games (24 starts) between Class A South Bend and Tennessee. He walked 18, struck out 98 and surrendered two home runs. His 14 victories and 2.16 ERA both led the Cubs' Minor League system, and his 98 strikeouts ranked fifth.
Williams began the year at South Bend and went 4-1 with a 1.17 ERA in nine games before being promoted. At Tennessee he went 10-2 with a 2.76 ERA in 17 games (16 starts). He was selected by the Cubs in the 10th round of the 2014 Draft out of East Carolina University in Greenville, N.C.
• Rookie shortstop Addison Russell is just 21, but he's handled the physical nature of baseball like a veteran. When Cardinals catcher Yadier Molina slid into Russell hard at second base on Sunday, knocking him down, he didn't need an apology.
And manager Joe Maddon is excited that his players have embraced that attitude. It reminded him of a similar situation at his house between his cat and his English bulldog, named Winston.
"The cat comes up to Winnie and scratches him, and Winnie doesn't even blink, he just stays right there," Maddon said. "I'm always impressed when he just doesn't back off. So I thought about that when [Russell] went through that moment yesterday, 'He's just like Winston.' You've got a cat with his claw in his face and he just stood there like no big deal."
Greg Garno is an associate reporter for MLB.com. Carrie Muskat is a reporter for MLB.com. She writes a blog, Muskat Ramblings. You can follow her on Twitter @CarrieMuskat and listen to her podcast. This story was not subject to the approval of Major League Baseball or its clubs.