Bethancourt hoping to return this week
Braves catcher wearing wrist brace to immobilize strained left thumb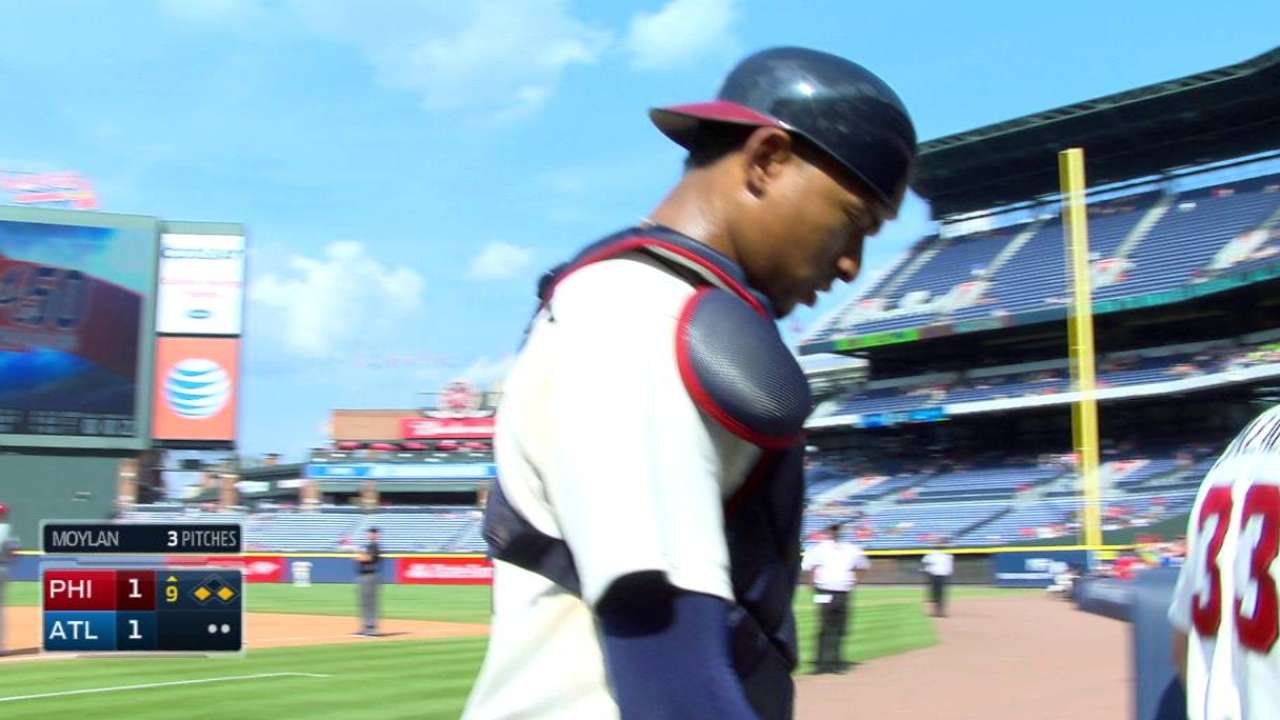 NEW YORK -- Christian Bethancourt's frustrating season took another negative turn Sunday when he strained his left thumb while making a tag during the ninth inning of a 2-1 win over the Phillies at Turner Field.
Bethancourt was fortunate to avoid any significant structural damage when he unsuccessfully attempted to prevent Aaron Altherr from scoring the tying run with two outs in the ninth. But the Braves' young catcher arrived at Citi Field on Monday afternoon wearing a wrist brace to immobilize his thumb.
"As soon as I hit the runner, he just took my hand with it," Bethancourt said. "I'm just still waiting to see how it feels. I did my treatment today. We'll see how it feels [Tuesday] and just go from there."
Though Bethancourt hopes to return by the end of the week, the Braves will continue to evaluate him the next few days before providing a potential timetable. Ryan Lavarnway will serve as veteran A.J. Pierzynski's primary backup the next few days.
Pierzynski took the starting job from Bethancourt less than two weeks into the season and again after the once highly regarded prospect returned from a two-month stint with Triple-A Gwinnett in late August.
When the Braves recalled Bethancourt on Aug. 24, they indicated he would be their primary catcher the rest of the season. But their frustrations with his glove work have been apparent as Bethancourt had started just eight of 19 September games entering Monday.
Bethancourt has eight passed balls in 352 innings. In comparison, the 38-year-old Pierzynski entered Monday having been charged with just four in 845 2/3 innings.
Worth noting
• Braves right fielder Nick Markakis missed a second straight start Monday because of a sore trapezius muscle. Manager Fredi Gonzalez said Markakis could return to the lineup as early as Tuesday.
• Daniel Castro has served as Atlanta's starting second baseman in six of the past 10 games. Though the Braves have spent most of this season planning to utilize Jace Peterson as the starter next year, they are taking advantage of a chance to further evaluate Castro down the stretch. Peterson batted .204 with a .275 on-base percentage and a .291 slugging percentage over his past 77 games entering Monday.
Mark Bowman is a reporter for MLB.com. Listen to his podcast. This story was not subject to the approval of Major League Baseball or its clubs.