Bucs rout Rox, cut magic number to 2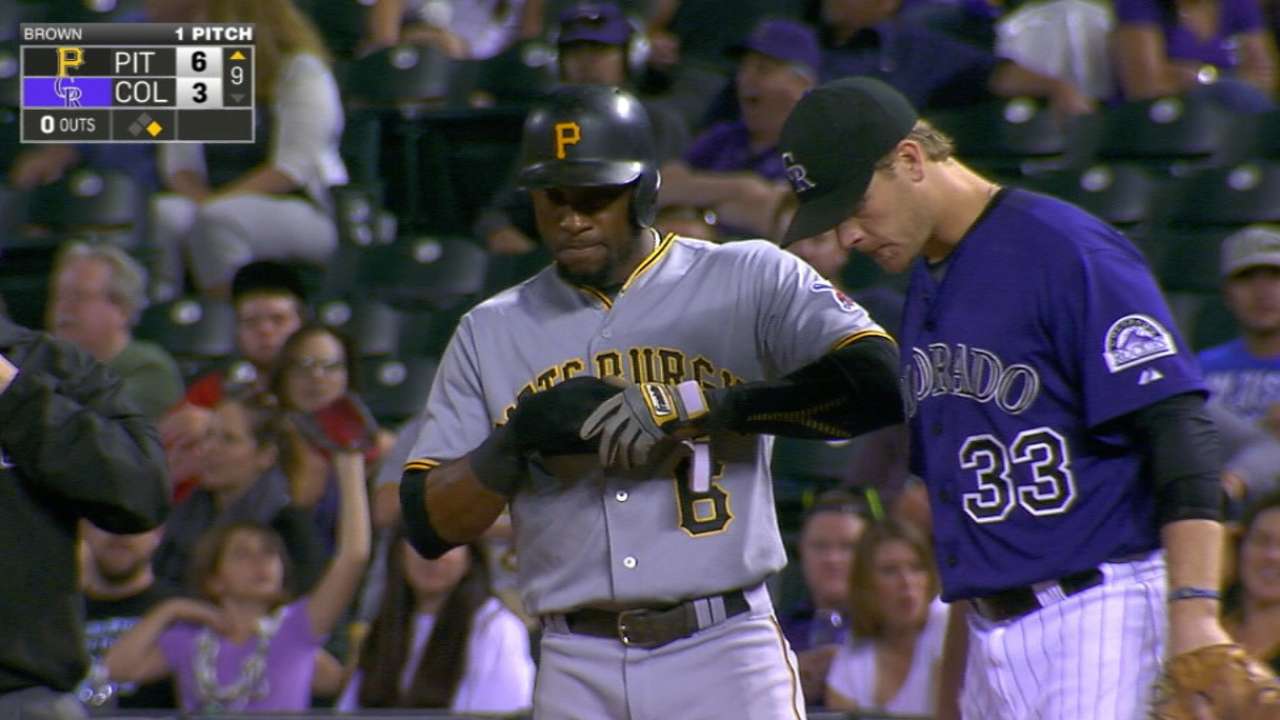 DENVER -- The Pirates steamrolled closer toward a playoff berth on Monday night, extending their winning streak to three and lowering their magic number to two with a 9-3 win over the Rockies to open a four-game set at Coors Field. It was the Pirates' 90th win of the season, a plateau they've reached two of the last three seasons.
"We're getting better," manager Clint Hurdle said. "The organization's getting better. The game on the field's getting better."
Pittsburgh raced out to a 5-0 lead, with solo homers from Starling Marte and Aramis Ramirez in the first inning, Jordy Mercer knocking RBI doubles in the second and fourth and Gregory Polanco plating Mercer with a single up the middle in the fourth. Marte and Mercer both had four-hit games.
"They were really aggressive," Rockies starter Jon Gray said of the Pirates' lineup. "I didn't expect that to happen. I tried to expand from there. I didn't get much movement. I know it's not going to break as much. Fastball's not going to have as much sink or pop. I need to really change sights on where I start the pitch off."
A.J. Burnett held the Rockies to two base hits through the first four innings before unraveling briefly in the fifth. The Rockies took advantage of three hits, two walks, a hit batsman, two stolen bases and an error to bat around, scoring three runs on rookie catcher Tom Murphy's homer to left. They loaded the bases after Murphy's homer, but Burnett escaped the inning without any more damage.
MOMENTS THAT MATTERED
Quick strike: Marte and Ramirez, the second and fourth batters of the game, hit home runs to give the Pirates a 2-0 lead. It was the second consecutive game at Coors Field that the visiting team went ahead 2-0 in the first by virtue of the long ball.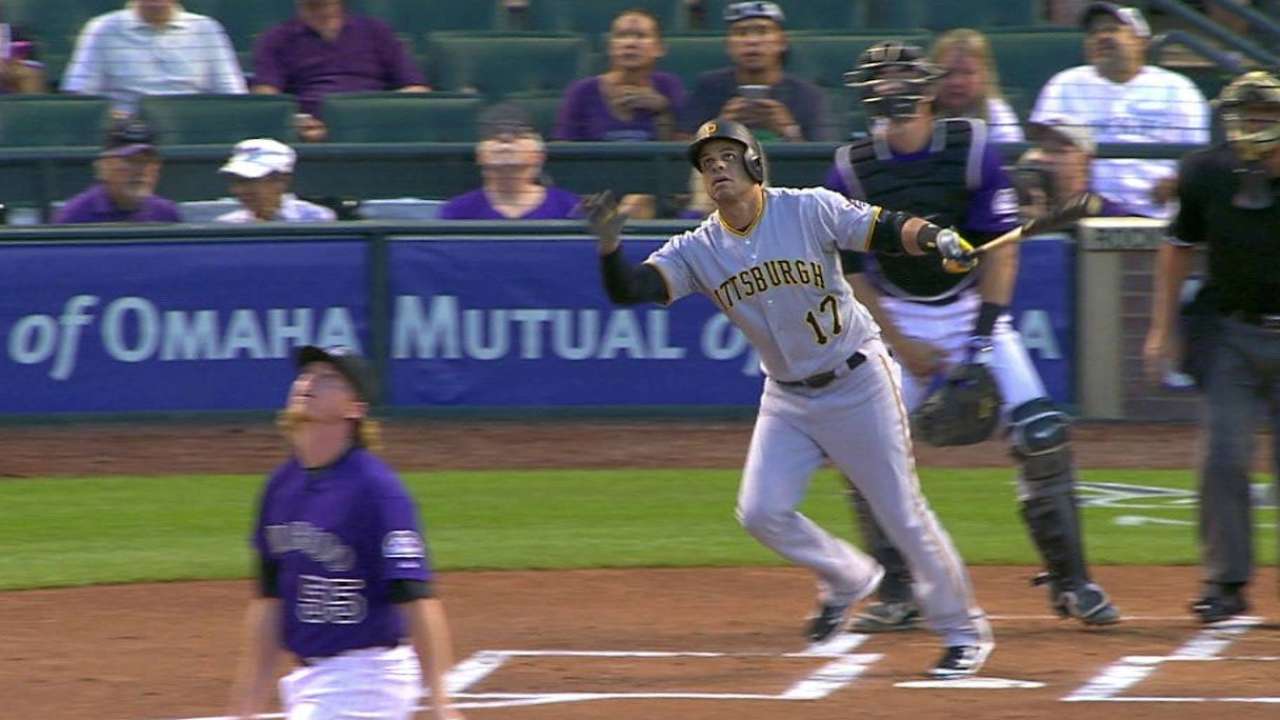 Baby bomber: Colorado's bats finally woke up in the fifth, when the Rockies recorded more hits in that inning than they had in the previous four. Justin Morneau laced his second single of the game to lead off the inning, and after Pirates first baseman Pedro Alvarez dropped shortstop Mercer's throw on an attempted double-play ball, Corey Dickerson singled to right to put runners on the corners. Murphy drove the first pitch he saw into the left-field seats for his second career homer -- and his second in his last two starts -- to make it a 5-3 game.
"Murph's swinging the bat well," manager Walt Weiss said. "We just lacked that one big hit [in two subsequent bases-loaded situations]. DJ [LeMahieu] lined that ball in the seventh with two guys on. Bases loaded, if we get a big hit and drive in a couple in one of those situations, we get in the game. But we didn't get the big hit."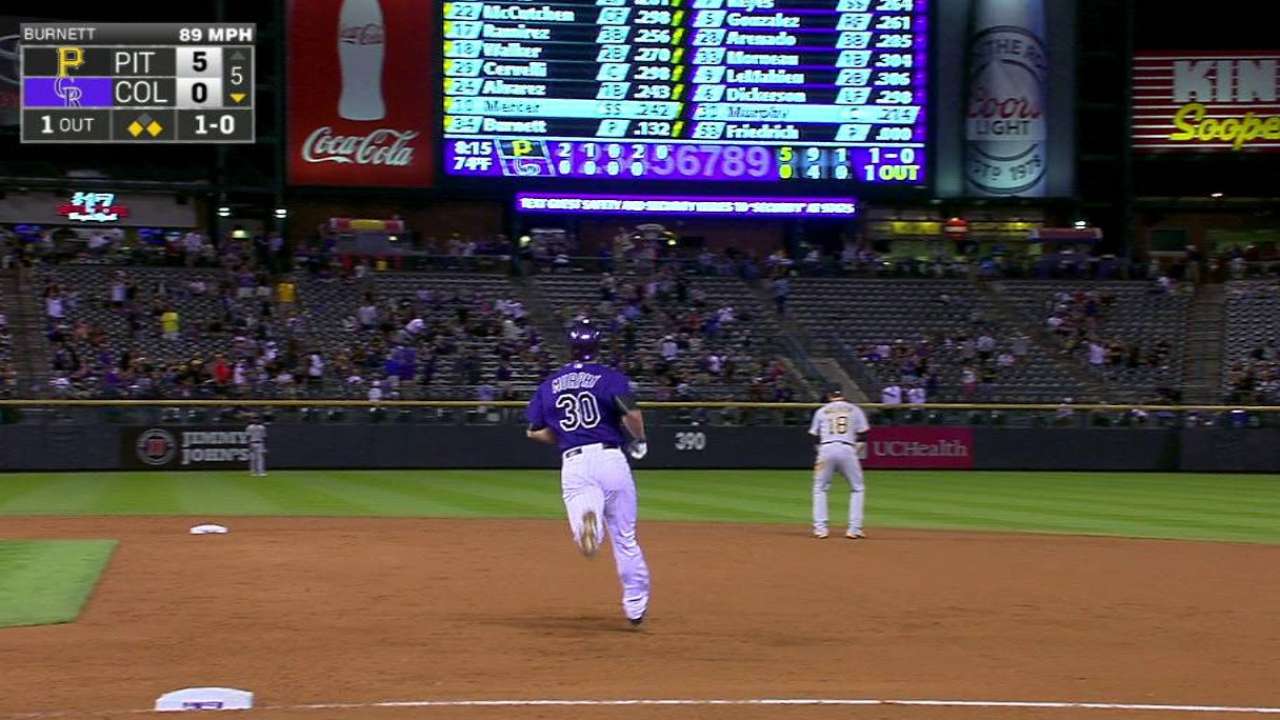 Inching closer: Burnett's five strikeouts put him one shy of becoming the 32nd pitcher in Major League history to record 2,500. Hall of Famer Christy Mathewson ranks 31st with 2,507 strikeouts. Burnett is second among active pitchers behind CC Sabathia (2,568), who ranks 27th all-time.
"The changeup was huge tonight for him," Hurdle said of Burnett. "It's as good a changeup as I've ever seen A.J. have. He used it effectively. He used it [against] right- and left-handed [hitters]. And he's got that experience to know what he's got and what he can do."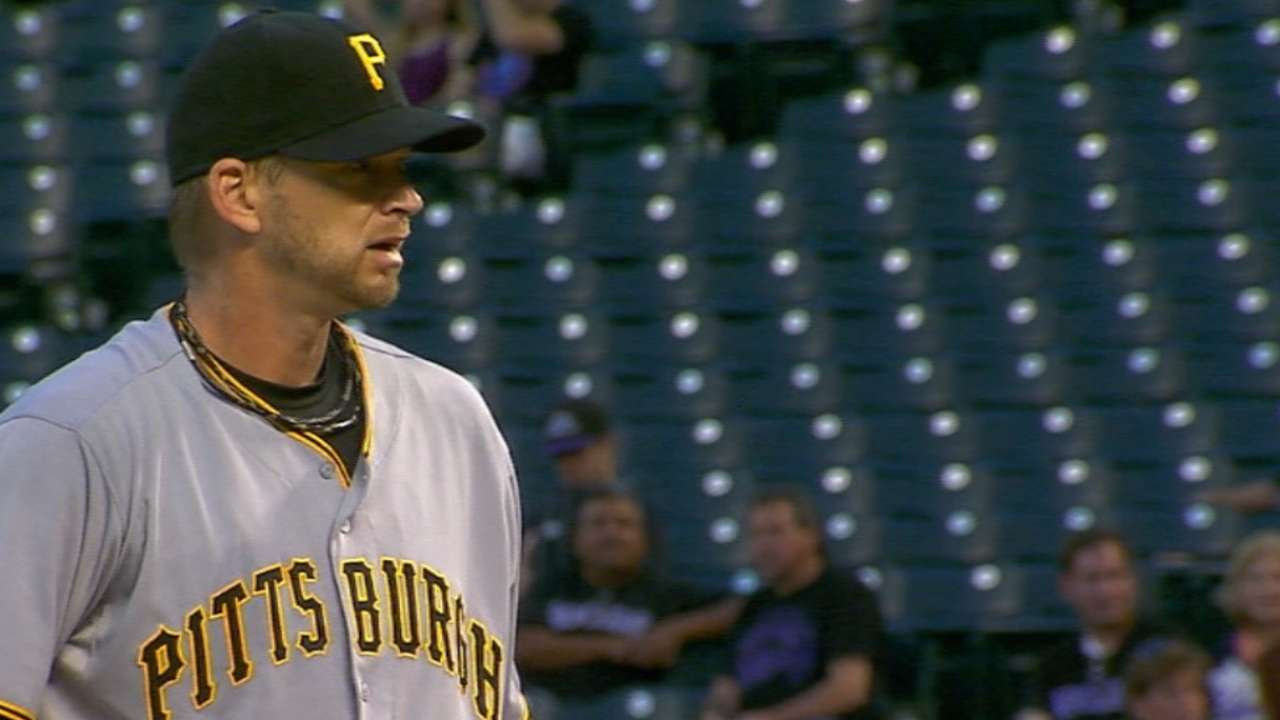 Elite feat: Charlie Blackmon joined an elite group of fleet-footed Rockies when he stole his 39th and 40th bases in the fifth inning. He's just the fourth player in franchise history to steal 40 bases in a season, joining Eric Young (1993 and '96), Juan Pierre (2001 and '02) and Willy Taveras (2008).
"I didn't really set out to have certain number goals in mind, but I'm certainly happy with my improvement over last year," Blackmon said. "Some of it is preparation, but most of it really is being in the right mindset. Being aggressive, but not reckless, not second-guessing yourself, not being doubtful. If I can get in that mindset, basestealing is much easier."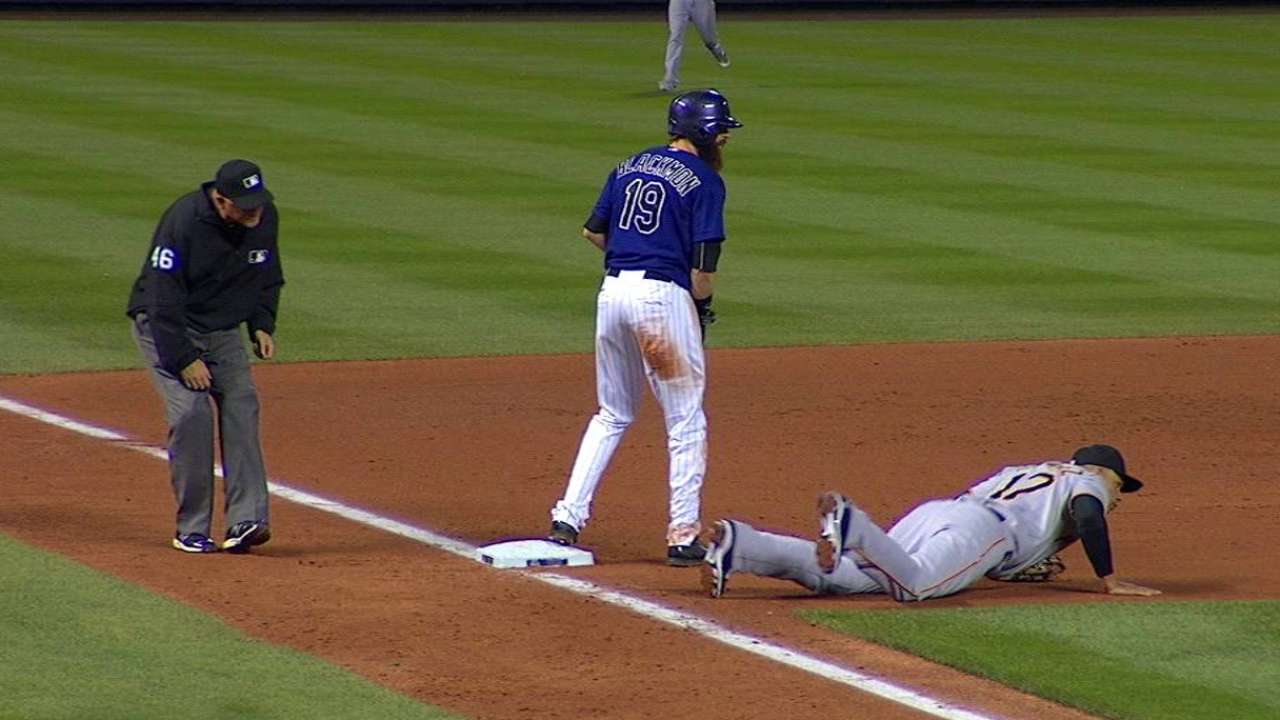 QUOTABLE
"I've pitched fine on the road. I just can't find that whatever it is to make an adjustment and pitch in this place. My road numbers are pretty good, and here they're pretty bad. I've gotta make a change fast to pitch here." -- Gray, on his 2.70 road ERA and his 8.27 ERA at Coors Field.
SOUND SMART WITH YOUR FRIENDS
Gray had allowed two homers in 36 innings over his eight career starts entering Monday. He gave up two homers in the space of three batters in the first inning.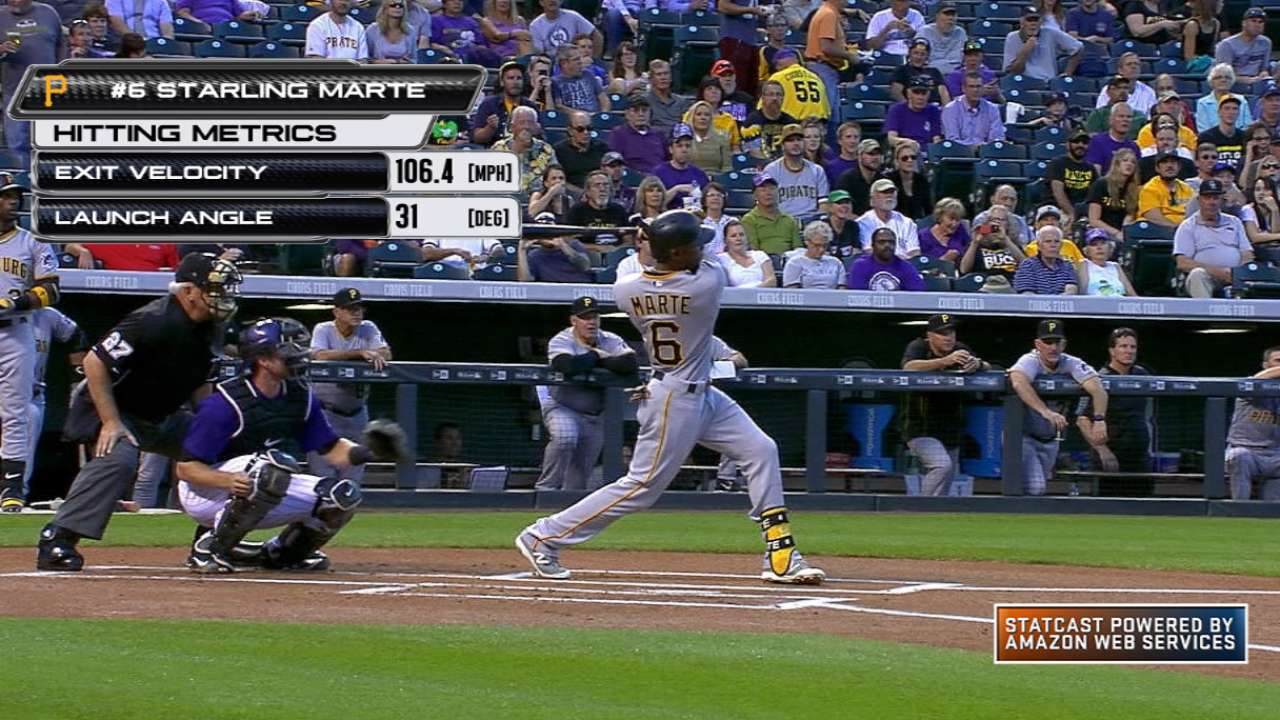 UPON FURTHER REVIEW
A crew-chief review was initiated in the sixth inning to see if Marte's double off the top of the wall had cleared it for a homer, but the replay showed the ball indeed bounced back into play after hitting the edge of the wall in right-center, and the RBI double was allowed to stand.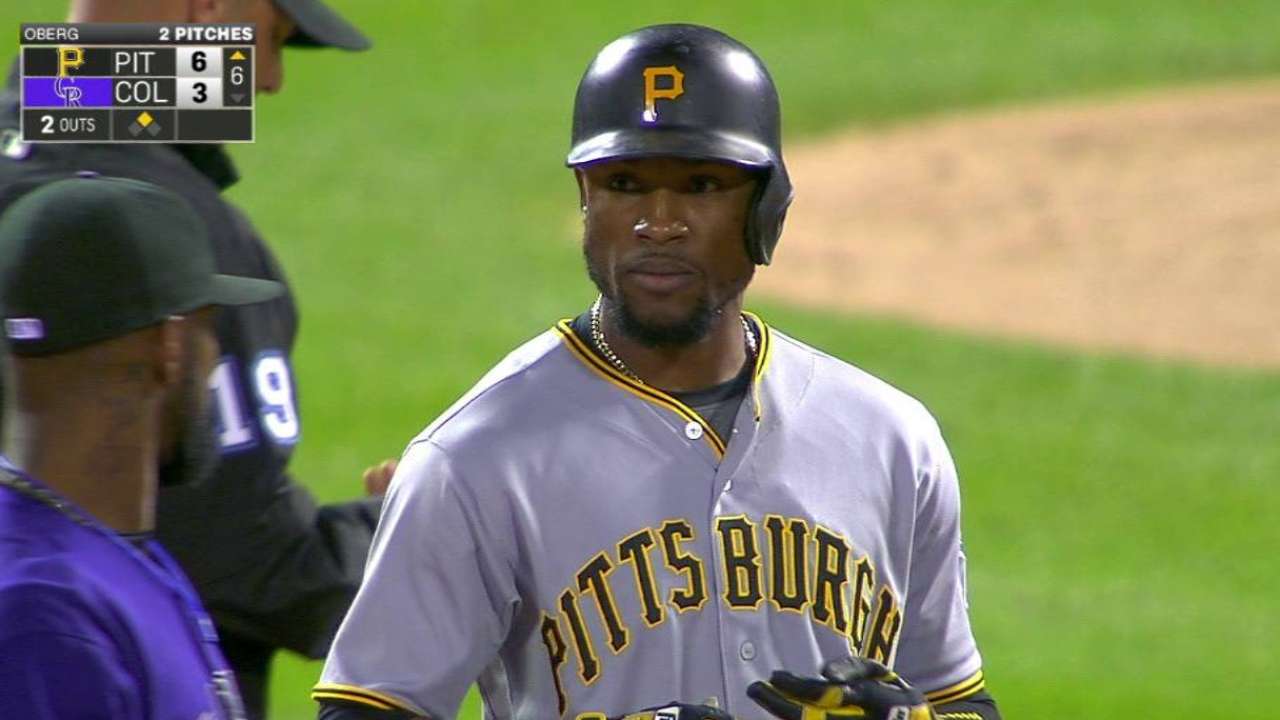 WHAT'S NEXT
Pirates: J.A. Happ (5-2, 1.96 ERA) will get the call when this series continues at 8:40 p.m. ET on Tuesday. Happ has won five of his past six decisions with a 1.24 ERA in that six-start stretch. In four road starts since joining the Pirates in a trade with the Mariners on July 31, Happ is 3-0 with a 1.11 ERA.
Rockies: Chris Rusin (5-8, 5.11) will take the mound for the Rockies at 6:40 p.m. MT. After his second complete game at Coors Field this season -- nine innings of three-run ball vs. the Giants on Sept. 3 -- Rusin has pitched two subsequent road outings and allowed a combined nine runs on 13 hits in nine innings. He is 4-2 with a 4.74 ERA in 10 games (eight starts) at home.
Watch every out-of-market regular-season game live on MLB.TV.
Jack Etkin and Owen Perkins are contributors to MLB.com. This story was not subject to the approval of Major League Baseball or its clubs.