Young Tigers impress with slick glove work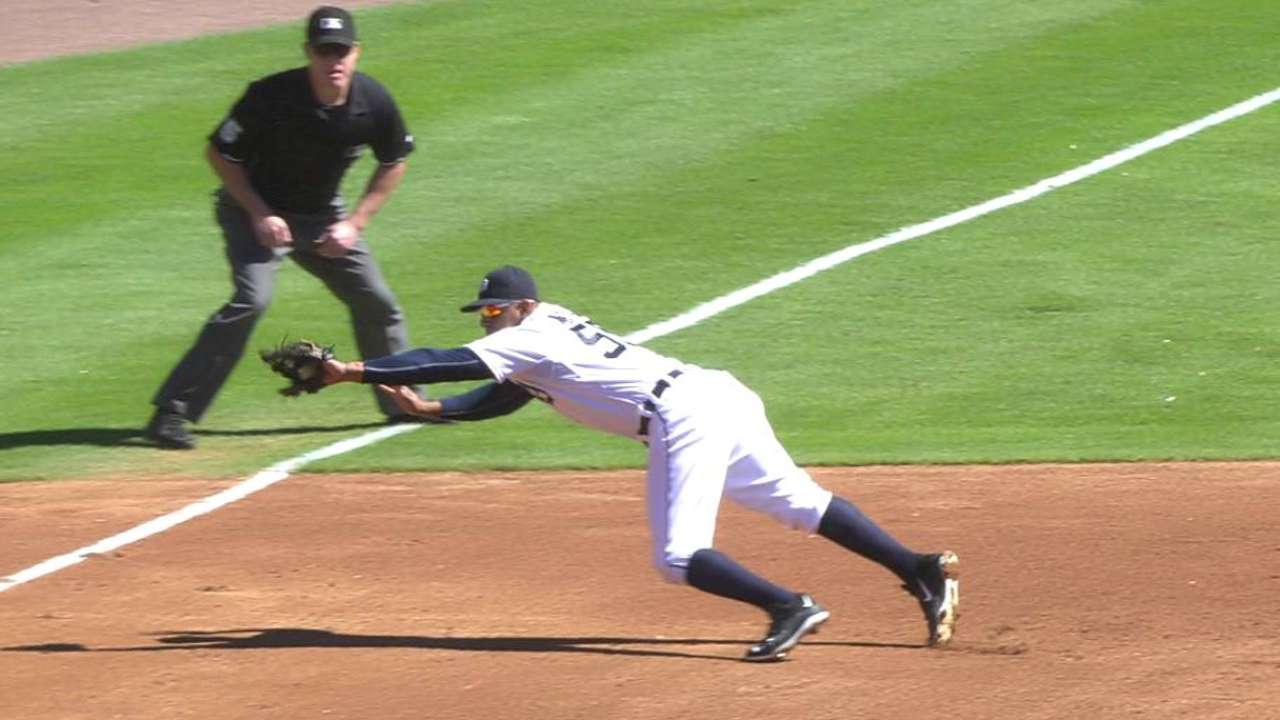 DETROIT -- There was no Miguel Cabrera or Nick Castellanos in the Tigers' lineup during Monday's 2-0 defeat to the White Sox in the first game of a split doubleheader. Even J.D. Martinez had the afternoon partly off, starting at designated hitter instead of right field.
And while a batting order containing five players who began the season in the Minor Leagues ultimately managed only one hit against Chicago starter Jeff Samardzija, that group put on an impressive showing defensively.
Third baseman Jefry Marte started two double plays and made another key stop to help guide starter Kyle Ryan through seven innings, while Steven Moya nearly recorded an impressive outfield assist from right field.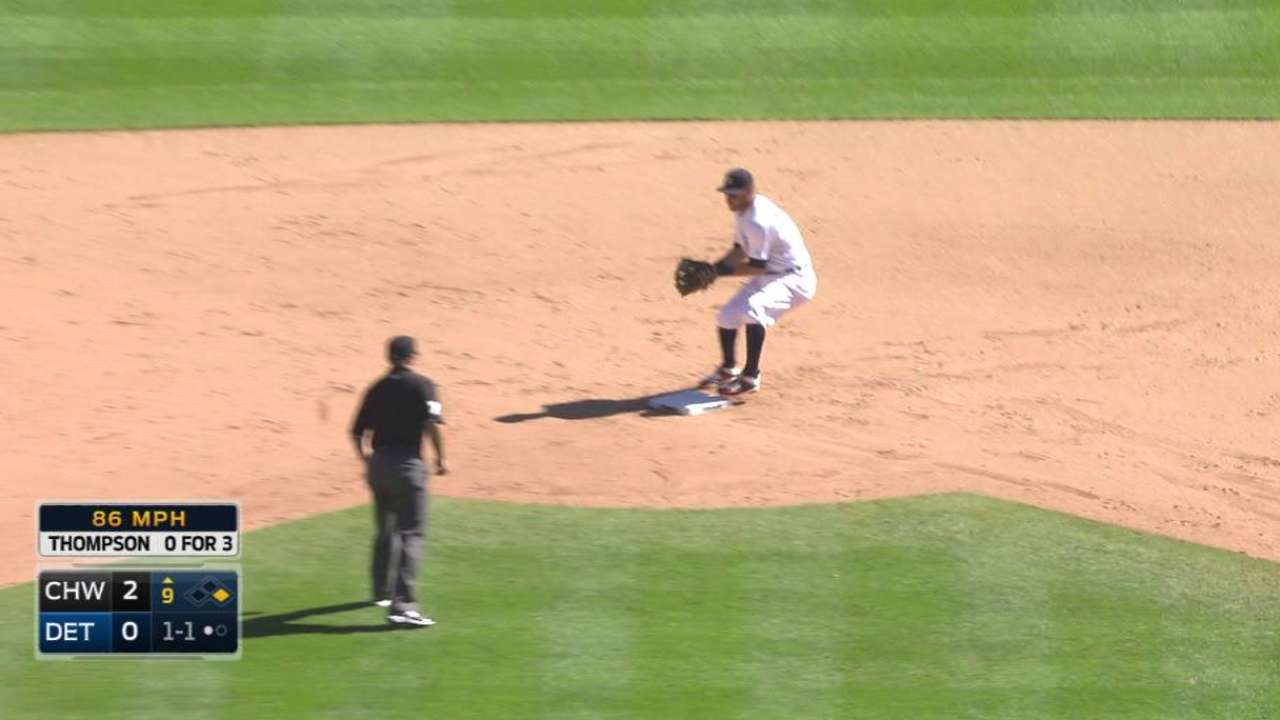 Marte's first big play may have been the most impressive. In the third inning, White Sox catcher Geovany Soto laced a ball that seemed destined for the left-field corner, but Marte took one step to his right and made a diving grab to rob Soto of extra bases.
The rookie -- who earned significant playing time at first base over the summer when Cabrera missed a month with a left calf strain -- looked comfortable in just his fourth Major League start back in his natural position at third. He cleanly fielded hard-hit grounders to initiate the pair of double plays, and he also trapped a difficult hop for a forceout in the eighth.
"Marte made three excellent plays -- two were double plays," Tigers manager Brad Ausmus said.
While a review ultimately overturned what would have been Moya's third outfield assist of the year, he too earned praise from the manager. In the third inning, his throw home arrived in time for catcher Bryan Holaday to apply a tag on Carlos Sanchez. Umpire Mark Carlson initially ruled Sanchez out, but the White Sox challenged the call and replays indicated the second baseman had swiped the plate with his hand as he dove headfirst past the catcher.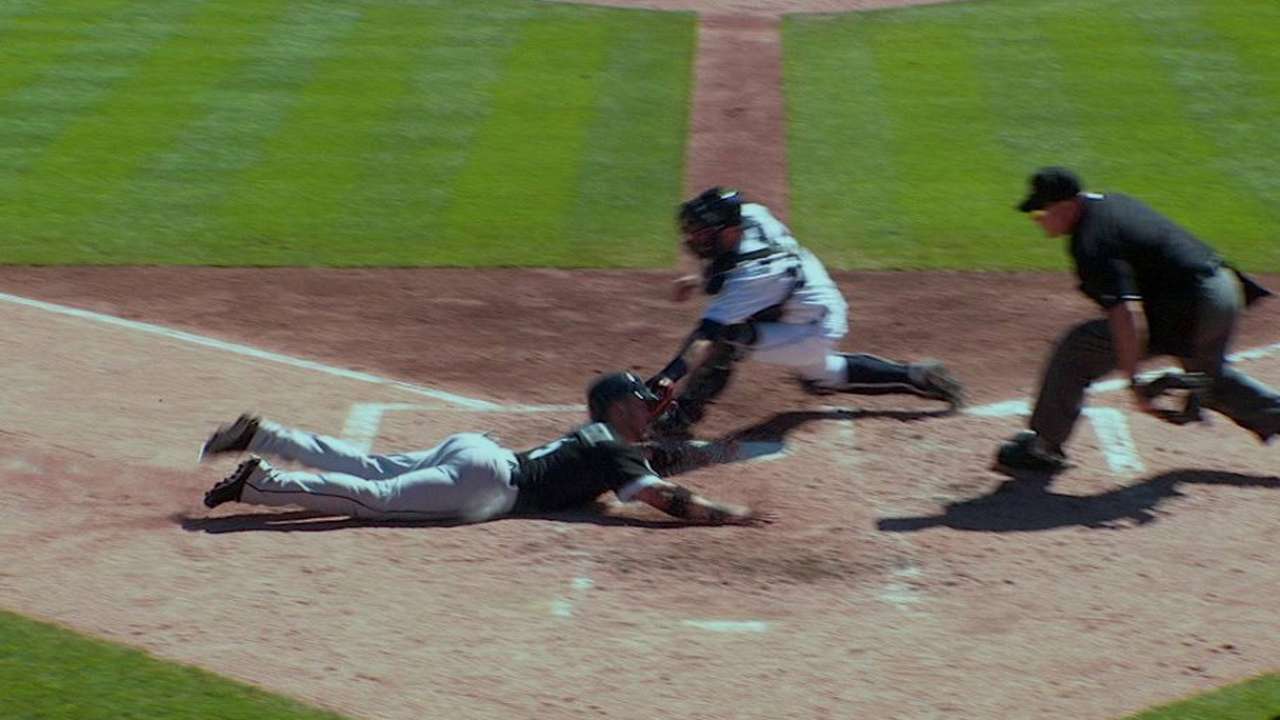 "I was a little bit surprised," Ausmus said of the overturned call. "I couldn't tell if he touched the plate or not. But instant replay hasn't really gone the Tigers' way this year."
Not much did go the Tigers' way Monday afternoon, but the sound defense from a pair of rising players was a bright spot.
"That's why we've got those guys in there today in a game that didn't have huge implications -- to see what they could do," Ausmus said.
Alejandro Zúñiga is an associate reporter for MLB.com. Follow him on Twitter @ByAZuniga. This story was not subject to the approval of Major League Baseball or its clubs.