Adjustment spurs Shark's decisive turnaround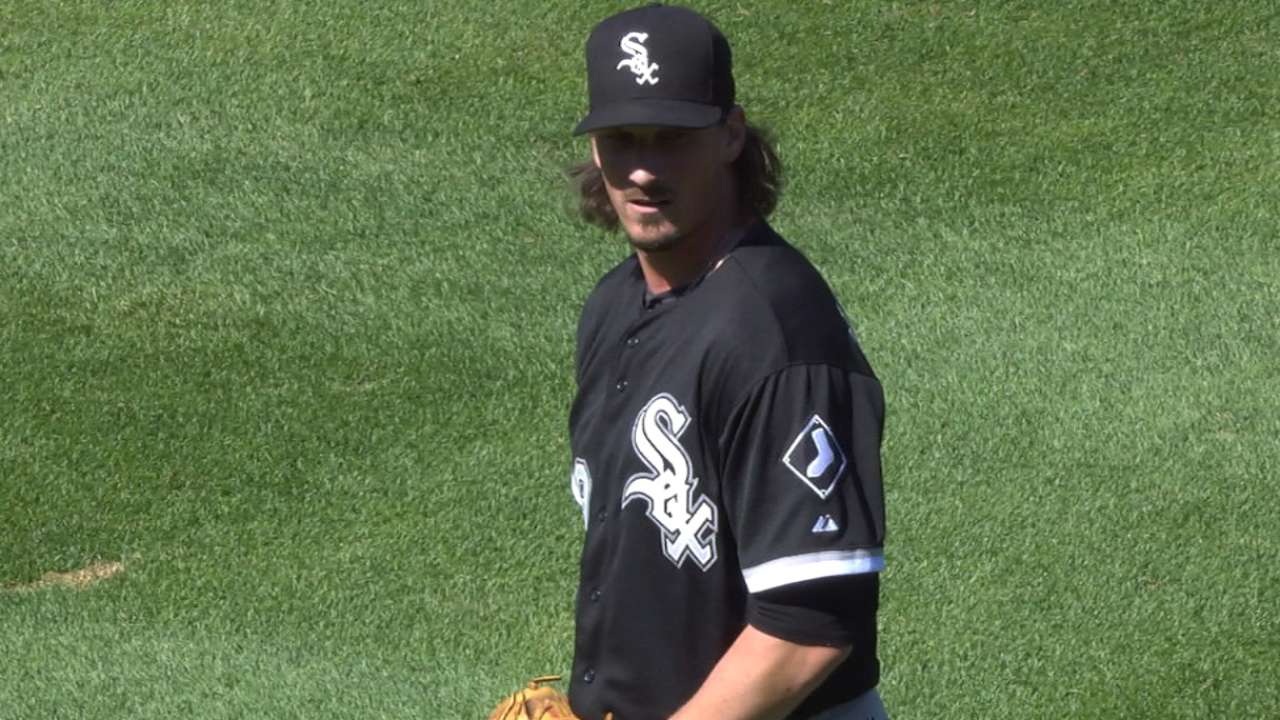 DETROIT -- Jeff Samardzija does not consider himself a big studier of video in between starts. His focus falls upon being an "in-game guy" and adjusting pitches as the innings progress.
"But there are some times where you need to get out there and maybe watch an old game when you did really well or watch the past game and what happened," said Samardzija after throwing a one-hitter during a 2-0 White Sox victory over the Tigers in Game 1 of Monday's split doubleheader at Comerica Park.
"For me, that was the case," Samardzija continued. "I needed to go back to my last couple of starts and see why good pitches were getting tattooed. It's not a fun feeling, so you definitely want to fix it as fast as possible."
With the assistance of video coordinator Bryan Johnson, Samardzija found that his fastball was being tipped halfway through his delivery. That adjustment helped produce one of the best-pitched White Sox games of the 2015 season.
Samardzija's only baserunner allowed came when Victor Martinez looped a single into left-center leading off the fifth. There were basically three other hard-hit baseballs on the sunny afternoon, including a long flyout to right from Tyler Collins three pitches after Martinez's single.
Samardzija's pitch count never went above 16 during an individual inning, with just six pitches needed in the third, eight in the eighth and ninth, and five in the seventh, when Samardzija breezed through Ian Kinsler, J.D. Martinez and Victor Martinez. Samardzija never went to a three-ball count, and he went to just nine two-ball counts.
The 28 batters faced over 88 total pitches turned into Samardzija's seventh career complete game and second this season, and his first career win at Comerica Park.
"We got one hit," Tigers catcher Bryan Holaday said. "So he was pretty good today."
"I wouldn't say they were overmatched. He was just overmatching. He was good today," said Tigers manager Brad Ausmus of Samardzija. "On any given day, he can be a No. 1-caliber starting pitcher."
This turnaround becomes especially important for Samardzija, who is basically two starts away from becoming a free agent. Since Aug. 2, covering nine starts, the right-hander had a 1-8 record and had allowed 51 earned runs in 49 2/3 innings. Oakland scored 10 runs in three-plus innings during Samardzija's last trip to the mound, with position players Leury Garcia and Alexei Ramirez both having to pitch in a 17-6 loss.
Throwing 28 of his 36 sliders for strikes, per Brooks Baseball, helped the right-hander's effort Monday afternoon. It also was the somewhat rare trip to the video room, per Samardzija, that helped him find what had proved to be a fatal mound flaw.
"When you find that, it gives you a little extra confidence that, 'Hey, we can go out and make our pitches and have a good day.' That felt real good," said Samardzija, who has thrown 207 innings this season. "It was pretty obvious on a few things I was doing, especially for my fastball and when it was coming. Hopefully we can continue to get better and keep watching film and make sure there's no other things in there. And if there is, we can clean them up."
Scott Merkin is a reporter for MLB.com. Read his blog, Merk's Works, follow him on Twitter @scottmerkin and listen to his podcast. This story was not subject to the approval of Major League Baseball or its clubs.