Inbox: Could Sano win AL Rookie of the Year Award?
Beat reporter Rhett Bollinger answers fans' questions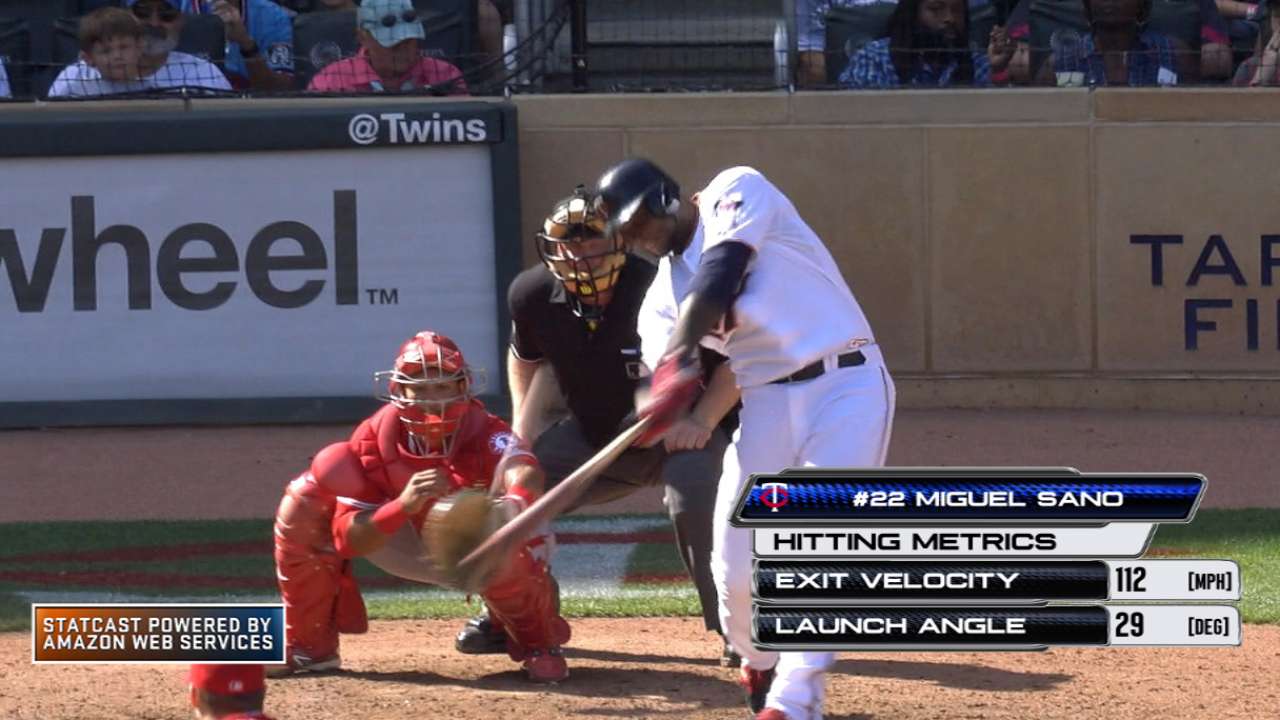 MINNEAPOLIS -- It's the last off-day of the season for the Twins, who finish the year with 13 games in a row against the Indians, Tigers and Royals.
Minnesota has been one of the biggest surprises in baseball and remains in contention, as the club entered Monday 2 1/2 games back of Houston for the second American League Wild Card spot.
Even if the Twins miss out on the postseason, it's been a successful year, as the club has had a mix of old and new contribute this year, which leads right into the first question of the final Inbox of the regular season.
Does Miguel Sano have a shot at winning the AL Rookie of the Year Award?
-- Tim S., Cedar Rapids, Iowa
Sano has been a revelation since getting called up on July 2, as he's hit .280/.396/.569 with 17 homers, 16 doubles and 49 RBIs in 67 games. He's been a major reason why the Twins have stayed in contention, and he has come up with several huge hits late in games.
But Sano is hurt by the fact that he was called up in early July, and that he's mostly served as a designated hitter. He has nine starts in the field and none since Aug. 27, as he's been dealing with a right hamstring strain.
Astros shortstop Carlos Correa remains the front-runner, while Indians shortstop Francisco Lindor also deserves strong consideration. And if Houston makes the postseason over Minnesota and Cleveland, it'll likely only help Correa's case.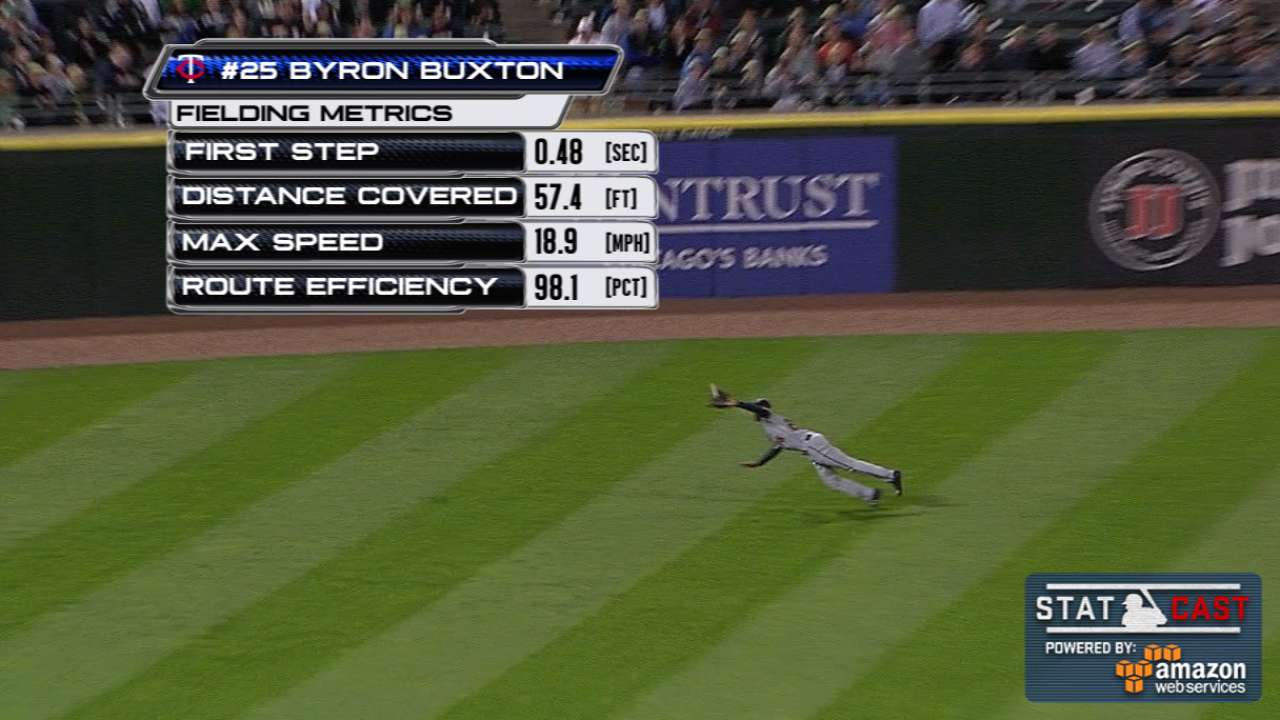 Byron Buxton has struggled so far at the plate. Is it too early to worry about his potential?
-- Mark W., St. Paul, Minn.
Buxton has had a rough start to his Major League career offensively, hitting .197/.236/.265 with six doubles, a triple and two RBIs in 37 games. But he was MLBPipeline.com's No. 1 overall prospect this season for a reason, and so it's way too early to panic.
Keep in mind that Buxton is still 21 years old, and plenty of players struggle as rookies before figuring it out. Even Angels superstar Mike Trout hit .220/.281/.390 in 40 games in his first season in the Majors in 2011.
Buxton's development was hurt by the injuries he sustained last year, and he also missed time this season with a left thumb strain. So the question marks are more about his durability going forward rather than his skill set. Buxton has shown great ability defensively and he is one of the fastest players in baseball, so once his hitting starts to come around, he has off-the-charts potential even with his slow start to his career.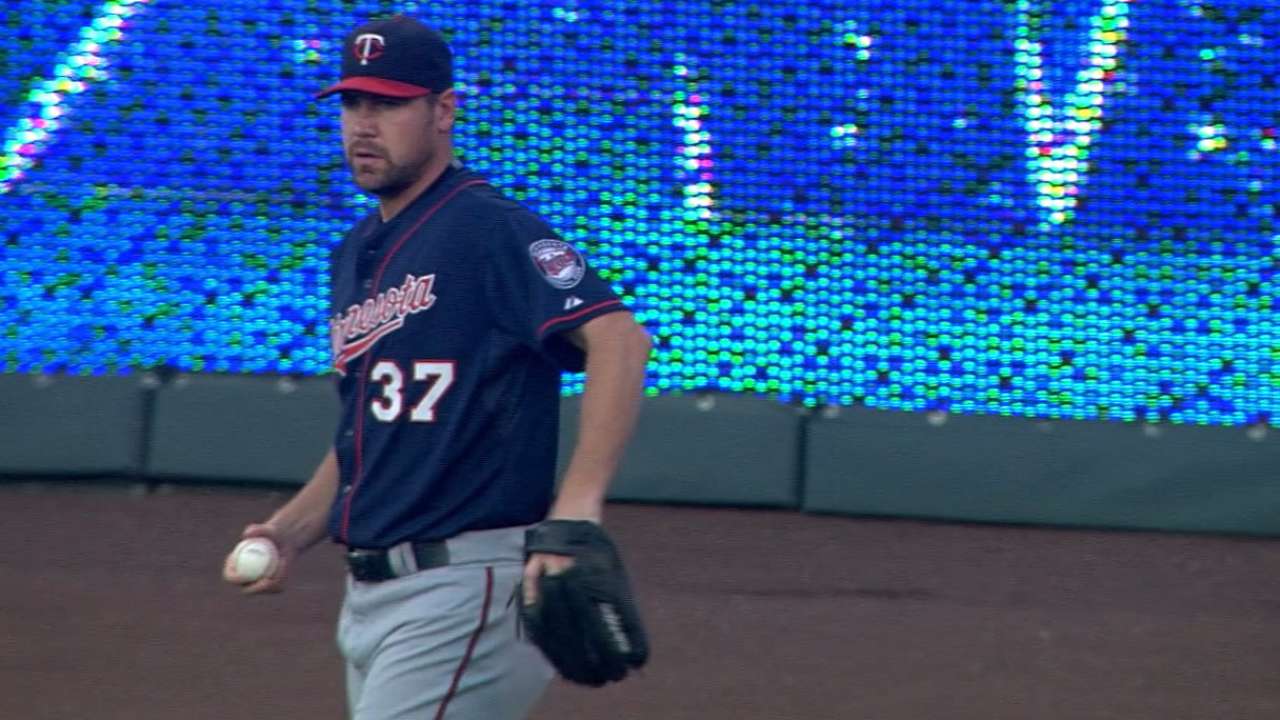 What are the Twins' long-term plans for Mike Pelfrey? Do they plan on re-signing him? Trevor May is the future, so why isn't May in the starting rotation and Pelfrey in the bullpen?
-- Perry B., New Ulm, Minn.
Pelfrey is a free agent after the season and given Minnesota's starting pitching depth, I don't see the Twins re-signing him unless he's open to a relief role. Minnesota has too many other starting pitching options next year, such as Kyle Gibson, Ervin Santana, Phil Hughes, Ricky Nolasco, Jose Berrios, Tyler Duffey, Tommy Milone and May.
As for May, the Twins thought he was better suited for a bullpen role this season than Pelfrey, because they thought his stuff would play up and he could become a solid late-inning relief option. They desperately needed strikeouts in the back end of the bullpen, and May has provided that, with 32 strikeouts in 28 2/3 relief innings to go along with a 3.14 ERA. And while May was making progress and had strong peripheral stats as a starter, his ERA was 4.43 when he was moved to the bullpen.
May, though, is still thought of as a starter going forward despite his success in the bullpen this year, so he's expected to head to Spring Training and compete for a spot in the rotation.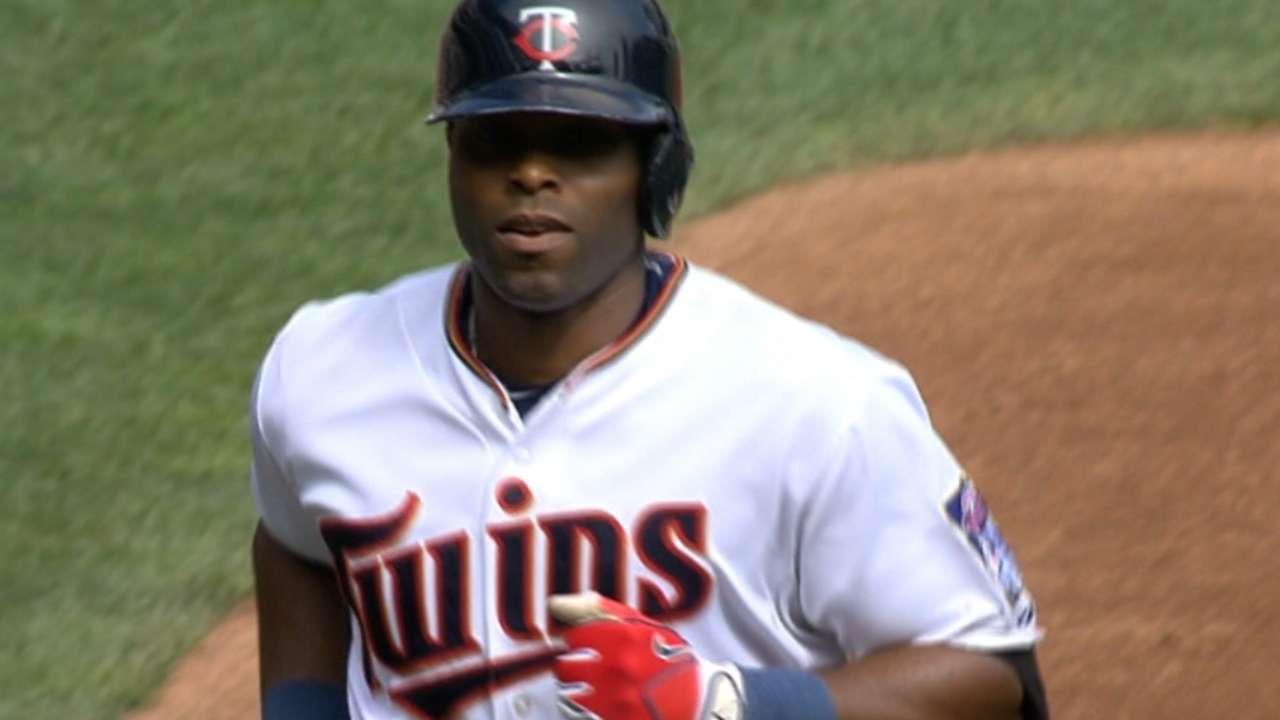 What are the odds that Torii Hunter returns to the Twins next season? And what role would he play?
-- John J., Anoka, Minn.
The Twins are open to Hunter returning in 2016, but it'll ultimately be up to him if he wants to come back for a 20th season in the Majors. The 40-year-old is hitting .247/.300/.421 with 21 home runs and 75 RBIs in 127 games this year, so he still has some thump in his bat, as the homer total is his most since '11.
After slumping in July and August, Hunter has heated up in September, hitting .356 with three homers and 11 RBIs in 15 games. The late-season resurgence could give him a reason to come back next year, especially with Minnesota's future looking bright. But if Hunter does return, it would be in a more limited role, as Aaron Hicks, Eddie Rosario and Buxton figure to get most of the time in the outfield, while No. 6 prospect Max Kepler also figures to be in that mix.
Rhett Bollinger is a reporter for MLB.com. Read his blog, Bollinger Beat, follow him on Twitter @RhettBollinger and listen to his podcast. This story was not subject to the approval of Major League Baseball or its clubs.