Guti exceeding expectations on comeback trail
After missing much of 2012-13, all of '14, outfielder has 15 homers since June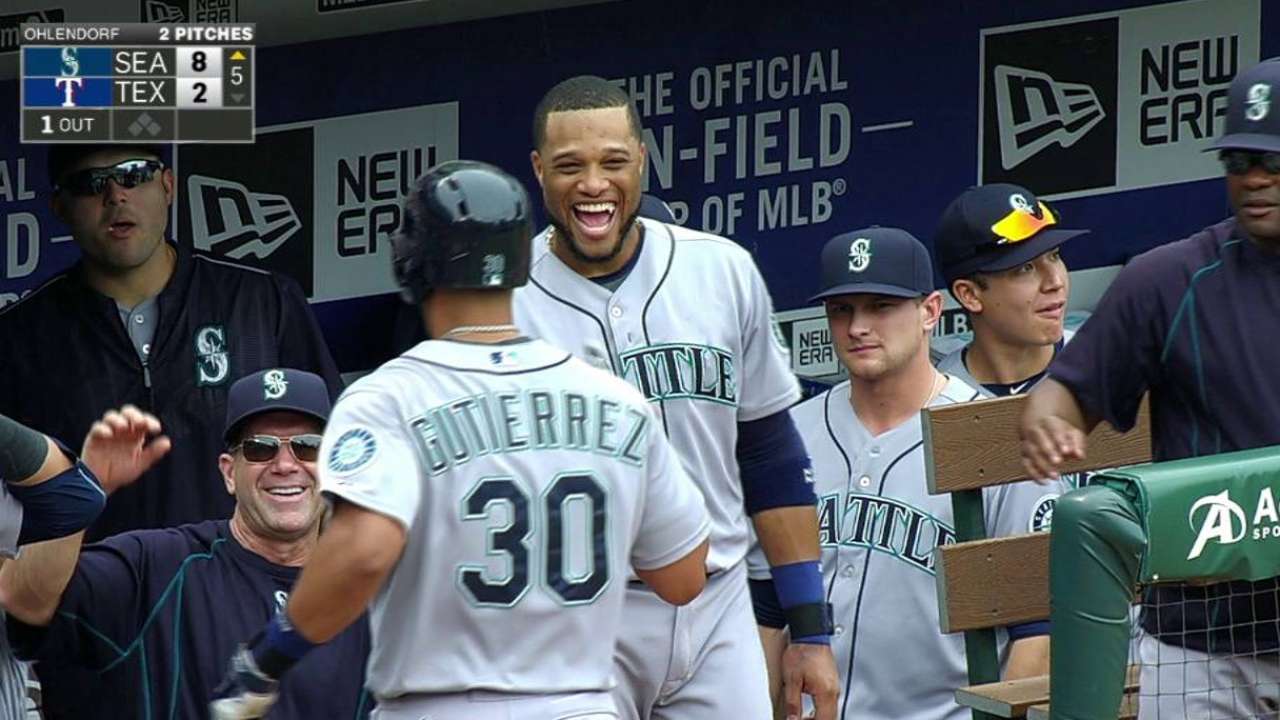 KANSAS CITY -- There are numerous candidates for the American League Comeback Player of the Year Award this season.
Alex Rodriguez has returned from a suspension to post big numbers for the Yankees. Prince Fielder, Jason Kipnis and Kendrys Morales are having big bounce-back years. And Tigers shortstop Jose Iglesias earned an All-Star berth and has hit .300 after missing all last season with shin problems.
But if you're looking for a classic comeback tale, check out Mariners outfielder Franklin Gutierrez.
The 32-year-old was a Gold Glove Award winner in 2010 for the Mariners, but Gutierrez has been plagued by injuries and illness ever since. He played just 40 games for Seattle in 2012, 41 more in '13 and then was out of baseball altogether last season, spending the year coming to terms with how to deal with ankylosing spondylitis, an arthritic nerve condition that contributed largely to his years of health issues.
Given a chance to return to the Mariners on a Minor League deal, Gutierrez spent two months with Triple-A Tacoma and then got his shot to help out Seattle in a part-time platoon role. Expectations were low, but Gutierrez's performance has been off the charts.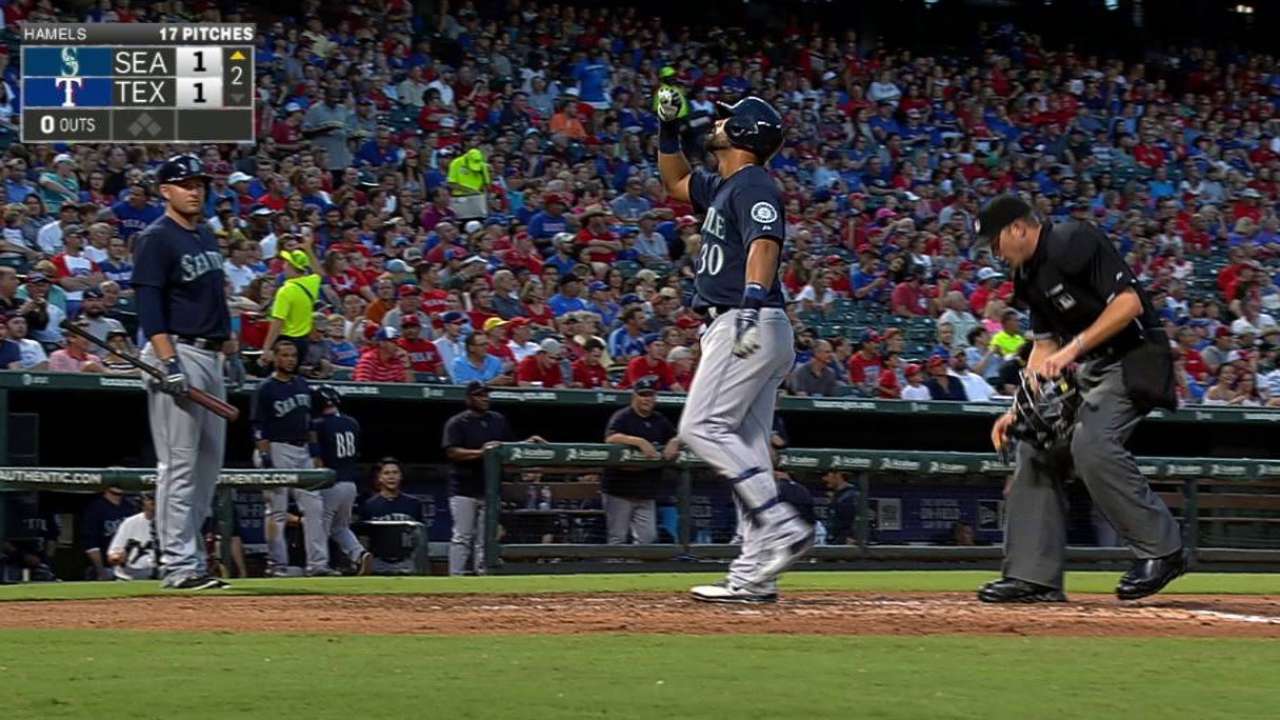 Gutierrez has hit .315 with 15 home runs in 146 at-bats. His .692 slugging percentage is the highest in the Majors for any player with more than 125 plate appearances. Gutierrez's homer rate of one every 9.73 at-bats is the best in Mariners history for anyone with 10 or more homers in a season, the previous best being Ken Griffey Jr.'s 10.83 in 1994.
And to top it off, Gutierrez has quietly provided inspiration to everyone around him.
"The one thing that's missed in all of this is this is Guti's integrity," manager Lloyd McClendon said. "Because he could have come in last year and tried to suit up and get paid. But he didn't do that. He had a guaranteed contract, and he told the club he couldn't go.
"I think that gets lost in all of this. He turned down a lot of money last year. The guy is a pretty special player. Who knows? Maybe he will get to the point one day where he can go out there every day. We'll see."
Gutierrez had a $1 million deal in 2014, but he informed Seattle just before Spring Training that he wasn't ready. Instead, he spent the year working out, getting used to his medication and building up his motivation to give baseball another go after all his trials and tribulations.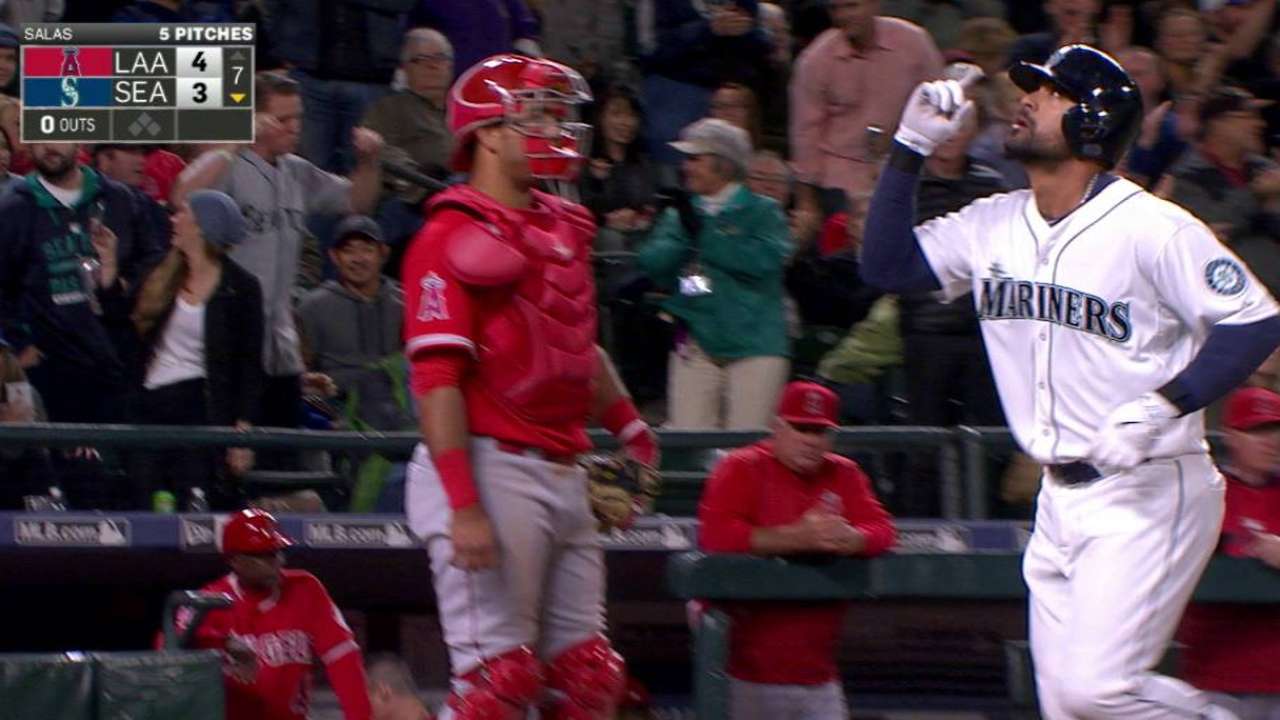 The Venezuelan native prefers to let his play do the talking, but Gutierrez is enjoying being part of the Mariners again and soaking up each day, having come to terms with his limited role that allows him to stay healthy enough to play.
"I have to take care of my body," Gutierrez said. "The way I'm swinging right now is the way I'm able to play. When you play consecutive days, that's when you start to get tired. Anything can happen. Right now I'm not thinking about anything but just playing the game."
Gutierrez had to sit out a week recently with a strained groin muscle, and McClendon said there have been a few other times when Gutierrez couldn't play because of his condition. But that has been a better situation than McClendon envisioned when Seattle first called the veteran up.
"It's one day at a time," McClendon said. "I check with him every morning: 'Can you go?' He's played a lot more than I expected coming out of Triple-A. I think he's told us maybe three times when he was scheduled to play that he couldn't go. That's been pretty good."
Gutierrez returned as a much different player than in his prime. No longer the smooth glider who was one of the best defensive outfielders in the game, he's now limited to playing left field. But Gutierrez has become a much better hitter, bigger and stronger than before.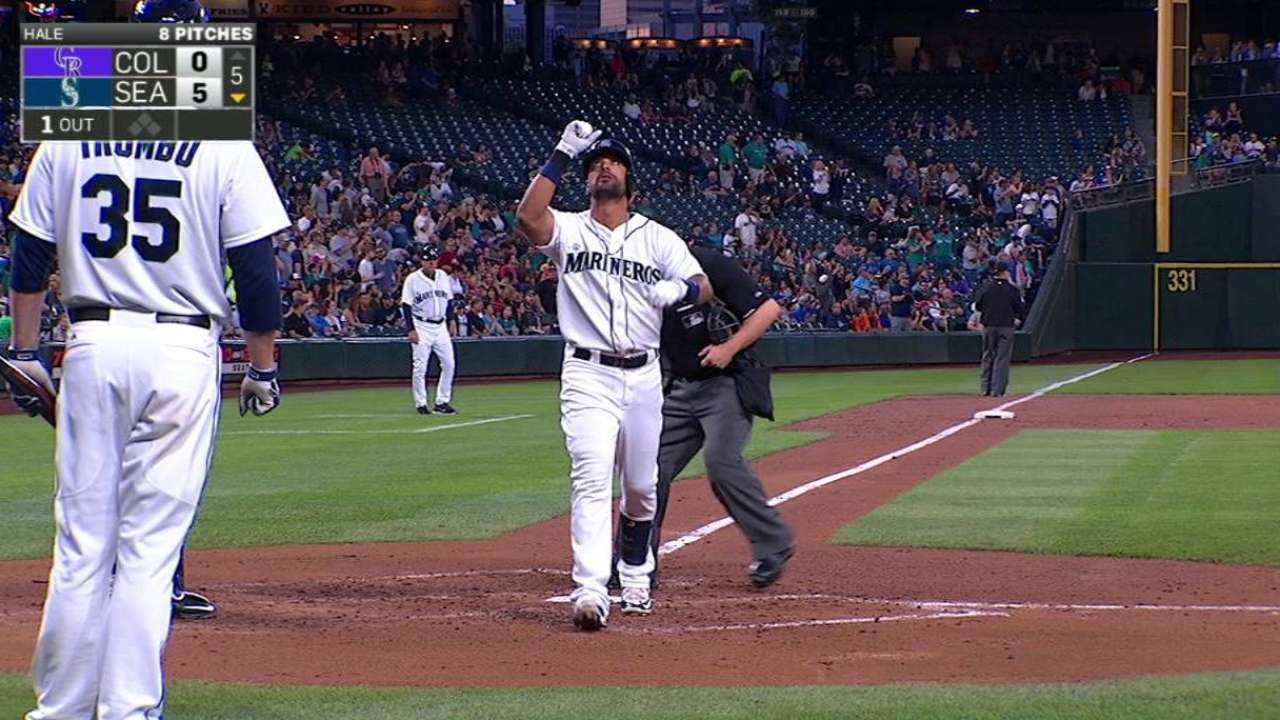 "A little experience is always good," Gutierrez said. "I'm just trying to go out there and be confident in what I'm doing. I'm not playing every day. I'm just trying to do what I can every time I go in there. I haven't changed anything. I'm just not doing heavy weights. If you put a good swing on the ball and it goes out, it's good. But I'm not looking to hit homers."
And, yet, there he is with four more home runs in his past four games. In Gutierrez fashion, those four games have been spread over nine days. But when given the chance, he's produced at an amazing rate.
"I'm happy with the season I'm having and just moving forward to do what I'm doing next year," Gutierrez said.
And what about next season? Gutierrez is one of three pending free agents on the Mariners, along with Hisashi Iwakuma and Joe Beimel. His performance could lead other teams to wonder what he might contribute in a larger role, but he has a comfort zone in Seattle, where he's spent his past six seasons.
"This will always be my first choice," Gutierrez acknowledged. "But anything can happen next year. I have to wait until everything is over."
Greg Johns is a reporter for MLB.com. Follow him on Twitter @GregJohnsMLB, read his Mariners Musings blog, and listen to his podcast. This story was not subject to the approval of Major League Baseball or its clubs.