MLB.com Columnist
Bernie Pleskoff
Scouting profile: John Lamb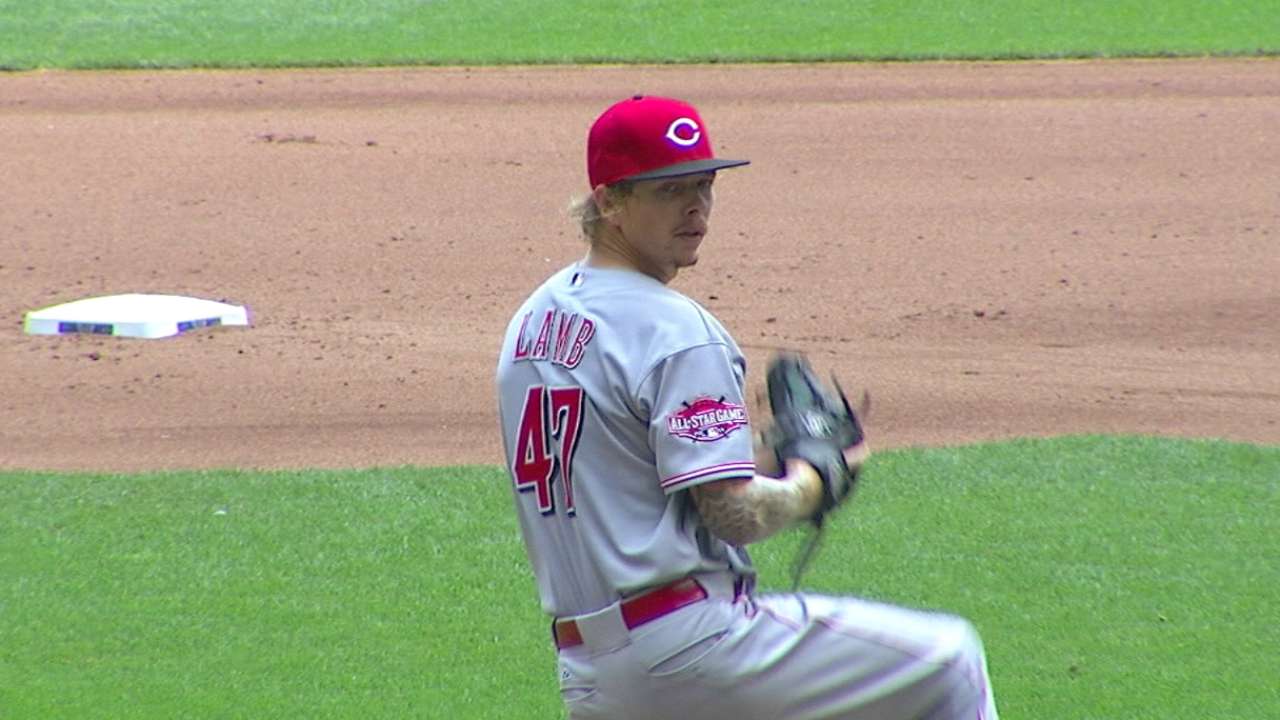 Background
Left-hander John Lamb was considered a major pitching prospect while at Laguna Hills (Calif.) High School. He suffered an elbow injury that may have occurred in a car accident. Lamb's stock dropped a bit after the injury, and the Kansas City Royals were able to select him in the fifth round of the 2008 Draft.
Lamb's career with the Royals started on a fine note, but then he encountered elbow issues and had Tommy John surgery in June 2011. After surgery, he struggled to return to his normal form. Lamb's velocity took time to return, and he scuffled a bit trying to regain his confidence, repertoire and mechanics.
Despite missing time recovering from surgery, Lamb has worked hard to find his way. He was part of the deal that sent Johnny Cueto from the Reds to the Royals in July. Lamb and pitchers Cody Reed and Brandon Finnegan were all packaged to Cincinnati for Cueto.
Now 25, the 6-foot-4, 205-pound Lamb has worked his way to the Reds' rotation. He made his big league debut on Aug. 14, pitching six innings in a loss for Cincinnati against the Los Angeles Dodgers, and he is 1-3 with a 5.35 ERA in six games entering his start against the Cardinals on Monday night.
Lamb is ranked No. 21 among the Reds' Top 30 Prospects.
Repertoire
Lamb has a very complete and competitive repertoire. His velocity is gradually increasing from the days immediately following his surgery. Lamb now throws his four-seam fastball from 89-93 mph and a more occasional two-seamer that sits at 92. He supports his fastball with a very credible 88 mph cutter and a changeup that sits at 79 mph. While those are his main offerings, Lamb also mixes in a curveball. His repertoire and his ability to change speeds cause deception and feature plenty of movement. To navigate lineups, Lamb counts on missing bats and inducing weak contact from all of the movement on his pitches.
Mechanics
Lamb delivers the ball from a three-quarters arm slot. He has recently made important changes to his delivery. Lamb is much more upright, and by his own admission, his arm does not hurt as much.
There are times Lamb still has trouble finding a consistent release point. But recent mechanical improvement has been very helpful in his surge to the big leagues. Lamb is now using his size and his increased strength to get more from the lower part of his body without taxing his arm as much. He has a long stride and takes advantage of moving the ball. Using all four quadrants of the plate has helped Lamb settle his command issues.
Strengths
Lamb's size and strength are major assets as he continues to work on his command and control. His active fastball can set up his secondary pitches and change the eye level and balance of the hitter.
Lamb can add stability to the middle or back end of the Reds' rotation. He has completed 622 2/3 Minor League innings in 124 starts. At the time of his promotion to Cincinnati, Lamb had compiled a 3.67 ERA and a 1.27 WHIP.
Lamb has been very tough against left-handed hitters this season. They've hit a combined .232 against him across his MLB and MiLB stints this year. On the other hand, righties have hit .258.
At his Triple-A assignments, Lamb finished his season with a 10-2 record and a 2.67 ERA in 111 1/3 innings. He struck out 117 while walking 36.
Weaknesses
Like every other pitcher, Lamb has to remind himself what works in his delivery and what doesn't. Basically, he has to repeat his delivery and finish his pitches facing the hitter.
I find this interesting
When initially drafted, Lamb generated buzz as a top left-handed pitching prospect. His surgery changed the conversation and he is now working his way back to prominence.
The future for Lamb
Lamb faces a test as part of the Reds' September rotation. If he adjusts well to that role, he could find a permanent place among the team's starting pitchers.
Lamb in a word
Determined
Bernie Pleskoff has served as a professional scout for the Houston Astros and Seattle Mariners. Follow @BerniePleskoff on Twitter. This story was not subject to the approval of Major League Baseball or its clubs.