ICYMI: Padres erupt for 15 hits, 4 HRs in win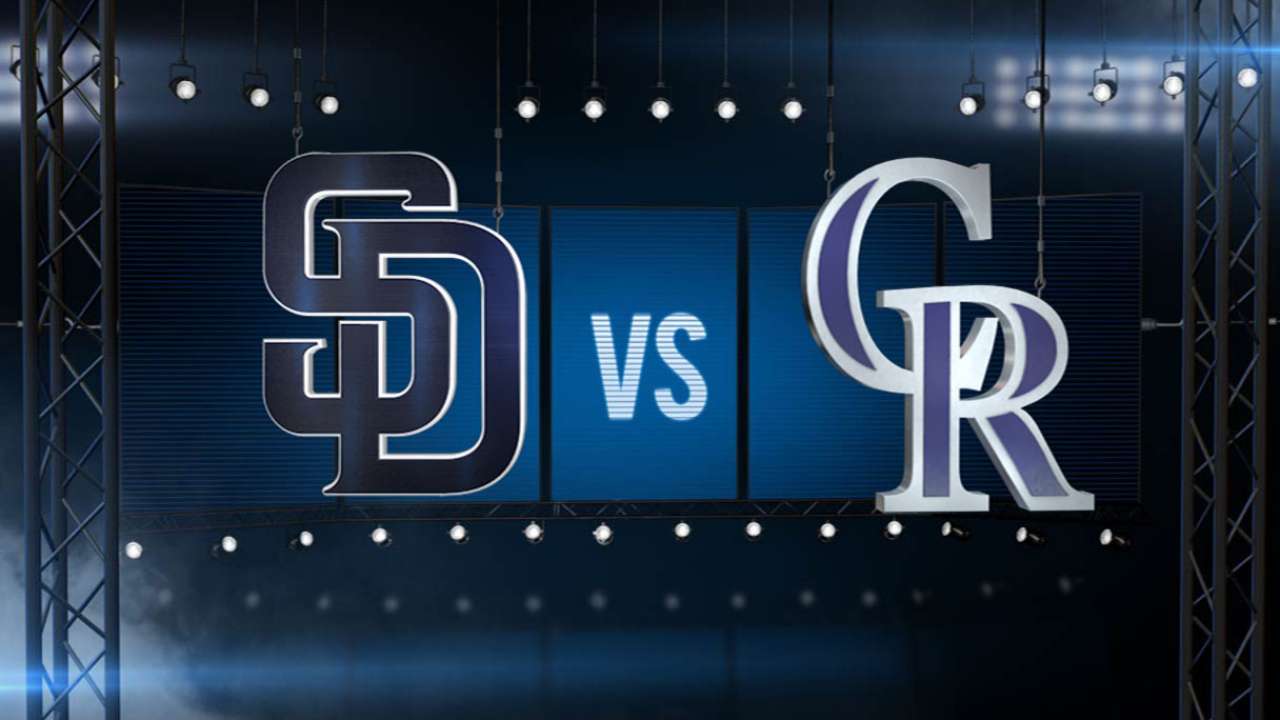 When eight of the Padres' starting nine record at least one hit in a single game, it tends to suggest that the offense did a pretty good job that day. Such was the case on Sunday as the Swinging Friars pounded out 15 hits, including four roundtrippers, in a 10-4 victory over the Colorado Rockies.
Starter James Shields pitched marvelously in his first six innings against the Rox as he allowed only one run on one hit -- a leadoff home run from Charlie Blackmon in the first inning -- and two walks. Overall, Shields finished the day surrendering four runs on two hits and four walks with eight strikeouts over 6 2/3 innings. Nonetheless, Shields' 111-pitch performance was good enough for his 13th win of 2015.
The Padres needed only a few relievers on Sunday in contrast to the five used in Saturday's contest. Pitchers Bud Norris, Joaquin Benoit and Craig Kimbrel combined to pitch 2 1/3 innings of scoreless baseball while also recording just two hits and six strikeouts. Benoit and Kimbrel each struck out the side.
The four Padres home runs -- courtesy of Yangervis Solarte, Matt Kemp, Jedd Gyorko and Cory Spangenberg -- accounted for half of San Diego's score at the end of the day. Solarte plated a pair of runs in the first inning to raise his season total to 59 RBIs. Kemp raised his total to 98 RBIs after going 3-for-5 with three runs scored and two doubles.
Outfielder Justin Upton also had a big day at the plate as he went 3-for-5 with three RBIs and a run scored with two doubles. Upton reached the 80-RBI plateau, while catcher Derek Norris posted an RBI after going 2-for-5. Rookie Travis Jankowski also contributed to San Diego's run production with a clutch two-out single in the second inning for his sixth RBI of his career. Overall, the team as a whole went 5-for-11 with runners in scoring position.
In case you missed it, here are some highlights and stories that you might not have seen:
Padres postgame recap: Padres belt four homers in rout of Rockies
Shields' 13th win of 2015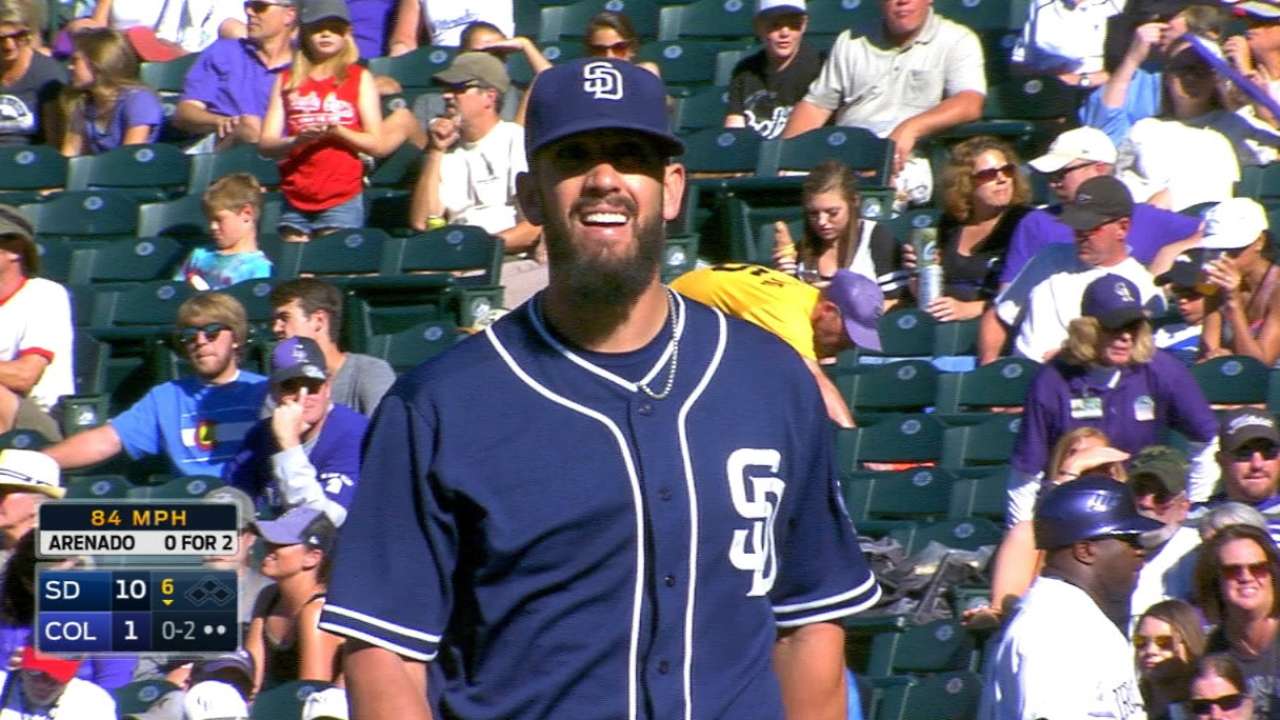 Solarte, Kemp, Gyorko and Spangenberg all go yard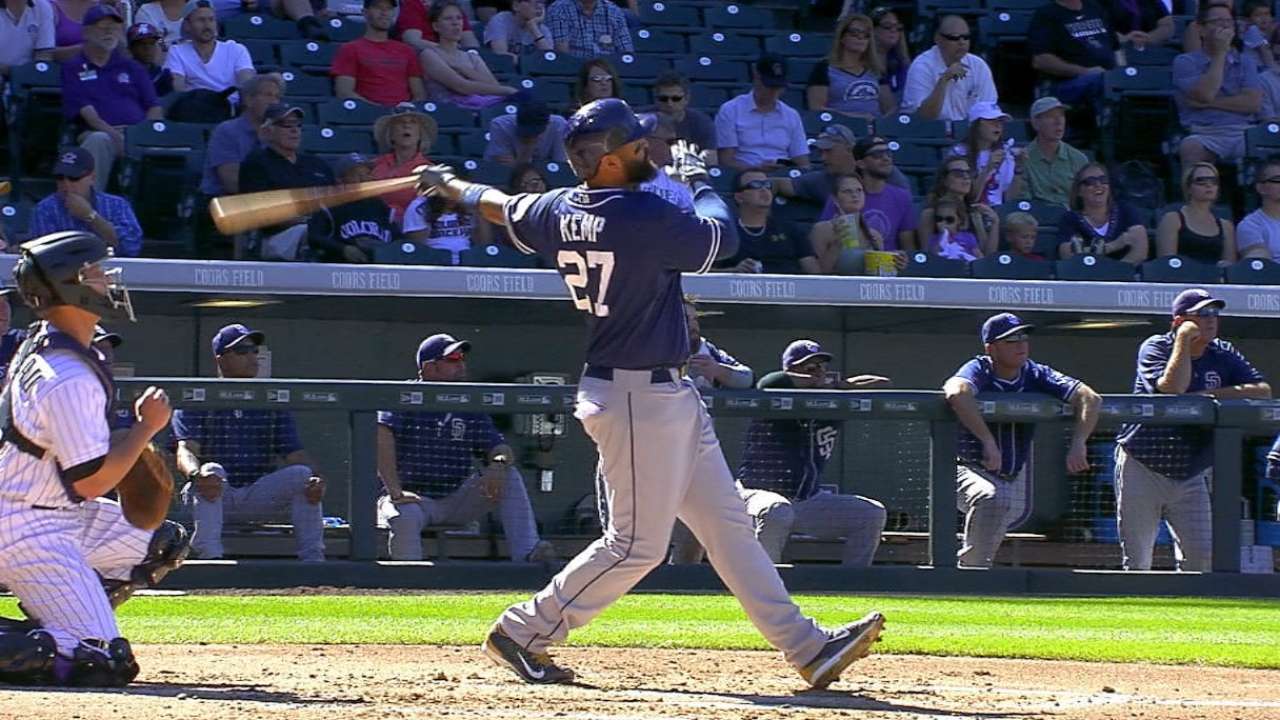 J. Upton drives in Kemp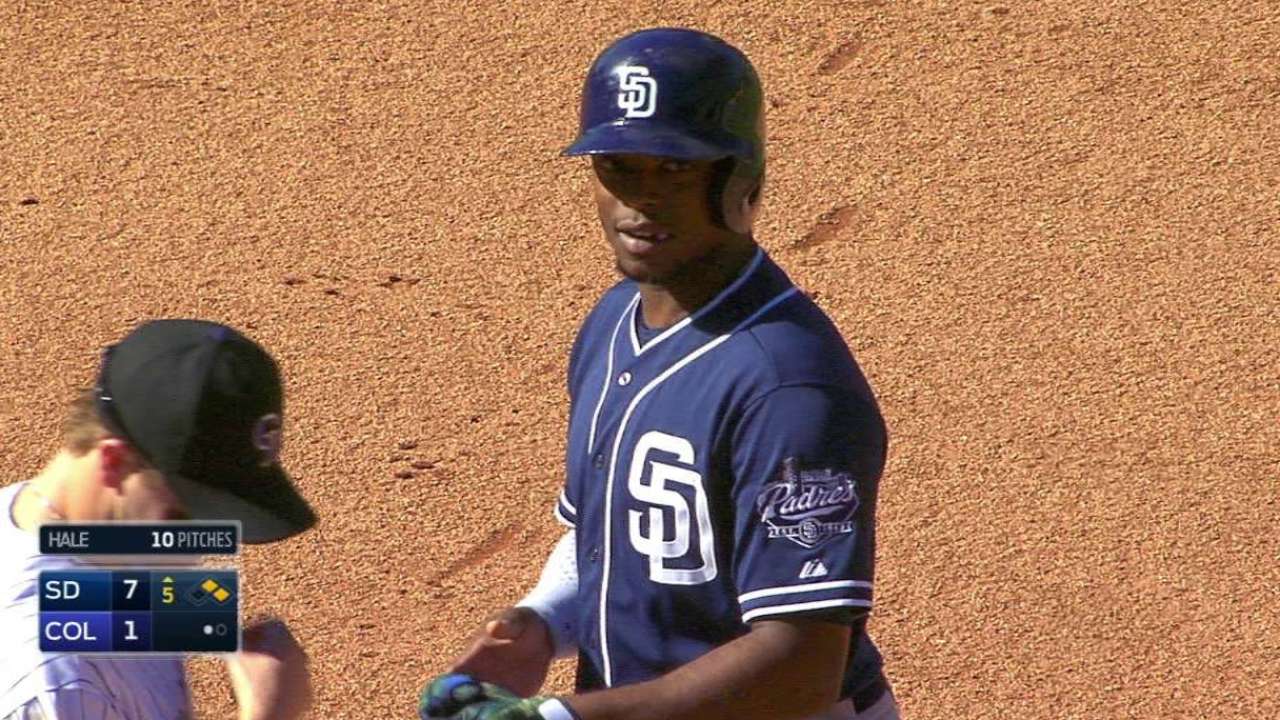 Norris rips an RBI single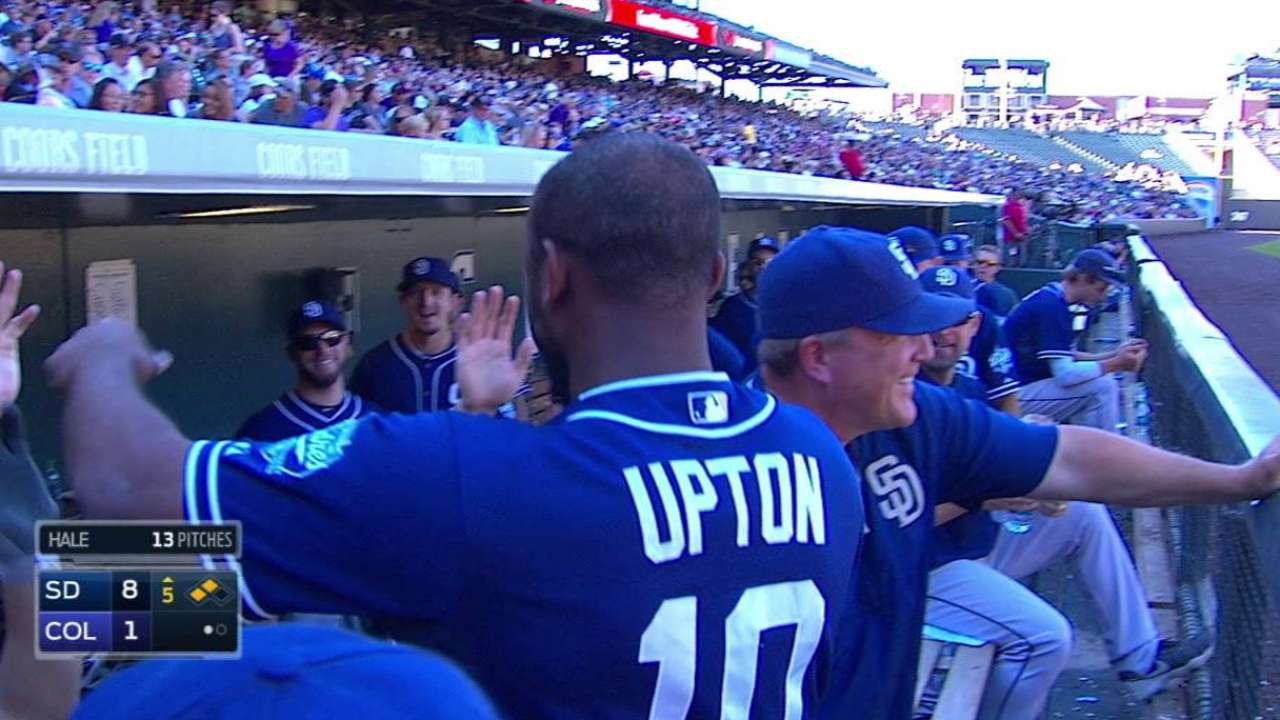 J. Upton drives in 2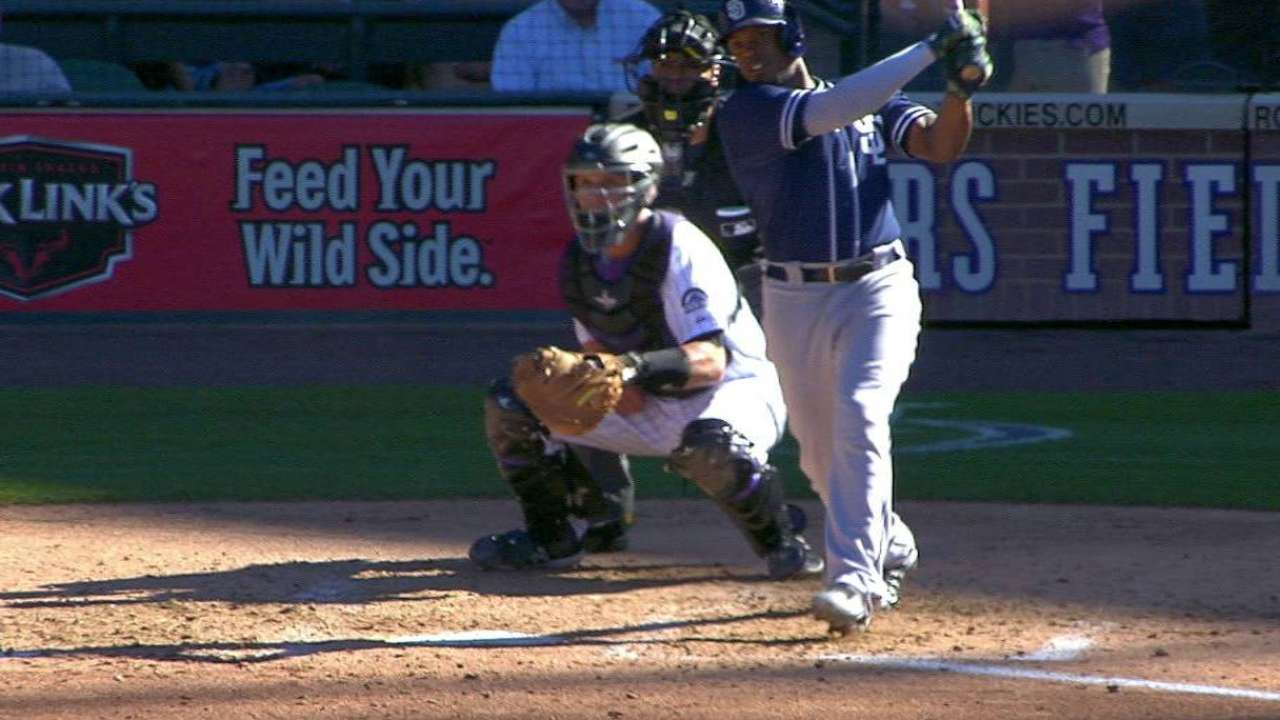 Former Rookie of the Year Myers continues to shine: Myers comfortable at plate since return
Big Texan recognized for efforts on and off the field: Cashner finalist for Roberto Clemente Award
Gyorko continues to stand tall in short position: Padres 'pleased' with Gyorko's development at short
Padres on Cut4: Padres pitchers traverse wilderness to hunt down Murphy's first career homer
Game Notes @ COL (09.20) Shields set for Mile High Finale in Penultimate Roadtrip
Looking forward:
Friar Forecast: Ross faces Giants looking to end winless stretch
Tuesday's pitching preview: Tyson Ross (10-10, 3.18 ERA)vs. Chris Heston (11-10, 3.61 ERA)