Tomlinson willing to prepare for potential OF role
Rookie second baseman wants to play when Panik returns to Giants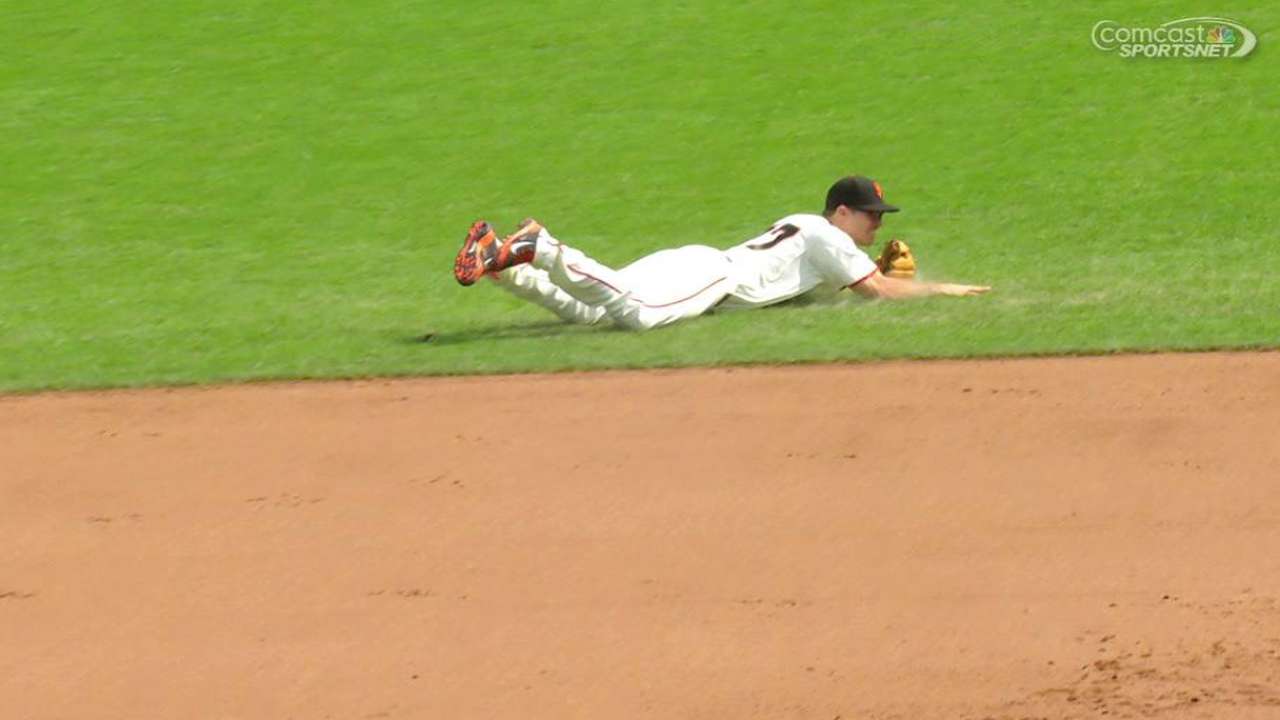 SAN FRANCISCO -- Filling in for the injured Joe Panik this season, Kelby Tomlinson has started at just one position: second base. But the Giants rookie says he's open to expanding his defensive capabilities.
The 25-year-old Tomlinson -- who played second base, third base and shortstop over five seasons in the Minor Leagues -- said he hopes to work on learning to play the outfield during the offseason.
"I think it's just to kind of get me a little bit of work out there so if the need comes up, I wouldn't be a complete stranger to it," Tomlinson said.
The idea doesn't appear to have come from the coaching staff, and it seems as if the first-year player decided on his own to put in the extra work in between seasons to learn a new position.
"I've heard that," San Francisco bench coach Ron Wotus said. "We haven't gotten into any of that with him at this point in time. I haven't, and I don't believe the higher-ups have either."
But Wotus didn't shoot down Tomlinson's proposition. Instead, he supported it, explaining how it could maximize the infielder's worth heading into next season.
"It's something that obviously would increase his value and give him a better opportunity to help the Major League club," Wotus said.
Dabbling in outfield drills over the offseason certainly couldn't hurt. Even if Tomlinson doesn't earn an everyday role fielding fly balls, having the skills to fill in at any given time could be a boost on the bench for the Giants.
"I haven't looked at where everybody's at and who could be coming back or not," Tomlinson said. "I don't know at all. That's not really my concern, either. It's just to get some work in in case I need to be able to use it."
Panik, an All-Star in 2015, is slated to be ready for the start of Spring Training, so Tomlinson likely won't have a starting spot in the infield. But with his athleticism, learning the ropes in the outfield may come easy.
"He's athletic enough to play at a very high level of defense no matter where he's at," said third baseman Matt Duffy, who was roommates with Tomlinson when the two played together for Double-A Richmond. "You could almost argue that his athleticism is underutilized in the infield."
Over Tomlinson's first 41 big league games, he's shown flashes of starting-caliber talent. In 122 at-bats, he's hit .287 with 15 RBIs and 15 runs scored in addition to seven extra-base hits and five stolen bases.
The rookie has shown a knack for finding a way on, recording a .351 on-base percentage. He also proved to be up for any challenge when he smacked a walk-off single against Cardinals reliever Kevin Siegrist on Aug. 28.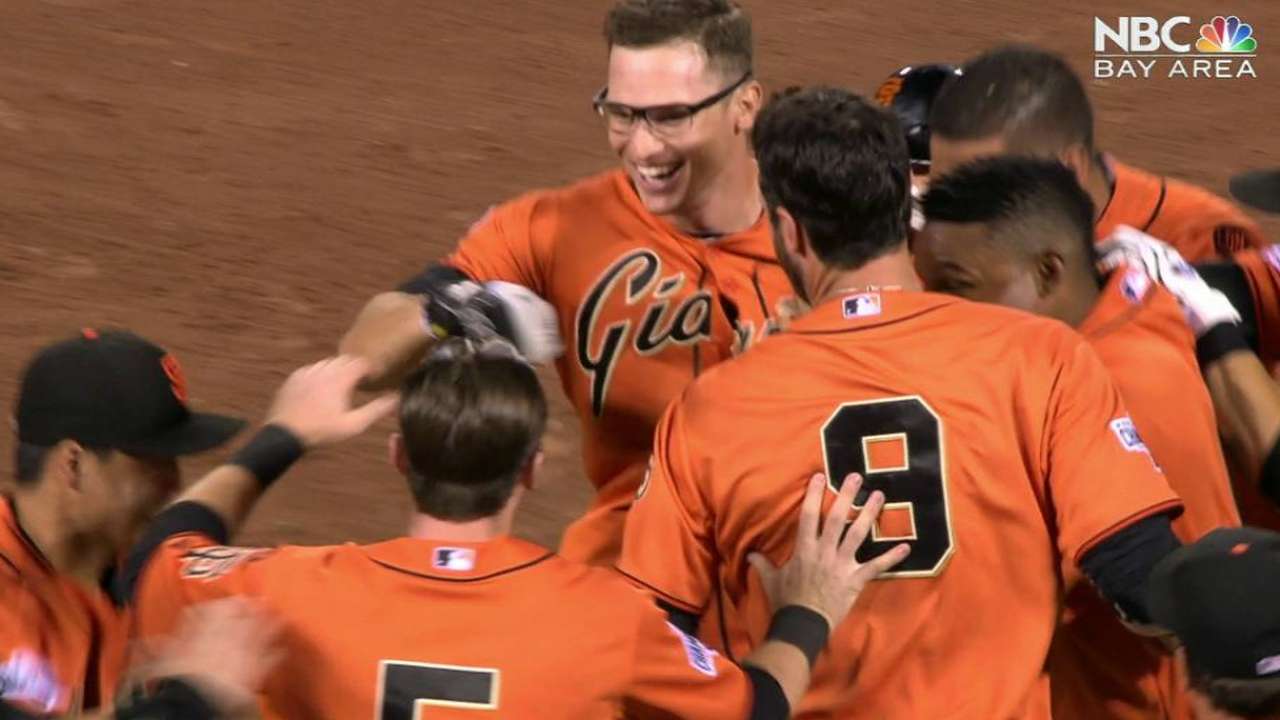 The coaching staff would have an easier time getting Tomlinson's bat in the lineup if he could be counted on to play solid defense in multiple spots.
"You have to be willing to get out of your comfort zone or try a new position if you want to play," Wotus said. "If you're a young player and you have an All-Star second baseman ahead of you and that's your position, it only makes good sense for you to want to expand your opportunities to get in the lineup."
Wotus added having a flexible mentality resonates with teammates and coaches, but the willingness to make the change is something few players have.
"The attitude does go a long way," Wotus said. "But I think he's smart enough to realize that this is only going to benefit him in his career."
Oliver Macklin is an associate reporter for MLB.com. This story was not subject to the approval of Major League Baseball or its clubs.