Kelly takes long path back to big leagues
Right-hander debuted in 2012 before missing '13 campaign following Tommy John surgery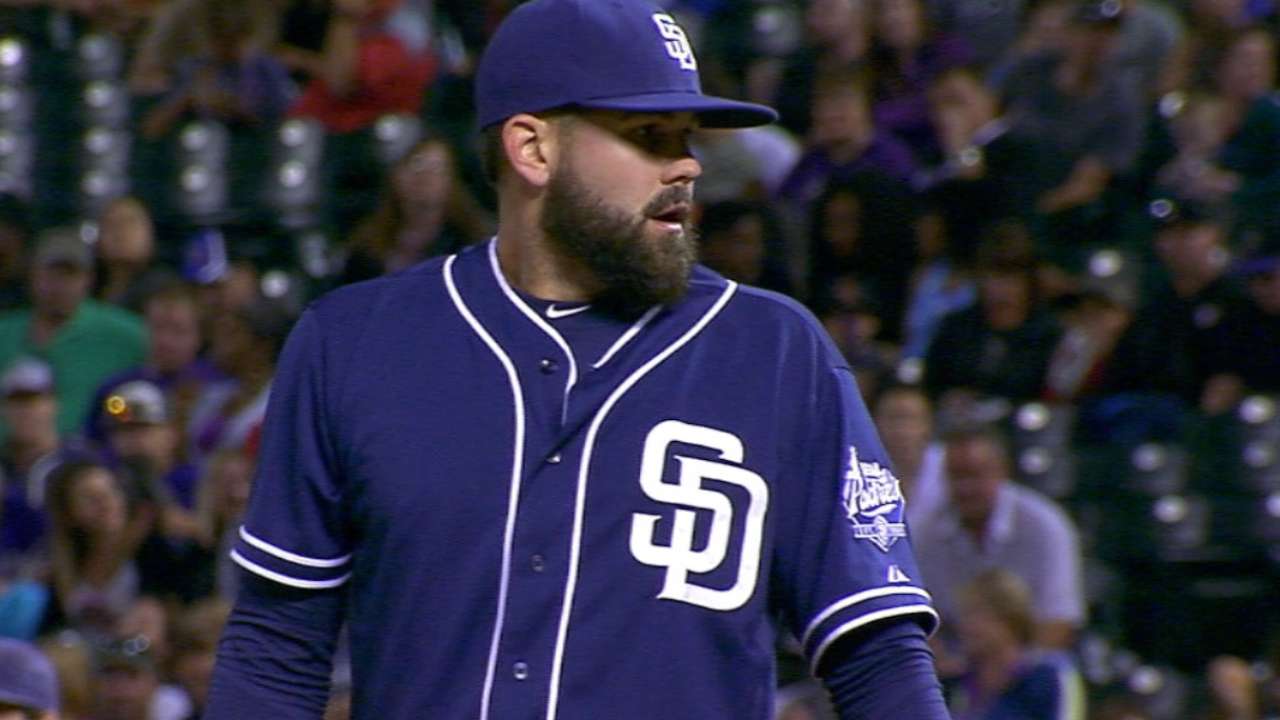 SAN DIEGO -- Casey Kelly was barely two months past his 21st birthday when the Padres plucked him from the Red Sox as part of a five-player trade made on the eve of the Winter Meetings in December 2010.
Now move ahead to last Friday when the Padres pitcher was standing inside the visiting clubhouse at Coors Field. Reminded of just how much this organization has changed since he arrived, Kelly glanced around the room. Staring back at him were few familiar faces -- not just from his first full year in San Diego's system in 2011 but also from his first big league start three years ago at Petco Park.
Kelly will be 26 on Oct. 4. Where has the time gone?
"I'm an adult now," he joked.
The landscape of the organization has certainly changed since Kelly's arrival. After all, the team has had two general managers since Jed Hoyer acquired Kelly nearly five years ago, sending first baseman Adrian Gonzalez to Boston for Kelly and first baseman Anthony Rizzo, who is now with the Cubs.
Today, only Kelly -- once regarded as one of baseball's top prospects -- remains from that deal. His health has also thrown him off the organization's radar to some extent, as he missed all of 2013 while recovering from Tommy John surgery.
But now Kelly is back with the Padres, healthy again after spending the season at Double-A San Antonio, working out the kinks in his first full season after surgery. Better still, almost three years to the date after his first big league start, he's getting another one.
Kelly will start Friday against the D-backs at Petco Park, giving the team a chance to gauge his progress post-surgery and, at the same time, offering him a reward of sorts for getting back to this point after his career was derailed. The right-hander made a relief appearance Saturday against the Rockies, allowing one run over two innings. In a lost season for San Diego, this moment was anything but forgettable for Kelly.
"You have some fun times and bad times, but you have to roll with the bad times as much as the good times. Hopefully, the bad times are behind me," Kelly said. "I'm excited to see what happens next."
Kelly appeared to be on the verge of winning a job in the Padres' starting rotation going into Spring Training 2013. But that spring, Kelly felt soreness in his right elbow, which eventually was diagnosed as a micro-tear in his ulnar collateral ligament, which then led to Tommy John surgery. His rehabilitation was moving along on target, but after pitching 20 1/3 innings in 2014, he was shut down with a flexor mass strain in the elbow. He got a platelet-rich plasma injection last September, which alleviated the pain.
Kelly showed up in Arizona in February for the start of Spring Training with two simple but important goals for himself -- stay healthy and pitch. He went out and accomplished both. Working out of the bullpen at first, pitching one inning every third day to build up his endurance, Kelly slowly increased his workload. He ended the regular season, after a late-season bump to Triple-A El Paso, with 97 2/3 innings.
It was the most innings Kelly had thrown in a single season since 2011 (142 1/3).
"It's been great to be able to come back and make every appearance, every start and not have any elbow problems," Kelly said. "That was amazing."
The results, Kelly admits, weren't much to look at: He had a 4.94 ERA in 27 games with San Antonio and then a 6.32 ERA in four games with El Paso. However, those statistics don't tell the entire story.
"We knew that this year would be sort of up and down with command and feel [for pitches] in that first year coming back from surgery. But I felt like I got better as the year went on and got stronger," Kelly said.
"I was kind of throwing the numbers out of the window anyways. I just wanted to make my starts and get better every day."
San Diego Minor League pitching coordinator Mark Prior saw the progress that Kelly made from April to August -- even if it wasn't always easy for Kelly to see it himself.
"Some days he would have it, some days he would not have it. Some innings he wouldn't have it and then all of a sudden it would click for him," Prior said. "When I saw him late in the year, I told him that he hadn't pitched competitively in two years and consistency wasn't something he was going to [always] have. He's still learning his body, his delivery. For me, he had a successful year."
Prior, who certainly understands the frustrations that come from having a career waylaid by injuries, has also spoke with Kelly about the mental side of what he's gone through.
"He's battled and gone through a lot physically. We've had a lot of conversations about staying positives," Prior said. "Sometimes it can get lonely on that road."
Corey Brock is a reporter for MLB.com. Keep track of @FollowThePadres on Twitter and listen to his podcast. This story was not subject to the approval of Major League Baseball or its clubs.