Inbox: Will Stanton return this season?
Beat reporter Joe Frisaro answers Marlins fans' questions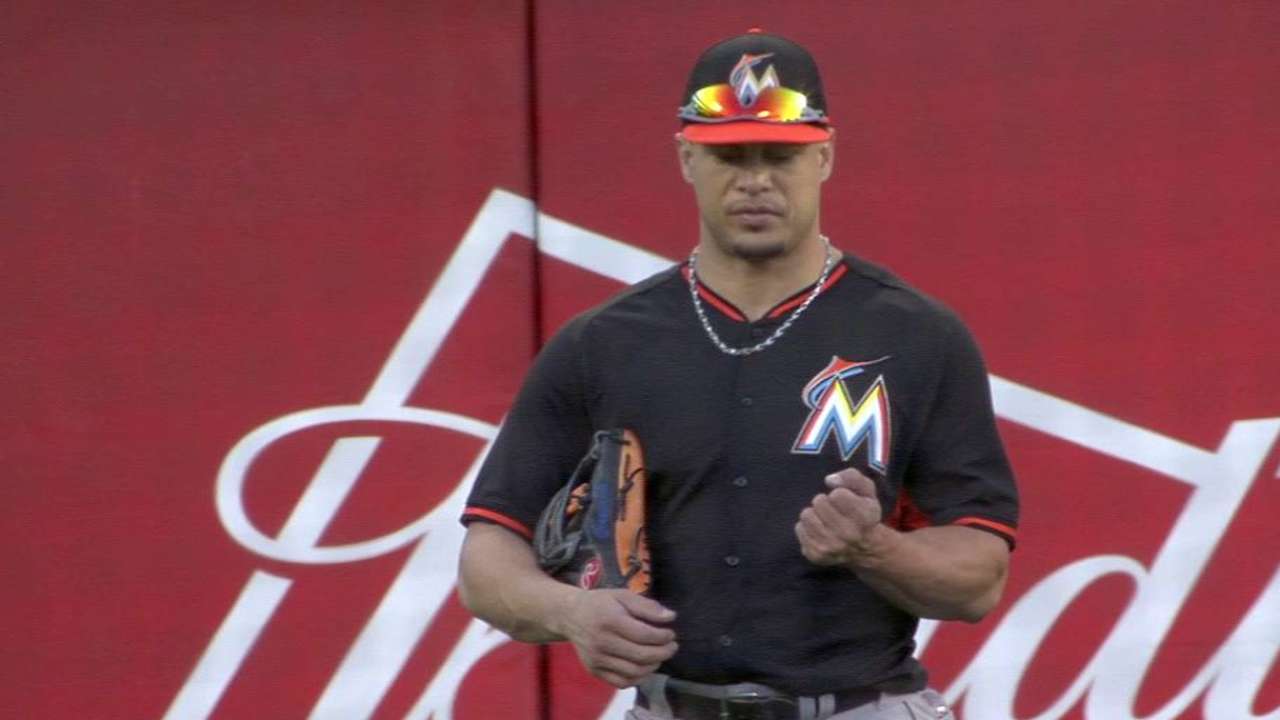 Giancarlo Stanton has been out so long, and the season is almost over. What is the point of even trying to bring him back? Shut him down and get him ready for next year.
-- Nicole D., Miami Gardens, Fla.
If Stanton isn't feeling right by the end of this week, then I agree that he shouldn't return. I normally am in favor of players returning, regardless of the situation, as long as they are healthy. In Stanton's case, he's been out since June 26 with a broken left hamate bone. He hasn't shown he's ready to play, and there are just 12 games to go.
Stanton has had two setbacks this month. He took batting practice last week on the field at Citi Field. The next day, Stanton saw a hand specialist, and he is dealing with scar tissue. He's continuing to strengthen his hand, primarily his left pinkie and ring finger. The tendon in that part of his hand has bothered him as well.
I would think the next few days will determine if a return is likely for Stanton.
Will the team actually start using those compensation Draft picks in the future instead of trading them to save money?
-- @RoderickCrowley
The Marlins haven't exactly traded those picks to "save money." This July, they did part with a pick, sending it to the Braves to complete a trade that sent Mat Latos and Michael Morse to the Dodgers. Ideally, Miami would want to retain that pick, but it was a price the club paid to unload the entire salaries of both players. The fact that the Marlins cleared the remainder of Morse's two-year, $16 million contract was a good move. It did come at the price of an extra pick.
In 2014, Miami traded the pick to the Pirates for reliever Bryan Morris. Getting a back-end reliever also was worth it. In 2014, the Marlins traded a compensation pick to the Astros as part of the deal for Jarred Cosart and Enrique Hernandez.
I suppose your main question is about whether the Marlins will make the most of their future Draft picks. They're going to have to. For too long, this organization has missed on high picks. The team's success rate in the Draft has to improve.
What will the Marlins be looking for in free agency?
-- @Fernandez__21
Pitching is the top priority for the organization -- starters and relievers. I don't expect the team to be a major player in free agency, at least not going after the top names on the market, like David Price.
More realistic options are Texas' Yovani Gallardo and Minnesota's Tommy Milone. Previously, I've mentioned Washington's Doug Fister as a bounce-back candidate who makes sense.
Can you list some of the Marlins' managerial candidates. Is Ron Washington one?
-- @spitballer9
Assuming Dan Jennings transitions back from manager to general manager, then there will be a search. Washington could be on a shortlist. Ideally, the club would like someone with previous managing experience. I also sense that the organization will search for someone who employs analytics, because I expect Miami to rely more on metrics next year than it did this year.
Jim Riggleman fits the mold in many ways. He has extensive Major League managerial experience and embraces analytics. Washington could get a look, as well as Larry Bowa and others. Brad Ausmus could be a possibility if he isn't back in Detroit. Bud Black's name has been mentioned, but I sense he will have multiple options. I don't see Don Mattingly being realistic for the Marlins.
J.T. Realmuto is our future catcher, but has to be more disciplined with his blocking. I see him gloving too much. New method or bad habit?
-- @layzieczar15
I will sum up Realmuto's defense in two words: growing pains. Let's not forgot, he's a rookie who was rushed to the big leagues probably a year earlier than expected. Like so many rookies right now, Realmuto is playing deeper into the season than ever before. Plus, he's playing pretty much every day. Yes, Realmuto can polish up some technique. That will come in time. This is a special player who projects to be a better-than-average everyday player.
Joe Frisaro is a reporter for MLB.com. He writes a blog, called The Fish Pond. Follow him on Twitter @JoeFrisaro and listen to his podcast. This story was not subject to the approval of Major League Baseball or its clubs.