Beltre, Prince proving to be dynamic duo for Texas
Veteran sluggers offering leadership, big hits for surprising AL West leaders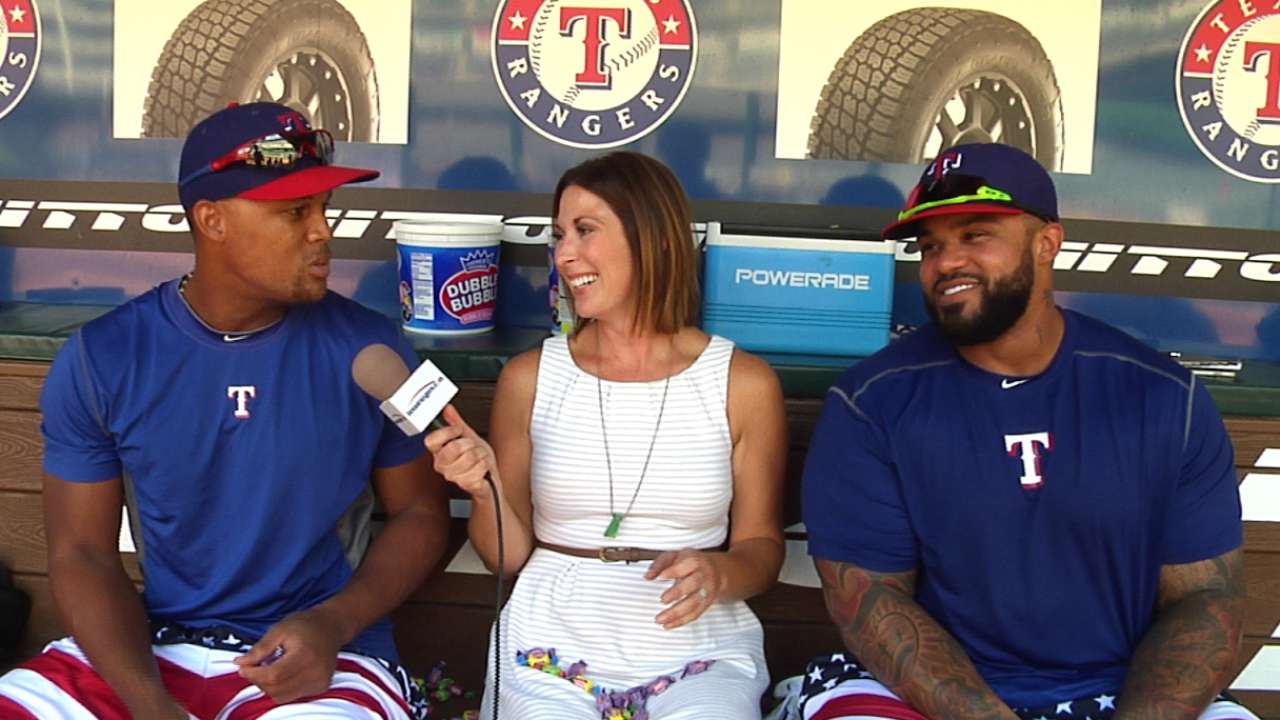 ARLINGTON -- The Rangers really didn't know about Prince Fielder or Adrian Beltre when everybody showed up for Spring Training in Arizona.
Fielder had the biggest doubts surrounding him because he was coming back from a serious neck injury that required surgery and limited him to 42 games in 2014. But there were also questions about Beltre because of his advancing age, a contract that was coming down to the end and his own publicly-expressed desire to play his final years with a contending team rather than one that was going through a major rebuilding project.
Those doubts may have only grown as the season began as both Beltre and the Rangers got off to slow starts. Beltre also suffered a sprained left thumb and spent almost all of June on the disabled list. At the All-Star break, he was hitting .255 with seven home runs, 22 RBIs and a .396 slugging percentage over 69 games.
Now, as Texas pushes into the final two weeks toward an American League West title, all doubts about both have been erased.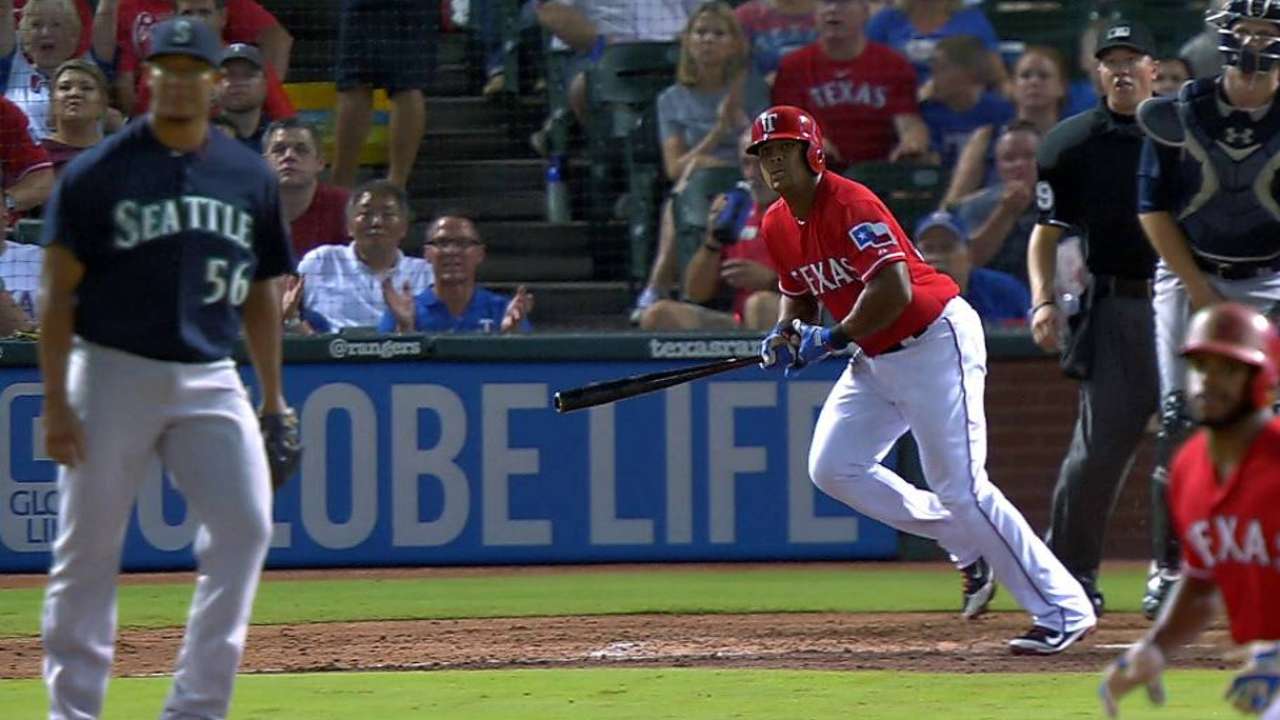 Rejuvenated and reinvigorated by a pennant race, Beltre and Fielder are doing what the Rangers expected. They are providing production needed in the middle of the lineup and leadership in the clubhouse.
"We are definitely a part of it," Fielder said. "Adrian is a veteran and I am right there with him. We are definitely a part of the leadership that has taken control of going further. But there are so many guys on the team that contribute every night, so it is not just us.
"Any time the guys in the middle of the lineup are hitting, it's going to help. Hopefully we can keep it going; if not, just go out and compete. It's not about results, it's the way you go about your business, help the team and let them know, 'We have a chance by the way you carry yourself and the amount of confidence you show.'"
Beltre insists he plays better in the second half, and that again has proven to be the case. Since the All-Star break, Beltre is hitting .301 with eight home runs, 40 RBIs and a .470 slugging percentage.
"There is no doubt that if you have somebody hitting in the middle of the lineup, he is a big key," Beltre said. "You expect a lot from him. I'm just trying to win ballgames. That's all I care about. No doubt I'm a big piece of this. If I hit .190 this year and we win the World Series, I will be jumping for joy. I hope that happens."
Fielder was Texas' best player in the first half and their only All-Star representative. The second half hasn't been as productive, as his batting average has gone from .339 to .259, and his slugging percentage has dropped from .521 to .384.
But the numbers are rising again in September, and Fielder was 8-for-16 with three home runs and eight RBIs during the four-game sweep of the Astros last week. There is nothing like a pennant race to get the energy flowing again.
"It definitely helps," Fielder said. "My first year back after being off last year; it got tough there for a second. But now that you are in a pennant race, all of that goes away, you get your second wind. Got to go out there and play hard, and whatever happens in the end, happens. All we can control is our effort and our mindset."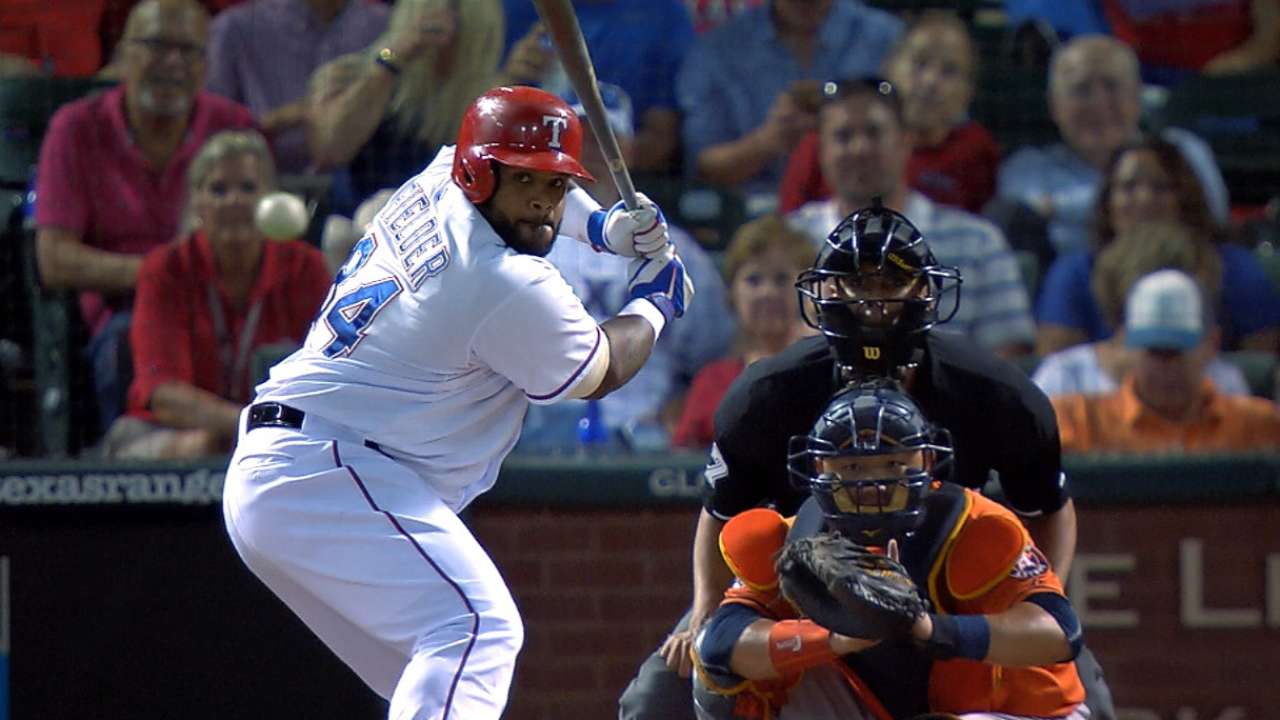 That's part of the message the Rangers get from their two leaders, and there is no doubt who the leaders are on this team.
"They lead them," manager Jeff Banister said. "Those are the two guys. On the field with the way they play; in the dugout with how loose they are in times when they need to be loose; in the clubhouse with the intensity level -- vocally and physically -- how they play and the words they use."
Banister was in the dark as much as anybody about Beltre and Fielder when he showed up in Spring Training as Texas' new manager. He has learned quickly about both.
"Beltre is the best pro I have ever been around," Banister said. "Probably the most hard-nosed player, but yet balanced also. Prince is probably one of the better teammates, intense, he is going to lead the charge, bust the door down. He'll never be in the back of the room, I promise you that.
"I had never really been around Adrian. I have watched him, but I have a greater sense of what he means to the team, also to the game and who he is. Prince, I always respected the guy, somewhat feared him over in Pittsburgh. But to be around him day to day, truly see the dynamic of the teammate he really he is, I'm even more impressed."
The Rangers, who are off on Monday, have a 1 1/2-game lead in the AL West with 13 games to go. The injuries are in the past and so are concerns about playing for a "contender." Texas is contending as much as for what Fielder and Beltre are doing as anything.
"It has nothing to do with me," said Beltre. "It's just about winning. Baseball is not easy. I knew since Spring Training we believed this is a good team that could contend in the division. Even though we got hit with Yu Darvish getting hurt and Derek Holland being hurt early in the season ... we still had a good team and we were able to hang around, and look where we are right now."
T.R. Sullivan is a reporter for MLB.com. Read his blog, Postcards from Elysian Fields, follow him on Twitter @Sullivan_Ranger and listen to his podcast. This story was not subject to the approval of Major League Baseball or its clubs.