MLB.com Columnist
Roger Schlueter
Stats of the Day: Three cheers for Morales
KC slugger equals homer feat achieved just eight times by a Royals player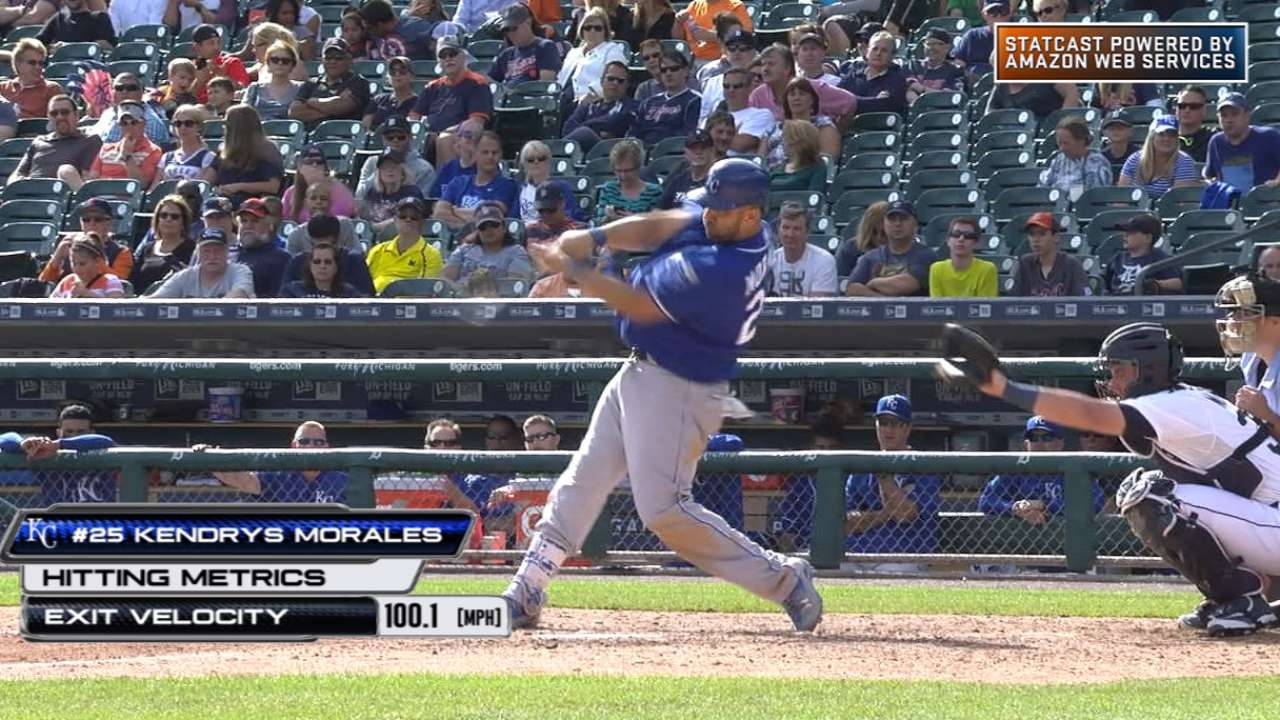 Here are five interesting items from around the big leagues this weekend …
• In a 10-3 win over the Tigers on Sunday, Kendrys Morales homered in the third, fourth, and eighth and tripled in the sixth to have a historic day at the plate for the Royals. It marked the eighth time a Royals player has had a three-homer game, and the first since Danny Tartabull on July 6, 1991. The others: John Mayberry on July 1, 1975, and June 1, 1977; George Brett on July 22, 1979, and April 20, 1983; Tony Solaita on Sept. 7, 1975; and Bo Jackson on July 17, 1990. Morales' 15 total bases set a new franchise record, eclipsing the 14 collected by Brett on May 28, 1979. That day, Brett homered twice while hitting for the cycle.
• In Boston's 4-3 win over Toronto on Sunday, 22-year-old Xander Bogaerts had a pair of hits to lift his average to .322. The franchise has seen two players in an age-22 or younger season qualify for the batting title, and finish the year at .320 or better: Ted Williams in 1939 (age-20 season, .327), 1940 (.344) and 1941 (.406); and Tris Speaker in 1910 (age-22 season, .340).
• In the Indians' 6-3 win over the White Sox on Sunday, Michael Brantley collected his MLB-leading 45th double of the season -- the same total he finished with in 2014. Brantley is the fourth Indian to have consecutive seasons with 45+ doubles, joining Speaker (1920-23), George H. Burns (1926-27), and Lou Boudreau (1940-41).
• On Sunday, Stephen Strasburg authored seven innings of two-run, 10-strikeout ball as the Nationals defeated the Marlins, 13-3. This effort, following appearances in which the right-hander fanned 13 and then 14, made Strasburg the second pitcher in franchise history to have three straight double-digit strikeout performances. In 1997, Pedro Martinez compiled six straight (June 3-30), and then later that year, put together five in a row (Aug. 14-Sept. 4). In '96, Martinez fanned 10-plus in three straight, from Aug. 24-Sept. 3.
• In Saturday's 5-4 win over the Cardinals, Cubs third baseman Kris Bryant hit his 25th home run of the year to tie Billy Williams (25 homers in 1961) for the Cubs' rookie record; Bryant's 25 tied him with the Braves' Eddie Mathews (1952) and the Twins' Gary Gaetti (1982) for the seventh most for a rookie third baseman.
Milestone watch for Monday
• Trevor Rosenthal, with 46 saves, needs one to tie Lee Smith (1991) and Jason Isringhausen (2004) for the single-season Cardinals record.
• A.J. Burnett needs six strikeouts to reach 2,500 for his career. There have been 31 pitchers to reach this milestone; Burnett is on the cusp of being the 23rd righty to get there.
Roger Schlueter is a contributor to MLB.com. This story was not subject to the approval of Major League Baseball or its clubs.