Statcast: Cardinals cannons, heavy hitters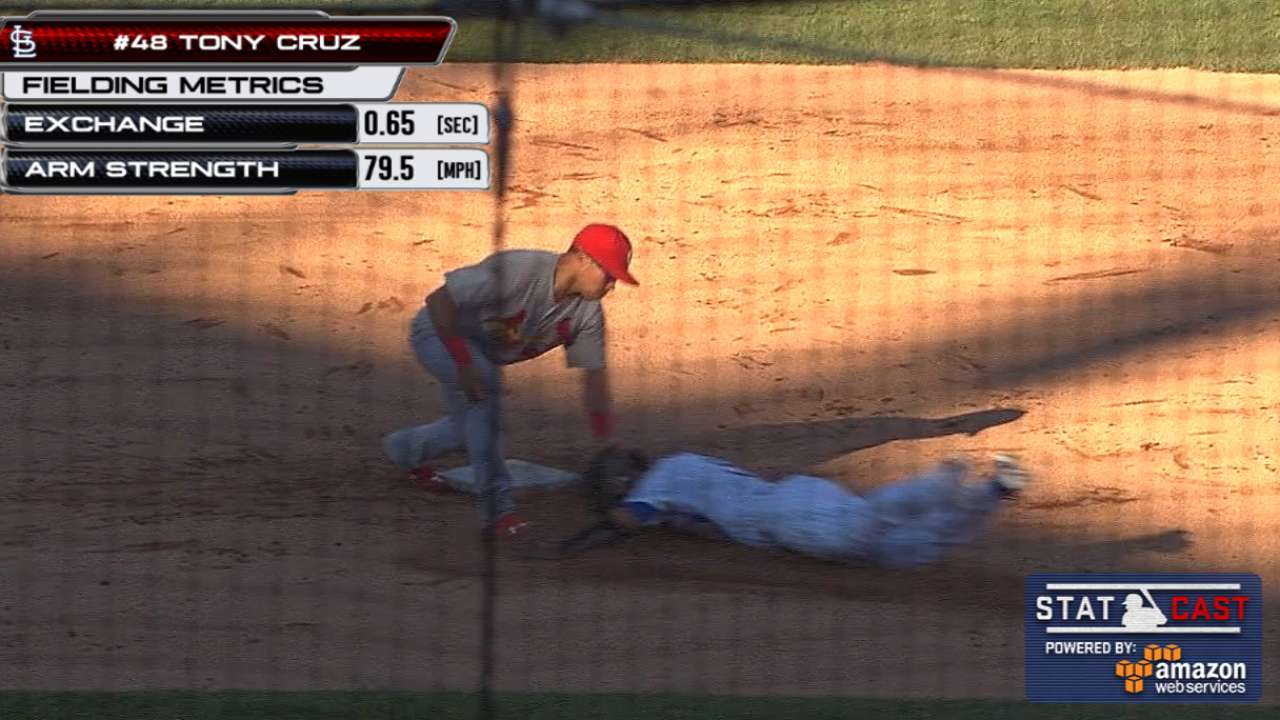 After losing the first two games of their series against the rival Cubs at Wrigley Field, the Cardinals were desperately trying to hang on to a lead in Sunday afternoon's finale.
Fortunately for St. Louis, a pair of great throws saved the day and helped bring a 4-3 victory that maintained the club's four-game lead over Pittsburgh in the National League Central. Statcast™ was on the job for both, tracking Jason Heyward as he fired a strike to the plate to complete a double play in the eighth, and then Tony Cruz as he caught Quintin Berry stealing second in the ninth.
With a full slate of Major League action on Sunday, there was plenty more for Statcast™ to break down, including a run-saving stop in New York, a play at the plate in Toronto, a walk-off infield single in St. Petersburg, a diving catch in Minneapolis and a combined six home runs hit by three players in three different cities.
Here is an in-depth look at each play.
Heyward and Cruz hit their marks
In the bottom of the eighth at Wrigley Field, the Cubs already had scored once to pull within 4-3 and seemingly were on the brink of putting up a crooked number. But with the bases loaded and no outs, Heyward came up big. The St. Louis right fielder caught Addison Russell's fly ball, then heaved a one-hopper to the plate, right to catcher Yadier Molina. The throw traveled 242 feet at a top speed of 95.5 mph, arriving home ahead of Anthony Rizzo, who slid into Molina's tag for a double play.
Following a strikeout, the Cardinals got out of the inning unscathed, but Molina exited with a sprained left thumb that he suffered on the play at the plate. That put his backup, Cruz, behind the dish for the ninth. When Starlin Castro led off with a single, Berry pinch-ran for him as the potential tying run. And when he took off for second, it seemed like a mismatch. After all, Berry had converted all 30 of his career attempts -- postseason included -- while Cruz was 2-for-14 throwing out basestealers this year. But Cruz got a good pitch, a 99.7-mph Trevor Rosenthal fastball up the zone, and made the exchange in 0.65 seconds. His 79.5-mph throw to second reached its destination just in time to get Berry, who traveled as fast as 20.9 mph.
Uribe to the rescue
The Mets led the Subway Series finale at Citi Field, 1-0, but the Yankees had Jacoby Ellsbury on second with two outs in the third inning when Brett Gardner hit a ground ball that looked headed for right field. Second baseman Juan Uribe had other ideas, however. The veteran took his first step in 0.09 seconds and reached 15.0 mph as he ranged well to his left, making a diving stop. Though Gardner got a single, Uribe got to his feet in time to hold Ellsbury at third, where he was stuck when Carlos Beltran followed with an inning-ending flyout. Unfortunately for the Mets, Uribe later left with an apparent injury.
Pillar's legs vs. Bradley's arm
Though the Red Sox took a 4-3 victory over the Blue Jays at Rogers Centre, Toronto's Kevin Pillar came out on top in one particularly exciting play in the second inning. With Pillar on second and two outs, Ben Revere stroked a line-drive single, setting up a showdown between Pillar and his center field counterpart, Jackie Bradley Jr.
After getting a secondary lead of 15 feet, Pillar took off for home and reached a maximum speed of 21.5 mph, his fourth-fastest mark this year. Bradley did all he could, taking his first step in 0.15 seconds, grabbing the ball on a high hop and unleashing his second-fastest throw of the season, at 96.4 mph. But as Sox catcher Sandy Leon fielded it to the third-base side and went for the tag, Pillar executed a perfect slide to the back of the plate, swiping it with his left arm as he went past.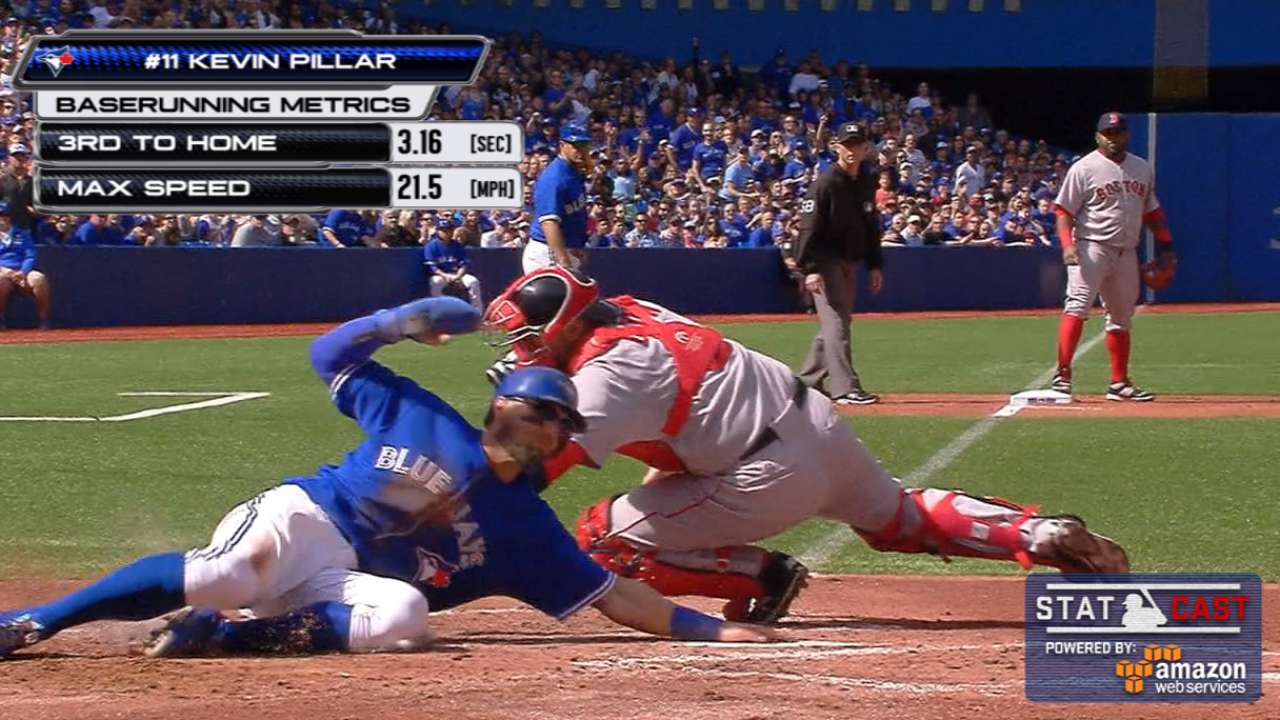 Crush Davis delivers again
Heading into the Orioles' 7-6 loss at Tampa Bay, Chris Davis was tied for the Major League home run lead with Seattle's Nelson Cruz, at 42. That changed in the third inning, as Davis snapped a 1-1 tie when he faced right-hander Jake Odorizzi with one out and a runner on second. On a 1-0 count, Davis went with an outside pitch and clubbed it at 107.2 mph, well over the wall in deep left-center field. The projected distance of 443 feet was the second-longest Statcast™ has recorded for Davis this year.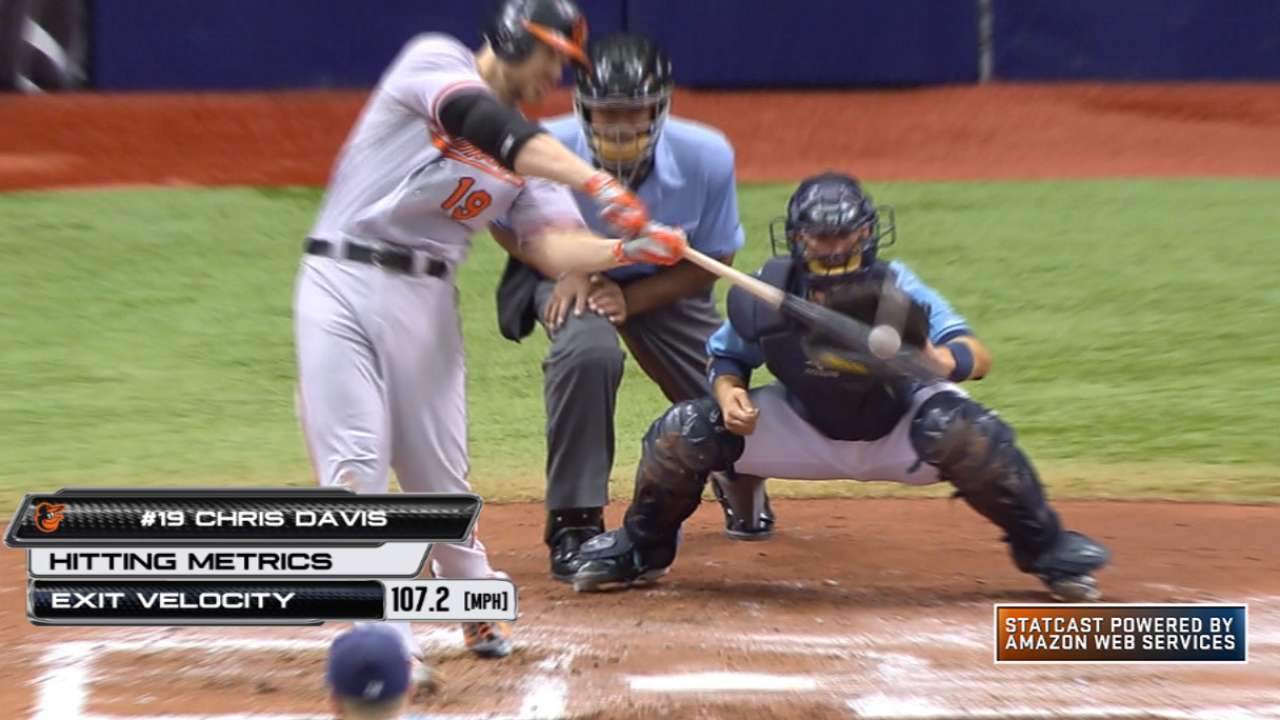 Kiermaier runs hard to walk off
The Rays overcame Davis and the Orioles by scoring two runs in the bottom of the ninth to erase a 6-5 deficit for a walkoff victory. After Brandon Guyer's solo homer tied the score, Tampa Bay loaded the bases with two outs for Kevin Kiermaier, who fell behind 0-2 before he managed to hit a slow bouncer to the right side. Second baseman Jonathan Schoop charged it, and by the time he fielded the ball, just past the infield turf, his only chance for an out was at first. But Kiermaier was flying out of the left-handed batter's box and beat the throw by a half-step as he reached 21.5 mph, his eighth-fastest top speed of the season.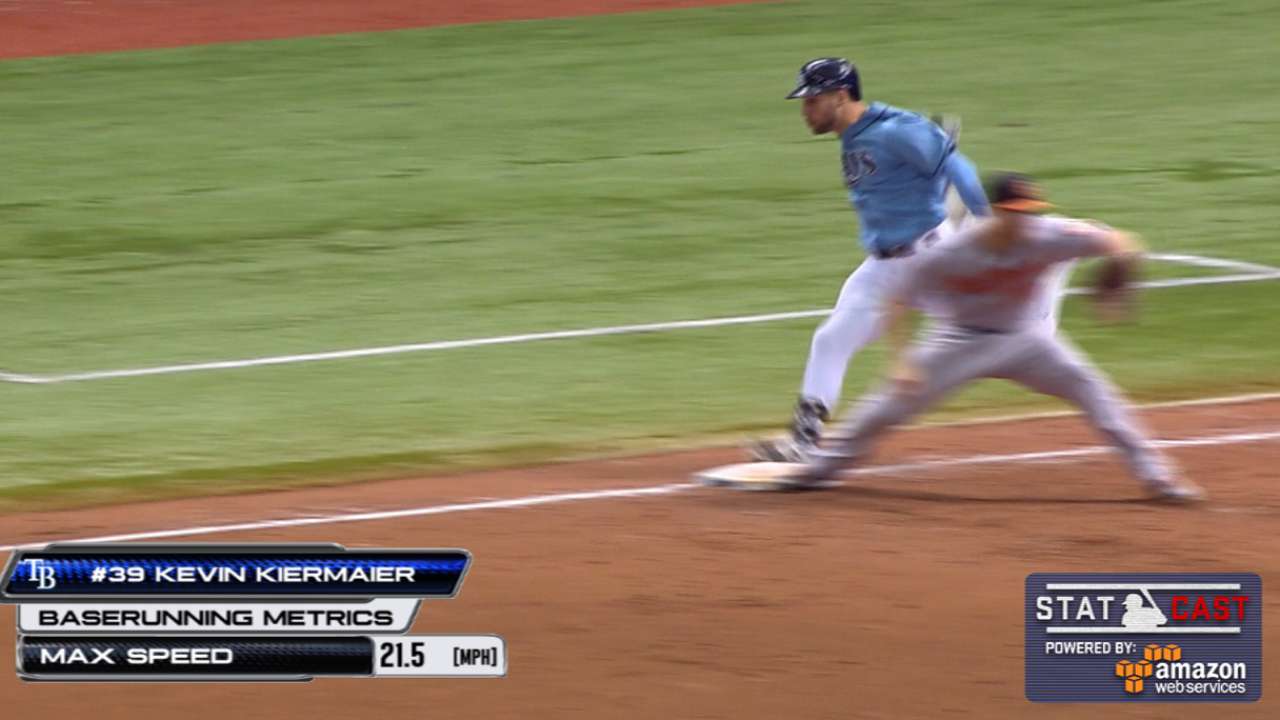 Twice is nice for Bruce
The Reds suffered an 8-4 loss to the Brewers at Miller Park, but Jay Bruce did his part by going 2-for-3 with a walk and a pair of solo homers, his 23rd and 24th of the season. Bruce first took advantage of an Ariel Pena fastball in the second, reaching the back of the second deck in right field with a 457-foot blast that left his bat at 108.1 mph. That was his longest recorded homer of the season until the sixth, when he squared up a Kyle Lohse changeup at 108.5 mph, sending it a projected 459 feet into the second deck in right-center.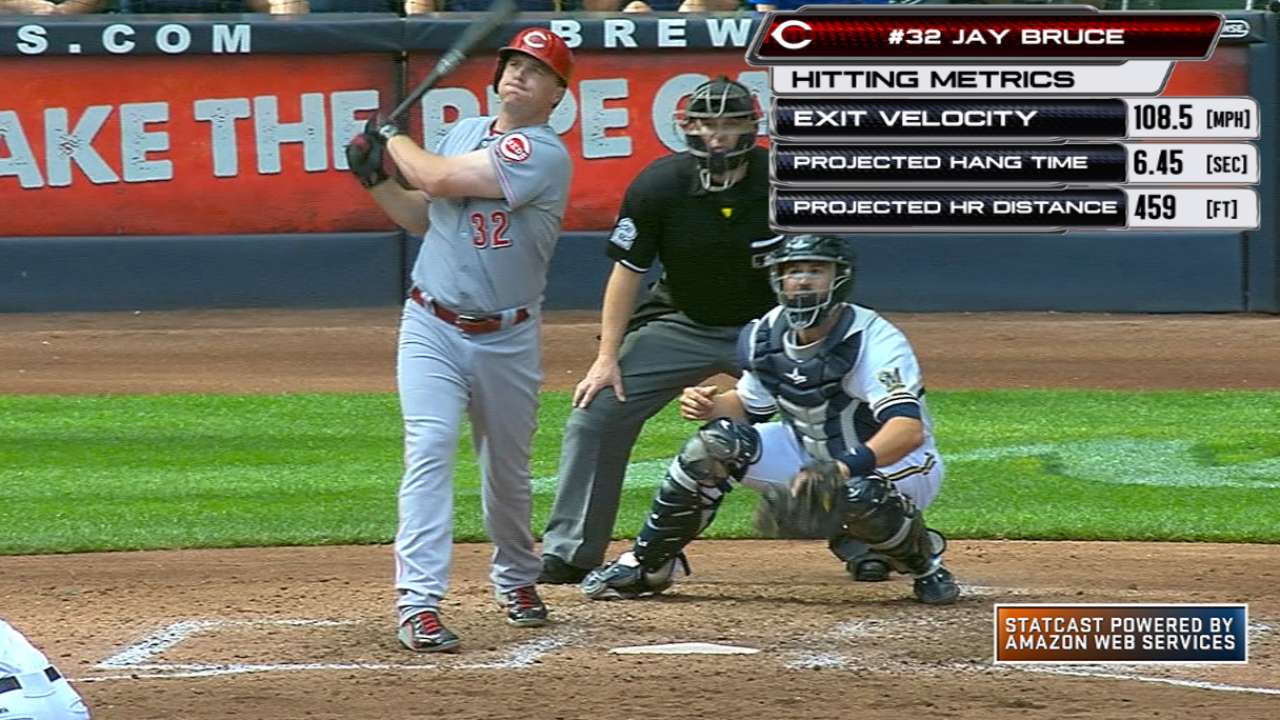 Have yourself a day, Kendrys
The Royals' Kendrys Morales enjoyed perhaps the best day of a fine bounceback season in a 10-3 romp over the Tigers at Comerica Park. While Morales didn't set any distance records, he went deep three times, becoming the first Royals player to do so since Danny Tartabull in 1991.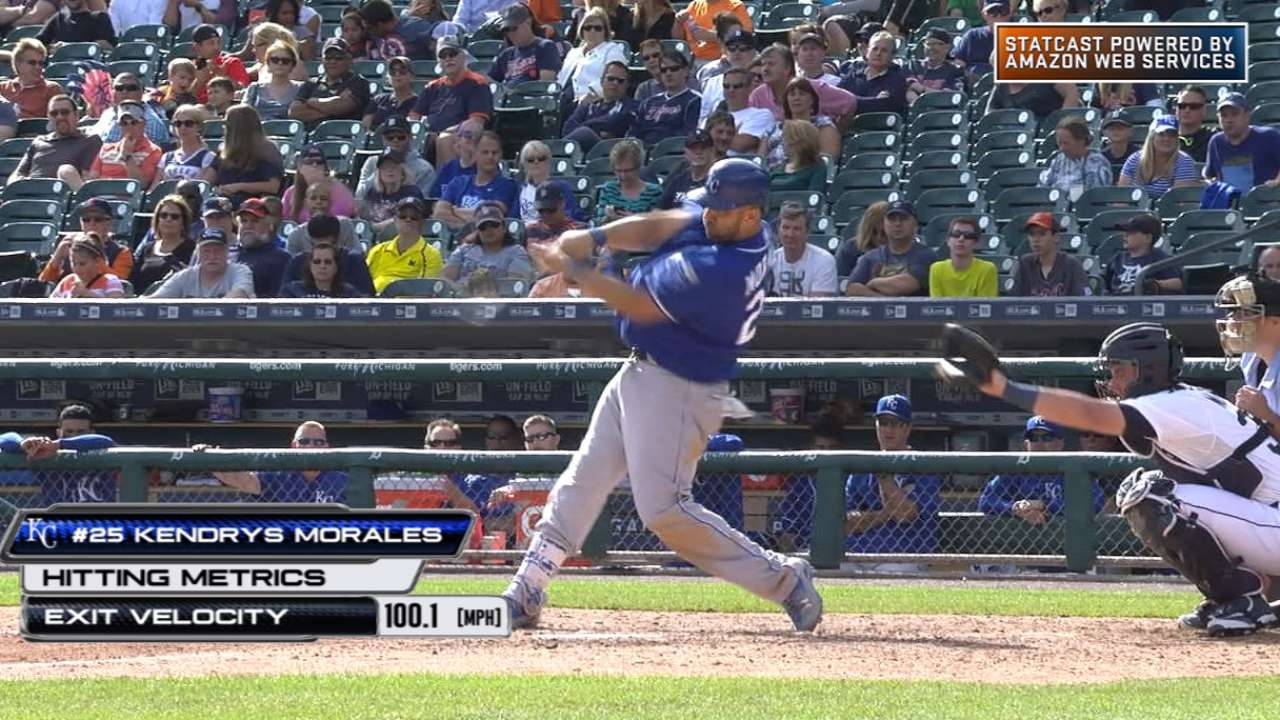 The first of his trio of solo shots, which came in the third inning, traveled a projected 383 feet and left the bat at 110.3 mph, his seventh-best mark of the season, staying fair down the right-field line. His second, in the fourth, was an opposite-field fly ball to left that carried just over the wall, 354 feet away. And his third, in the eighth, left the bat at 102.5 mph before soaring well up in the seats in right-center, for a projected distance of 385 feet. Morales also legged out a rare triple in the sixth, becoming only the seventh player since 1914 to add a triple to a three-homer game.
Murphy goes all out for the out
With the Angels trailing the Twins, 1-0, in the second inning at Target Field, Minnesota's Eduardo Nunez ripped a line drive to left field. The Angels' David Murphy raced over toward the line, reaching 19.0 mph as he covered a distance of 57 feet. Murphy's route efficiency of 95.6 percent put him in position to make the play, which he finished with a full-extension diving catch. That ended the inning in an eventual 8-1 Twins victory.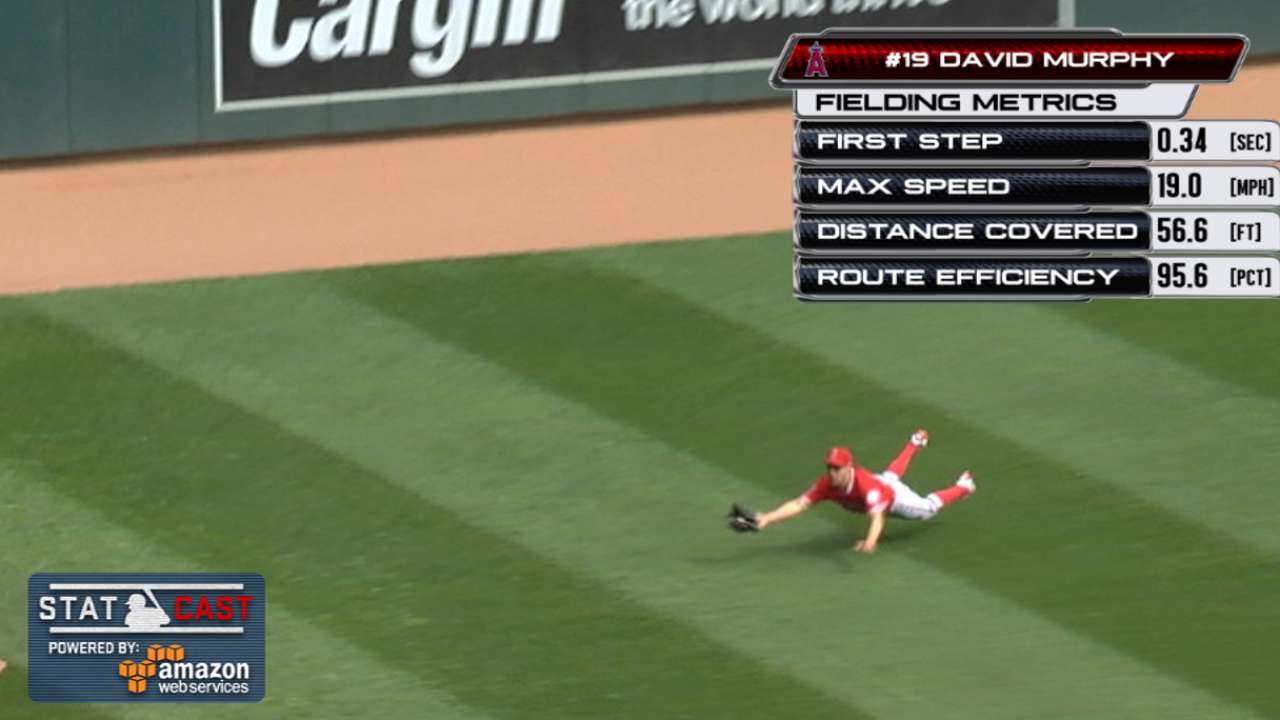 Andrew Simon is a reporter for MLB.com. Follow him on Twitter @AndrewSimonMLB. This story was not subject to the approval of Major League Baseball or its clubs.