Mookie's catch up for MLB Award for defense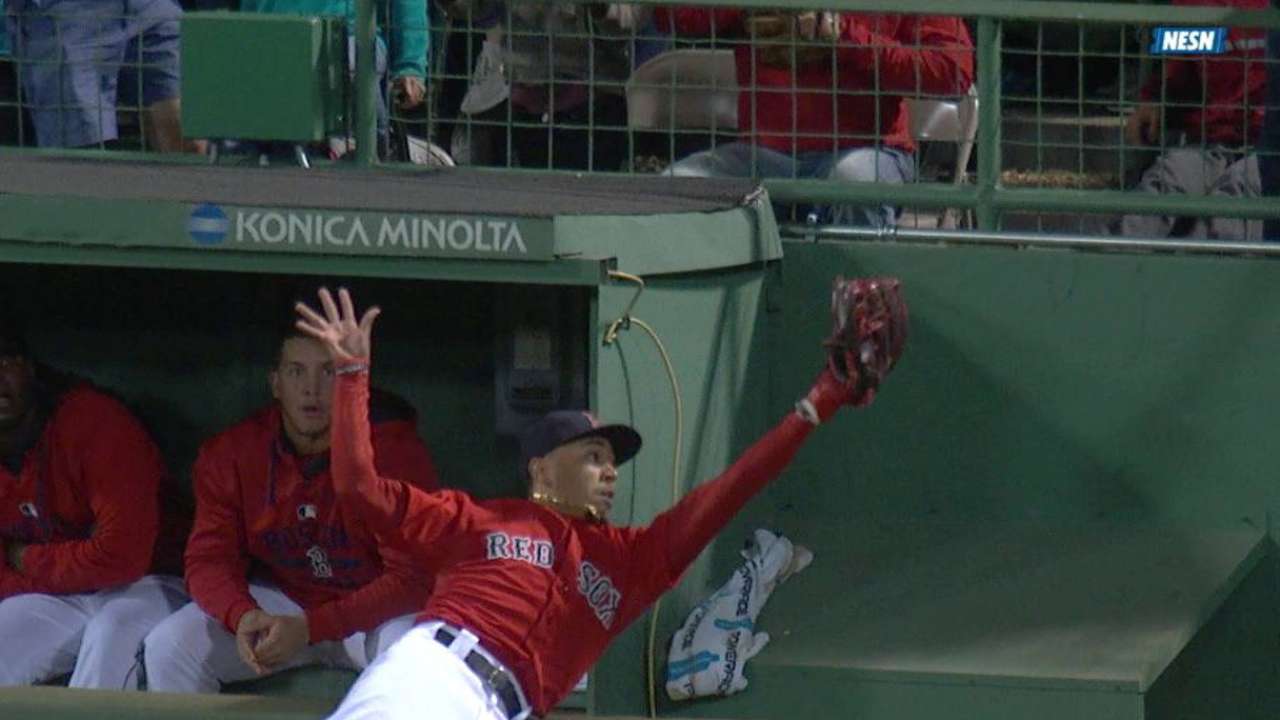 BOSTON -- Perhaps the most memorable moment at Fenway Park this season has been selected as a nominee for best defensive play in the 2015 Esurance MLB Awards.
The night was Sept. 25, and Red Sox lefty Rich Hill was trying to complete his first shutout in six years. With two outs in the ninth and the drama building, Baltimore's Chris Davis crushed one to deep right-center and it looked like the shutout was over.
Instead, the game was over. Mookie Betts ranged back, perfectly timed his leap, and from a contorted position, he fell on top of the bullpen and caught the baseball.
The Red Sox are up for several other Esurance Awards, including Xander Bogaerts, who is one of 12 nominees for Best Breakout Player.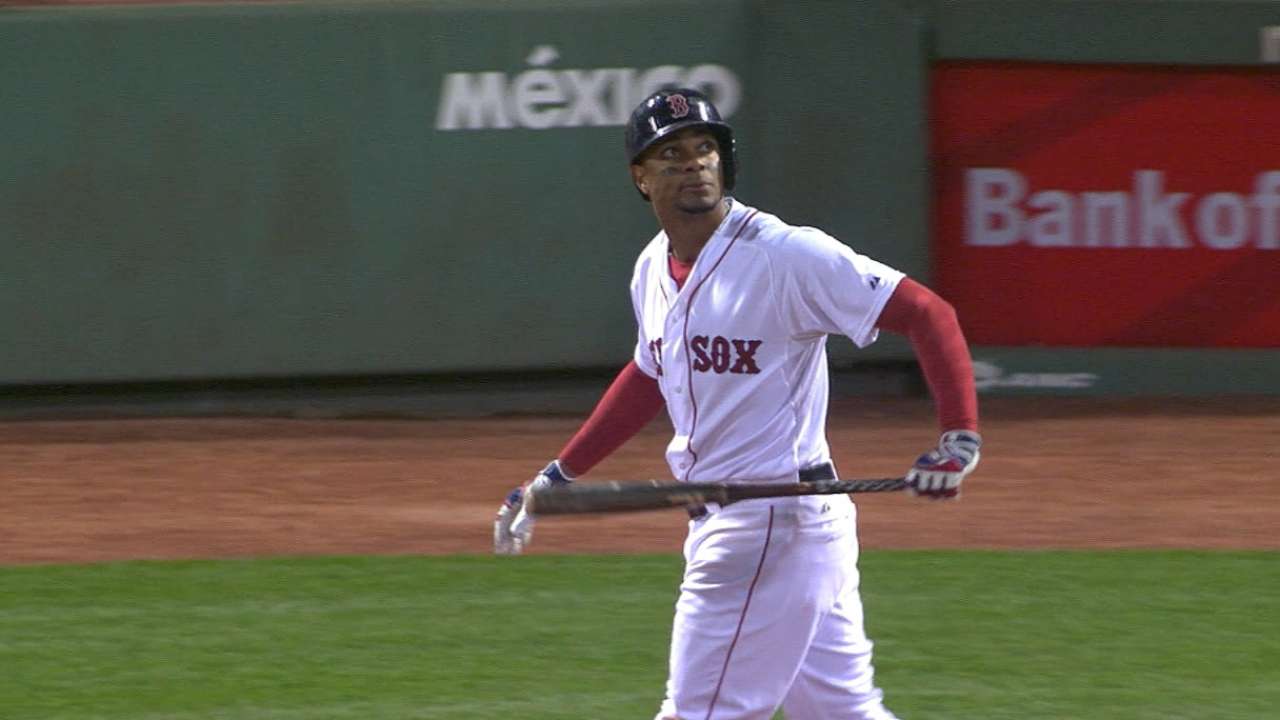 Bogaerts struggled to be consistent on both sides of the ball in 2014, his first full season in the Majors. This year it was the opposite.
At the plate, Bogaerts was a machine, hitting .320 with 196 hits, 35 doubles, three triples, seven homers and 81 RBIs. Defensively, he has made an equally impressive transformation, making just 11 errors in 676 total chances.
The Esurance MLB Awards annually honor Major League Baseball's greatest achievements as part of an industry-wide balloting process that includes five components, each of which accounts for 20 percent of the overall vote: media, front-office personnel, retired MLB players, fans at MLB.com and Society for American Baseball Research (SABR) voters.
Individual awards will go to the Best Major Leaguer in addition to the winners in the following categories: Best Everyday Player, Starting Pitcher, Rookie, Defensive Player, Breakout Player, Bounceback Player, Manager, Executive, Social Media Personality and Postseason Performer.
Winners will also be recognized for the year's best offensive play, defensive play, Moment, single-game performance, Social Media Post, Celebrity Fan, Fan Catch, Interview, TV call, radio call, Player-Fan Interaction, Video Board Moment and Trending Topic.
David Ortiz, the most prominent player for the Red Sox in the batters' box, has been nominated for two Esurance Awards. The first is for Best Moment, which occurred on the night of Sept. 12 at Tropicana Field, when the slugger belted his 500th career homer. Ortiz's teammates bolted out of the dugout and celebrated the moment with him.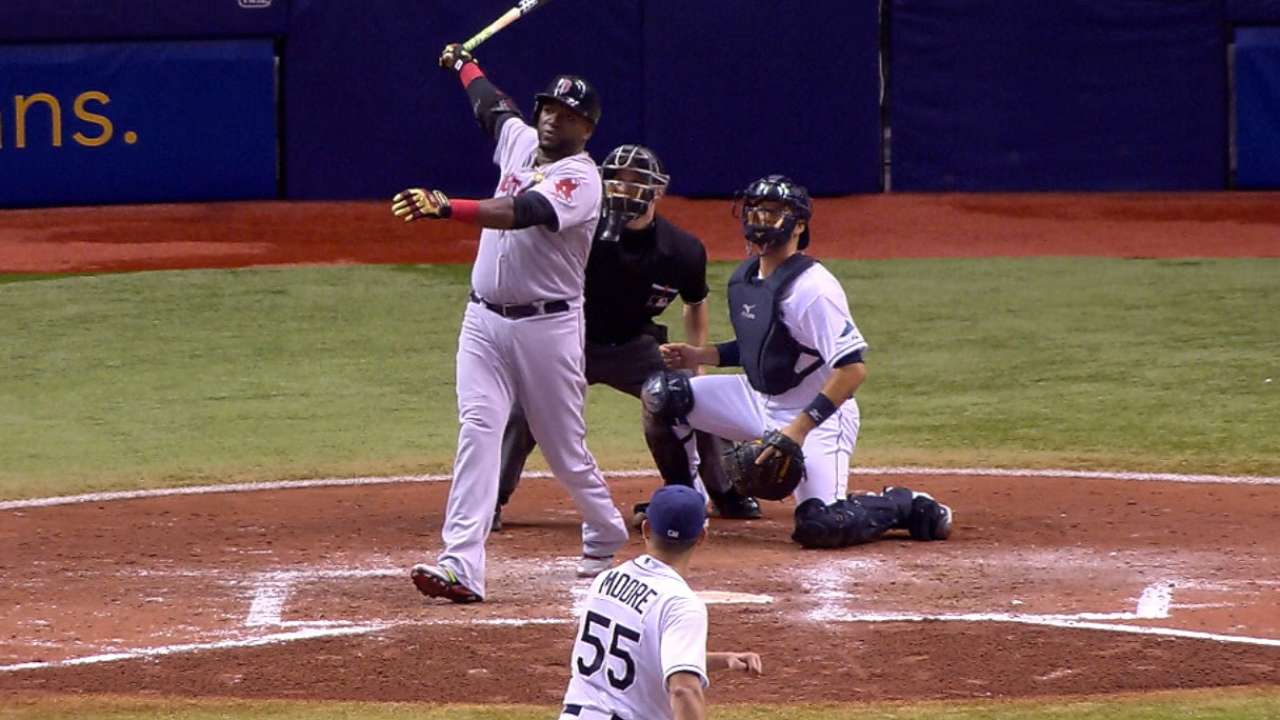 Ortiz has also been nominated for Best Social Media Personality. Not shy about giving fans an all-access pass to the Red Sox, Ortiz has been known to send Instagram posts from team flights or from the clubhouse.
Though Jackie Bradley Jr.'s defense has been his calling card early in his career, the lefty got red hot in August and had an explosive game against the Mariners that makes him a nominee for Best Performance.
On Aug. 15 against the Mariners, Bradley went 5-for-6 while scoring five times, clubbing three doubles, belting two homers and driving in seven. All of that came in a 22-10 romp by the Red Sox.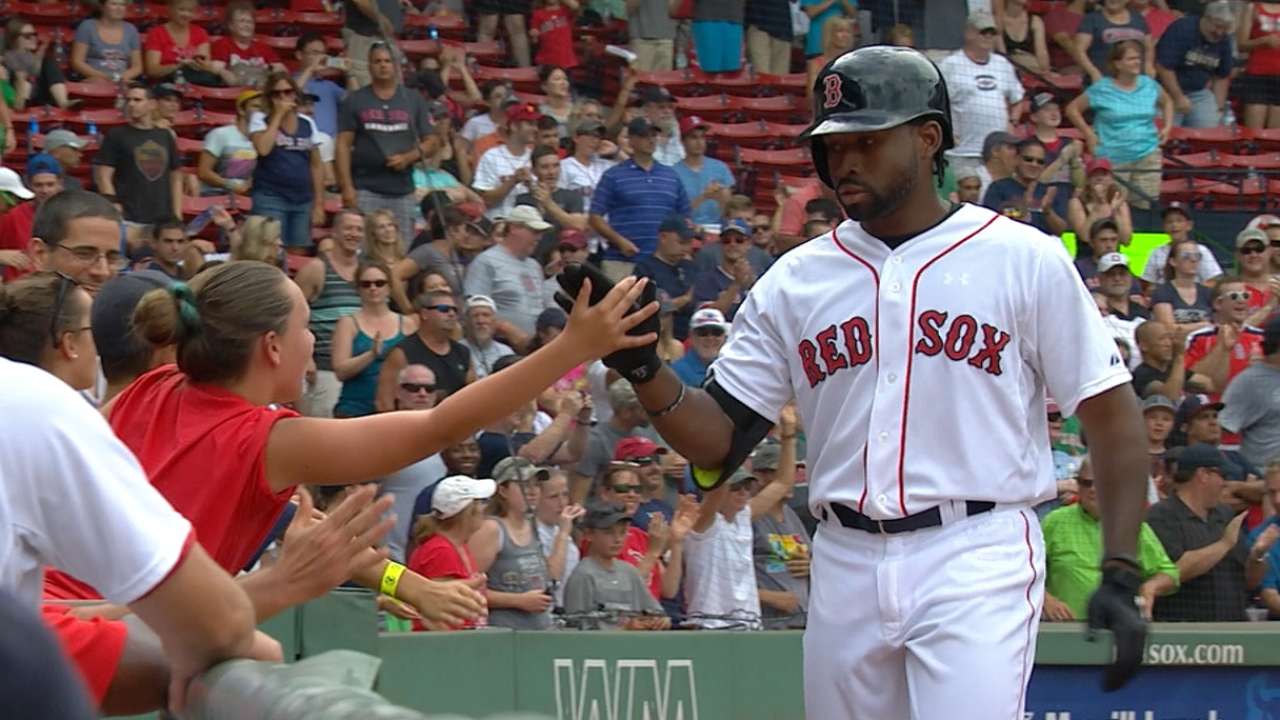 A Red Sox fan was involved in a kind-hearted gesture that has been nominated for Best Trending Topic.
On June 24 against the Orioles, a ball girl seated down the third-base line handed a foul ball to a teenaged boy seated in the first row. Instead of hanging on to the ball, he walked up a couple of rows and gave it to a young boy.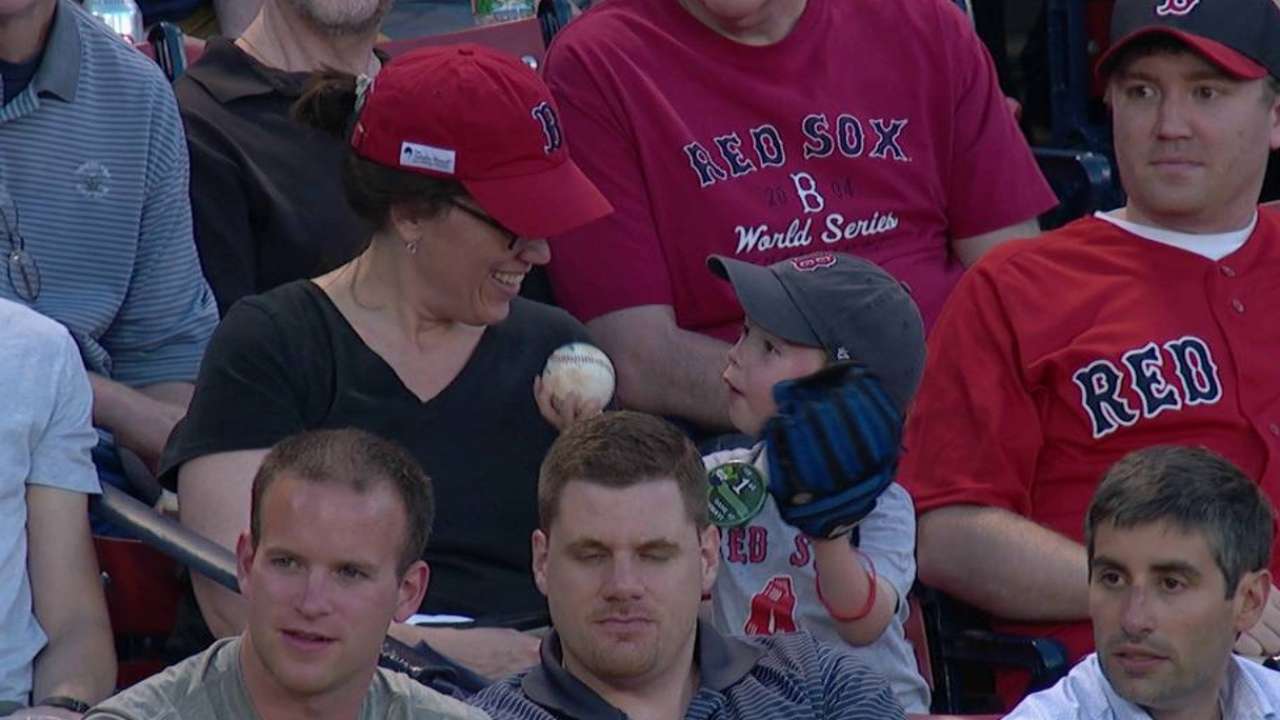 Voting will remain open through Nov. 13 at mlb.com/awards. Winners will be announced live on MLB Network and MLB.com on Nov. 20.
Ian Browne is a reporter for MLB.com. Read his blog, Brownie Points, and follow him on Twitter @IanMBrowne. This story was not subject to the approval of Major League Baseball or its clubs.