Hudson finishing strong as career winds down
Giants righty pitches six shutout innings in possible AT&T Park finale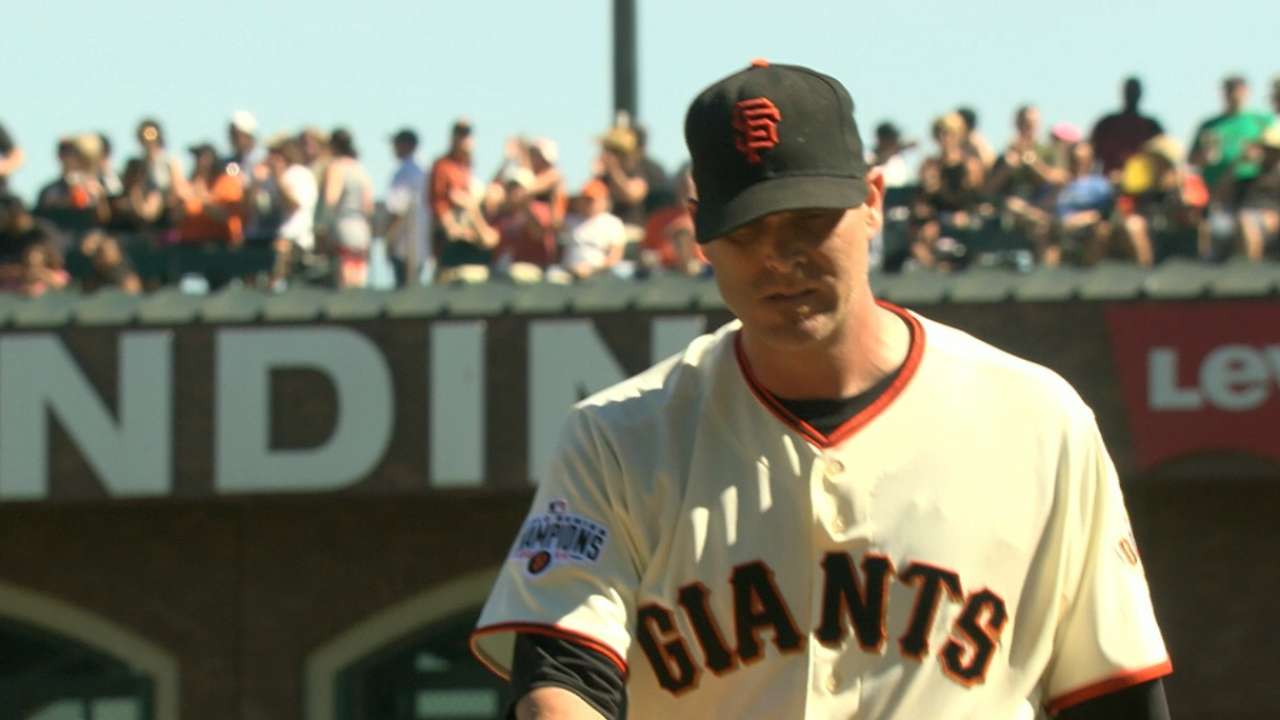 SAN FRANCISCO -- If Sunday's start was the last of Tim Hudson's career at AT&T Park, he picked a good one to end on.
Hudson turned back the clock, throwing six scoreless innings to lead the Giants to a 5-1 win over the D-backs and avoid a series sweep. He allowed four hits and three walks to complement his three strikeouts in an efficient 70-pitch afternoon.
"What a great job," Giants manager Bruce Bochy said. "I asked him just a couple minutes ago if he's changing his mind [about retiring]. He's throwing the ball so well."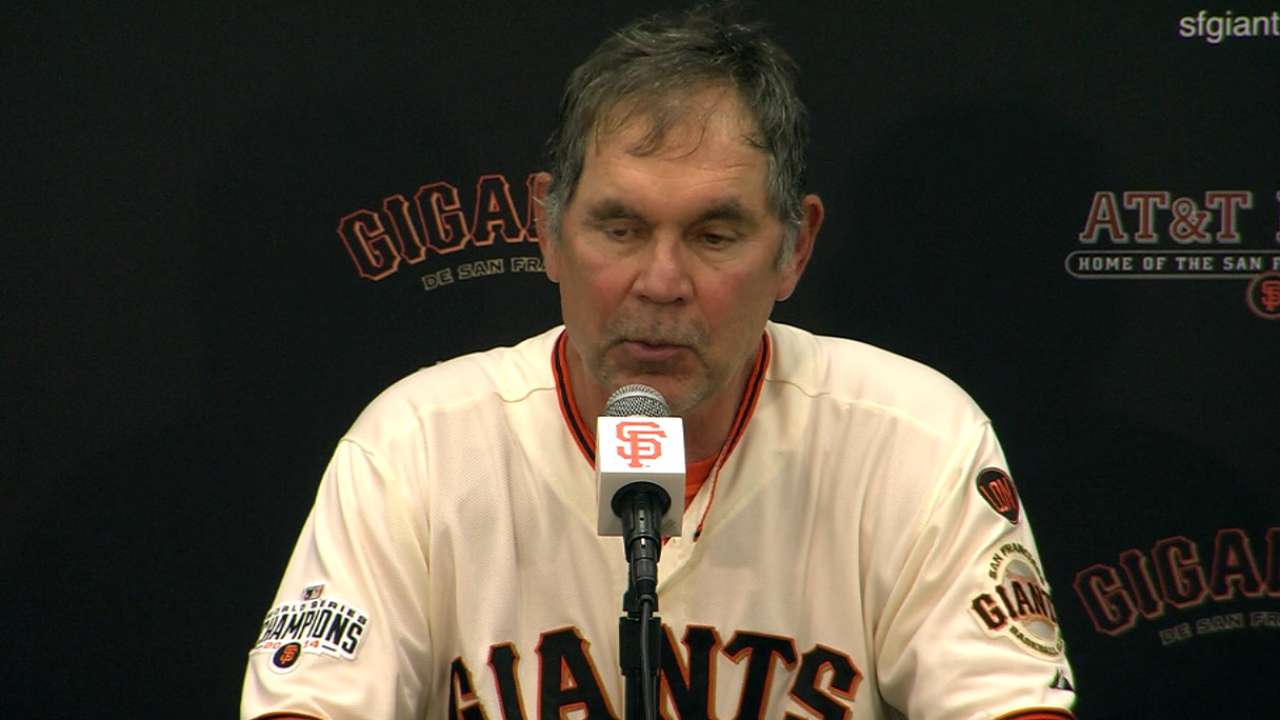 Hudson cruised for much of the afternoon and only ran into trouble in the fourth when the D-backs' Ender Inciarte hustled to beat a throw at second base, turning a would-be single into a double with one out.
After Paul Goldschmidt grounded out to move Inciarte to third, Hudson wisely pitched around David Peralta and stranded both runners by ringing up Welington Castillo with a called strike three. The crowd roared as the veteran walked off the mound, a moment he said he took time to soak in.
"These are some great fans here in San Francisco," Hudson said. "I'm just going to take in every little moment I can like that."
It's possible Hudson will make his final start Saturday in Oakland, the place he began his career, but the right-hander has mentioned he would like to make one more start at AT&T Park before the season's end.
On Sunday, Hudson even played a role in the Giants' offensive outburst in the sixth inning, but not with his bat. He told the hitters when he came in after the top of the frame to put four runs on the board -- and that's exactly what they did, with three coming on Buster Posey's homer.
"After the sixth, I came in and sat down and Buster is sitting beside me and I kind of nonchalantly said, 'C'mon boys, let's get four,'" Hudson said. "I guess sometimes you've just got to ask for it."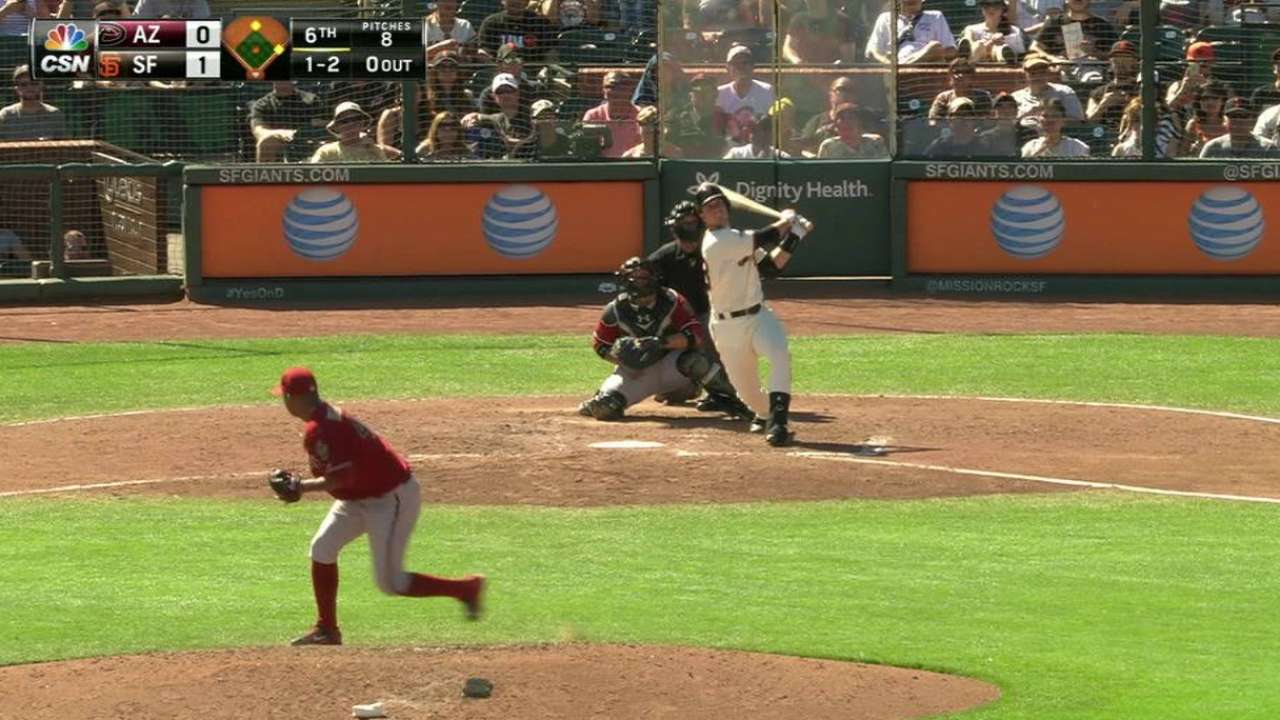 The 40-year-old displayed remarkable resilience Sunday, epitomizing his 17th year in the big leagues.
Hudson began the season in the starting rotation, but was bounced from the staff in early July when Matt Cain and Jake Peavy returned from injuries. The right-hander didn't pitch from June 27 to July 19 while he dealt with a right shoulder strain, then missed all of August with the same injury.
He willingly moved to the bullpen upon his return and found a spot back in the starting five when Cain landed on the disabled list with elbow nerve irritation.
Since moving back into a starter's role, Hudson has allowed just two runs in 16 1/3 innings (1.10 ERA). He's earned two wins in the three starts over that span, while pitching through a recurring hip issue.
"I think, honestly, if he wanted to keep pitching, he could do it," said Posey. "He's still got enough in the tank and he's an ultimate competitor."
Oliver Macklin is an associate reporter for MLB.com. This story was not subject to the approval of Major League Baseball or its clubs.