Holland frustrated over recent tough stretch
Left-hander allows seven runs over 4 1/3 innings in loss to Seattle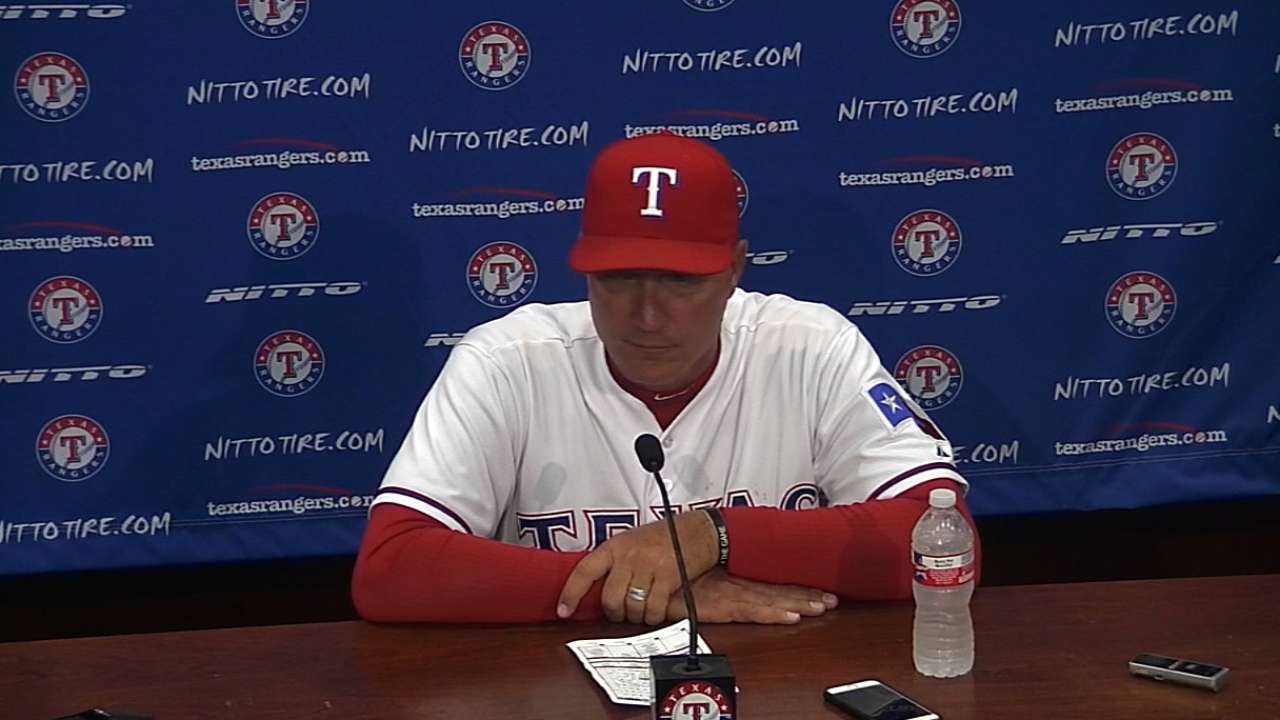 ARLINGTON -- After Sunday's 9-2 loss to the Mariners, the only sign of Derek Holland's typically fun-loving persona was the zigzag "Major League" haircut peeking out underneath his hat. The rest of the lefty's demeanor was serious, morose and blunt following his worst start since returning from the disabled list a month ago.
"I'm just not very happy with the way things went," Holland said. "I've got to pitch better than that. It was terrible."
Holland left the game after 4 1/3 innings, his shortest outing since he departed the Rangers' home opener after one inning with a shoulder injury that kept him out until Aug. 19. Holland threw only 43 of his 92 pitches for strikes and his five walks matched the career high he reached only six other times in 135 Major League starts. Holland allowed seven hits and seven earned runs, the most he's given up in three years.
Holland and manager Jeff Banister agreed that fastball location was a problem and that may have contributed to his dialing it back a few miles per hour.
"Early on, I felt like he had good velocity," Banister said. "As he felt he wasn't as sharp with the fastball, that is where the velocity dipped more than anything else. He worked hard trying to get outs.
"The breaking ball seemed to get away from him there late, too. [He was] trying to get the fastball where he wanted to, and working behind a number of hitters and he seemed to get himself into trouble in those situations."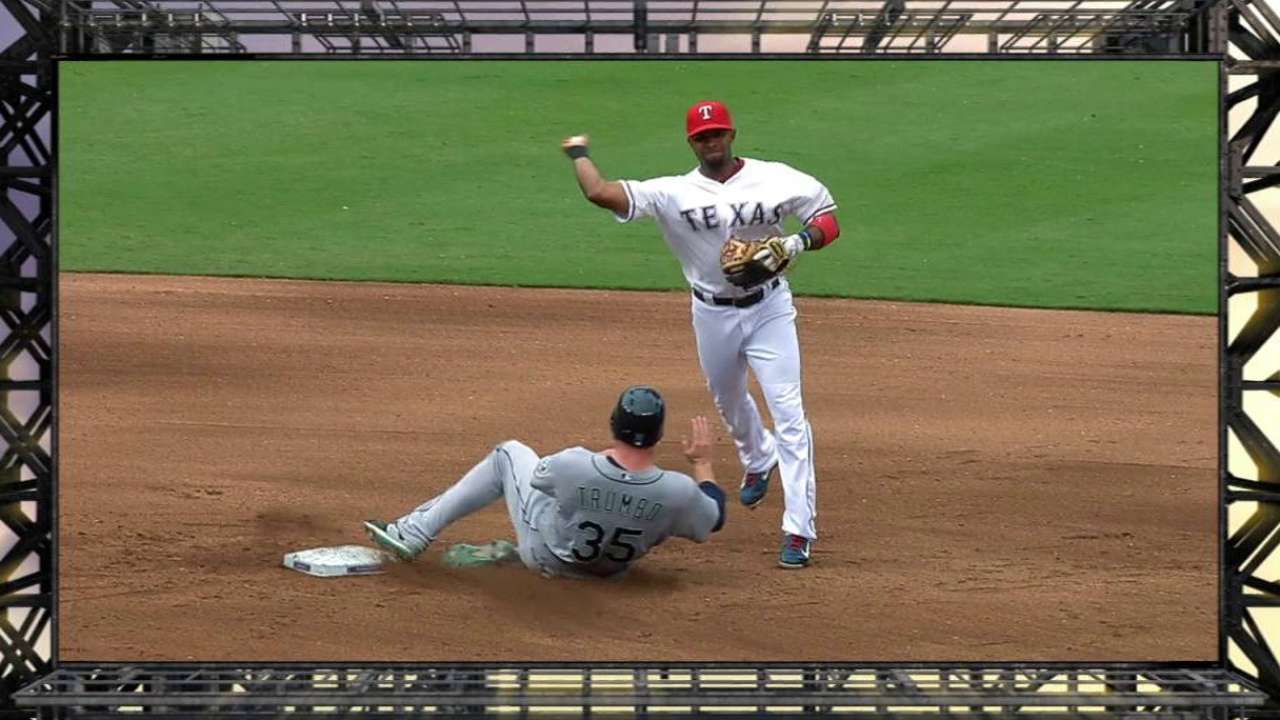 "He's been tough on us traditionally and we had good at-bats against him," Mariners manager Lloyd McClendon said. "He hung a breaking ball to [Robinson Cano] and he didn't miss it."
With the Astros' 5-1 win over the A's on Sunday, the Rangers' AL West lead dropped to 1 1/2 games.
"It's just very frustrating. We're in a playoff race here, and I'm supposed to be a guy that you can count on and I'm not showing it right now," Holland said.
After an eight-inning, three-hit, one-run outing in Anaheim -- when he met "Major League" star and haircut inspiration Charlie Sheen in the clubhouse after the game -- Holland hasn't been the same over his last three starts. Over that stretch, he has a 9.00 ERA (17 runs in 17 innings) after a 2.53 ERA in 21 1/3 innings over his first three starts since rehabbing his injured shoulder. His lack of control has been a big reason for the regression, as he walked one batter in those first three outings and 11 in the next four.
Holland said there is no "dead arm" or any other physical fatigue weighing him down in September.
"That's the one thing I definitely don't want to hear is I'm tired or whatever," Holland said. "It's just one of those things. I didn't throw very [well]."
Asked about his level of concern given Holland's recent setbacks, Banister said he won't dwell on the last three starts.
"I'm going to look at the complete body of work," Banister said. "I'm not necessarily concerned, but I definitely want to have the antenna up. This is one of our best and we trust that he's going to be that way, to go out and give us quality starts. I feel confident that Derek will come out for his next start ready to go."
Holland's next appearance will be on Saturday in the second game of the Rangers' critical three-game series in Houston. After that, his final start of the regular season is likely to be the opener of the Rangers' season-ending series with the Angels.
Dave Sessions is a contributor to MLB.com. This story was not subject to the approval of Major League Baseball or its clubs.