Impressive Duffey leaves Twins with tough call
Club has to decide how many more innings are left in righty's arm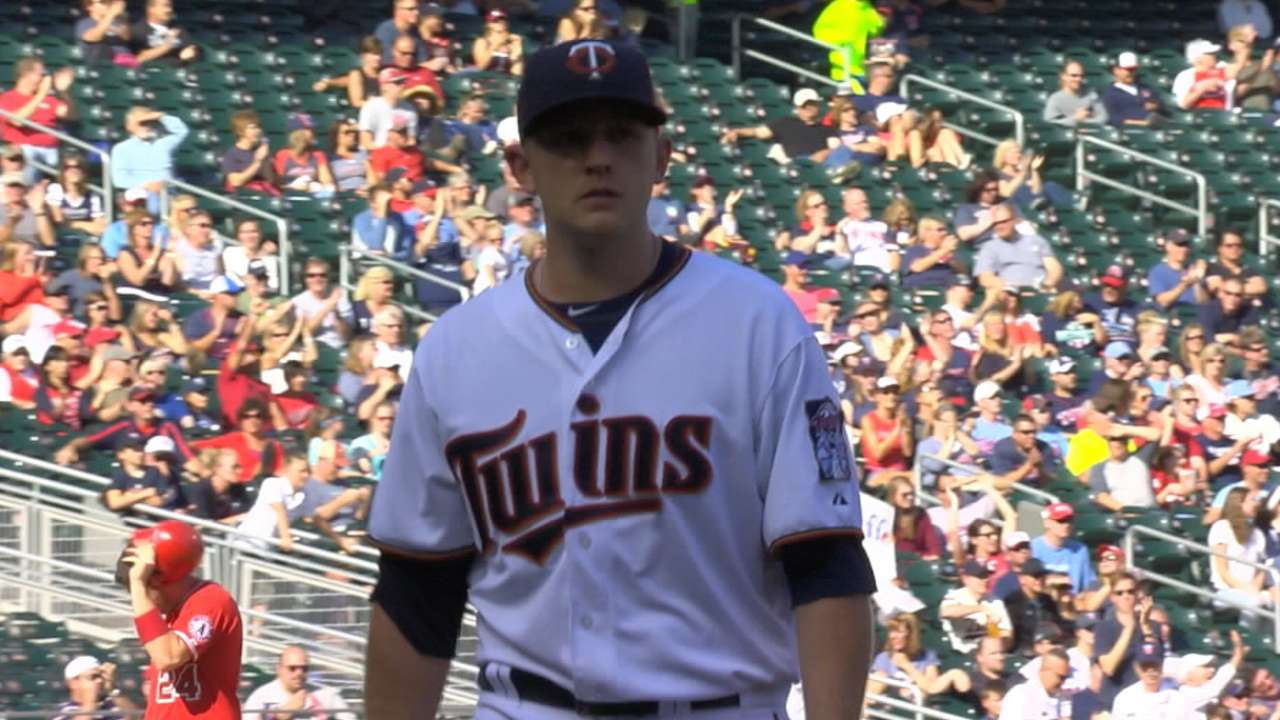 MINNEAPOLIS -- An impressive run of solid starts by pitcher Tyler Duffey has ratcheted up the difficulty of the decision facing the Twins of how to use the rookie right-hander in the closing stretch of the season.
Concerns remain about Duffey's longevity, given that after a long Minor League season, he has never pitched this late into the year. The Twins continue to debate the possibility of limiting Duffey's innings or shutting him down for the year. But after Duffey's seven shutout innings in an 8-1 win over the Angels on Sunday, manager Paul Molitor said he's "optimistic" the rookie starter will be available for the final two weeks of the season.
"You don't want to put the kid's arm in jeopardy," Molitor said. "It's proving to be pretty valuable for him right now. We'll talk. I'll get input from the people above me and we'll talk with him and we'll see when we can possibly get him back in."
After a forgettable Major League debut in a six-run outing against the Blue Jays, Duffey has gone on to record a 2.06 ERA and a 4-0 record in his last seven starts. Against the Angels, he came through with his second career scoreless start to fuel a critical win for the Twins that snapped a five-game losing streak.
The Twins have pushed back Duffey's starts here and there for the last several weeks to give him extra recovery time. Duffey expressed no signs of fatigue after Sunday's game, sounding confident that he can pitch for the rest of the season if cleared to do so.
"Whatever they need from me I'm going to try and do it. I feel great," Duffey said. I'm trying to stay as ready as I can be."
Duffey has provided the Twins' starting rotation with a refreshing and needed boost in the last two months of the season. The Twins have won six of the last seven games that Duffey started.
"Every time he goes out there he gives us a chance to win," veteran Twins outfielder Torii Hunter said. "And that guy is not afraid. You can hear him yelling and screaming when he comes into the dugout. Maybe a little hard on himself, but I like it. He has a lot of fight."
Nate Sandell is a contributor to MLB.com. This story was not subject to the approval of Major League Baseball or its clubs.