DeSclafani's day unravels on 2-error play
Reds pitcher laments miscue on potential double-play ball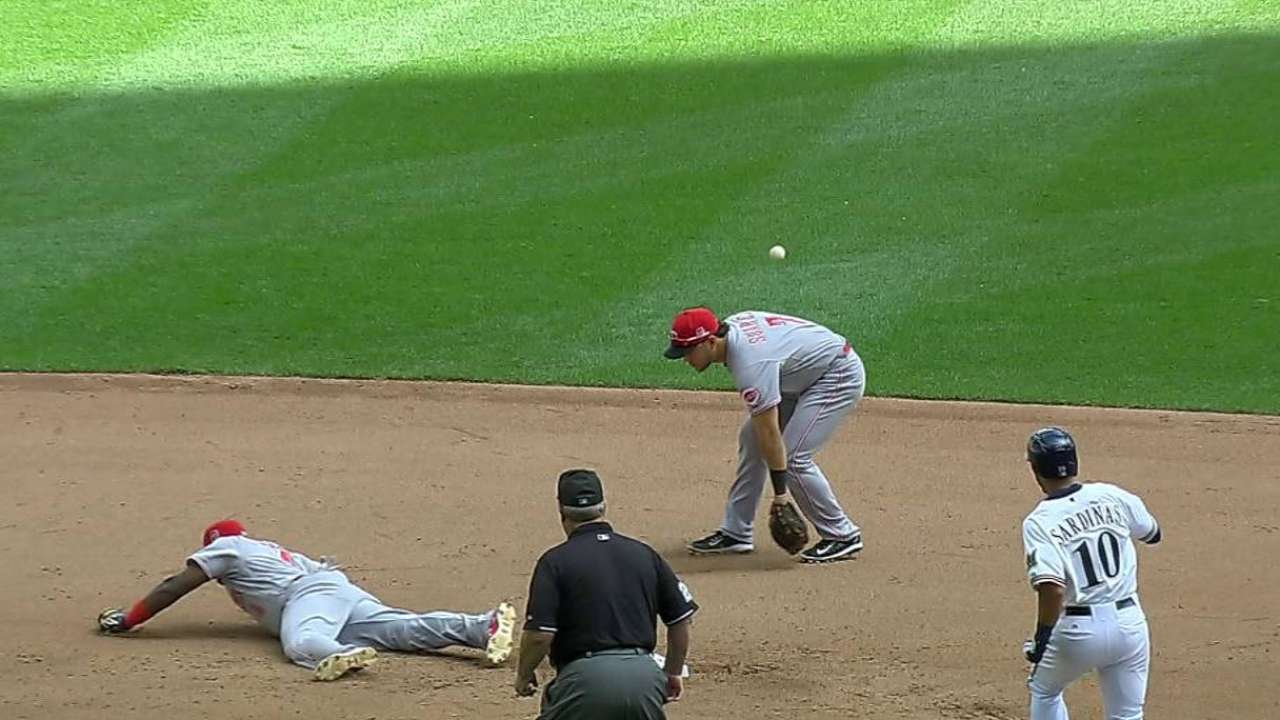 MILWAUKEE -- With two on and nobody out, Anthony DeSclafani got the ground ball he was looking for in order to turn a double play. His throw to second base, however, was far from what he had in mind.
DeSclafani threw a potential double-play ball into the outfield, while center fielder Ryan LaMarre compounded the error by launching a throw to third base into the Reds' dugout to allow two runs to score en route to an 8-4 loss Sunday afternoon to the Brewers.
The throwing errors prevented the Reds from completing a three-game sweep, as Milwaukee took control of the series finale with five runs in the fifth inning.
"I think there was a little miscommunication there as to who I was throwing the ball to," DeSclafani said. "That all comes back to me. As long as I throw the ball over second base, stuff like that doesn't happen."
DeSclafani cruised into the fifth inning with a 2-0 lead, having retired 11 straight before Hernan Perez led off with a single to center. Luis Sardinas followed with a seeing-eye single to left, putting two on for Nevin Ashley.
Ashley hit what should have been a double-play ball back to DeSclafani, who should have been looking for second baseman Brandon Phillips with his throw.
"There have to be lessons learned here," Reds manager Bryan Price said. "That's a play that completely changes the tone of the game and it's a play that we expect every single guy on our team to make. I'm sure he's regretting the errant throw. Mistakes happen, but that's a play that I know he would like to have back. It could have completely changed the face of the ballgame."
Instead of one on with two outs, Perez and Sardinas scored to tie the game at 2 on LaMarre's errant throw.
Milwaukee made the miscues hurt even more by following the two-error play with four straight hits off DeSclafani. The final blow to the rookie right-hander was a two-run double off the bat of Adam Lind to put the Brewers up 5-2.
"That's what I wanted -- a ground ball to somebody," DeSclafani said. "I just have to make a better throw and throw it over second base. That comes down on me. I'm definitely not happy."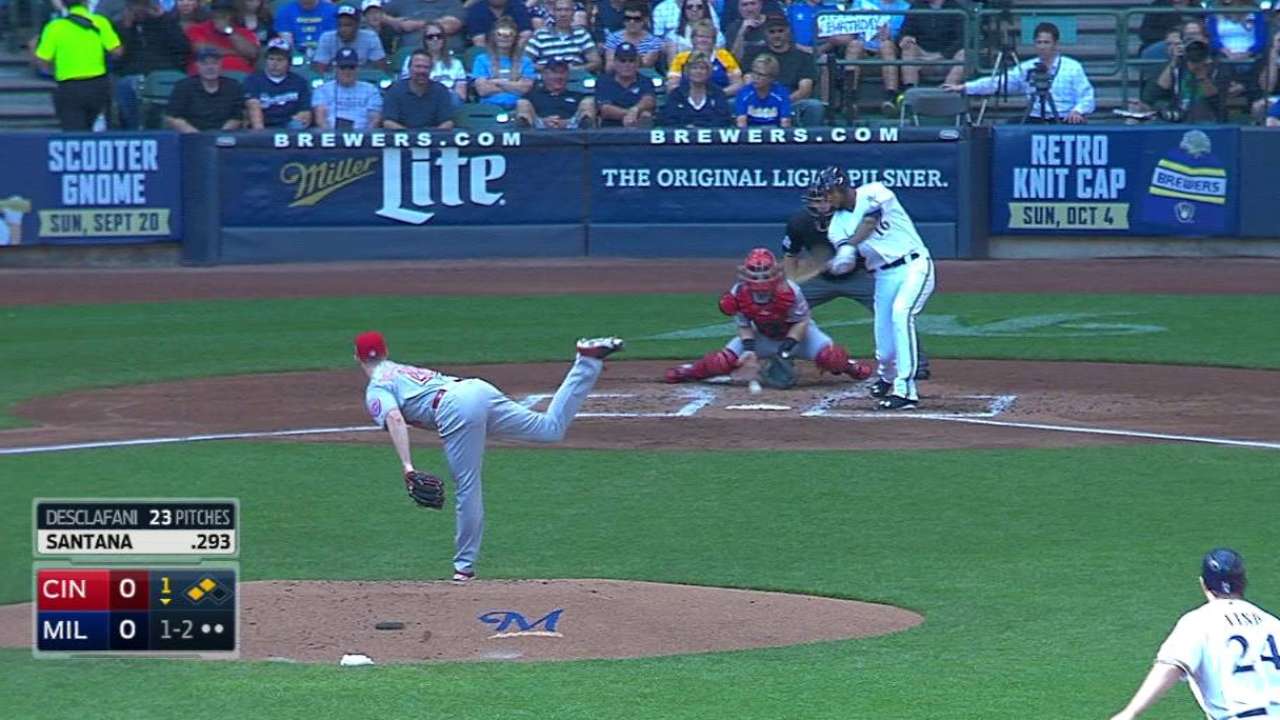 DeSclafani seemed on his way to a third consecutive strong start, as he cruised through the fourth inning after allowing consecutive one-out hits in the first.
But everything unraveled quickly, and DeSclafani was out after 4 1/3 innings, his shortest outing since May 17 (three innings against the Giants).
"Today I had one goal in mind and that was to go deep into the ballgame because I know our bullpen has been throwing a lot," DeSclafani said. "I'm not happy about that. I apologize to the bullpen for not going deep into the game so they could get a rest."
Andrew Gruman is a contributor to MLB.com. This story was not subject to the approval of Major League Baseball or its clubs.