Colon makes sure Kendrys doesn't go it alone
Backup infielder tallies career-high four hits in Royals' victory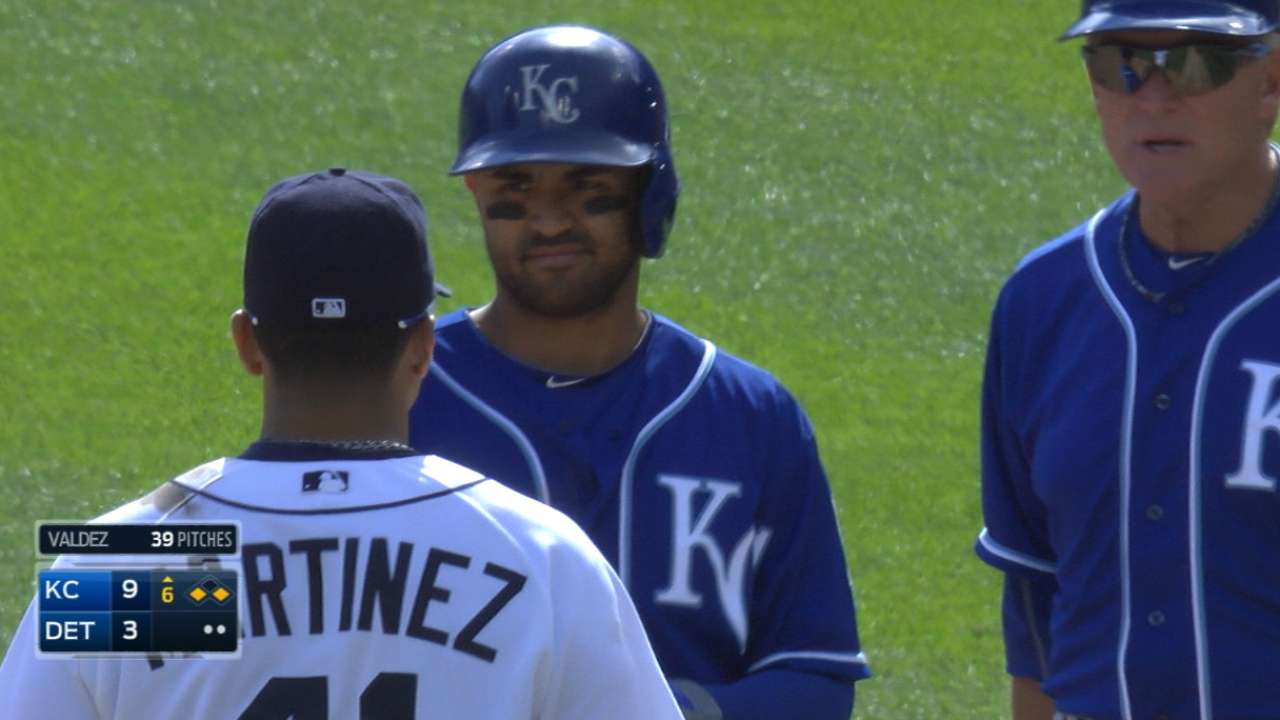 DETROIT -- Lost in the shadow of Kendrys Morales' three-homer day for the Royals was backup middle infielder Christian Colon's solid game.
Colon contributed to the Royals' 10-3 win over the Tigers on Sunday with a career-high four hits.
That's not bad for someone accustomed to sitting behind shortstop Alcides Escobar and second baseman Ben Zobrist. On Sunday, Colon spelled Escobar, who is nursing a bruised left elbow.
"It felt good," Colon said. "I just want to contribute. Anytime I get in there and give Esky a day off or anyone a day off I just want to bring something, whether it's defense or a good at-bat or positive energy.
"Sometimes it's just defense. Sometimes it's just one at-bat. Sometimes it's just a positive attitude. Bring something to the table."
Colon had two hits on Saturday in a tough loss -- one of those hits gave the Royals a temporary 4-3 lead.
On Sunday, Colon singled in the second and third innings, then ripped an RBI double in the fifth. He singled again in the sixth.
Finding his hitting stroke isn't easy when you sit as much as Colon.
"It's something that can be challenging," he said. "It's just how you go about it. If you dwell on it, half the battle is lost if you are negative. I try to stay positive. We've got good coaches here who give you positive energy. That helps. Just glad we won."
Jeffrey Flanagan is a reporter for MLB.com. Follow him on Twitter at @FlannyMLB. This story was not subject to the approval of Major League Baseball or its clubs.