Collins: Harvey's exit, loss 'perfect storm'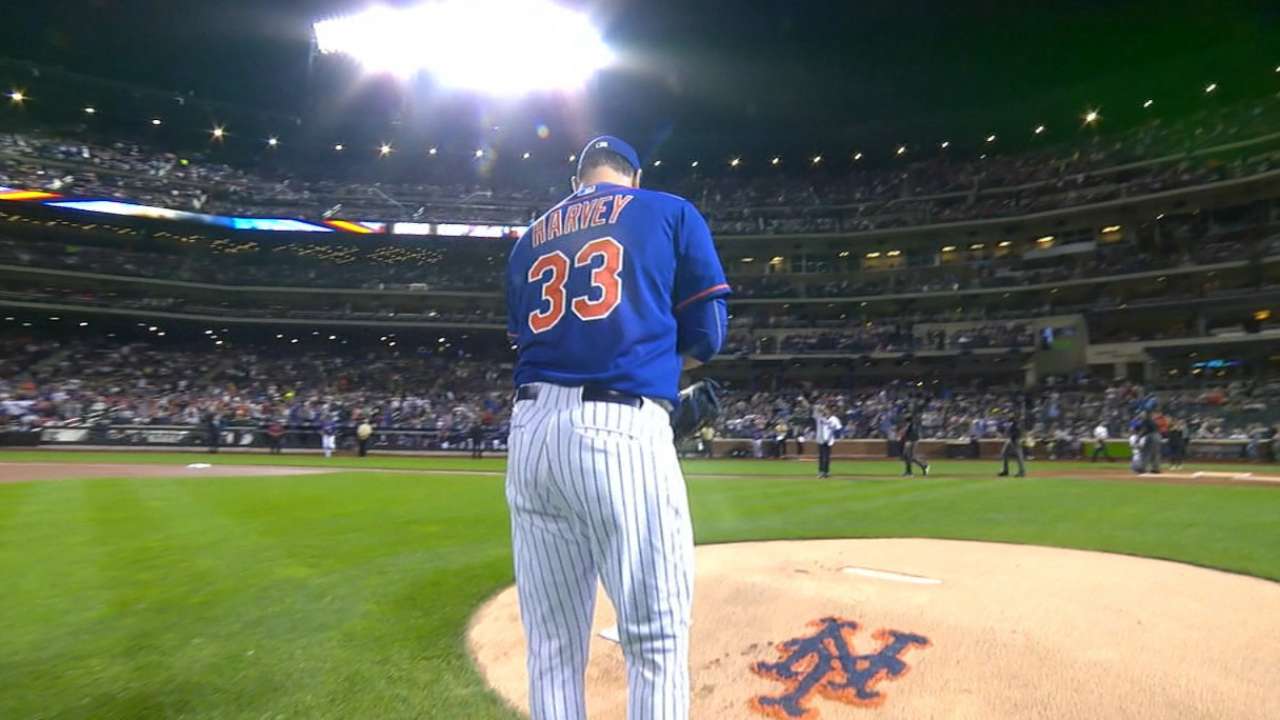 NEW YORK -- Terry Collins called it "a perfect storm," and perhaps no other phrase could be more apt. Short of injury, the Mets' worst fears regarding Matt Harvey surfaced during a Sunday night, 11-2 blowout loss to the Yankees that millions watched on national television. Harvey pitched five dominant innings and held a one-run lead. Then he departed, leaving the perfect storm's initial thunderclaps in his wake.
Feasting on a carousel of middle relievers, the Yankees needed mere minutes to turn a one-run deficit into a four-run advantage, building it ever larger from there. Harvey watched first from the clubhouse, then from the dugout, as his win morphed into a no-decision. Later, he offered few answers in a brief postgame press conference, responding to every question with variations of the same few phrases.
"My job is to get ready," Harvey said. "Whenever they call me to pitch, I will be ready for that. Tonight, I wanted to be out there more than anything. The last thing I want to do is not play and not pitch."
Asked directly if he has had any say in his usage, Harvey answered:
"I'm getting ready for every start. The last thing I want to do is not play and not pitch, especially in the postseason. That's where everybody wants to play and everybody wants to pitch, and that's never changed for me one bit. That's always been on my mind. I always want to be out there."
A Mets public relations executive ended the news conference -- Harvey's first in 13 days -- after three minutes.
That left his manager and teammates once again to explain for him, most of them struggling to put their shrugs into words. From his chair, Collins talked about Harvey's fire, calling him "a tremendous competitor, regardless of what he's been told, what he's been told to say, what he's been told to do."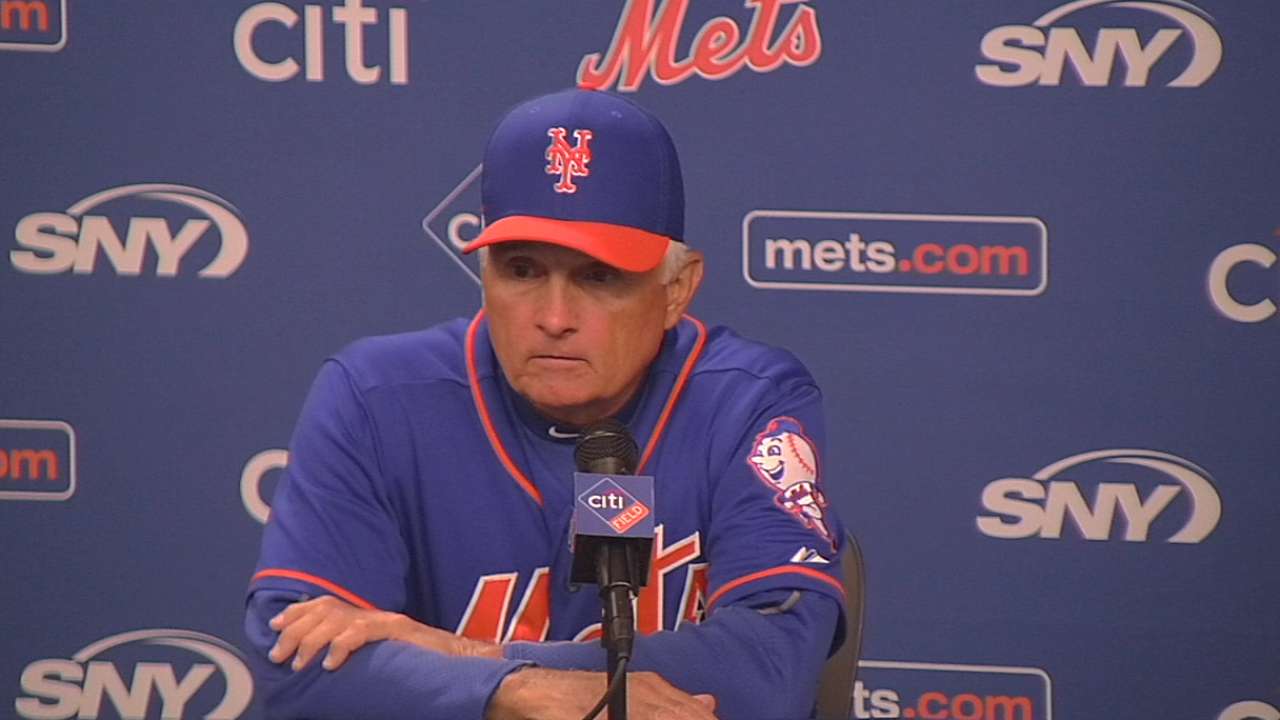 Collins also alluded multiple times to his own job security, separating himself from the situation by identifying as "an old-school guy" who doesn't "necessarily agree with" the mandates from others beyond his pay grade.
"You either adjust to it or you get out," Collins said. "So I'm going to adjust to it. I might get out of here pretty soon, but I'm going to adjust to it for now."
Sunday, the Mets' adjustment did not come close to working. After Harvey struck out seven Yankees over five dominant innings, allowing just one hit, outfielder Carlos Beltran tagged reliever Hansel Robles with a go-ahead, two-run double, and second baseman Dustin Ackley followed with a three-run homer. The Mets committed two errors behind Robles to pour gasoline on the rally, prompting Collins to say: "You couldn't have set it up any worse."
"He was rolling pretty good," Ackley said of Harvey. "We couldn't really string anything together, and yeah, when he did come out, we got some guys on base. We knew that was a good chance to really make something happen, and we just continued to roll pretty much the rest of the game, and didn't hold back at all."
If the Yankees established a blueprint for how to beat Harvey in September, the Mets have reason for concern. Harvey's innings total in his first year back from Tommy John surgery now stands at 176 2/3, five outs shy of his previous career high. Collins said that Harvey will make two more starts in the regular season, possibly pitching fewer than five innings in each of them. The goal is to keep him within spitting distance of 180 innings, which Harvey's agent, Scott Boras, considers a hard cap.
"I think that we'd like to have Matt on the mound," third baseman David Wright said. "But he wasn't. I guess we've got to deal with it."
Ultimately, the Mets will use Harvey beyond 180 innings, and Collins said he expects all parties to loosen the reins in October. While Harvey wasn't quite that explicit, even he acknowledged that if Sunday's game had been in the playoffs, "the situation would be a lot different."
Up six games on the Nationals with 13 to play, after holding a 9 1/2-game lead as recently as last Tuesday, the Mets simply have to get there first.
"It is what it is, I guess," Wright said. "We've got to try to find a way to win."
Anthony DiComo is a reporter for MLB.com. Follow him on Twitter @AnthonyDiComo and Facebook, and listen to his podcast. This story was not subject to the approval of Major League Baseball or its clubs.