Piazza: Looks like Mets 'starting to believe'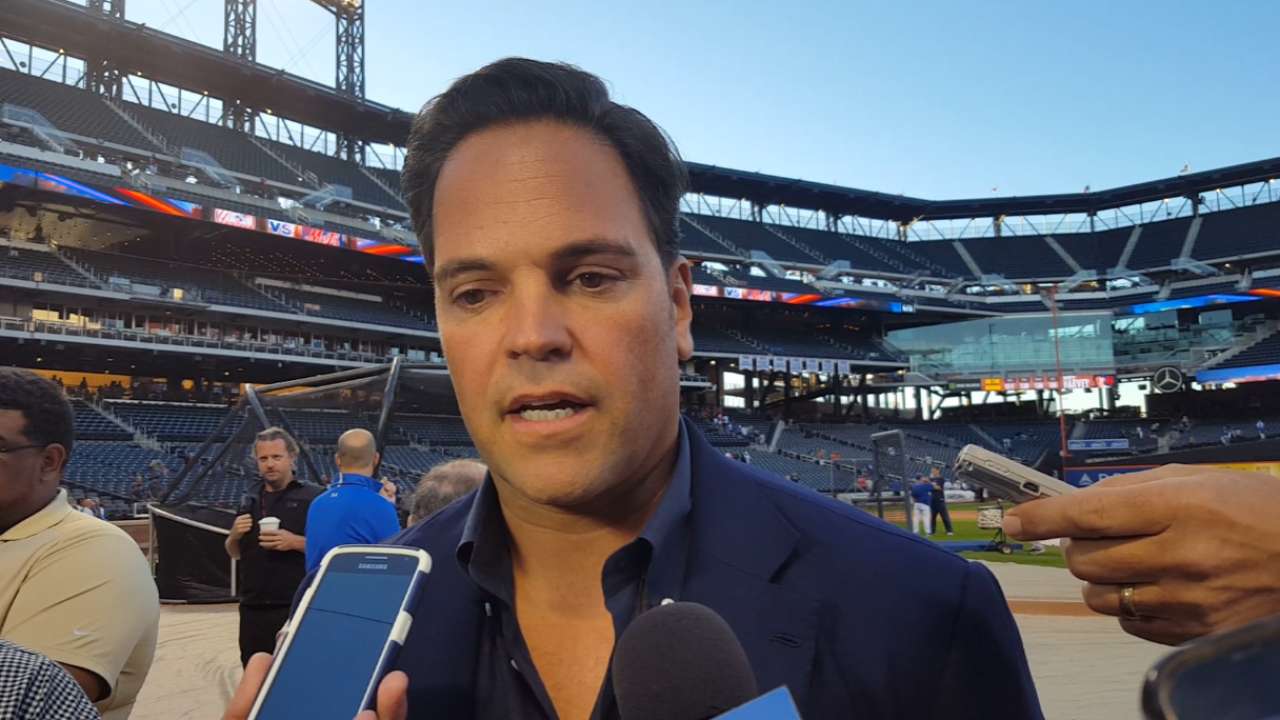 NEW YORK -- Mike Piazza walked out of the dugout wearing Mets white and orange and blue, that old number 31 once again on his back, as thousands in Queens cheered.
Of all the emotions that were part of the first two games of this high-stakes Subway Series -- anticipation, pride, and frustration are a few that come to mind for both sides -- nostalgia hadn't much factored in. That was until Piazza strolled to the mound to deliver Sunday's first pitch, waving with both hands and blowing kisses to a very Mets crowd that appeared to have missed him.
Not only did Piazza provide some of the most signature moments in Subway Series history, but he'll also celebrate the 14th anniversary Monday of his dramatic home run in the first game after the Sept. 11, 2001, terrorist attacks. Piazza's go-ahead blast led the Mets past the Braves in the city's first sporting event of any kind after the attacks, and represented a significant healing moment for the collective area. It's a moment that made Piazza somewhat immortal to Mets and Yankee fans alike.
But since retiring in 2007, Piazza has observed his former team mostly from afar, sprinkling in baseball appearances here and there without making himself a Citi Field regular. That doesn't mean Piazza hasn't been watching these Mets. He likes what he sees.
"I think the true sign of a really good ballclub is a club that bounces back from adversity," Piazza said. "They have to keep doing what they're doing and not try to do too much."
Newly acquired slugger Yoenis Cespedes has been drawing certain comparisons to Piazza since joining New York at the non-waiver Trade Deadline. Piazza hit .348 with 23 home runs in 109 games for the Mets after being acquired in May 1998. New York ultimately signed Piazza to an extension and he became one of the franchise's signature players. Cespedes, of course, entered Sunday having hit 17 homers in 45 games since the trade and revamped the Mets' offense into one of the baseball's most potent.
"I remember him from when I coached in Europe," Piazza said. "All the Italians told me about him when he played for the Cuban national team. It's been long known he can swing the bat. It's fun to watch the energy he brings to the ballclub, and the fact that the lineup has a really good balance now."
As for the nostalgia, most of that derived from the image of Piazza sharing a field with the Yankees in the latter stages of the season. With the Mets looking for an October return and a slight chill in the air, the scene sparked images of the last time these two teams met at so late a date, the 2000 World Series. Piazza was there, of course. Piazza did not play in another Series, and the Mets have not been back since.
Is that about to change?
"You have to believe," Piazza said of this year's team. "And it looks like they're starting to believe they can beat anybody."
Joe Trezza is an associate reporter for MLB.com. This story was not subject to the approval of Major League Baseball or its clubs.