MLB.com Columnist
Mike Bauman
Medlen on the rise in Royals' rotation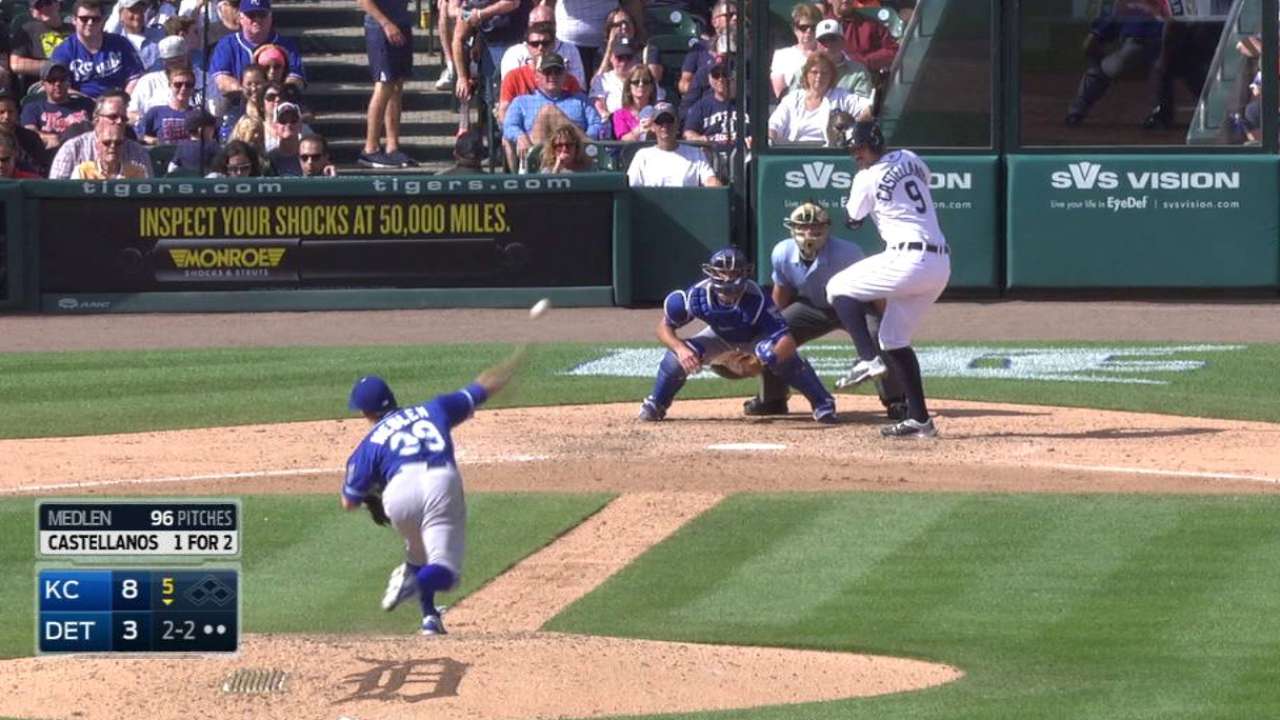 DETROIT -- Kansas City Royals manager Ned Yost was asked on Sunday if he could have imagined that Kris Medlen would be playing a role this prominent for his club.
"This is exactly what we imagined when we signed him," Yost said. "[General manager] Dayton [Moore] knew Kris from Atlanta, and he knew what type of competitor he was, how great his stuff was. He completely envisioned this."
"This" would be Medlen, returning from his second Tommy John surgery, pitching his way into the rotation of the team with the best record in the American League. "This" would also be Medlen, pitching with consistent success, earning a spot as the fourth starter in Kansas City's postseason rotation.
Medlen helped the Royals salvage the finale of a three-game series against Detroit on Sunday. The Royals won, 10-3. Medlen gave up three runs over five innings, but all of them were unearned.
The most notable aspect of this game was Kendrys Morales, hitting three home runs and a triple, becoming just the seventh player since 1900 to do that. In the process, Morales set a franchise record with 15 total bases.
But for the Royals overall, here was Medlen, once again pitching well. "I was more impressed with the way that he grinded through it than anything else," Yost said. "At times, he really struggled with his command, but again, that's what really good pitchers do -- they find a way to get through without their best stuff and keep you in the game. That's exactly what he did. Tremendous job."
The Tigers have not been as successful as they were in the past, but they still have an imposing lineup.
"It was evident to me today," Medlen said. "If I didn't make a pitch, they were putting some pretty good swings on it. Overall, a tough third inning [when the three unearned runs scored] but I benefited from making a few good pitches and keeping them to singles, instead of ... [Miguel Cabrera] coming up with runners on first and second. That could have been a lot more disastrous than it was. Kept it to a single. Better for myself, better for us."
After missing the 2014 season, Medlen returned to a big league mound at the end of July, making five relief appearances for the Royals before getting a shot at a spot in the starting rotation. He has made the most of his opportunity.
In six starts, Medlen has gone 4-1 with a 3.93 ERA. Overall this season, he is 5-1 with a 3.51 ERA. The Royals have been understandably conservative with his pitch counts, so his longest start has been 6 1/3 innings. But the quality of his work has been consistent.
"It's been important," Yost said of Medlen's consistency. "It's important for today and it's important for the big picture. We get another guy who goes out and can bang strikes and keep us in ballgames. That's important."
Medlen had won 15 games for the Braves in 2013, and had a 2.95 career ERA over 152 appearances with Atlanta. After the second Tommy John surgery, he was non-tendered by the Braves and entered free agency. His choice of the Royals appears now to be not only a correct choice, but also an ideal one.
"There was interest from some other teams in the offseason after I got non-tendered," Medlen said. "But once Dayton gave me a call personally, and after the year they had last year and their style of play, it's ideal for my style of pitching. I absolutely love it here."
It's a remarkable story, about not only a comeback from a second Tommy John operation, but also a comeback that includes pitching in the rotation of the defending American League champions. With the victory on Sunday, the Royals reduced their magic number to three for clinching the AL Central. And with a Toronto loss, the Royals moved to two games ahead for home-field advantage in the AL postseason.
There will be plenty of time for contemplation about how wonderful all of this is. That will be at a later date.
"I haven't had the opportunity to sit there and think about it, I haven't really wanted to," Medlen said. "Once I get home in Augusta and sit on my couch, the first day of the offseason, whenever that may be, I can kind of take a breath and think about how cool this is. For the time being, this is my job. I said from the get-go that this is my job, and I expected to go out and compete and produce for these guys. That's all I really care about is going out there and winning games."
Kris Medlen and the Royals are both headed in exactly that direction.
Mike Bauman is a national columnist for MLB.com. This story was not subject to the approval of Major League Baseball or its clubs.