Blue Jays shift focus to crucial Yanks series
Three-game set will have major impact on AL East race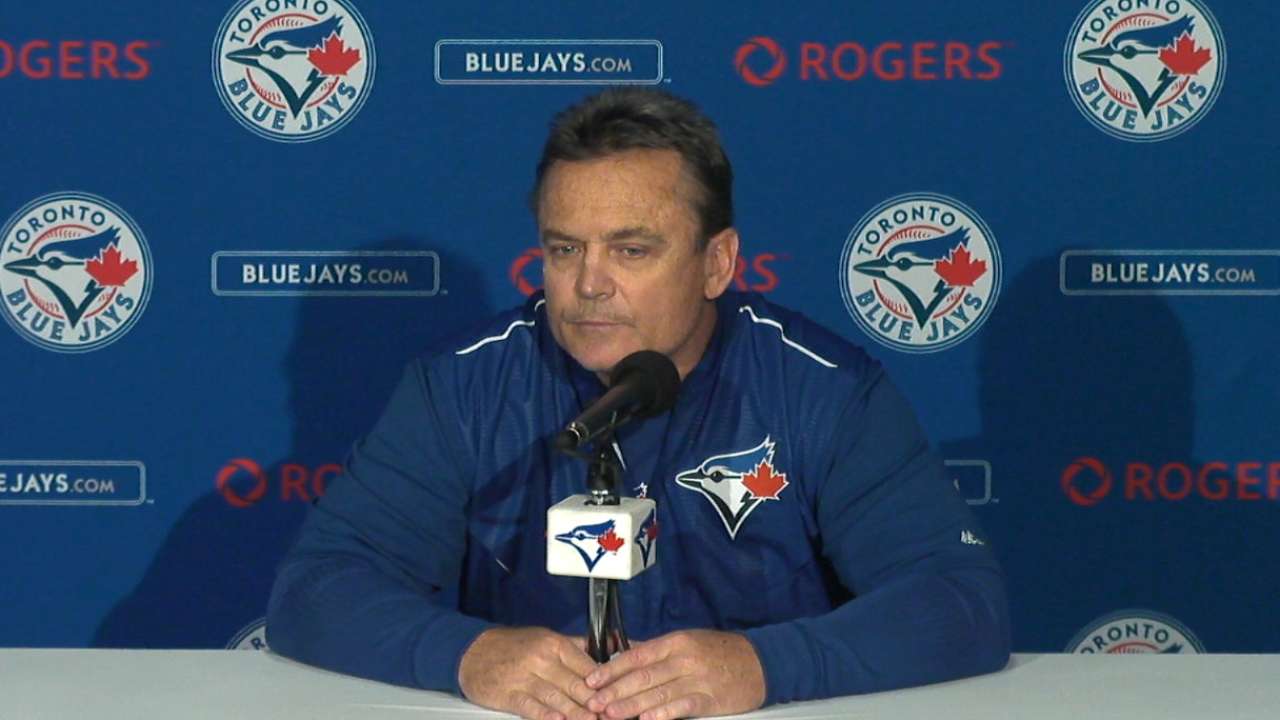 TORONTO -- The Blue Jays were unable to extend their advantage in the American League East on Sunday as they fell, 4-3, to the last-place Red Sox, dropping their second straight game. In losing the series, the Blue Jays missed an opportunity to pull further ahead of the second place-Yankees heading into a key three-game set Monday at Rogers Centre.
Toronto leads New York by 2 1/2 games.
"It's already behind us, we have the Yankees [on Monday]," said Blue Jays catcher Dioner Navarro, who homered in Sunday's loss. "We've been winning a lot of series and unfortunately we dropped the series against Boston in Boston, and we dropped this one, but New York is a new team and we try to win every series we get."
While the Blue Jays appear poised to snap a 22-season playoff drought, an AL East crown is far from secure. They didn't do themselves any favors in dropping two of three winnable games to the Red Sox. On Saturday, they relinquished a two-run lead late and despite a ninth-inning surge fell, 7-6. Sunday's contest was more of the same as an early three-run lead evaporated in the middle innings before Boston pulled ahead in the eighth.
It was only the second series the Blue Jays have dropped since Aug. 18, and both of those have come against the Red Sox.
"I'm actually glad Boston is getting out of town," Blue Jays manager John Gibbons said. "They've been tough on us the last few times we've met up. They've got a scrappy team and different look from where they were earlier in the season."
With David Price taking the mound Monday, the Blue Jays chances look favorable for the series opener. Price has been on fire since joining the Blue Jays at the non-waiver Trade Deadline. The left-hander hasn't allowed more than three runs in any of his nine starts with his new team, going 7-1 with a 2.17 ERA.
Tuesday's starter will be Marco Estrada, who's also on an impressive run. The right-hander is 7-3 with a 2.70 ERA in 12 starts since the All-Star break. His ERA in the second half is second only to Price in the American League, and his batting average against is an AL-best .182 over that span.
Game 3 duties will fall to Marcus Stroman, who completed a miraculous comeback from an ACL tear in Spring Training to rejoin the Blue Jays. He'll be making his third start of the season.
"To lose a series like this, it [stinks]," said Estrada, who's surpassed his career high in innings with 160 1/3. "But the good thing is, we're about to play the Yankees next, and if we can take that series from them, we'll be in pretty good shape."
Jamie Ross is an associate reporter for MLB.com. This story was not subject to the approval of Major League Baseball or its clubs.