3-HR game part of turnaround '15 for Kendrys
Royals DH sets franchise record with 15 total bases against Tigers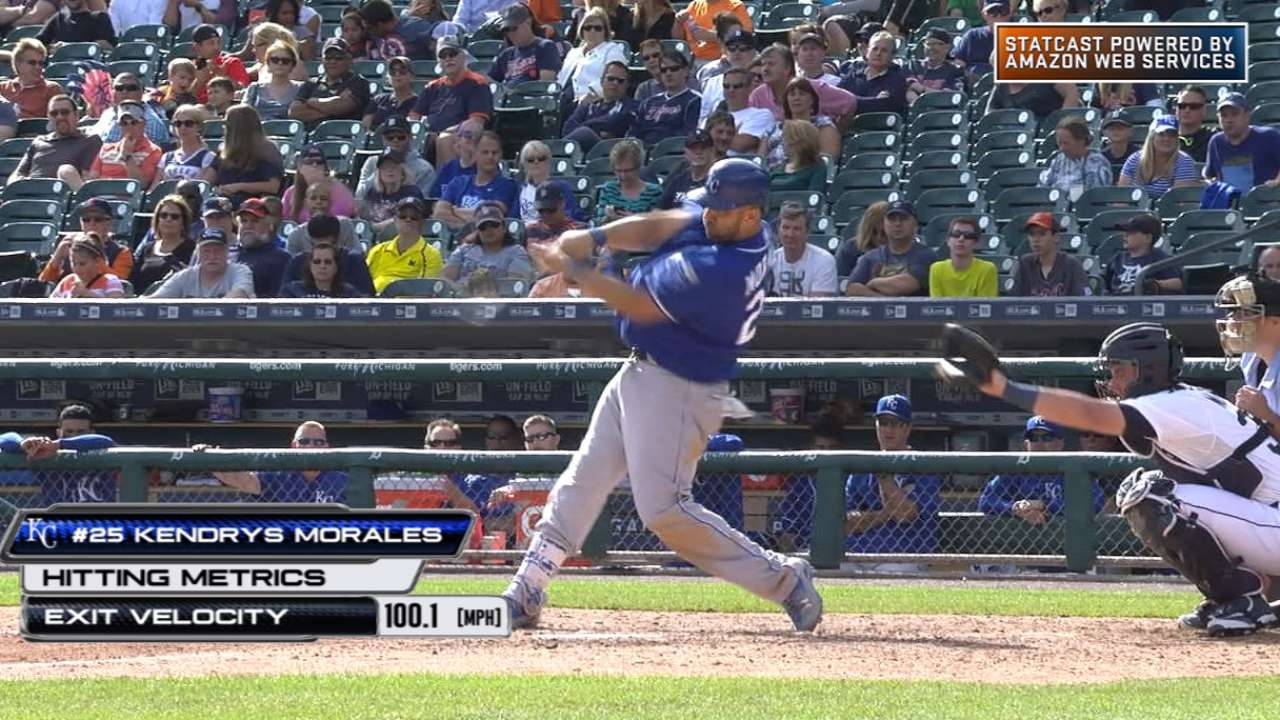 DETROIT -- Royals designated hitter Kendrys Morales didn't hesitate when asked if Sunday was his best day as a professional baseball player.
"Yes, for sure," he said with a big smile as Pedro Grifol interpreted after the Royals' 10-3 win. "It's at the top."
And why not? Morales slammed three home runs and a triple and scored five times in the Royals' much-needed victory over the Tigers.
"Unbelievable day," a relieved Royals manager Ned Yost said. "He just had a fantastic day. And so did [Christian] Colon with four hits. It all gave [Kris] Medlen some breathing room and that was good because he was grinding. But just a great day for Kendrys."
Morales hit a homer in the third, fourth and eighth innings, becoming the first Royals hitter to have three homers in a game since Danny Tartabull in 1991. He also tripled in the sixth, becoming the first Royals hitter in franchise history to have 15 total bases. Morales became the seventh player in big league history to hit three homers and a triple in a game.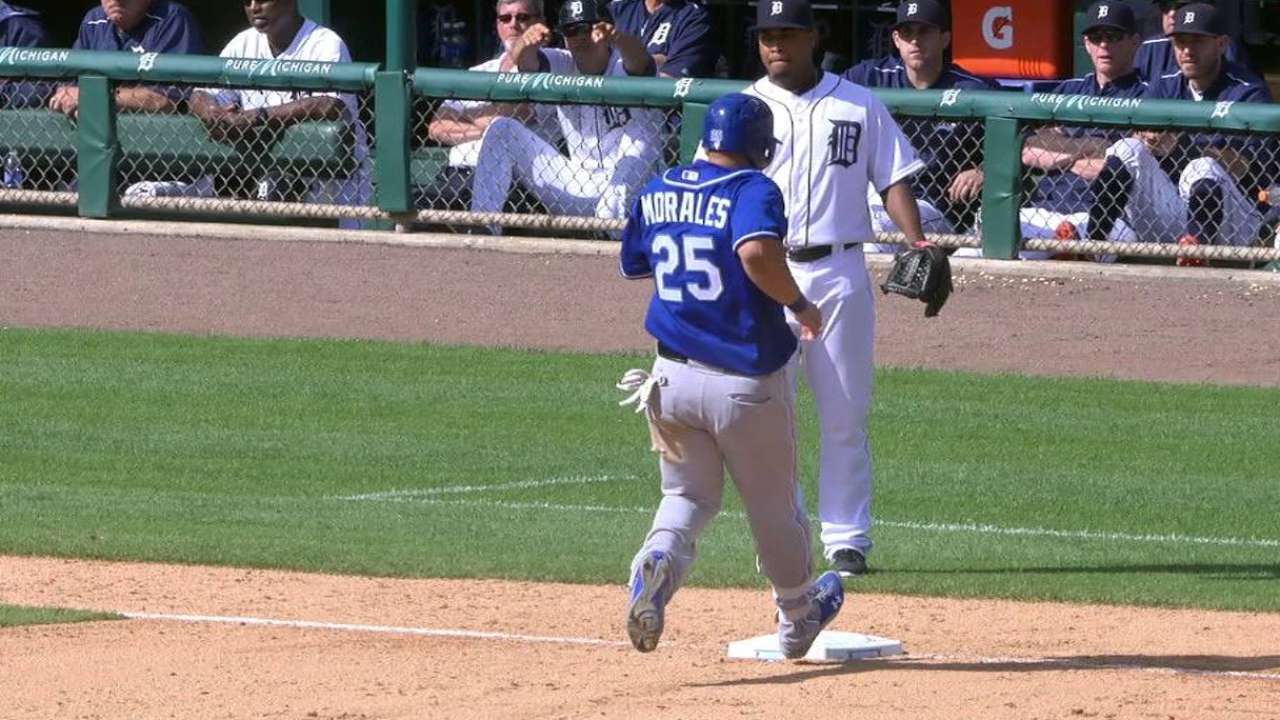 "Just one of those days. Got good swings," Morales said.
The triple blew up an elated Royals dugout.
"He got around second base and I started saying, 'Where are you going?'" Yost said. "But he had it all the way."
Morales' other triple this season was also here at Comerica Park.
"I knew I had it," Morales said.
With the three homers, Morales took over the team lead with 21 homers. Salvador Perez and Mike Moustakas each have 20 homers.
Any friendly competition going on?
"Nah, no, there is no competition," Morales said. "We're all pulling for each other."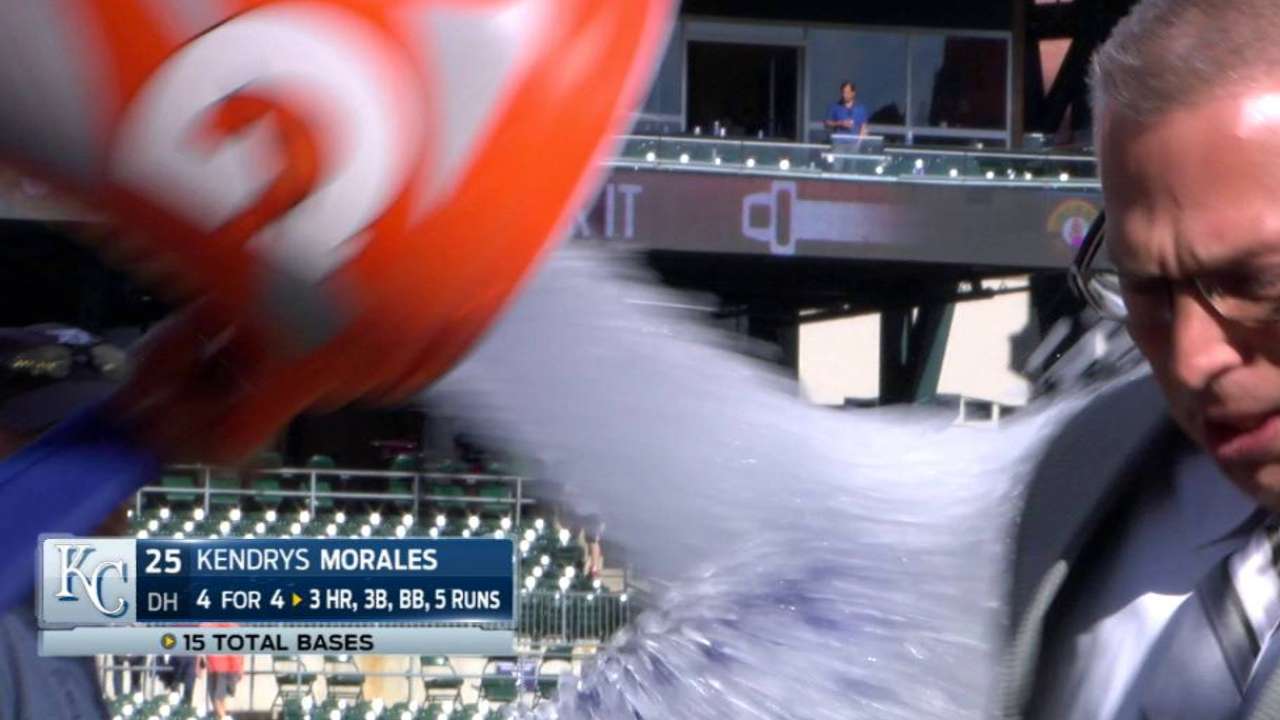 It has been quite the turnaround season for Morales, who had just eight homers and 42 RBIs last year. He also leads the Royals with 105 RBIs.
"This is what we were hoping for when we signed him," Yost said. "He's having a phenomenal season for us."
Jeffrey Flanagan is a reporter for MLB.com. Follow him on Twitter at @FlannyMLB. This story was not subject to the approval of Major League Baseball or its clubs.