Hill bests Jays for first win as starter since '09
Red Sox lefty continues successful comeback with another 10-whiff performance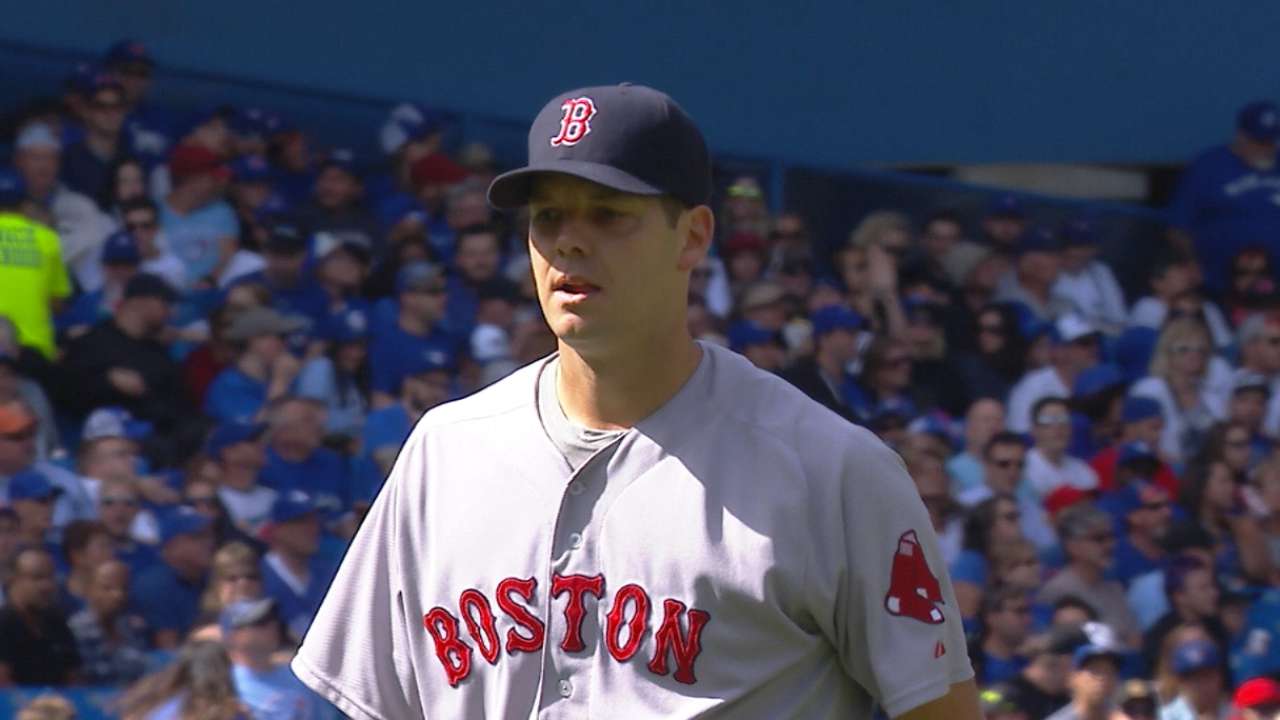 TORONTO -- The comeback story of Rich Hill would have been compelling if he had simply kept the Red Sox in the game in his first two Major League starts in six years. But for the lefty to pitch at the level he has for these two outings has been stunning.
Pitching against the best offense in the American League on Sunday afternoon in Toronto, Hill earned the win -- his first as a starter since June 19, 2009.
Over seven innings of a 4-3 victory by the Red Sox, Hill scattered seven hits and three runs (all in the second inning) while walking none and striking out 10.
"He's been really special these past two outings," said Red Sox center fielder Jackie Bradley Jr. "It's fun playing behind him. He's keeping other teams off balance, making pitches when he needs to and he's obviously giving us a chance to win ballgames."
Sunday's performance came on the heels of Hill firing seven shutout innings and getting 10 punchouts against the Rays in a no-decision last week.
Yes, for the second straight start, Hill registered 10 whiffs. He became the first pitcher in Red Sox history to produce 10 strikeouts in his first two starts with the club.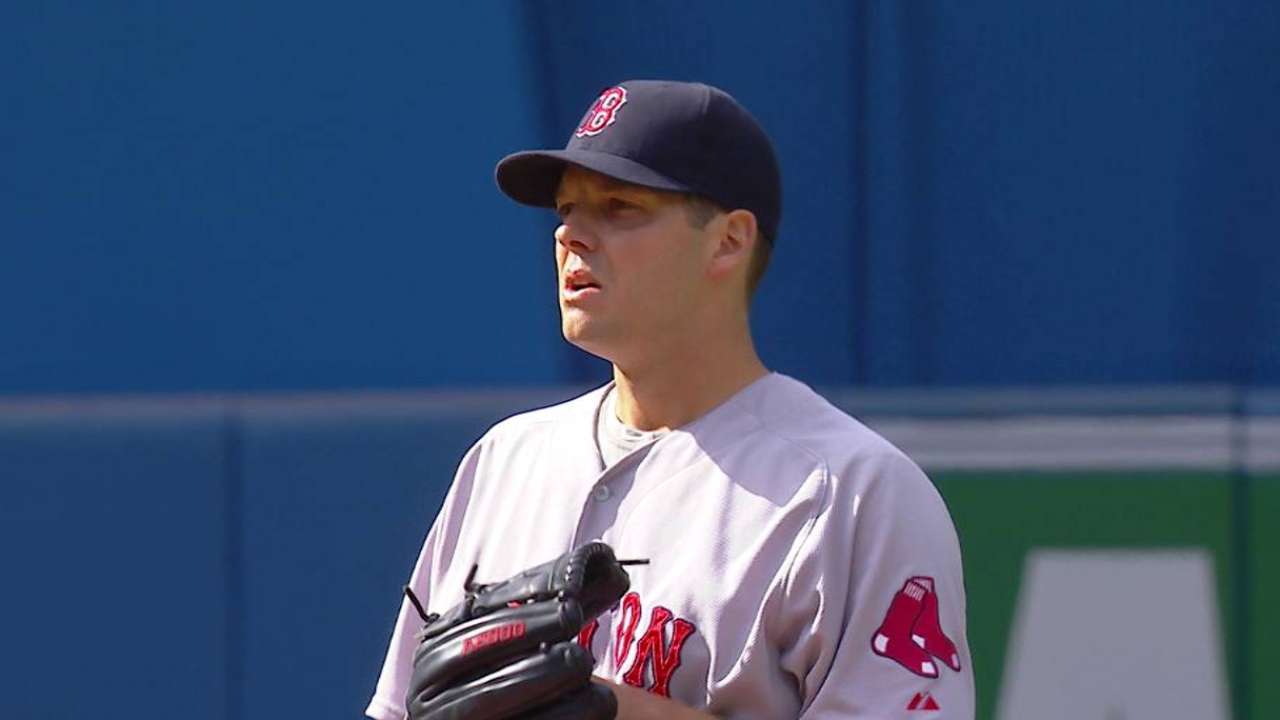 This from a man who didn't have a job after the Nationals released him from his Minor League contract in June. This from a man who went to the independent league and made two starts for the Long Island Ducks just to prove that a Major League team should let him start in Triple-A. The team that gave him that chance was his hometown team -- the Red Sox.
Once Pawtucket's season ended, the Red Sox had a need in the rotation after knuckleballer Steven Wright went down with a concussion.
"I guess my expectations were just based on what people were telling me -- that he was throwing better than anyone at Triple-A in our rotation," said Red Sox president of baseball operations Dave Dombrowski. "We needed someone to go out there that could keep us in the game and give us a chance to win. That's what the expectations were and of course he's far exceeded that the couple of times he's gone out there. It's tremendous."
Hill began his career as a starter before a series of arm woes turned him into a lefty specialist. But getting designated for assignment by the Nationals gave Hill the epiphany that maybe he should try starting again -- a path a pitcher generally doesn't try to go back on at 35.
"It's something that you don't expect for somebody that's resurrected his career as a starter," said Red Sox interim manager Torey Lovullo. "He was in independent baseball at some point this year. It's been a tremendous lift. And exactly what we needed."
Even after Sunday's solid performance, the low-key Hill stayed true to his personality.
"The results are irrelevant," said Hill. "It's all about the process. That's just part of making quality pitches, and if it happens to be a strikeout, the end result, that's what the end result is. It's not something you're looking to make happen when you stay in that moment."
This has to be a satisfying moment in time for Hill, who was invited to Spring Training by the Red Sox last year, but wound up pitching a total of just 5 1/3 innings in the Major Leagues in 2014 for the Angels and Yankees.
Though Hill was solid in 54 innings for Triple-A Syracuse (2.83 ERA) earlier this season, the Nationals decided that roster spot was better used for someone else.
But Hill never gave up.
"I barely know him, but it's wonderful to see that for someone who has battled like he has to get back to the big leagues and pitch like this. It's great," said Dombrowski.
Ian Browne is a reporter for MLB.com. Read his blog, Brownie Points, follow him on Twitter @IanMBrowne and listen to his podcast. This story was not subject to the approval of Major League Baseball or its clubs.