Zito pleased to be back on the big league stage
Lefty gives up a homer in first appearance in nearly three years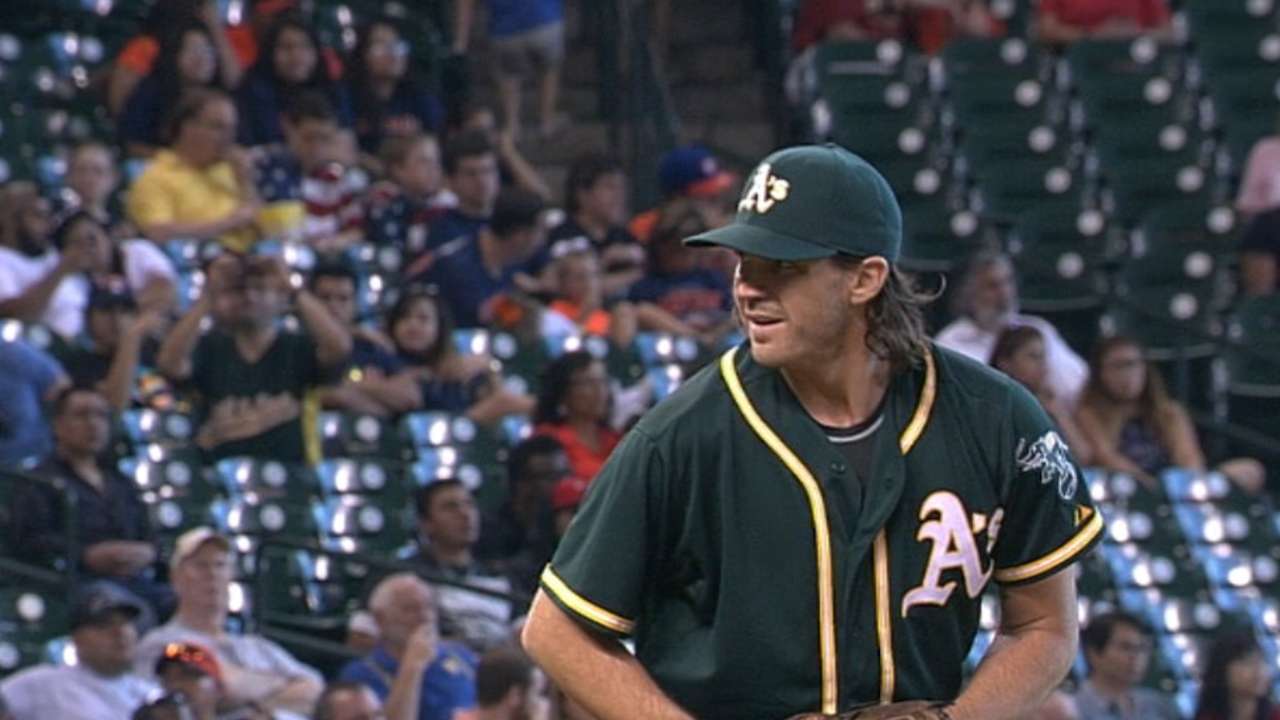 HOUSTON -- In his first Major League appearance since Sept. 29, 2013, Barry Zito broke a cardinal rule.
After walking Jed Lowrie on a close curveball, Zito lofted another one of his patented low-70s curveballs into Colby Rasmus for a swinging strike to begin his eighth inning at-bat, painting the zone. That cardinal rule, Zito said, dictated his next pitch should be low and away, especially if he threw the same breaking ball.
It found too much of the plate, though, and Rasmus launched his second homer of the game to finish the scoring in the A's 5-1 loss to the Astros.
"So I broke that rule. Didn't get away with it today," Zito said. "Had all three pitches working for the most part, felt comfortable with all three, and it was good to go out there. I don't want to give up runs, obviously, but it's good to know it feels good out there. I'm ready to get ready for my next one, whenever that is."
Zito, who last appeared in an A's uniform on Oct. 10, 2006, in the American League Championship Series, threw 26 pitches, surprising himself with how fresh he felt afterward.
The former American League Cy Young Award winner and three-time All-Star spent all season with Triple-A Nashville after signing a Minor League contract in the offseason, going 8-7 with a 3.46 ERA in 22 starts.
"Just being in Spring Training with them was awesome," Zito said. "Obviously, being able to be a part of the team in the regular season is a huge bonus, for sure. I didn't expect it, that's an understatement."
He should have, though, according to A's manager Bob Melvin.
Melvin had Zito warming in Friday's 4-3 win over the Astros, but wasn't able to get him into the close game. With a taxed bullpen that's now seen 23 relievers trotted out this season, Zito's already planning corrections for his next outing.
"He's here for a reason, it's not just because he's Barry Zito," Melvin said. "He pitched well this year for us and deserves to be here. But it is nice. You see him in the green and gold, he's made a nice career out of pitching in this organization and everybody's happy about being here mostly because he deserved to be here. Get the kinks out in the first outing, then we'll move on from there, but it's nice to have him here, definitely."
Astros manager A.J. Hinch said he and Zito go back a ways. Hinch reminded Carlos Correa, who led off against Zito in the eighth inning, that he had homered off Zito on Sept. 2, 2002, while with the Royals.
Correa bounced out to shortstop to start the inning.
"I've got one up on Correa. He got him out," Hinch said. "Barry and I go back a while. It was nice to see him on the field. I told him before the series I was proud of him sticking it out."
Chandler Rome is an associate reporter for MLB.com. This story was not subject to the approval of Major League Baseball or its clubs.