Mackanin tries everything to get Phillies going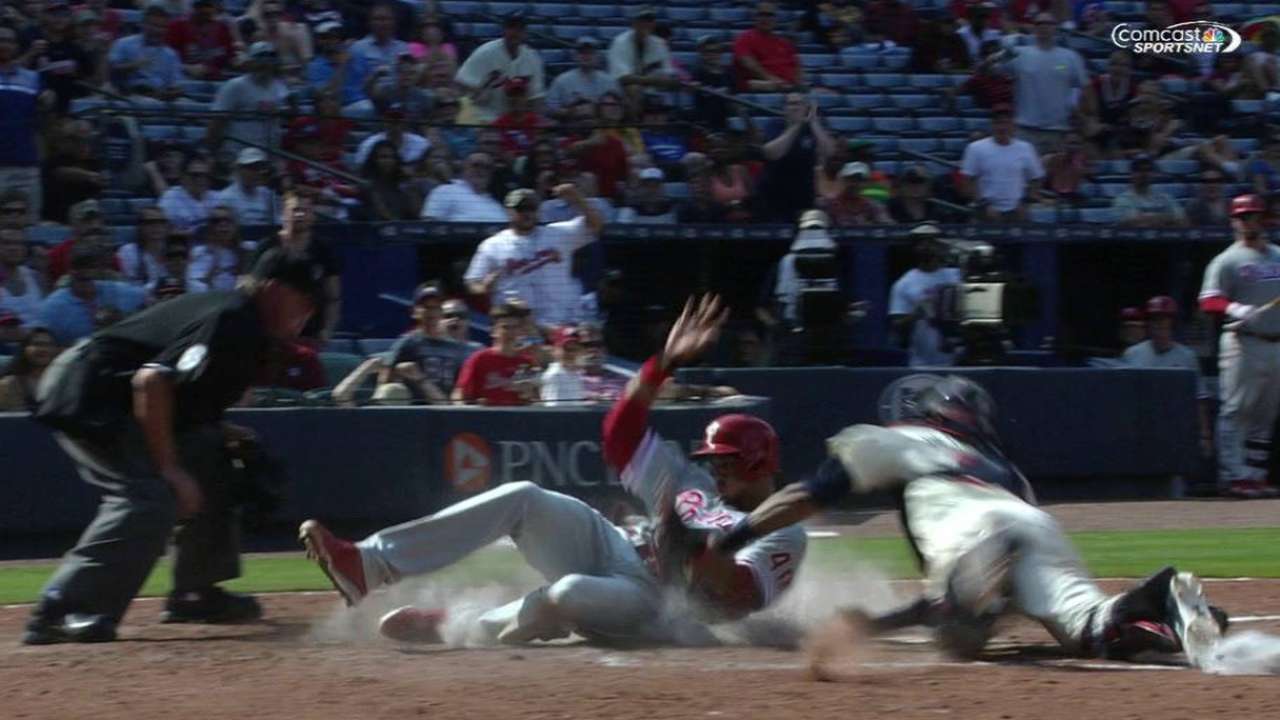 ATLANTA -- Pete Mackanin is trying. Hit-and-runs, bunts from guys who don't normally bunt, five infielders, guys in different spots in the field, lineups that have been juggled and re-juggled.
Still, the Phillies have struggled. It's enough to get a guy a little down.
"You can say that everyone's getting tired, but that doesn't cut it here," Mackanin, the Phillies' interim manager, said on Sunday after his team lost its sixth straight game, this one a third straight 2-1 loss to the Braves. "You've got to learn to play when you're tired."
Sunday, the Phillies enjoyed their third straight quality start, this one seven solid innings from Aaron Nola, but still couldn't manage to push across a run when it counted. In fact, Atlanta's Julio Teheran had a perfect game going until Philly's Freddy Galvis -- who was hitting leadoff for just the fourth time this year and playing second base for just the second time this season -- smacked a single to open the seventh.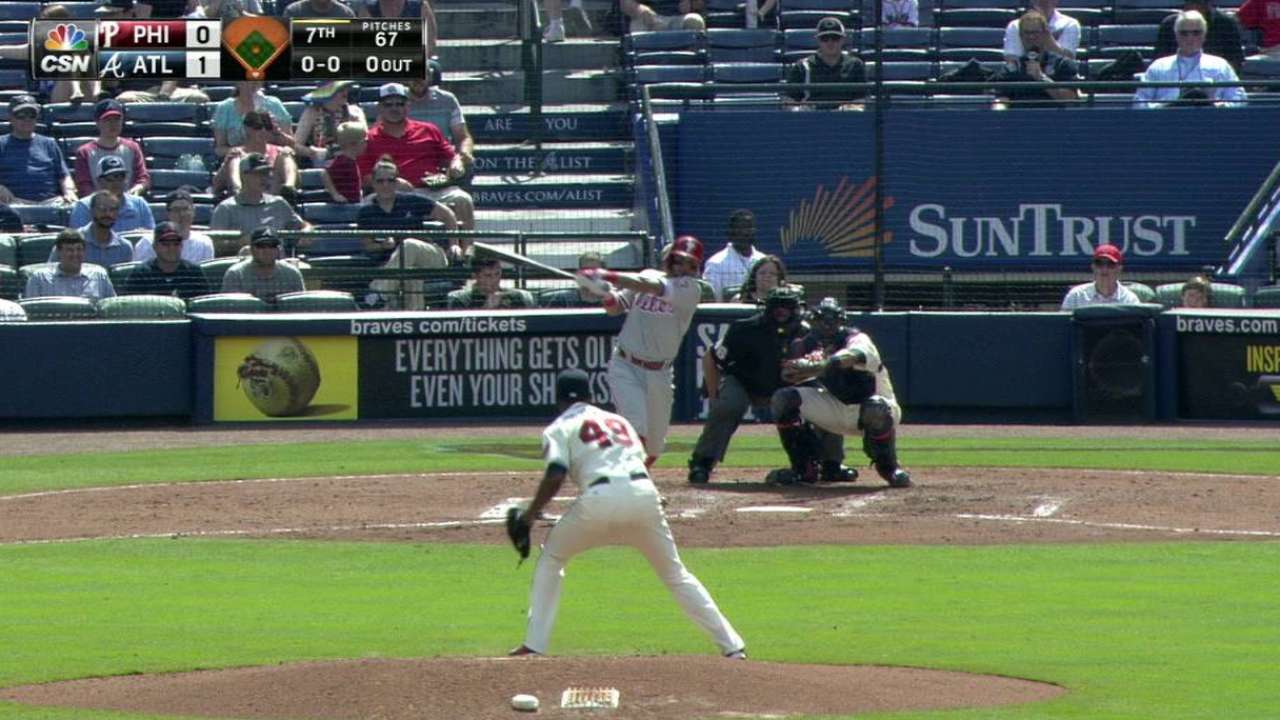 After Teheran walked first baseman Darin Ruf -- subbing for the injured Ryan Howard -- the Phillies seemed to have something going.
But it didn't work out.
Mackanin called on big catcher Cameron Rupp to bunt, in a by-the-books attempt to move over the runners. Rupp, in an attempt to bunt [he's never had a sacrifice bunt in the Majors], popped up to Teheran and into a double play.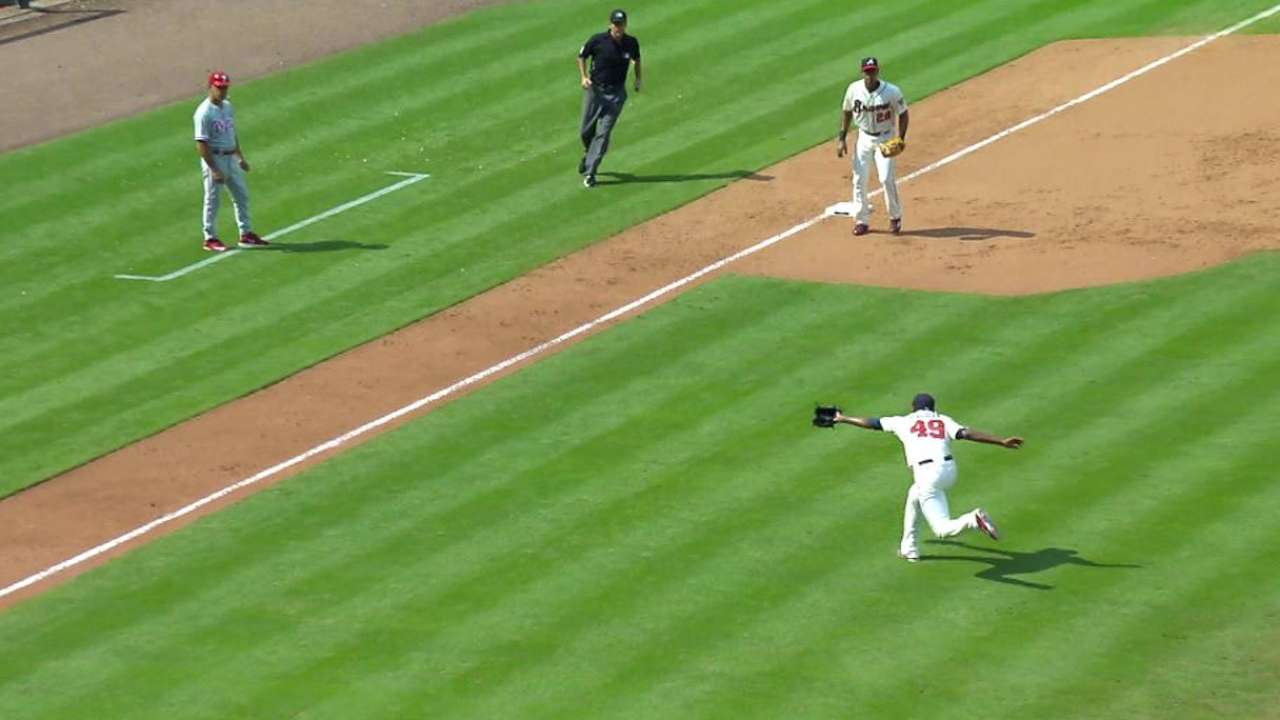 "He's a .230 hitter," Mackanin said. "If you're a .230 hitter, I want to move the runners. If he's a .330 hitter, I'm letting him swing.
"That's part of the game. They practice it every day, and they're supposed to be able to do it."
Rupp stood up after the game and took the heat.
"When I was in college [at Texas], we were required to be able to get a bunt down. It's something I'm able to do. I just didn't get it done," he said. "I want to do whatever I can to get the job done. And that's the play there. I need to get it done."
Mackanin tried a squeeze play in the seventh inning Friday that didn't work out, when Atlanta reliever Andrew McKirahan scooped Odubel Herrera's bunt with his glove and tossed to the plate to get Chase d'Arnaud. The manager tried a handful of hit-and-runs over the weekend, including one Saturday that helped the Phillies to their only run (which scored on a double-play ground ball).
"I'm trying to manufacture something," Mackanin said. "It's just one of those things. It snowballs. You never get a break."
In the bottom of the ninth Sunday, after the Phillies finally pushed across a run in the top of the inning to tie the score at 1-1, Mackanin even used right fielder Jeff Francoeur as a fifth infielder with one out and runners on the corners. A.J. Pierzynski poked a soft single to center to win it.
"You choose the way you're going to lose the game," Mackanin said. "I'm gonna lose it on a fly ball, I'm not going to lose it on a base hit up the middle."
John Donovan is a contributor to MLB.com. This story was not subject to the approval of Major League Baseball or its clubs.