A.J. comes off bench to save the day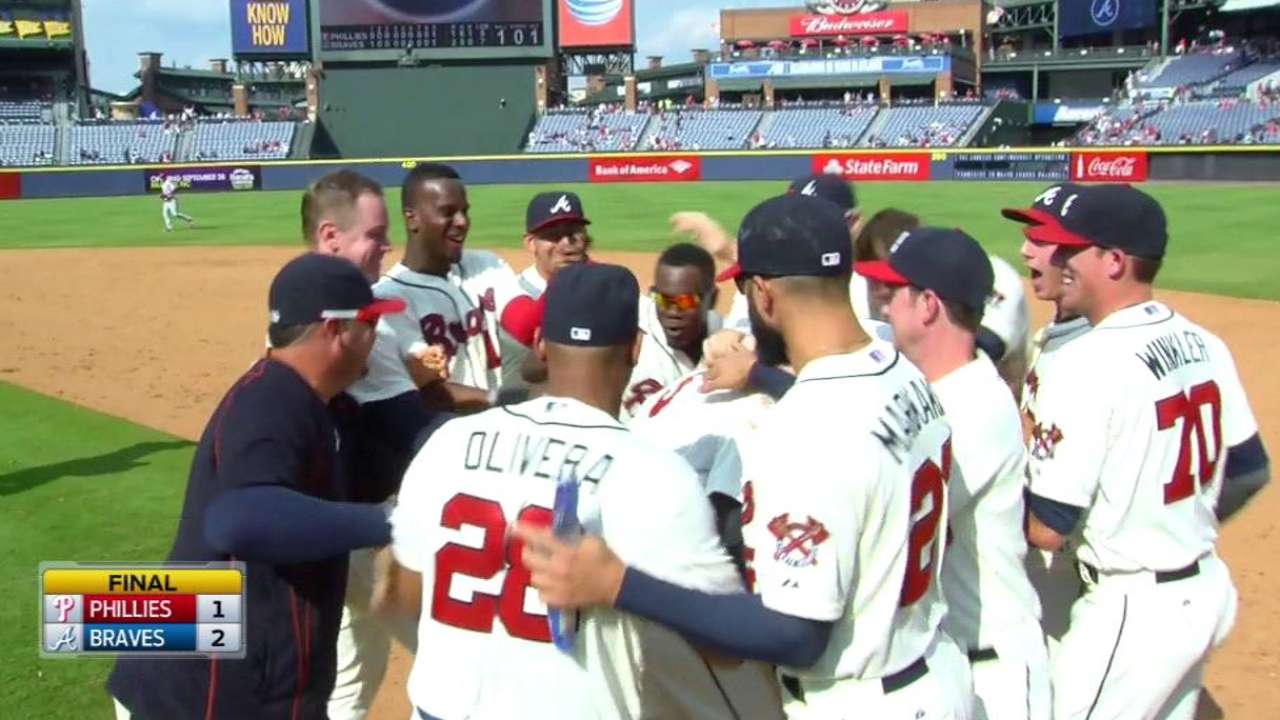 ATLANTA -- Braves catcher A.J. Pierzynski has been around long enough to know that a catcher should never assume that he is going to get a full day to rest. At the same time, he has seemingly grown comfortable with the challenge of being ready to enter a big situation at a moment's notice.
After Christian Bethancourt injured his left forearm while unsuccessfully attempting to prevent the Phillies from tallying a game-tying run in the top half of Sunday's ninth inning at Turner Field, Pierzynski donned the catching gear and then delivered a walkoff single in the bottom half of the inning to give the Braves a three-game sweep with a 2-1 win over the Phillies.
"Right off the couch and right into the game," Pierzynski said. "You stay ready, especially as a catcher because you're always one pitch away. Luckily [home-plate umpire] Jim Joyce let me catch a couple from Peter [Moylan] before I had to go right out there."
Once he saw that Bethancourt had been injured while attempting to tag Aaron Altherr, Pierzynski entered the game to catch the side-winding Moylan with the potential game-tying run on third base. Three pitches and a long flyout later, the Braves 38-year-old catcher began preparing for a more significant contribution.
"Here's a guy who has sat around since 10 o'clock or 11 o'clock this morning and then all the sudden you've got to get him in a game," Braves manager Fredi Gonzalez said. "He hits through the course of a game, but your legs aren't loose as a catcher and you've got to get him in the game with the [go-ahead] run on third and a sidearmer on the mound."
After Andrelton Simmons stole third base for the second time this season and Jace Peterson drew a one-out walk after falling behind with a 0-2 count, the Phillies brought Jeff Francoeur in from right field to serve as an extra infielder.
With more open real estate now available in the outfield grass, Pierzynski took advantage of the situation. He laced Luis Garcia's 1-0 slider to shallow center field and then was mobbed by his Braves teammates, who were celebrating a third consecutive win for the first time since Aug. 8.
"I was just trying to get a ball to the outfield," Pierzynski said. "You're not trying to do anything else, except for get a ball to the outfield. They had five infielders and you're just trying to get it over their heads."
Mark Bowman is a reporter for MLB.com. Listen to his podcast. This story was not subject to the approval of Major League Baseball or its clubs.