Melancon shuts out doubters, makes history
Pirates closer rebounds from rough start, notches team-record 47th save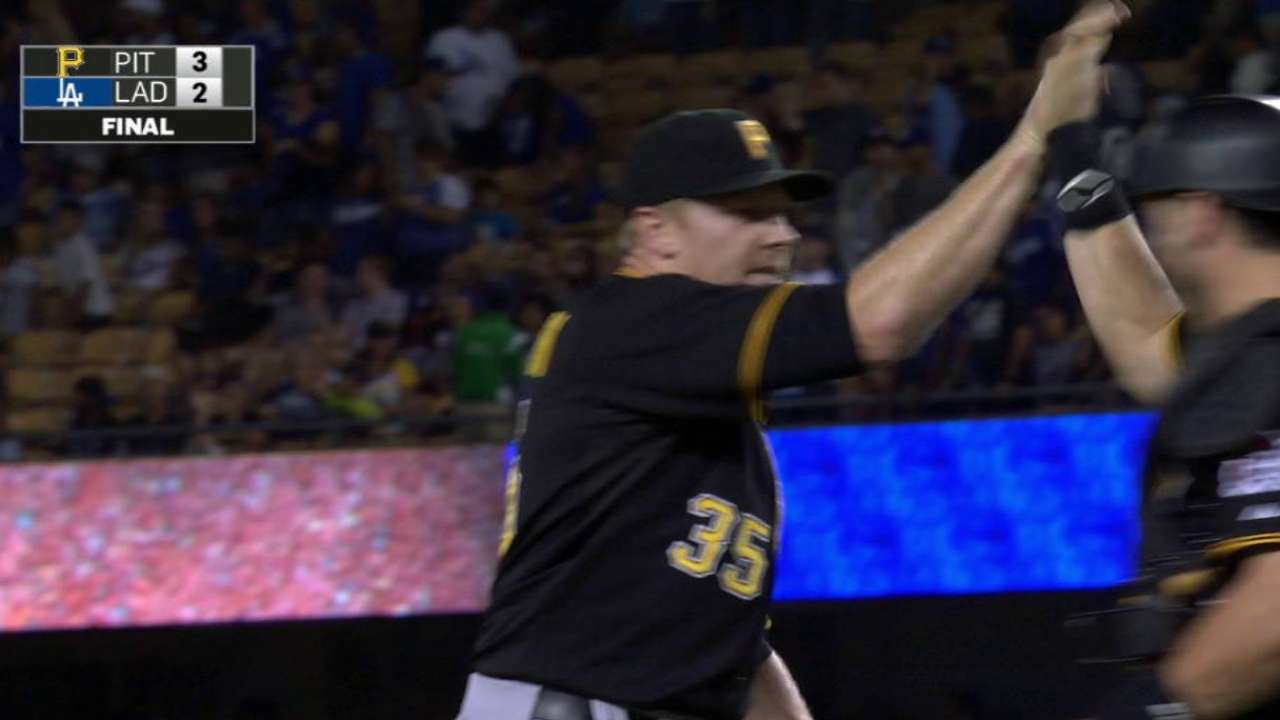 LOS ANGELES -- Ask Mark Melancon about what he is proudest of in his record-setting season as the Pirates' closer, and the answer is as solid as the man.
"Being able to put the negativity early in the season behind me," Melancon said Sunday morning, not long after having walked off Dodger Stadium's mound with his 47th save of the season in a 3-2 win, breaking Mike Williams' club record of 46 in 2002. "There was a lot of negativity from outside sources. I'm proud of being able to know what I'm capable of, and sticking to my plan and not listening to outside sources."
Before history, there were hysterics. When Melancon had an 0-1 record, a blown save and an ERA of 8.53 after his first seven outings, people wanted his job. Some even wanted his head.
Unbelievably, in June still, national media wondered about the depth of the Pirates' concern over Melancon's drops in velocity and strikeout rates, and whether he could lose his job.
Rather than listening to any of them, Melancon listened to his manager. In his office, Clint Hurdle reassured Melancon his closer's job was not in jeopardy.
"He did talk to me," Melancon said Sunday. "And of course it helped."
With regular work, the velocity of Melancon's cutter kicked up a couple of notches, the saves total grew, the ERA shrunk. It now rests at 1.94.
Melancon could be working on a streak of 46 straight saves if not for two unearned runs that followed an error with two outs in the ninth and stopped the streak at 35 on Aug. 18.
"Yeah, I do think about that," said Melancon, with an ironic grin that betrays both his pride and his drive to be perfect.
Unquestionably one of the most complex, and most admirable, players in all of MLB, Melancon has scaled to the top of his craft with little fanfare. He is not boisterous, tightly-wound, controversial, volatile or particularly outspoken -- all typical traits of celebrity closers.
"If he was in a bigger city, or threw harder, they'd make more noise about him," Hurdle said. "He's been the prototypical guy who squeezes every bit of talent out of himself. He flat-out gets people out.
"You talk to him, he's very reserved, very humble, quiet. But he's a completely different cat on the mound."
Indeed, Hurdle gets a chuckle out of the pervasive portrayal of Melancon as a low-key, unemotional fellow.
"He may not show it on the outside, but this guy is as competitive as they come," Hurdle said. "When he comes off the mound and shakes your hand, you feel it, you see it in his eyes.
"If the ball was a knife, he'd cut you."
Tom Singer is a reporter for MLB.com and writes an MLBlog Change for a Nickel. He can also be found on Twitter @Tom_Singer and on his podcast. This story was not subject to the approval of Major League Baseball or its clubs.