Padres belt four homers to power past Rockies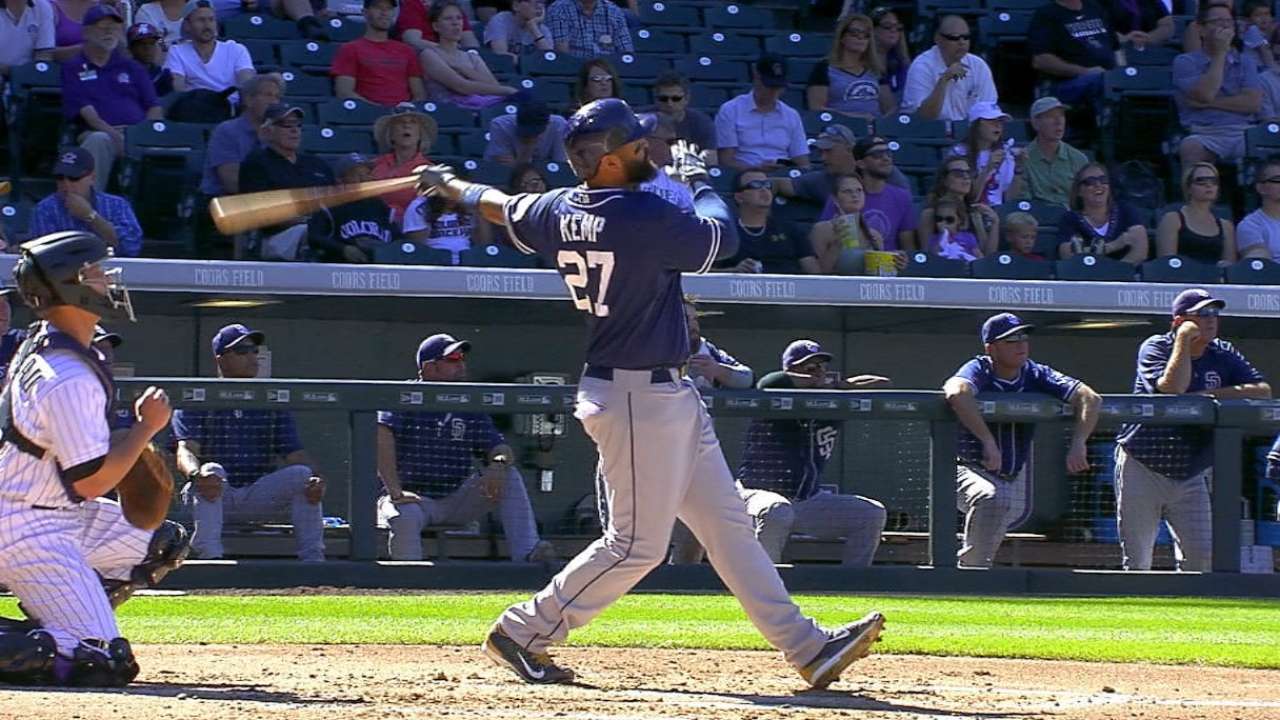 DENVER -- The Padres hit a season-high four home runs and starter James Shields picked up his 13th win of the season as San Diego defeated the the Rockies, 10-4, at Coors Field on Sunday.
The Padres got home runs from Matt Kemp, Yangervis Solarte, Cory Spangenberg and Jedd Gyorko and avoided being swept in the three-game series. All of the home runs came off Rockies pitcher Kyle Kendrick, who allowed six runs in four innings.
"He just fell behind some guys, and then the ball was up in the zone a little bit," catcher Dustin Garneau said of Kendrick's outing. "They're a good lineup, they're a good team, and they don't miss very much, so when he got up and over, they made him pay a little bit today."
Charlie Blackmon had a leadoff home run in the bottom of the first inning for the Rockies, his 16th long ball of the season. It was also his sixth leadoff home run of the season. But Shields was good after that, allowing one run on one hit for the first six innings. He left after 6 2/3 innings having allowed four runs on just two hits.
"He was great," said Padres interim manager Pat Murphy of Shields. "He absolutely set the tone of the game. That was impressive."
MOMENTS THAT MATTERED
Dominating the Rox: When Kemp jumped on a pitch from Kendrick in the third inning, sending it into the seats in left field, it marked his sixth home run of the season against these Rockies and gave him 20 RBIs as well. Kemp finished with three hits Sunday, including two doubles and finished 2015 with a cool .361 mark against Colorado.
"He has a way of just keep competing. He's a great competitor," Murphy said of Kemp.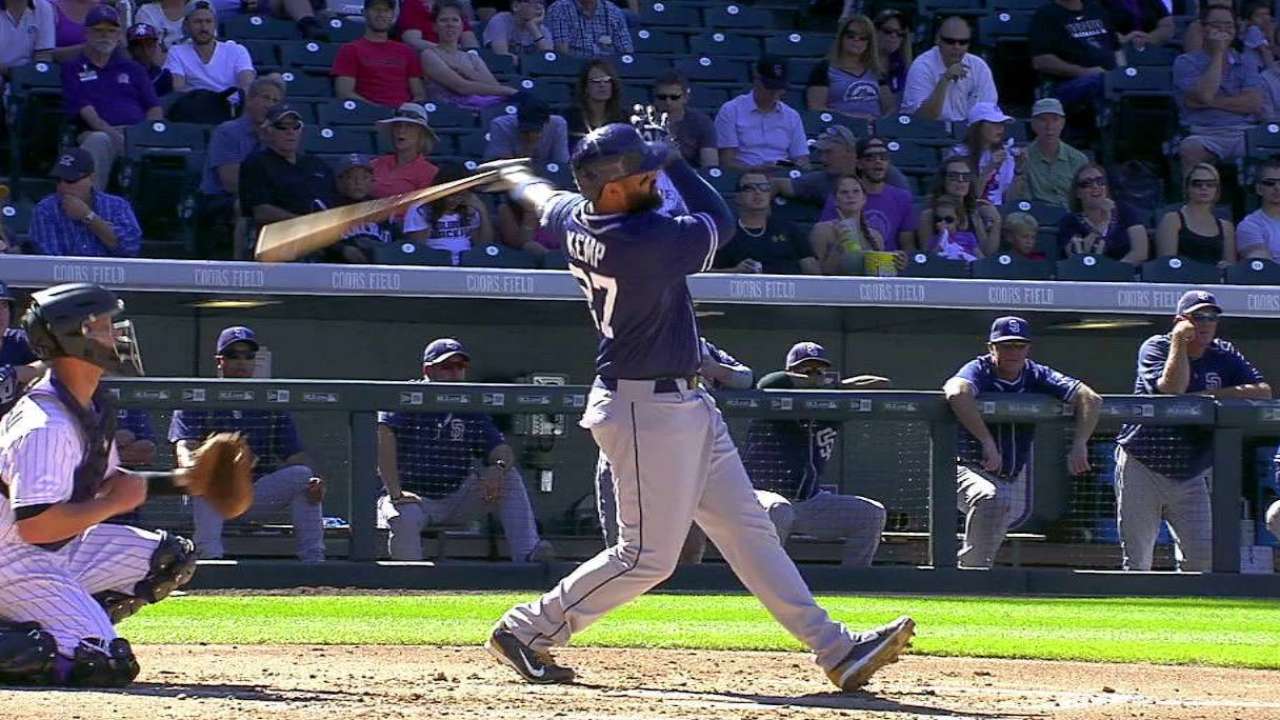 One-hit wonder: The Rockies had only one hit in the first 6 1/3 innings Sunday, and it came from their first batter. Blackmon led off the first frame with a solo shot over the right field fence for his 12th career leadoff homer. Colorado had just two of the next 21 batters reach base safely -- both on free passes from Shields. More >
"He stayed soft," Rockies left fielder Corey Dickerson said of Shields. "He didn't really give anybody anything good to hit, any fastballs. He went straight to his offspeed. He had a plan, and he stuck with it."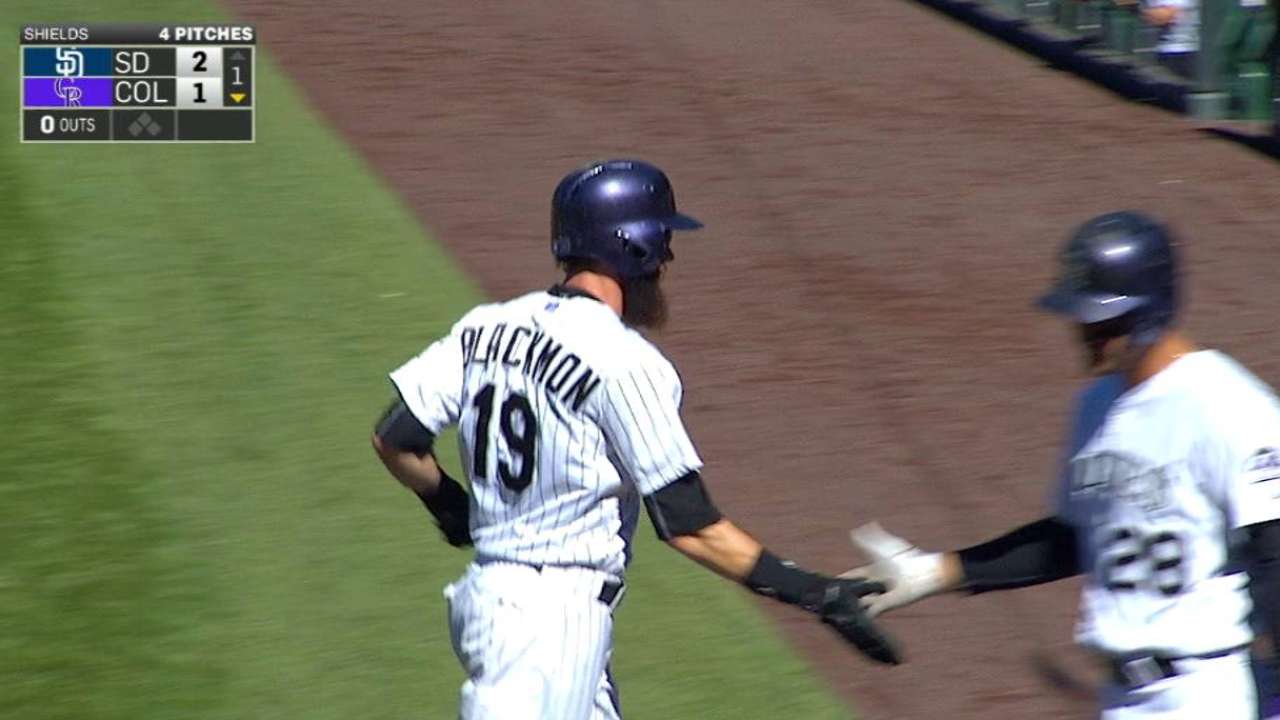 Homer happy: The four home runs hit by the Padres were the most they've hit in a game this season and the most they've hit since Sept. 25, 2014, against the Giants.The Padres finished with 15 hits, three by Justin Upton, who also knocked in three runs.
"We played well today as an offense," Upton said. "We were driving the ball, hit a few balls out of the park early."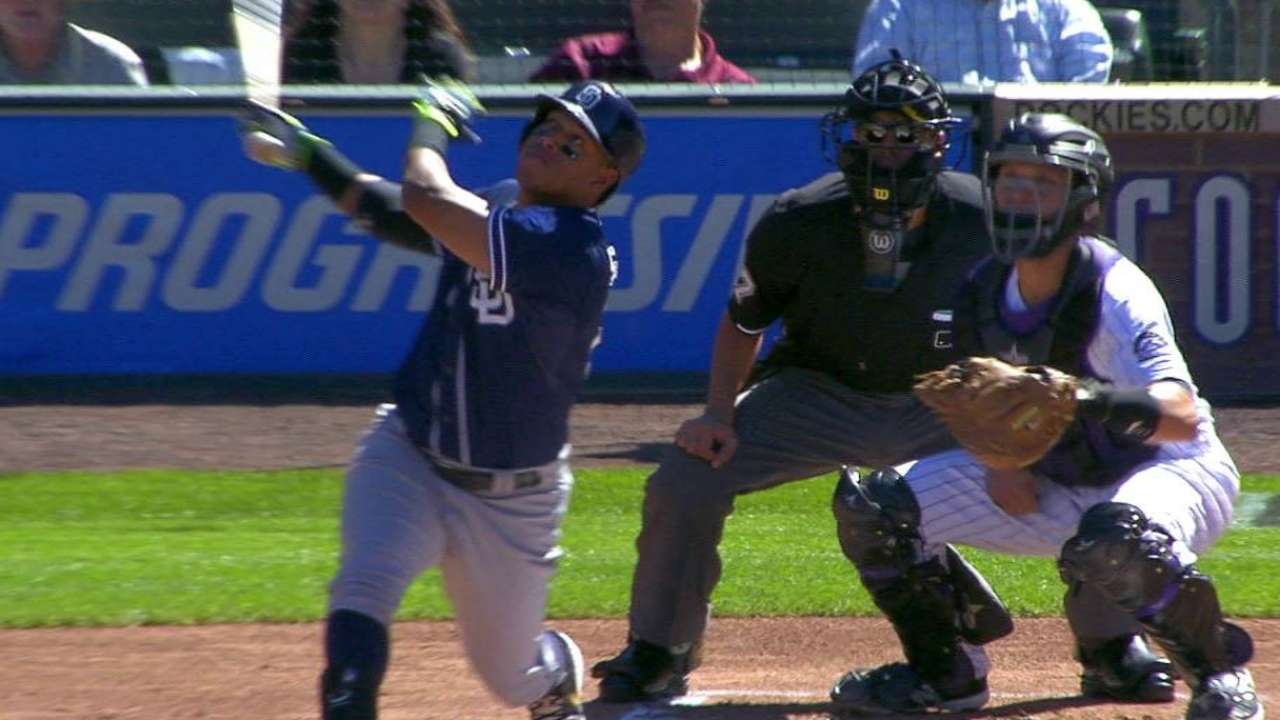 Walk on the wild side: The Rockies scored their second run of the game in a rally that included their second of two hits off Shields, two walks, and two wild pitches. Justin Morneau laced a one-out double to right-center field, then advanced to third on a wild pitch. Shields issued his third and fourth walks of the game to Daniel Descalso and Garneau, both with two outs. Ball four to Garneau was wild, and Morneau scored from third on the pitch. Reliever Bud Norris entered the game and promptly offered his own wild pitch -- the third of the inning -- moving Descalso and Garneau to second and third, respectively, and allowing them both to score on a single to right from pinch-hitter Ben Paulsen.
"They got some guys in the pen, and with their starters, if you don't get to them early, they're going to make you pay," Garneau said of the Padres pitchers. "That's what they did today."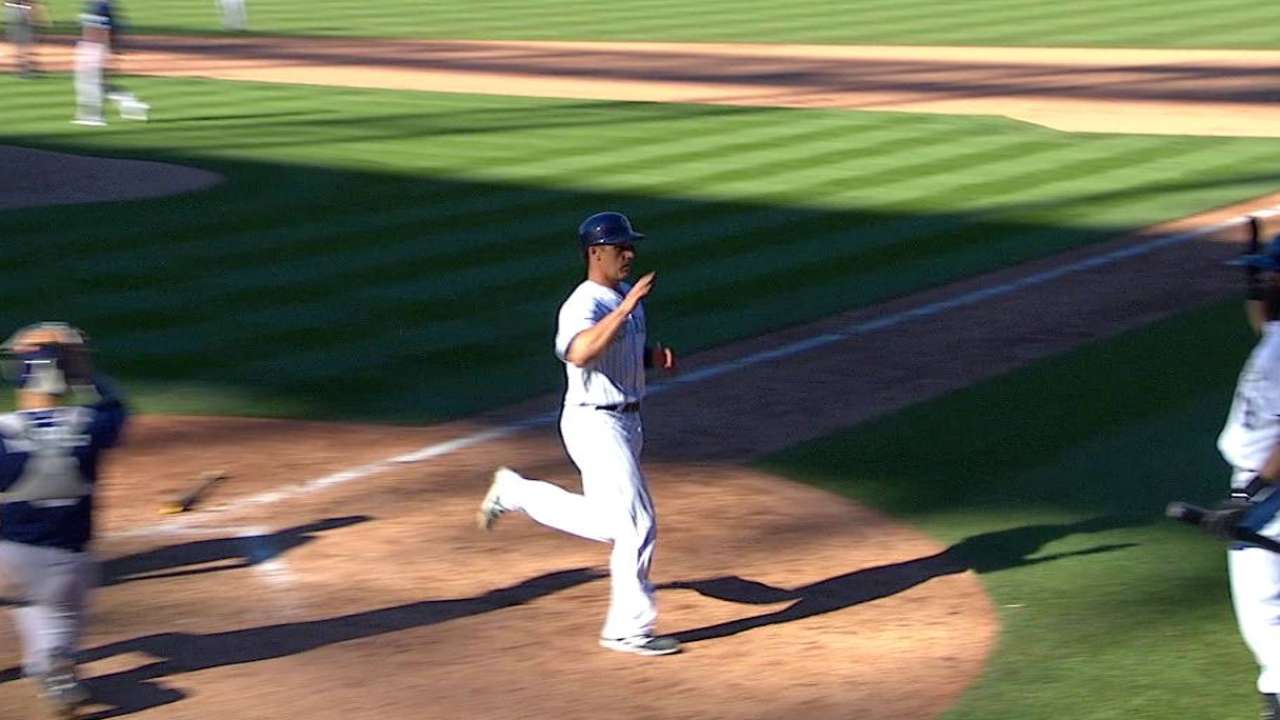 QUOTABLE
"When you come here, you want to set your sights a little lower. The ball isn't going to break as much. With the elevation, you're not going to have as crisp stuff. I think instead of setting your sights at the belt, you have to set them at the knees and throw them down in the zone." -- Shields, explaining the success he had with his curveball and changeup More >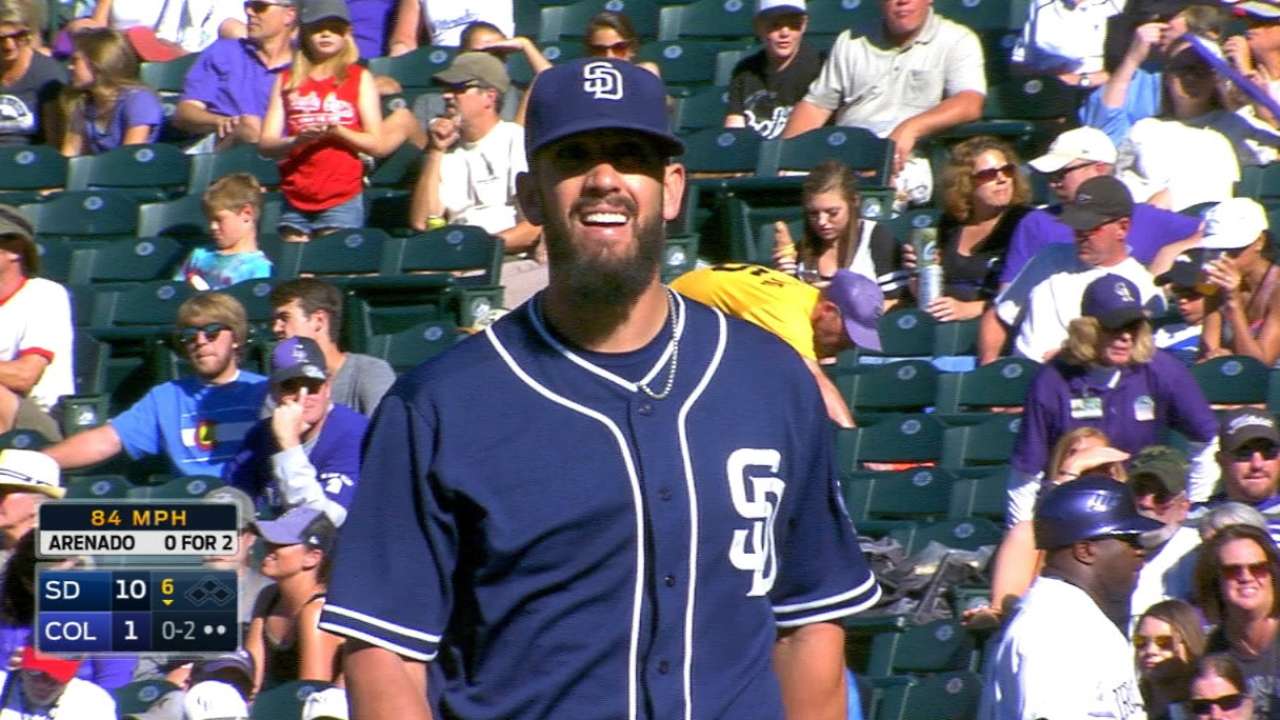 "The ball was in the air a lot, and obviously the ball was carrying pretty well. Not the right conditions for that. He had several pitches elevated, and it was tough conditions to do that." -- Rockies manager Walt Weiss on Kendrick's six fly-ball outs and four home runs
SOUND SMART WITH YOUR FRIENDS
Derek Norris is probably going to be sorry the remainder of the schedule doesn't include games against the Rockies. He had a double on Sunday, giving him 11 in 2015 against Colorado. That's the most doubles in franchise history by a player against any one opponent. Norris finished with 13 extra-base hits against the Rockies this season.
The Padres are the second Major League team this season to score in each of the first six innings. The Orioles accomplished the feat on June 16, at home against the Phillies. It is the third time in franchise history the Padres have scored in the first six innings. They did it Aug. 15, 1986, in Cincinnati and July 25, 1990, at home against the Reds.
WHAT'S NEXT
Padres: The Padres are off Monday before opening a three-game series against the Giants on Tuesday at 7:10 p.m. at Petco Park. Tyson Ross (10-10, 3.18) gets the start. Ross has been very good in September, posting a 2.37 ERA in three starts.
Rockies: Rookie right-hander Jon Gray (0-1, 5.00) is looking for his first career win after eight starts since his big league debut on Aug. 28. He pitched 4 2/3 innings and allowed two runs on six hits and two walks while notching a personal-best eight strikeouts in L.A. Monday, throwing a career-high 92 pitches and earning his first decision, a loss to Clayton Kershaw. He has a 3.60 ERA in three September starts.
Watch every out-of-market regular season game live on MLB.TV.
Corey Brock is a reporter for MLB.com. Listen to his podcast. Owen Perkins is a contributor to MLB.com. This story was not subject to the approval of Major League Baseball or its clubs.