Strasburg fans 10 as Nats rout Marlins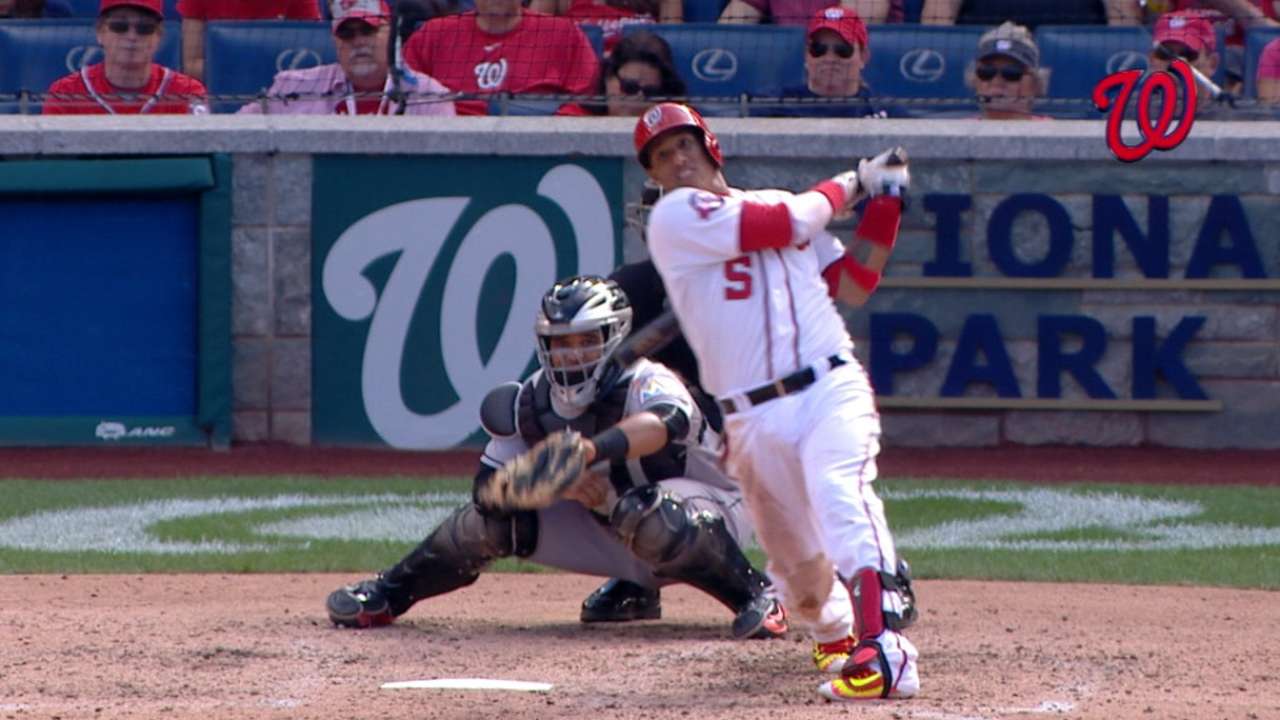 WASHINGTON -- The Nationals continue to show that they are going to end the season fighting. They gave right-hander Stephen Strasburg enough run support and pounded the Marlins, 13-3, at Nationals Park on Sunday afternoon to win their third straight game.
The Nationals moved within six games of the Mets in the National League East race after the Mets fell, 11-2, to the Yankees on Sunday night.
"They continue to play. They haven't quit since the first day of the regular season and they won't until the end of the season," Nats manager Matt Williams said. "I'm proud of them for that. I'm proud of the way they prepare every day and have the desire to win. We'll see if we can keep this going tomorrow."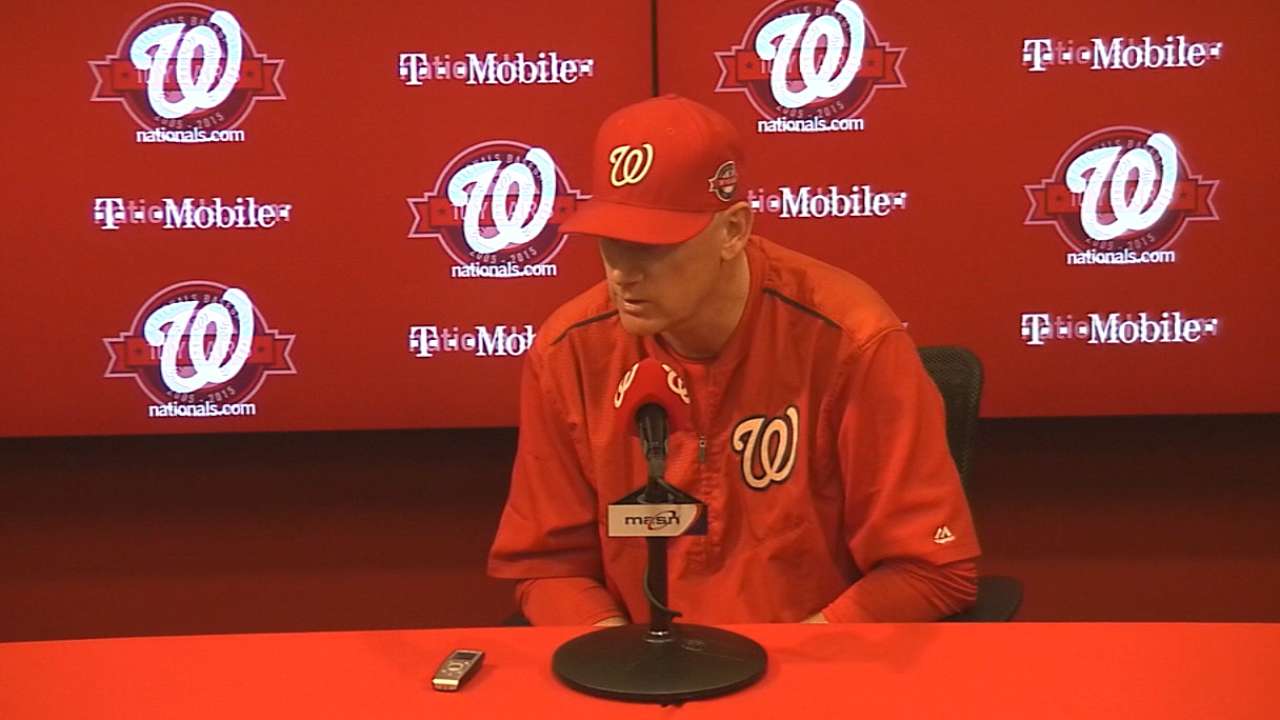 Washington went to work on left-hander Justin Nicolino in the first inning by scoring three runs. Jayson Werth highlighted the scoring with a two-run double.
Nicolino settled down and blanked the Nationals for the next four innings, but then he lost it in the sixth. The Nationals scored a combined seven runs against Nicolino and right-hander Scott McGough. Tyler Moore and Yunel Escobar drove in six runs in the inning.
"Just made a few mistakes," Nicolino said. "Just left a few pitches up in those situations and they put some good swings on those mistakes."
Strasburg won his 10th game of the season by pitching seven strong innings and allowing two runs (one earned). The earned run was scored on a homer by Marcell Ozuna. It marked the third time Strasburg has won at least 10 games in a season.
• Severino rips double off wall in big league debut
"His pitch count was up early -- 50-plus through three innings -- but then he settled in during the middle innings. He kept [the pitch count] down," Williams said about Strasburg. "Through the seventh, he was good. He was good. He pitched pretty well."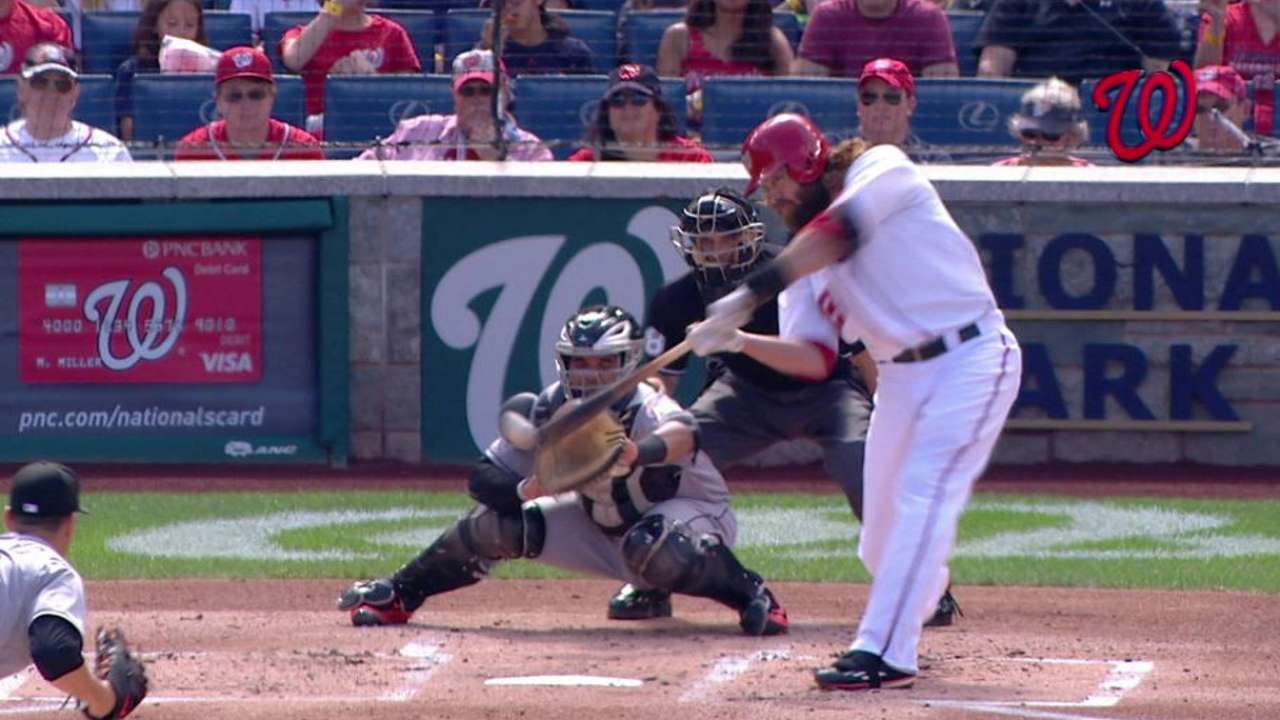 MOMENTS THAT MATTERED
Seven in the sixth: The Nationals scored seven runs in the sixth inning, with Moore and Escobar highlighting the eruption with a three-run homer and three-run double, respectively. Escobar, Bryce Harper and Werth each batted twice in the inning.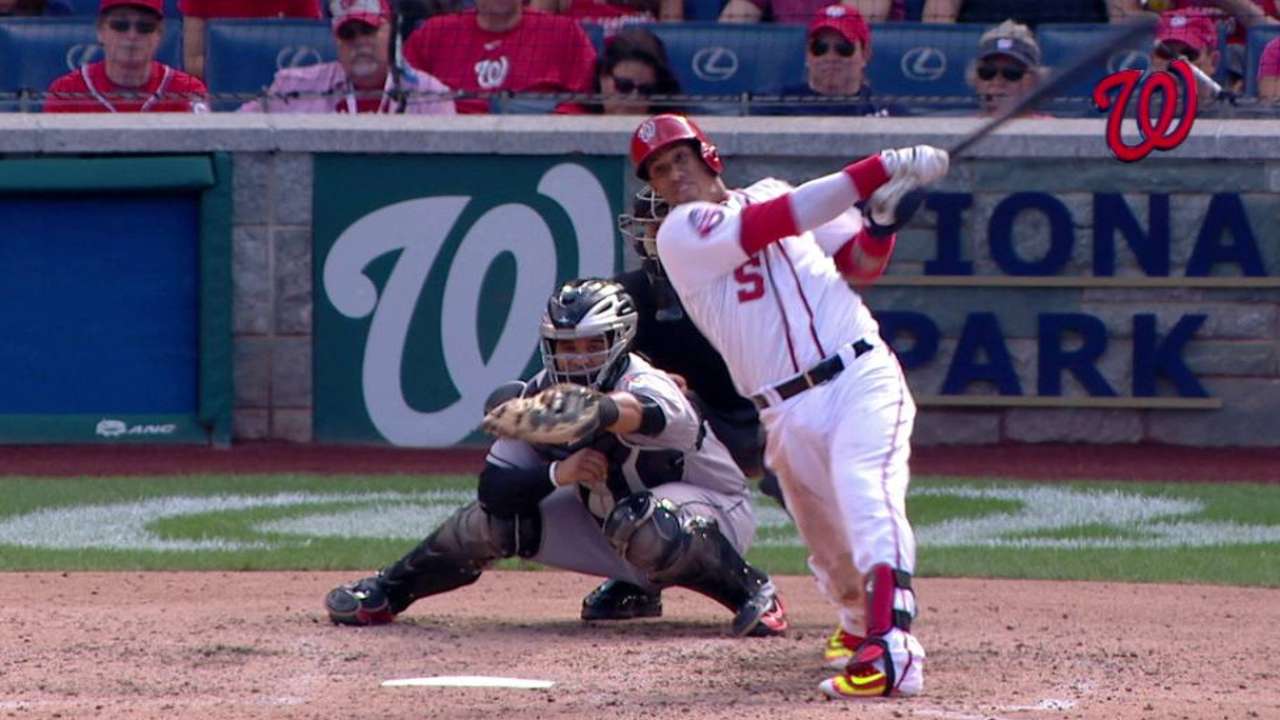 Way, way back: The Marlins were down, 3-1, in the top of the sixth, but Ozuna cut that in half with one big swing. He smacked a monster home run, projected by Statcast™ to land 415 feet away, over the Marlins' bullpen in left-center field.
"It's good to see," manager Dan Jennings said. "We need that power that he has in the lineup. He got two extra-base hits today, and he's definitely a run-producer. For him to show that, you're starting to see signs of him squaring the ball up. When he can do that and give you a chance to [put two or three runs] on the board with one swing, that's big."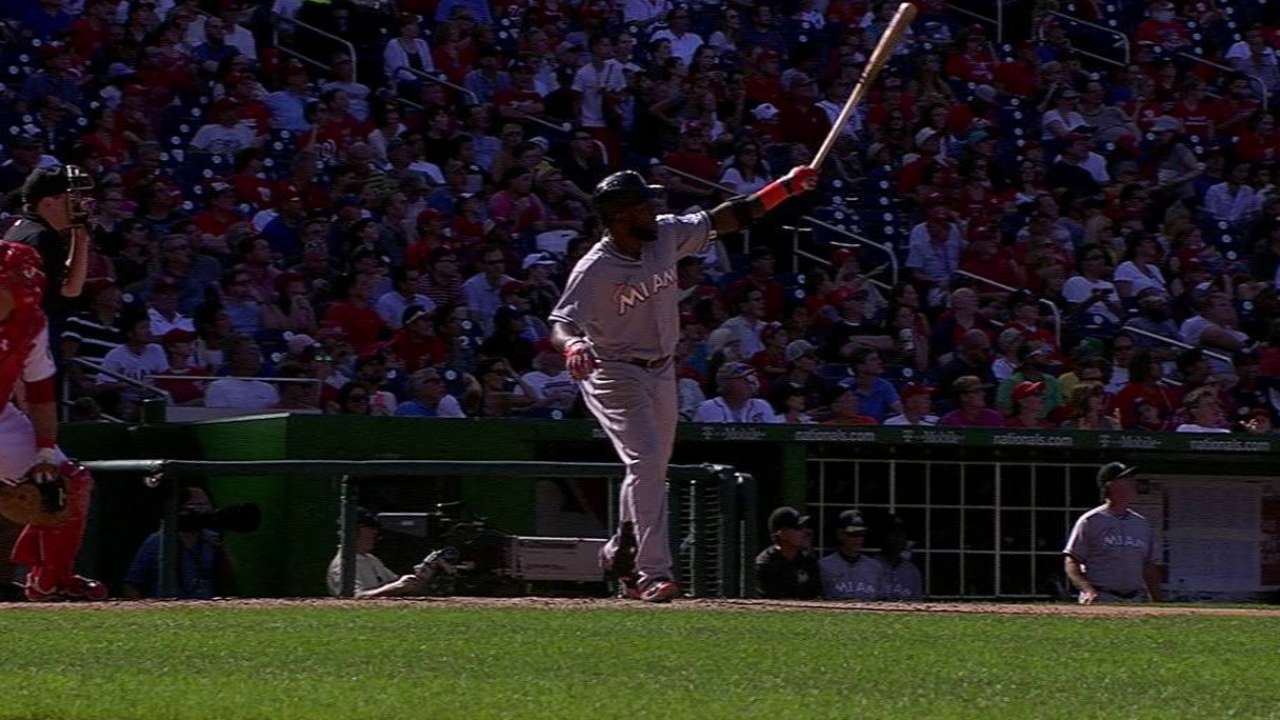 Strong outing from Stras: Strasburg pitched seven innings, striking out 10 batters. With 37 strikeouts in his last three games, Strasburg set a Nationals record for a three-game stretch.
"The key is fastball command. When he was dealing with the [health] issues, being uncomfortable out there, it wasn't as easy for him to throw the ball where he wanted to," Williams said. "But since he has been back and healthy, the curveball has been good, the changeup has been good. It all starts with the fastball. He has been able to control it on both sides of the plate." More >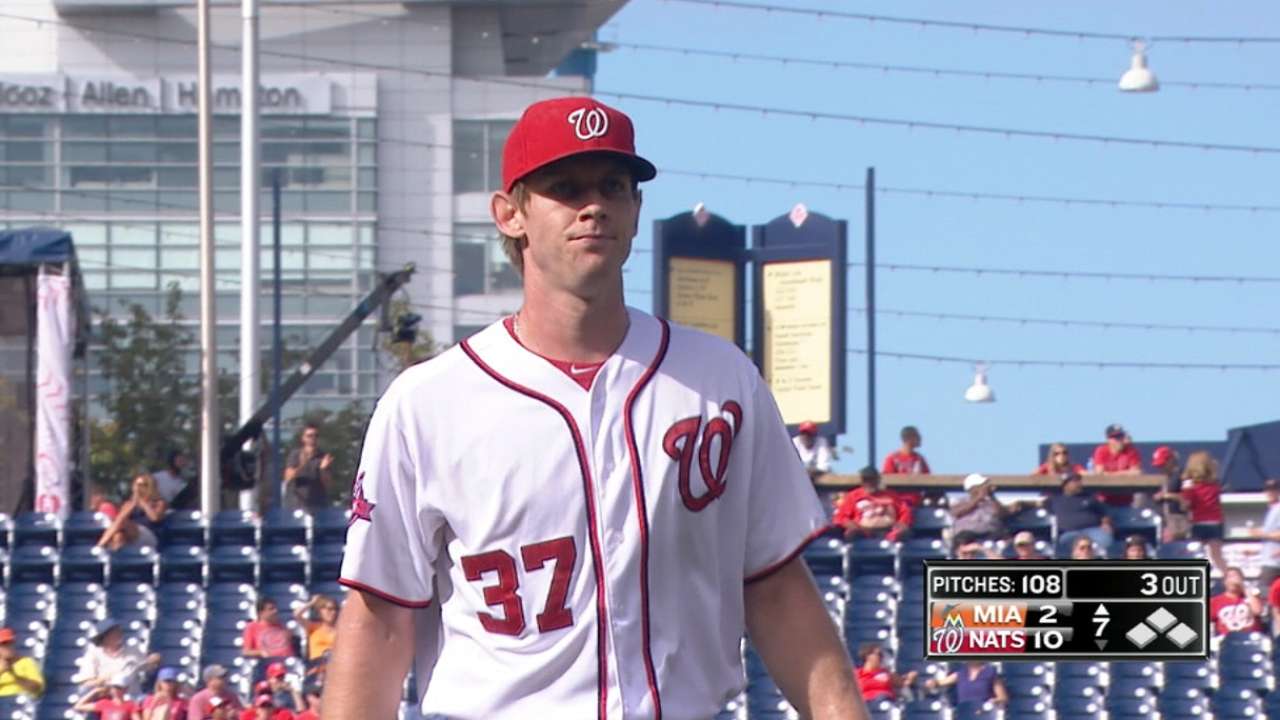 Nicolino can't escape sixth: Nicolino was touched up for three runs in the first inning, but he settled down after that and kept the Marlins in the ballgame until the sixth. He allowed back-to-back hits to start the frame, struck out Werth and walked Ian Desmond to load the bases. A sacrifice fly made it 4-2, but put Nicolino one pitch away from pitching through the sixth inning for the seventh time in his 10 career starts. Instead, Moore belted a three-run home run, extending the score to 7-2 and ending Nicolino's day.
"He gets the sac fly and I'm thinking, 'All right,'" Jennings said. "'We got a chance here to get out of it.' Obviously, in hindsight I should've went to get him. Three-run homer there and it ended up to be just too big of a mountain to climb."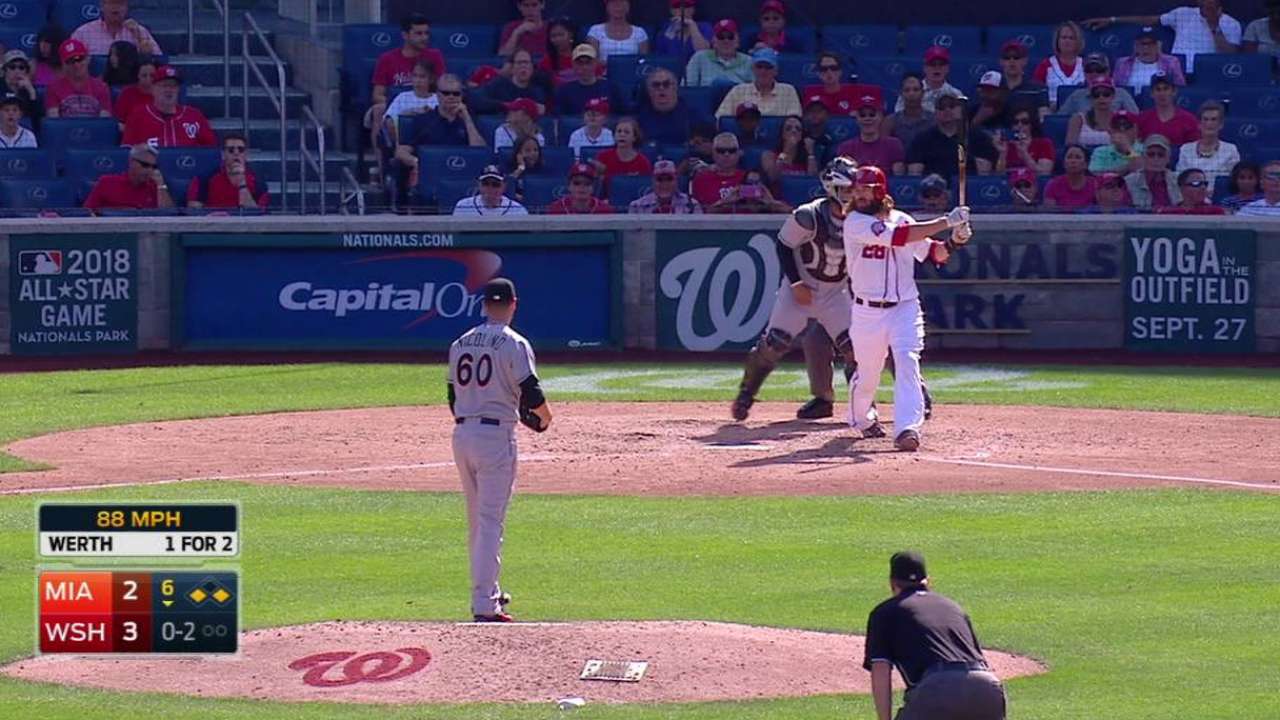 QUOTABLE
"That's when you find out who you are as a pitcher. That situation, first and third with nobody out, you got to bear down. You got to make pitches. That's where you find out what you have in those situations and who you are as a person and a pitcher."
-- Nicolino, on pitching in jams
INJURY REPORT
Nationals second baseman Danny Espinosa hasn't seen any playing time lately because he is dealing with a tight right hamstring injury. He is listed as day to day.
WHAT'S NEXT
Marlins: Miami heads home to kick off its final homestand of the 2015 season. After an off-day Monday, the Marlins and Phillies will start a three-game set on Tuesday at Marlins Park. Tom Koehler (10-13, 3.90 ERA) will make the start at 7:10 p.m. ET.
Nationals: Washington begins a three-game series against the Orioles on Monday night at 7:05 ET. Gio Gonzalez will get the start in Game 1. In his last start, Gonzalez recorded a quality start vs. the Phillies last Wednesday. He pitched seven innings, allowing two runs on five hits, and had a career-high 12 strikeouts -- the 13th time in his career he has reached double-digit strikeouts in a game.
Watch every out-of-market regular season game live on MLB.TV.
Bill Ladson is a reporter for MLB.com and writes an MLBlog, All Nats All the time. He can also be found on Twitter @WashingNats. Jacob Emert is an associate reporter for MLB.com. This story was not subject to the approval of Major League Baseball or its clubs.