Herrera feels lucky day after ugly collision
Brewers third baseman out with deep thigh bruise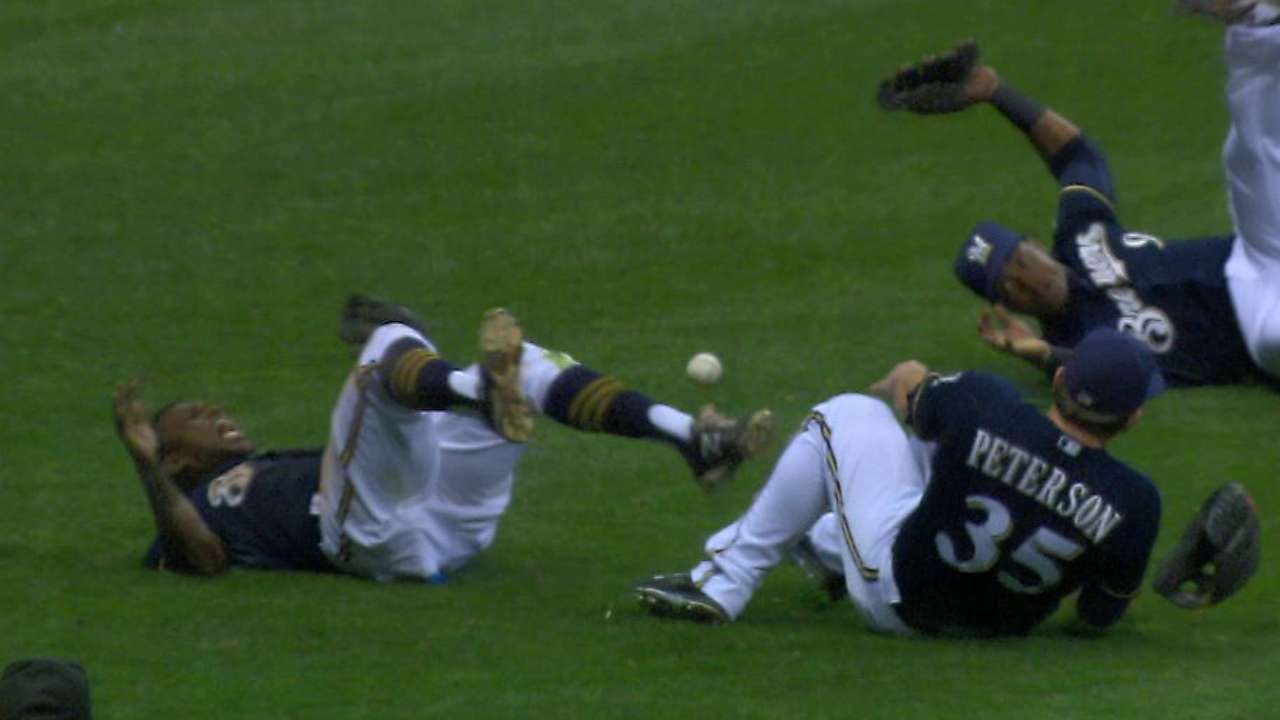 MILWAUKEE -- As he lay in the grass in left field after a nasty collision Saturday night, Brewers third baseman Elian Herrera was certain his right leg was broken.
"The pain was so hard I could not even breathe," Herrera said Sunday morning. "I tried to talk, but I couldn't. Then I started to feel the pain from inside and I really was thinking that something was wrong, something was broken. I thank God that it was not that."
Herrera considered himself lucky that he suffered only a deep thigh bruise. He was still in significant pain Sunday, moving slowly in the clubhouse with a crutch, and the Brewers expect to be without his services for a few days at least.
The teammate with whom Herrera collided, outfielder Shane Peterson, was in better shape. He suffered a bruised right knee on the play but was not even limping on Sunday. More sore was Peterson's right wrist, which was lacerated by Herrera's cleats on the play. Peterson said he was available for pinch-hit duty. So, too, was left fielder Khris Davis, who'd just exited in the same inning after rolling his right ankle.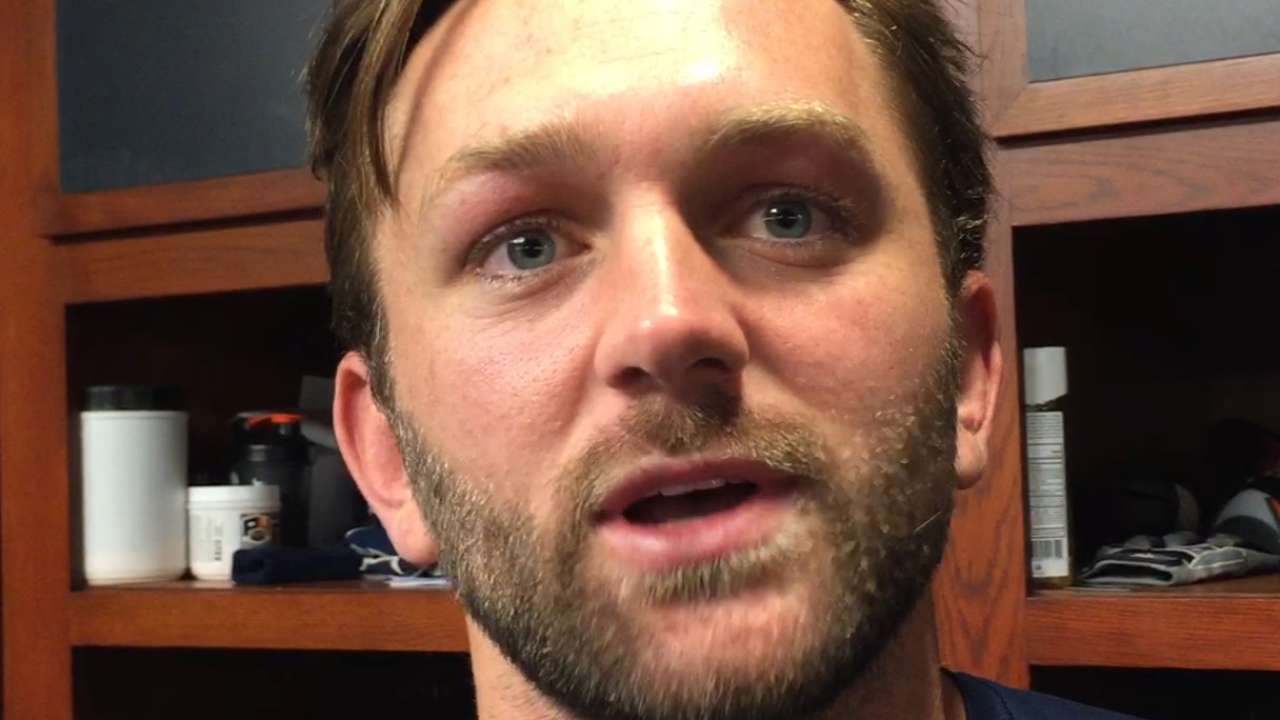 "All in all, we came out of last night pretty fortunate," manager Craig Counsell said. "Everybody, with the exception of Elian, is day-to-day status. Elian's going to be a little longer. We dodged serious injuries, some scary-looking plays for sure. It's been a rough week."
Herrera remembered only one other bad collision in his career, back in his Rookie-ball days with the Dodgers. He was manning an infield position when a baserunner tried to leap over him running first to third, and kneed Herrera in the head.
On Saturday, he never saw Peterson coming. Both players, plus shortstop Jean Segura, converged hard on a Skip Schumaker popup that ultimately tied the game in what became a 9-7 Brewers loss to the Reds.
"I knew in the spot he hit it, I said, 'Oh, no, it's going to come down,'" Herrera said. "On a fly ball like that, I always try to go get it, and if I hear the outfielder say, 'I got it,' then I break away. Sometimes they play deep, sometimes they don't get it. So I always try to go get it. I didn't hear anything, so I tried to get it.
"When I started to slide, that's when I saw [Peterson], and I thought, 'Uh-oh.' It was too late."
Fortunately for Herrera, his wife, Staci, had just arrived in Milwaukee earlier in the day for a weekend visit. She was able to help Sunday with simple tasks, like tying his right shoe.
Adam McCalvy is a reporter for MLB.com. Follow him on Twitter @AdamMcCalvy, like him on Facebook and listen to his podcast. This story was not subject to the approval of Major League Baseball or its clubs.