Angels know postseason fate rests in their hands
Upcoming series with Astros can boost club into Wild Card spot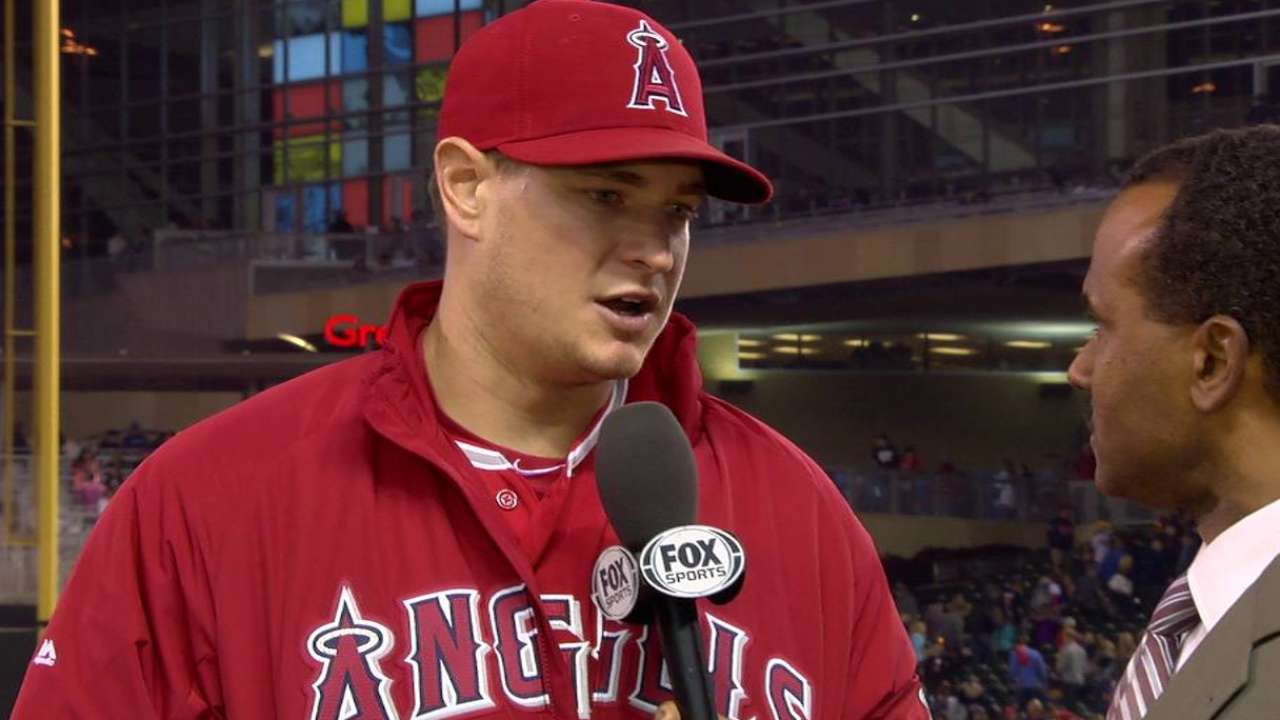 MINNEAPOLIS -- Shortly after helping his team mount a comeback victory on Thursday against the Twins, Angels center fielder Mike Trout made a declaration.
"We've got to go now. This is the time to go," Trout said. "I think we have 18, 17 more games left and every one that we play is going to be big and we need to win them all."
The Angels have won two games since then and, entering Sunday, have just 14 remaining. While it's unlikely they'll win them all, they do hold their fate in their own hands with a favorable schedule from here on out.
Los Angeles came into the four-game series with the Twins two games behind Minnesota. After winning three in a row, they entered Sunday's finale with a one-game edge over the Twins and trail the Astros by 1 1/2 games for a Wild Card spot.
One more victory on Sunday would send the Twins to their sixth straight loss and the Angels would head on their way to Houston to face a team that, coming into Sunday, had lost seven of 10.
"We know that we control our own fate from here on out with the teams that we play from here until the rest of the season," starter Garrett Richards said after Saturday's second victory. "Where the chips fall, the chips fall. We can't really worry about what everybody else is doing."
The Angels face fourth-place Seattle and fifth-place Oakland at home before capping off their season with a trip to play the first-place Rangers, who they trailed by four games heading into Sunday.
The American League West playoff picture is cluttered near the top, but Houston's slide, coupled with the Twins' in the Wild Card race, has helped open up the door a bit for the Angels. After Saturday's play concluded, Baseball Prospectus put their postseason odds at 19 percent. And for a team that went 10-19 in August, a September turnaround is just what it needed.
"I honestly think it has stayed pretty steady in here throughout the year. I think toward the end of August, people were getting frustrated. The emotion was starting to kind of turn over, but as we talked about a while ago, it's silly and it shouldn't make sense, but sometimes you turn the page on that calendar," closer Huston Street said on Saturday. "I think we're doing the clutch things in the big moments that we weren't doing in August. August, we never seemed to get the break or create a break. This month, we're kind of creating breaks for ourselves."
Betsy Helfand is an associate reporter for MLB.com. This story was not subject to the approval of Major League Baseball or its clubs.