Twins top Angels, sit 3 back in AL Wild Card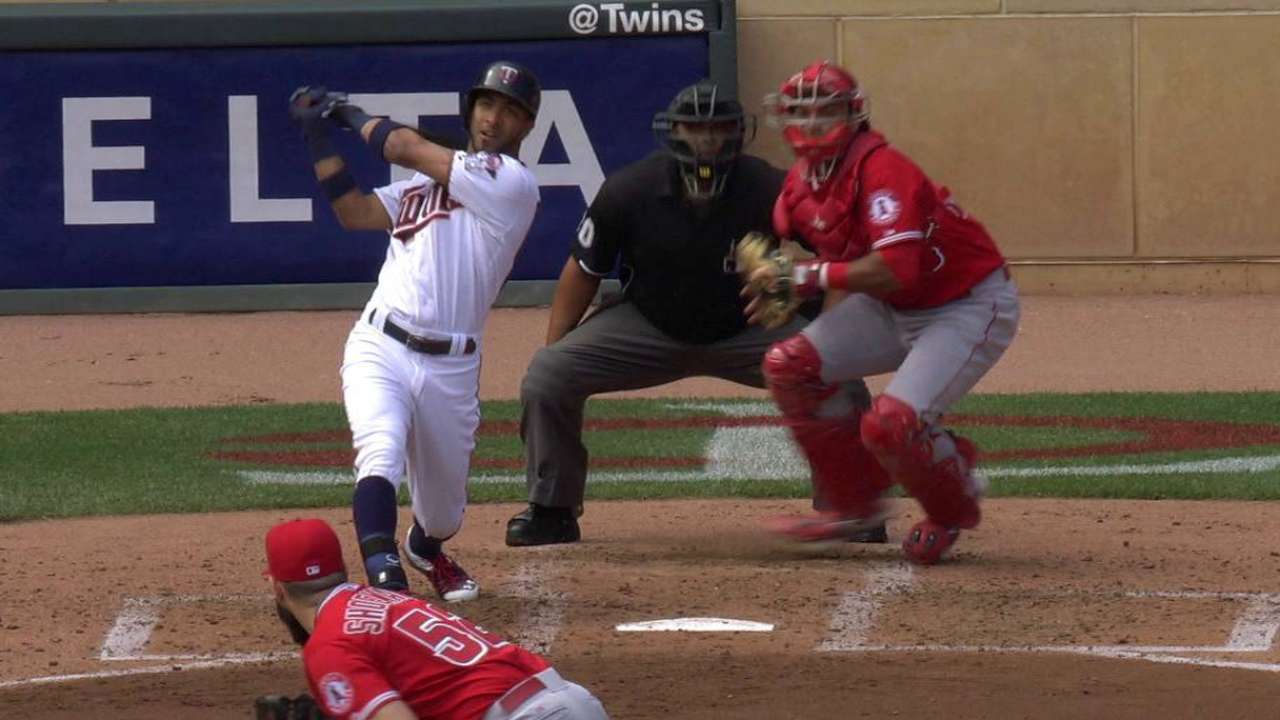 MINNEAPOLIS -- Twins rookie Tyler Duffey threw seven scoreless innings and Torii Hunter, Eddie Rosario and Joe Mauer homered to lead the Twins to an 8-1 victory over the Angels on Sunday that temporarily knotted Minnesota and Los Angeles in the American League Wild Card race. A win on Monday night by the Astros, who hold the second AL Wild Card spot, dropped the Twins to three games back and the Angels to 3 1/2 games out. The Angels are 4 1/2 games behind the AL West-leading Rangers, who were idle on Monday.
Duffey tossed his third straight quality start, striking out seven in the process. The Angels managed just three hits off him -- two from first baseman C.J. Cron. The victory snapped the Twins' five-game losing streak and helped them remain afloat in the postseason chase.
"You put a lot on that young man in terms of asking him to stop a losing streak," Twins manager Paul Molitor said. "And he's extending himself deeper into the season than he ever has previously, but he was good from the start."
Angels starter Matt Shoemaker, who missed two starts with a strained right forearm, threw 3 2/3 innings in his return. He gave up four runs -- three via the longball -- on six hits. The Twins also tacked on four runs against the Angels' bullpen, two on bases-loaded walks and two on Mauer's home run.
"Between the first inning of Game 1 and maybe this game, we did a good job. It seems like we've been here for a month," Angels manager Mike Scioscia said of the four-game series. "I think some of the things that showed up on the field here against the Twins, we've got to bring with us tomorrow and keep going all the way through the season."
MOMENTS THAT MATTERED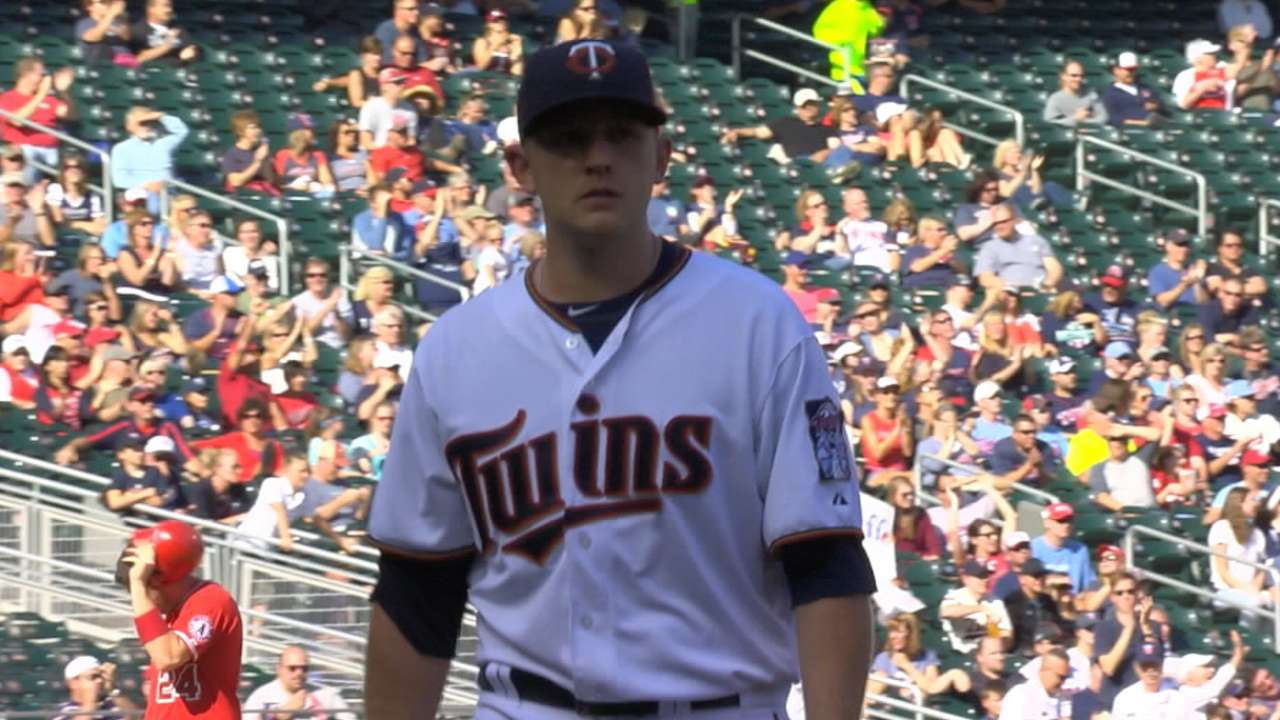 Duffey impressive again: The Twins were desperate for a solid pitching performance on Sunday, and Duffey delivered in a major way. Duffey, who has been an impressive addition to the Twins' rotation since being called up in August, held the Angels solidly in-check across seven innings for the second scoreless start of his career. Since a six-run outing in his Major League debut, Duffey has not surrendered more than three runs in a start. The shutout dropped his ERA to 3.15.
"It felt good," Duffey said. "They've pushed me back here and there, so I've had a little more rest. My fastball felt better than it has in the past few starts. I think it had a little more on it. That worked well for me." More >
Shoemaker returns: Scioscia indicated before the game that Shoemaker wouldn't be "full go," the way he would have been if he hadn't missed two games. He threw 71 pitches in his first start since Sept. 1 and left after getting into a jam with two outs in the fourth inning.
"Three-plus innings, there's eight baserunners. It just comes down to getting ahead of counts and putting guys away," Scioscia said. "He had a couple counts and he got ahead, 0-2, 1-2 and then ended up, a couple of them walked. I don't know if Shoe was as crisp. I think he got better as the game went on."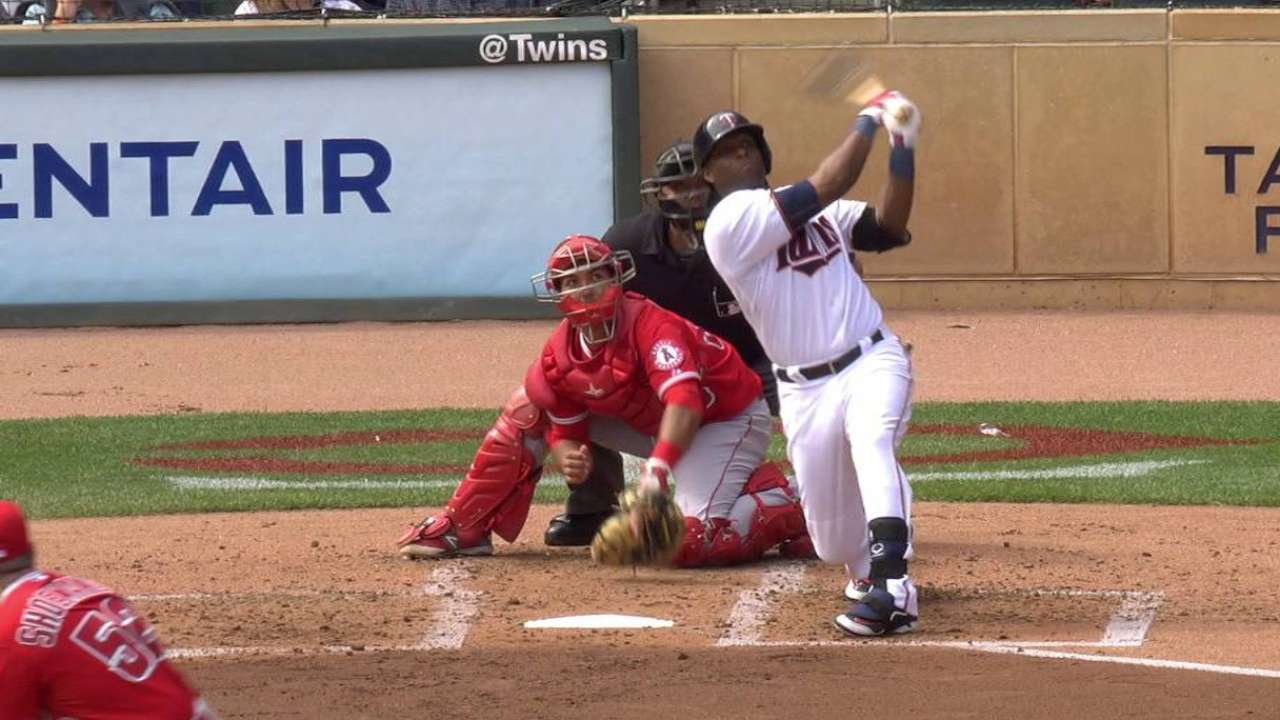 Going deep: A pair of home runs early served as a much-needed jumpstart for the Twins, who entered Sunday grasping for answers on how to snap their mid-September slide. Hunter struck first in the second inning by belting his 21st homer of the season, and second in the four-game series, on a 3-2 count from Shoemaker. Rosario followed suit one inning later, launching a two-run shot to right-center that gave the Twins a 3-0 lead. Mauer got in on the home run parade in the eighth inning with a two-run homer to pad the lead at 8-0.
Molitor pointed to Hunter's second-inning blast as an example of the key boost the veteran outfielder has provided down the stretch to a youthful and widely inexperienced team.
"He's responded over and above the last few weeks," Molitor said. "There were a lot of people concerned about how we would finish the season. It's fun to see. Guys are rallying behind him and he's backing it up with his performance, getting some big hits and really having some strong at-bats."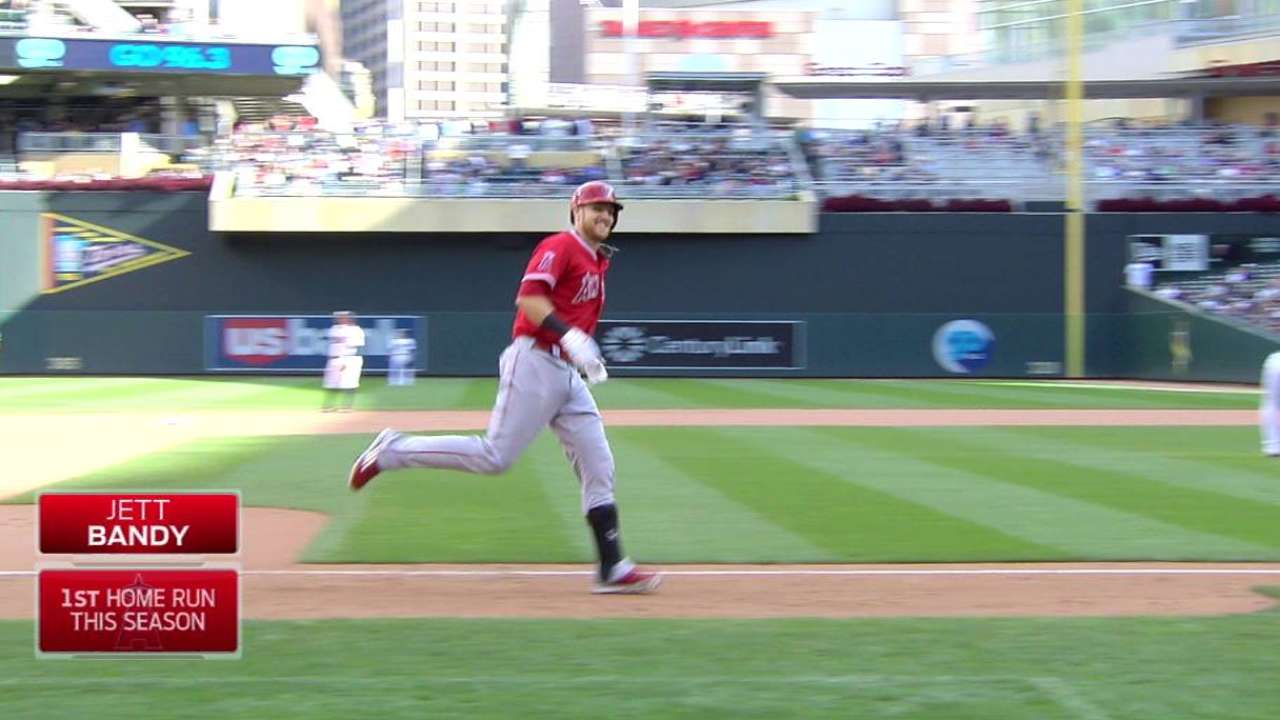 Jett-setter: Rookie Jett Bandy, in just his second career at-bat, launched a solo shot in the ninth inning to mark the first hit and home run of his career. The 25-year-old former 31st-round pick made his big league debut last Monday.
"I'll never forget anything about the moment. [I'll] try to cherish it as much as possible. It's just real fun. It's a great time," Bandy said. "I'm still kind of high off it right now." More >
WHAT'S NEXT
Angels: The Angels will head to Houston for a critical three-game series with the Astros starting Monday at 5:10 PT. Jered Weaver, who is 7-11 with a 4.74 ERA, will get the start against Astros ace Dallas Keuchel.
Twins: After an off-day on Monday, the Twins will open a three-game series at Target Field against the Cleveland Indians on Tuesday evening at 7:10 p.m. CT. Right-hander Ervin Santana is slated to get the start for the Twins. Santana has posted a 1.55 ERA in his last four starts, pitching at least seven innings in all four games.
Watch every out-of-market regular season game live on MLB.TV.
Betsy Helfand is an associate reporter for MLB.com and Nate Sandell is a contributor to MLB.com. This story was not subject to the approval of Major League Baseball or its clubs.