Braves nominated for 3 Esurance MLB Awards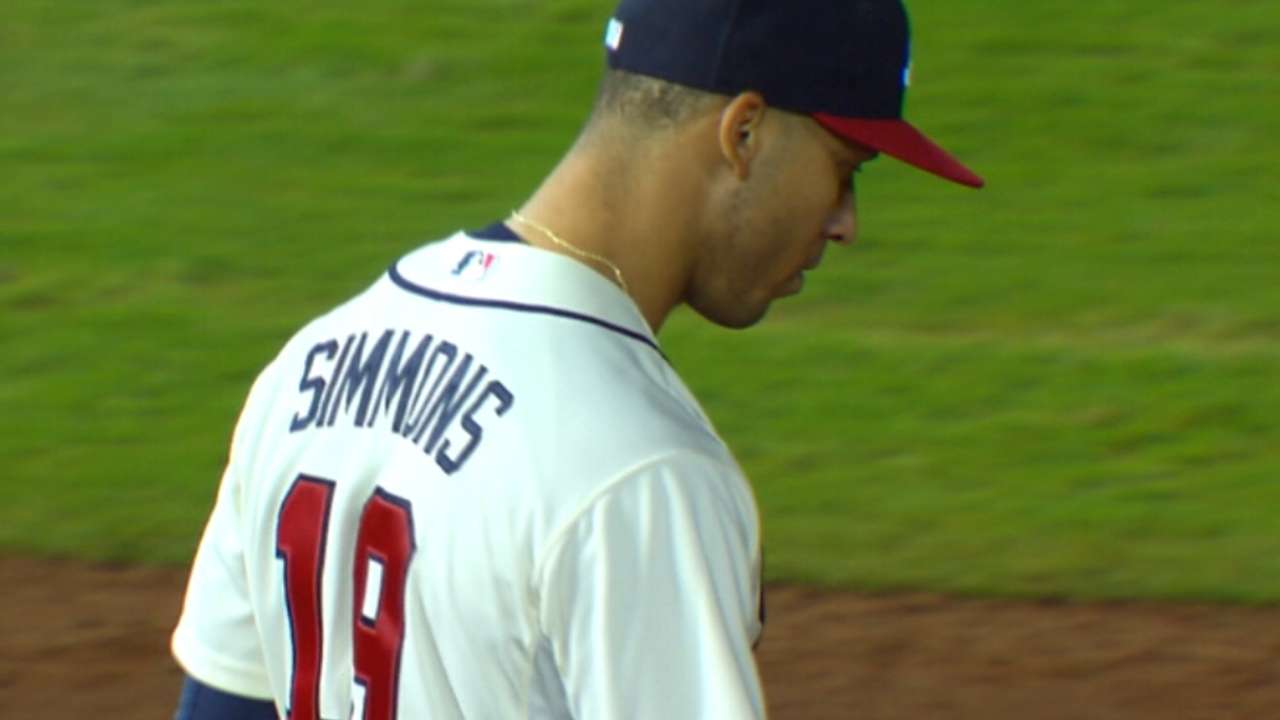 Soon after making his Major League debut during the 2012 season, Andrelton Simmons began drawing comparisons to the legendary Ozzie Smith. Over the three years that have followed, the Braves shortstop has continued to legitimize this lofty comparison.
Thus it should come as no surprise that Simmons is one of the 12 nominees for the Best Defensive Player honor in the 2015 Esurance MLB Awards. He captured this same honor last year. The Braves shortstop's latest thievery of Travis d'Arnaud has also been nominated for Defensive Play of the Year.
The kiss President Jimmy Carter shared with his wife Rosalynn during a September game at Turner Field has also been nominated in the Best Video Board Moment category.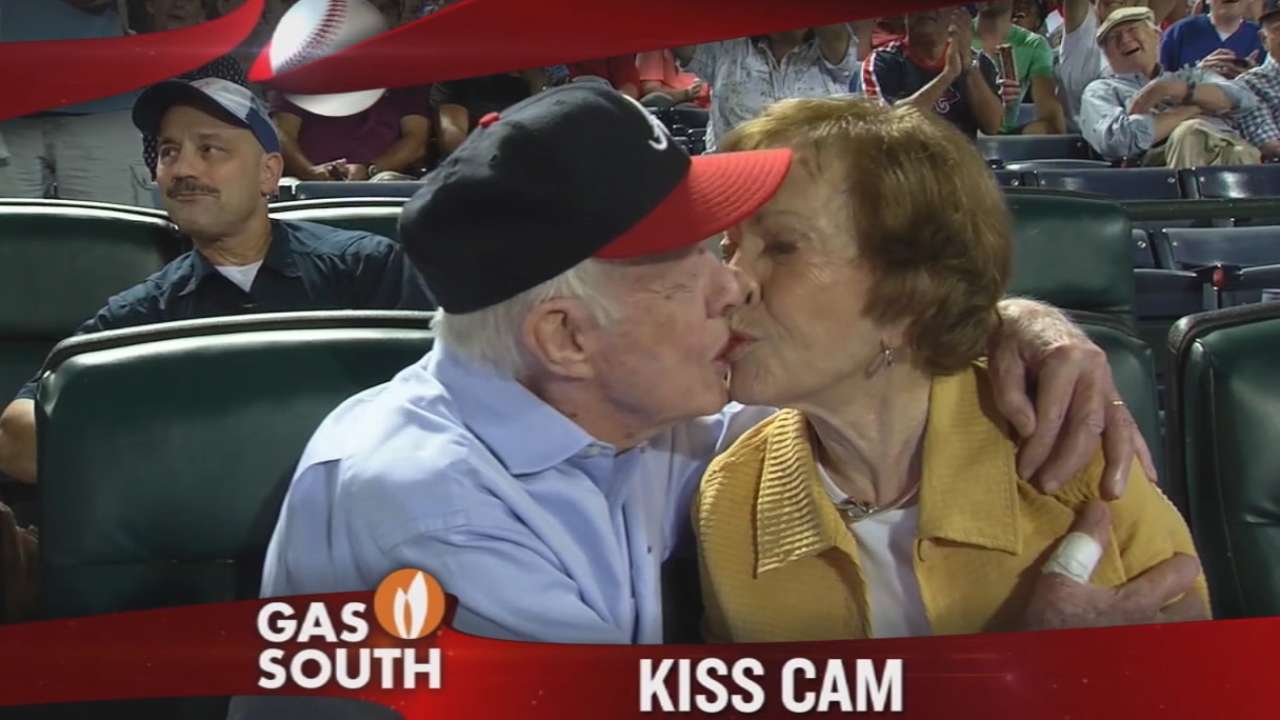 The Esurance MLB Awards annually honor Major League Baseball's greatest achievements as part of an industry-wide balloting process that includes five components, each of which accounts for 20 percent of the overall vote: media, front-office personnel, retired MLB players, fans at MLB.com and Society for American Baseball Research (SABR) voters.
Individual awards will go to the Best Major Leaguer in addition to the winners in the following categories: The Best Everyday Player, Starting Pitcher, Rookie, Defensive Player, Breakout Player, Bounceback Player, Manager, Executive, Social Media Personality and postseason performer.
Winners will also be recognized for the year's best offensive play, defensive play, Moment, single-game performance, Social Media Post, Celebrity Fan, Fan Catch, Interview, broadcaster call, Player-Fan Interaction, Video Board Moment and Trending Topic.
Though Simmons is the reigning winner of Defensive Player of the Year award, he faces some strong competition this year. Other candidates for the Best Defensive Player honor include Baltimore's Manny Machado, Colorado's Nolan Arenado, Kansas City's Salvador Perez and Lorenzo Cain, Miami's Adeiny Hechavarria, San Francisco's Brandon Crawford and Buster Posey, St. Louis' Yadier Molina Tampa Bay's Kevin Kiermaier and Toronto's Kevin Pillar and Josh Donaldson.
Simmons has captured a Rawlings Gold Glove Award and been recognized as the National League's top shortstop courtesy of the Wilson Defensive Player of the Year Awards at the conclusion of the past two seasons. He has nearly tripled the Defensive Runs Saved total of any other Major League shortstop dating back to the start of the 2013 season.
d'Arnaud would certainly have reason to vote for Simmons, who also fits into the Defensive Play of the Year category courtesy of the jaw-dropping play he completed on April 10. The Braves shortstop ranged into the outfield grass beyond third base and backhanded the Mets catcher's grounder while generating enough push off his left foot to make a strong and accurate jump throw to first base to record the out.
The play was quite similar to one Simmons completed to rob d'Arnaud of a hit during an Aug. 27, 2014, game at Citi Field.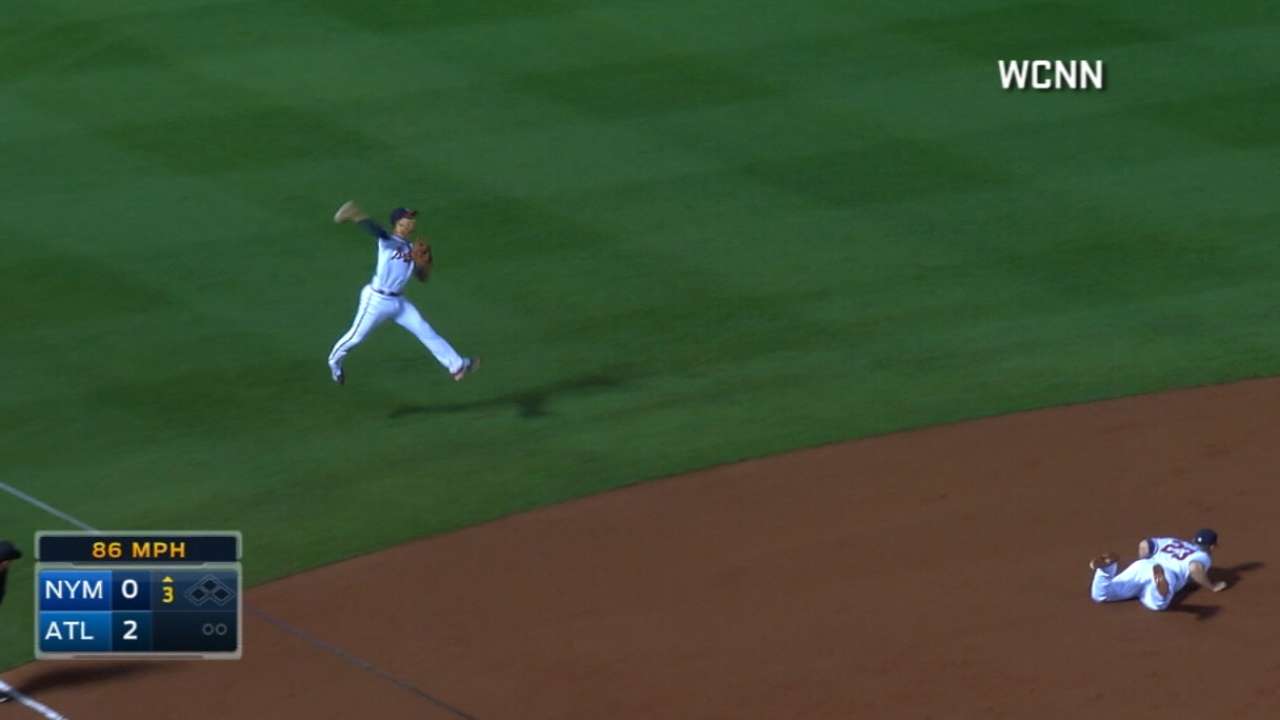 Voting will remain open through Nov. 13 by visiting mlb.com/awards. Winners will be announced live on MLB Network and MLB.com on Nov. 20.
Mark Bowman is a reporter for MLB.com. Listen to his podcast. This story was not subject to the approval of Major League Baseball or its clubs.