Pujols breaks out of tough slump to lift Angels
Slugger tallies two key RBIs, ends 0-for-25 streak in victory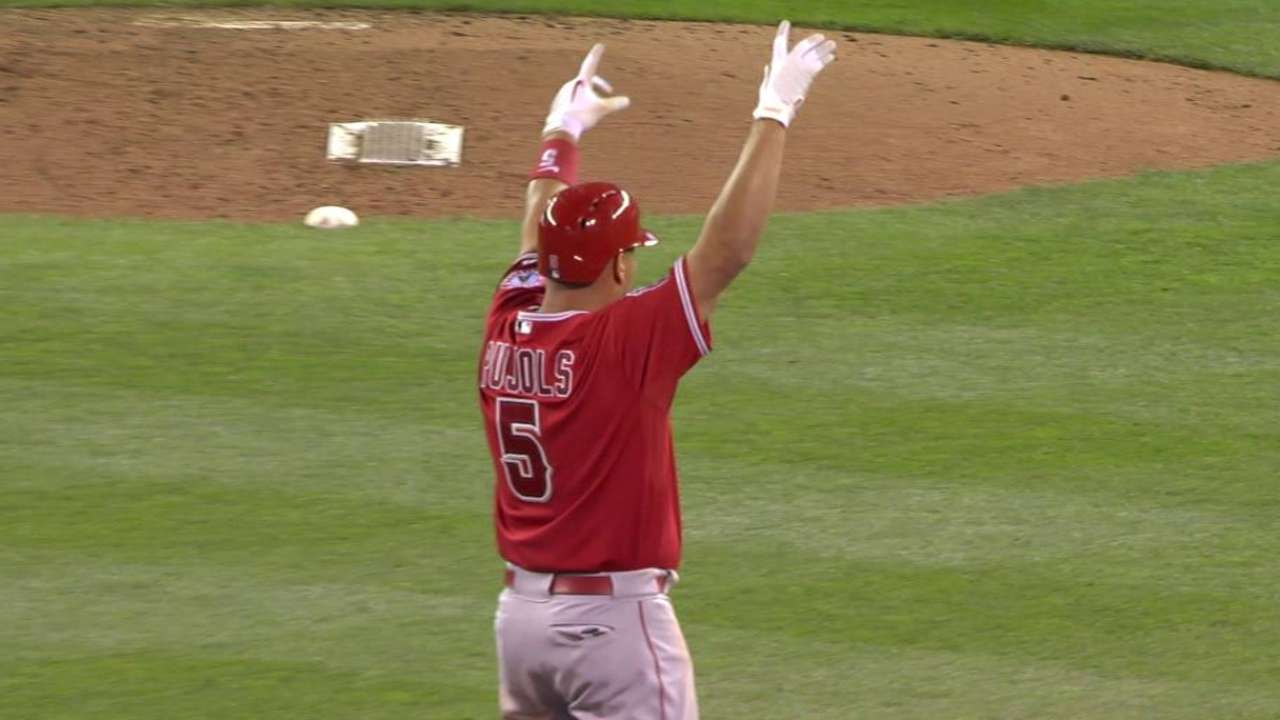 MINNEAPOLIS -- Albert Pujols is significantly closer to his 3,000th hit than his first. But there he was, in the fourth inning of Saturday night's 5-2 victory over the Twins, signaling that he wanted to keep the ball from his single.
With the victory -- their second of the day -- the Angels moved ahead of the Twins by a game and are just 1 1/2 games behind the Astros for the second Wild Card spot. With Mike Trout heating up, getting Pujols going behind him could go a long way in their postseason push.
Pujols joked that he wanted the ball because hit No. 2,649 in his career took the longest to get. Pujols snapped an 0-for-25 hitless streak -- a career high -- in the fourth inning. Two innings later, he delivered a two-run double to break open a scoreless tie. And shortly after that, he scored what turned out to be the game-winning run.
"Just keep having good quality at-bats and sooner or later, it's going to come," Pujols said. "I know I'm not going to go the rest of the season without getting a base hit, so you just can't think about it."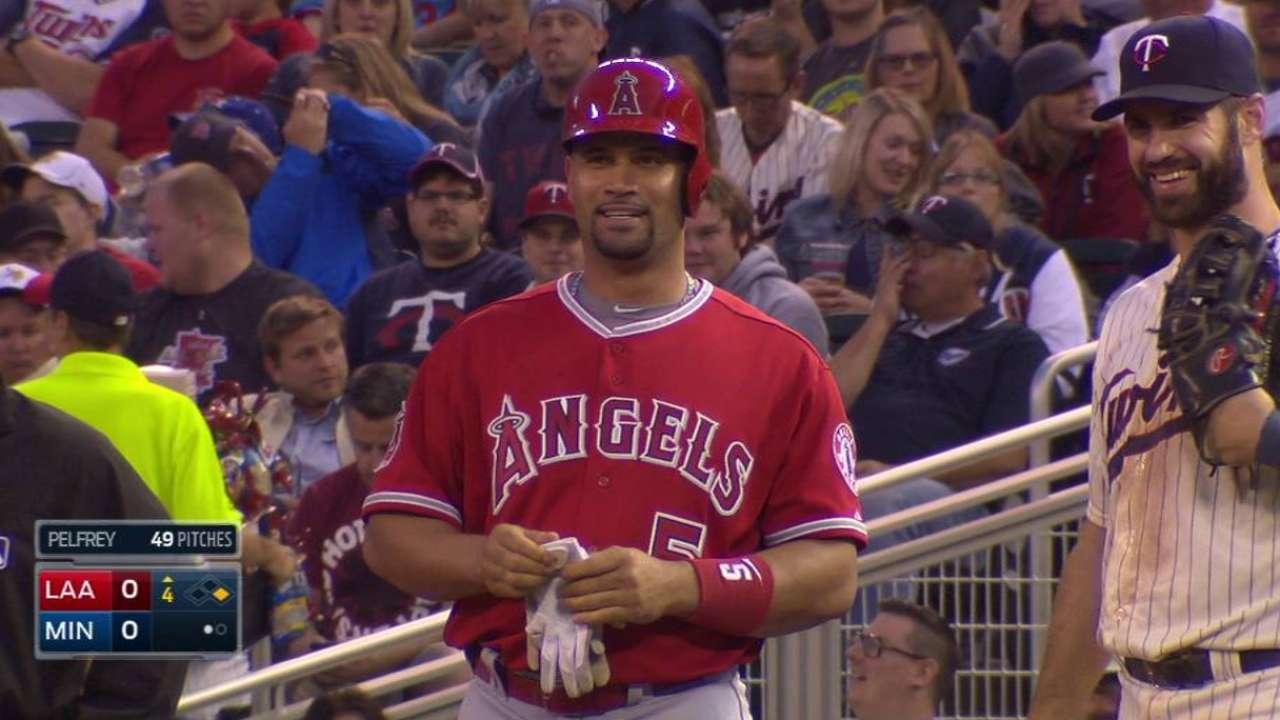 That strategy seemed to work out well for the veteran hitter in Saturday's nightcap. And now, Pujols has a memento to prove it.
"He called for it himself, he wanted the ball. Every time he gets a hit, he's passing somebody," manager Mike Scioscia said. "They might have thought it was something that had significance, but he was just joking around."
His teammates had some fun with it, too, signing the ball for him to keep. But all joking aside, Pujols breaking out of a slump and producing in the middle of their order is exactly what the Angels like to see as they continue to make headway in the Wild Card chase.
Pujols has been dealing with pain in his right foot of late, which has affected him at the plate and relegated him from the field to strictly serving as the team's designated hitter. But despite that, he had hit the ball hard at times during the first two games of the series to no avail.
"All I can do is try to put a good swing on it. There's nothing I can do. The first game, I hit the ball deep," Pujols said. "I thought I had a home run in my first at-bat and then Plouffe made that great play my third at-bat."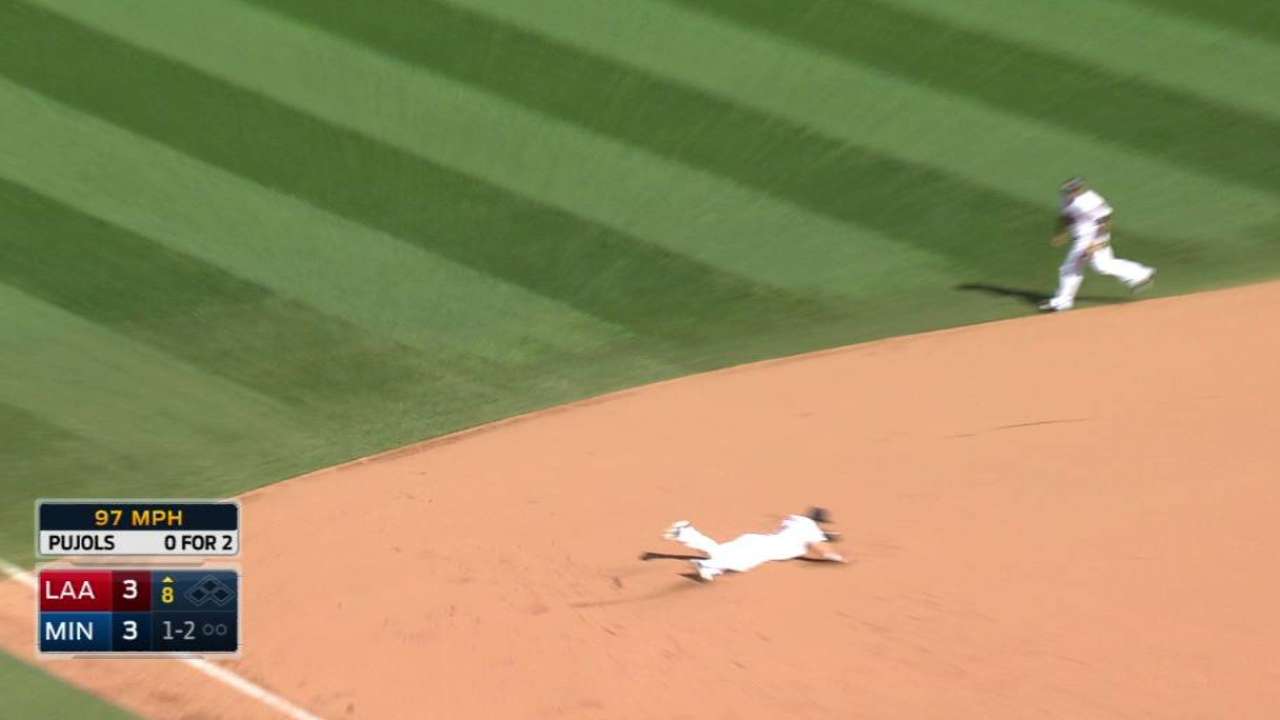 "Needless to say, it's important to us," Scioscia said. "Not just to focus on Mike and Albert, we talked about Kole [Calhoun]. Our lineup needs to get deep, but when those guys are swinging the bat, it's obviously -- it sets the tone for what we need to do."
Betsy Helfand is an associate reporter for MLB.com. This story was not subject to the approval of Major League Baseball or its clubs.