Smith out with sprained left ankle
Reliever injured himself Saturday when exiting his hotel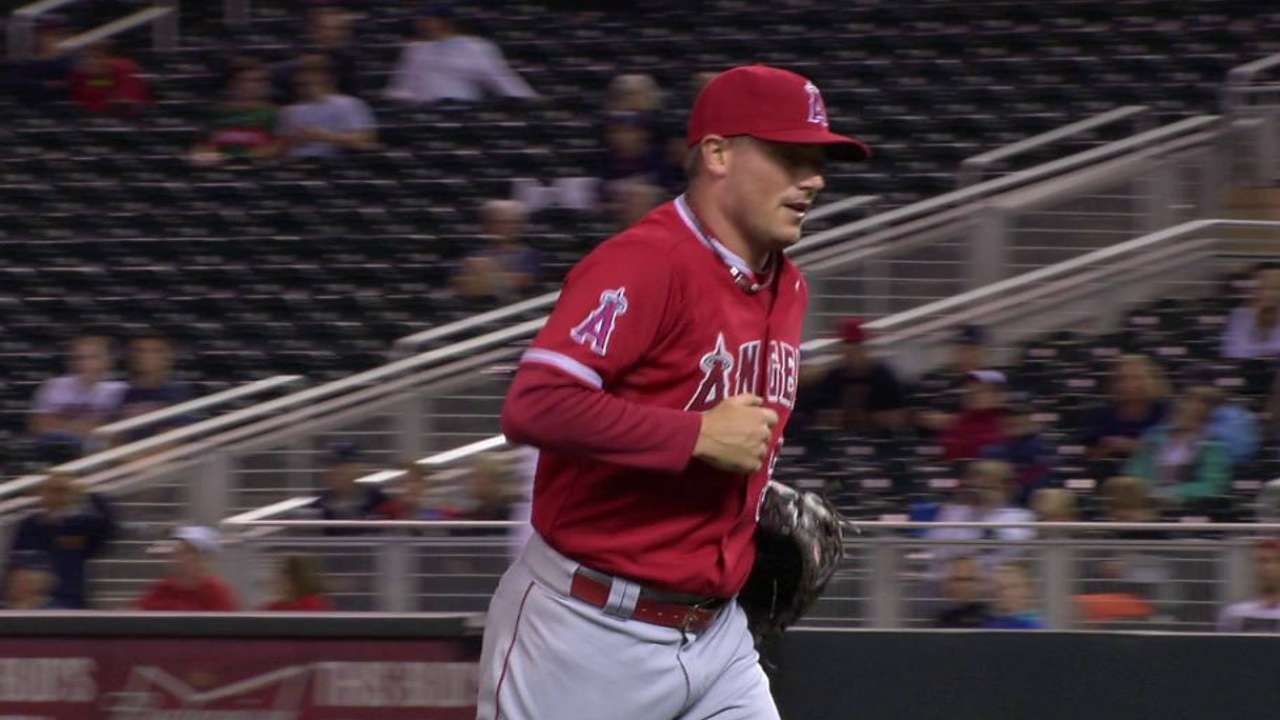 MINNEAPOLIS -- Angels starter Garrett Richards gutted through 8 2/3 innings in Saturday's 5-2 victory, helping preserve the bullpen in the nightcap of the doubleheader.
That performance was especially important, it turned out, because setup man Joe Smith was unavailable to pitch. Smith sprained his left ankle Saturday morning leaving the team hotel and was in a walking boot and on crutches.
Smith said he was saying goodbye to the hotel bellman when he turned around. He thought he was at the bottom of the stairs. It turns out he wasn't. He had one more left and his heel caught, causing him to go backward and then forward, landing in a push-up position.
Initial tests were negative, but he needed to wait until the swelling went down for further information. Though Smith doesn't know when he'll return, the hope is that it will be sometime before the season's end. This is the first sprained ankle Smith has had, despite being an avid basketball player.
"It's the biggest time of the year. I get hurt walking out of the hotel. It's embarrassing," Smith said. "You want to help your team and you can't."
The Angels used five relievers in the first game of the doubleheader, which went 12 innings. In Thursday's game, they went to eight guys to preserve a victory. With a taxed bullpen, the injury to Smith put a bit of a damper on an otherwise successful day -- the Angels won both games and moved ahead of the Twins in the race for the second Wild Card spot, now trailing just Houston by 1 1/2 games.
"It was a shock to all of us this morning. It was just one of those freak accidents. It's brutal," closer Huston Street said. "We hope that he comes back as soon as he possibly can, but it's up to other guys to step up."
Smith, an important cog in the team's bullpen, has appeared in 67 games this season, posting a 3.71 ERA.
"Joe's a huge part of our bullpen," manager Mike Scioscia said. "A huge part of what we need to do. It's tough. It creates a void when he's not there."
Betsy Helfand is an associate reporter for MLB.com. This story was not subject to the approval of Major League Baseball or its clubs.