MLB.com Columnist
Lyle Spencer
Cutch sets tone for grinding Bucs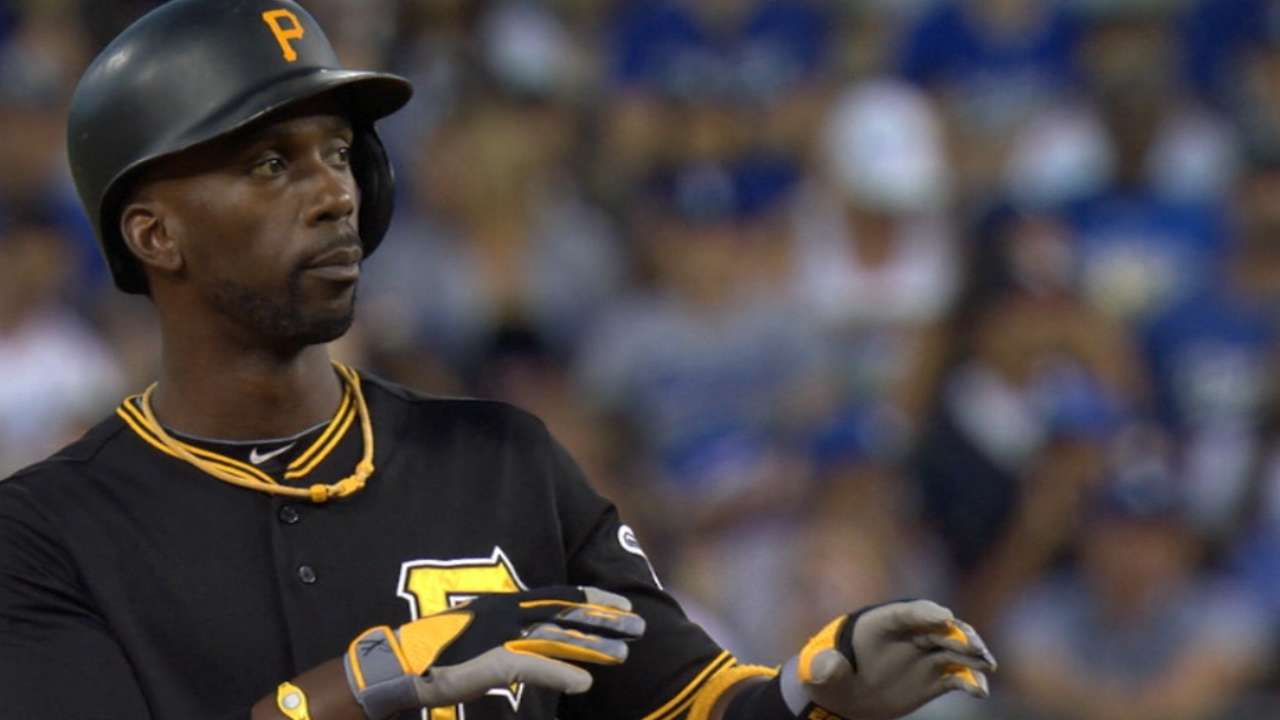 LOS ANGELES -- A split with Zack Greinke and Clayton Kershaw at Dodger Stadium? Sure, the Pirates will take that.
The Dodgers ran the game's premier tandem at them on Friday and Saturday nights, and the Pirates stood their ground. Greinke, with some help from his friends, got the best of them in the series opener, but the Bucs responded against Kershaw with a 3-2 victory that ended a four-game losing spin and eased some anxiety back home in Pittsburgh.
The 88-60 Pirates remain in control of the first National League Wild Card by a game over the surging Cubs. For this they can thank Francisco Liriano for matching the master, Kershaw, through seven superb innings -- and Andrew McCutchen for doing what he does.
It was McCutchen's two-run, two-out, full-count double down the right-field line in the third inning that set a competitive tone that held until Aramis Ramirez banged a run-scoring double in the eighth off reliever Chris Hatcher to cash in the decisive run.
"That's the kind of team we are," said Jordy Mercer, whose leadoff single in the third was followed by Liriano's single up the middle, setting up McCutchen. "We grind out at-bats, make pitchers work for everything -- not just against a guy like Kershaw but against everybody."
Mercer had a walk to go with two of the seven hits yielded by Kershaw, whose record slipped to 14-7 as Liriano moved to 11-7.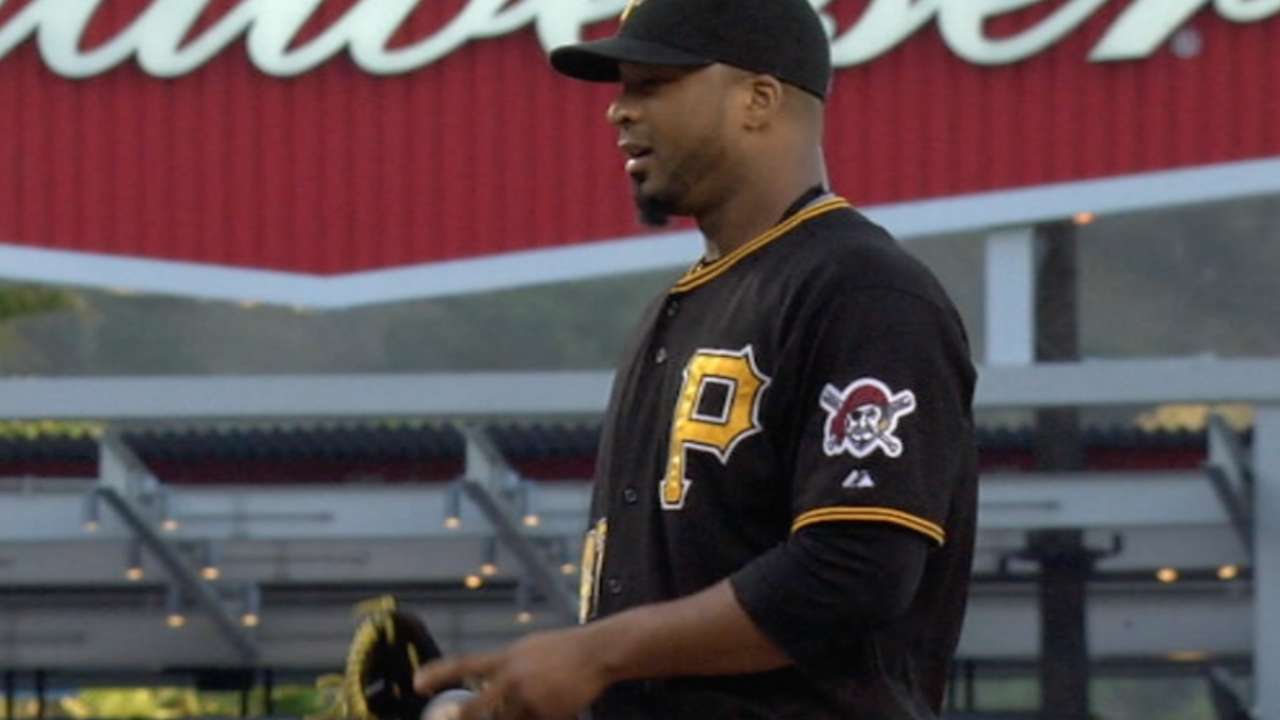 As McCutchen goes, so go the Pirates. His team is 47-12 when Cutch collects at least one RBI. He owns a .298/.397/.503 slash line while making plenty of tough plays in center field.
The 2013 NL Most Valuable Player Award winner, McCutchen has been a pain in the Dodgers' collective oblique. He's batting .474 with four doubles, a homer, four singles and eight RBIs in five games against Los Angeles.
His third-inning confrontation with Kershaw -- the '13 NL MVP facing his successor -- was a showcase moment.
Having struck out Josh Harrison for the second out, Kershaw was on the verge of an escape when he jumped ahead, 1-2, with a pair of fastballs registering 95 and 96 mph. Another heater at 97 missed, and so did a big curveball, bringing the count full.
Kershaw went to his lethal slider, and McCutchen was on it. He lashed a drive just inside the line in the right field corner, delivering Mercer and Liriano.
A .346 career hitter against Kershaw with a homer and four RBIs in 26 at-bats, McCutchen raised his average with runners in scoring position this season to .386 in 114 opportunities. He has drawn 31 walks in these situations, an indication of the respect he commands with the opposition.
"I think that's just the way he is," Mercer said when asked about Cutch's knack of delivering in the clutch. "He lives for moments like that. He's the guy we all look to; he's not afraid of any situation.
"We feed off of him, not only on the field but off the field. He plays the game the right way -- hard. He hits a routine ground ball to shortstop and runs his tail off. That bleeds off on the rest of us."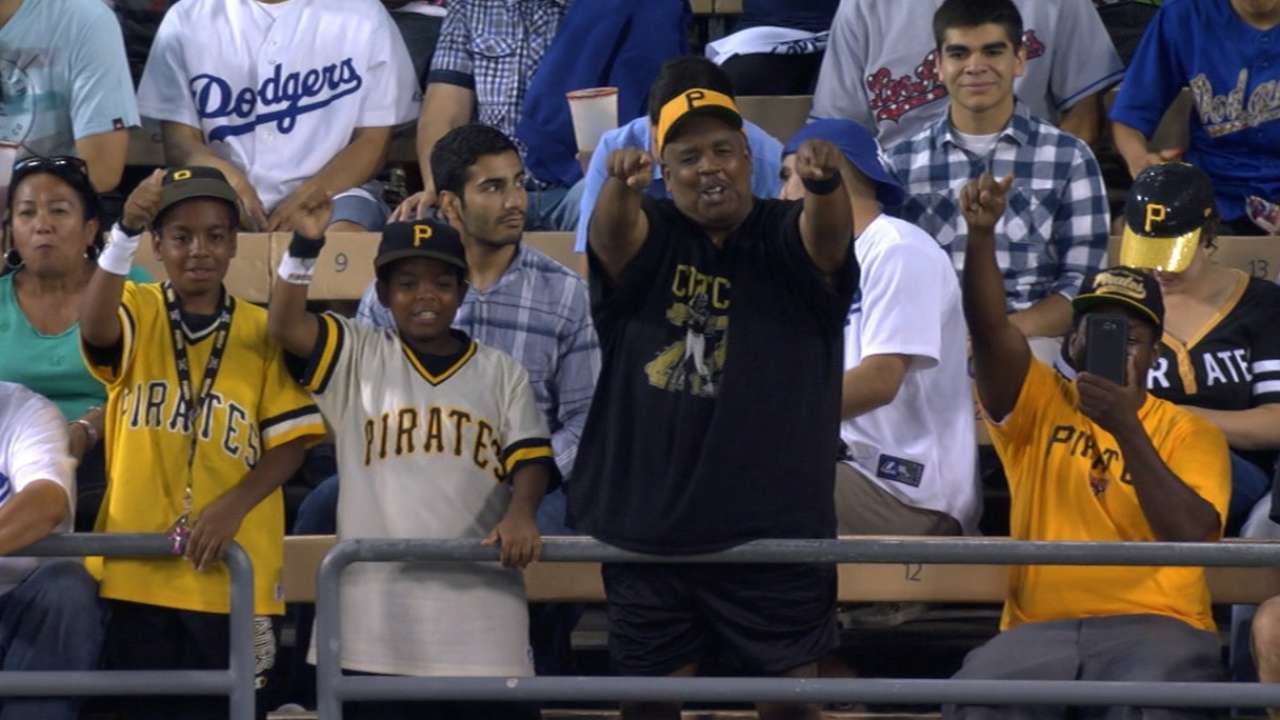 Bryce Harper's huge breakout season has the Nationals' right fielder in the favorite's role for the 2015 NL MVP Award, but McCutchen is in contention again.
If he finishes in the top three in the balloting by the Baseball Writers' Association of America, it will be the fourth year in a row he's done that. He was third in 2012 -- Buster Posey's MVP year -- and third again last year, behind Kershaw and Giancarlo Stanton.
"He's been doing it all year," Mercer said. "He's one of the best players in the game. "
Pirates manager Clint Hurdle gave the Kershaw-McCutchen duel his undivided attention.
"Two of the best players in the game matching up," Hurdle said. "He's been hitting balls to right field, right-center field, trying to take what pitchers give him. That was a big swing of the bat."
Hurdle had a lot to be thankful for on this occasion in addition to McCutchen's bullet: Liriano's brilliance; quality relief from Tony Watson and closer Mark Melancon; Gregory Polanco's double leading off the eighth on Kershaw's 100th and final pitch; Ramirez's rocket, and Polanco's running catch in the right-field corner of Justin Ruggiano's drive in the eighth.
It helped, as always, having a Cutch to lean on when it counted.
Lyle Spencer is a national reporter and columnist for MLB.com. Follow him on Twitter @LyleMSpencer. This story was not subject to the approval of Major League Baseball or its clubs.