Herrera avoids major injury on nasty collision
Infielder diagnosed with deep thigh bruise after crashing into Peterson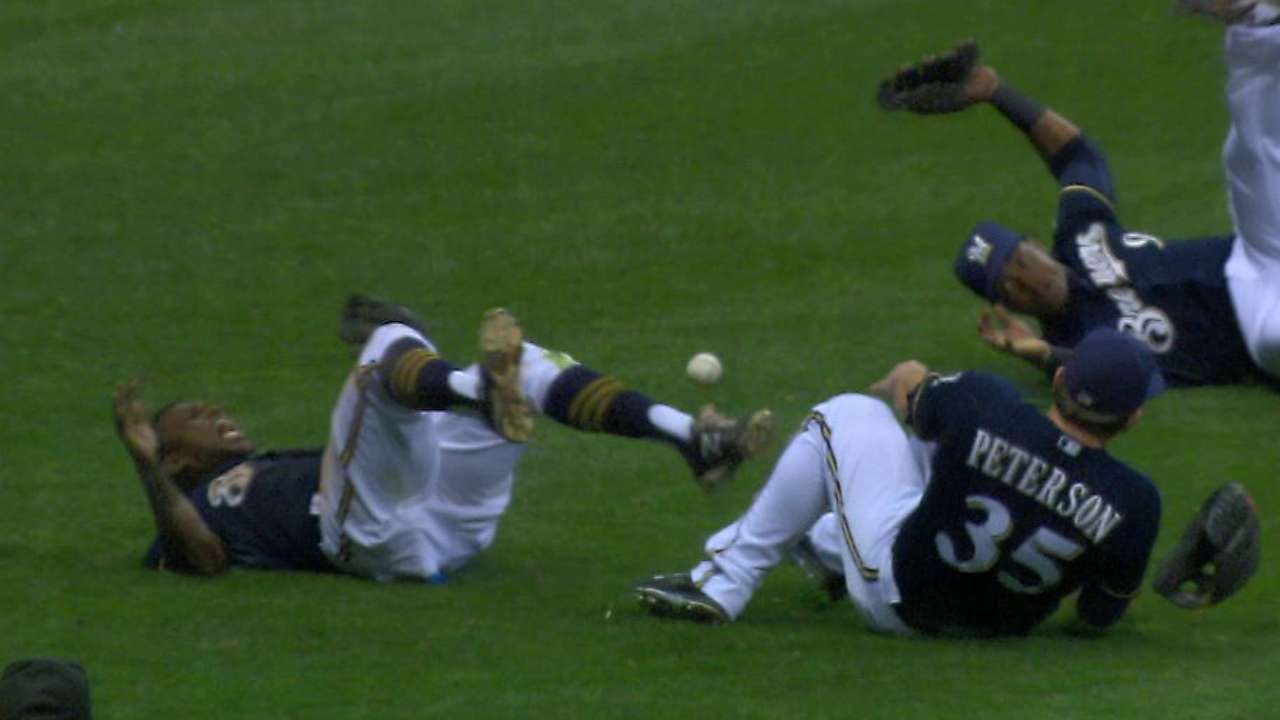 MILWAUKEE -- For the second time in three nights, the Brewers found solace from the notion that an injury scare could have been much, much worse.
On the same day Jimmy Nelson returned to Miller Park with only a bump to show for getting hit in the head by a line drive in Thursday's loss to the Cardinals, Saturday's Reds-Brewers game was delayed in the eighth inning while emergency medical officials tended to injured Milwaukee third baseman Elian Herrera. He suffered a deep right thigh bruise but no broken bones in a nasty collision with left fielder Shane Peterson on a play that tied the game en route to Cincinnati's 9-7 victory.
Both Herrera and Peterson left the game, Herrera on an ambulance cart. Peterson suffered a bruised right knee, plus lacerations on his right forearm from Herrera's cleats. Peterson had just entered the game for starting left fielder Khris Davis, who exited after twisting his right ankle on the basepaths a half-inning earlier.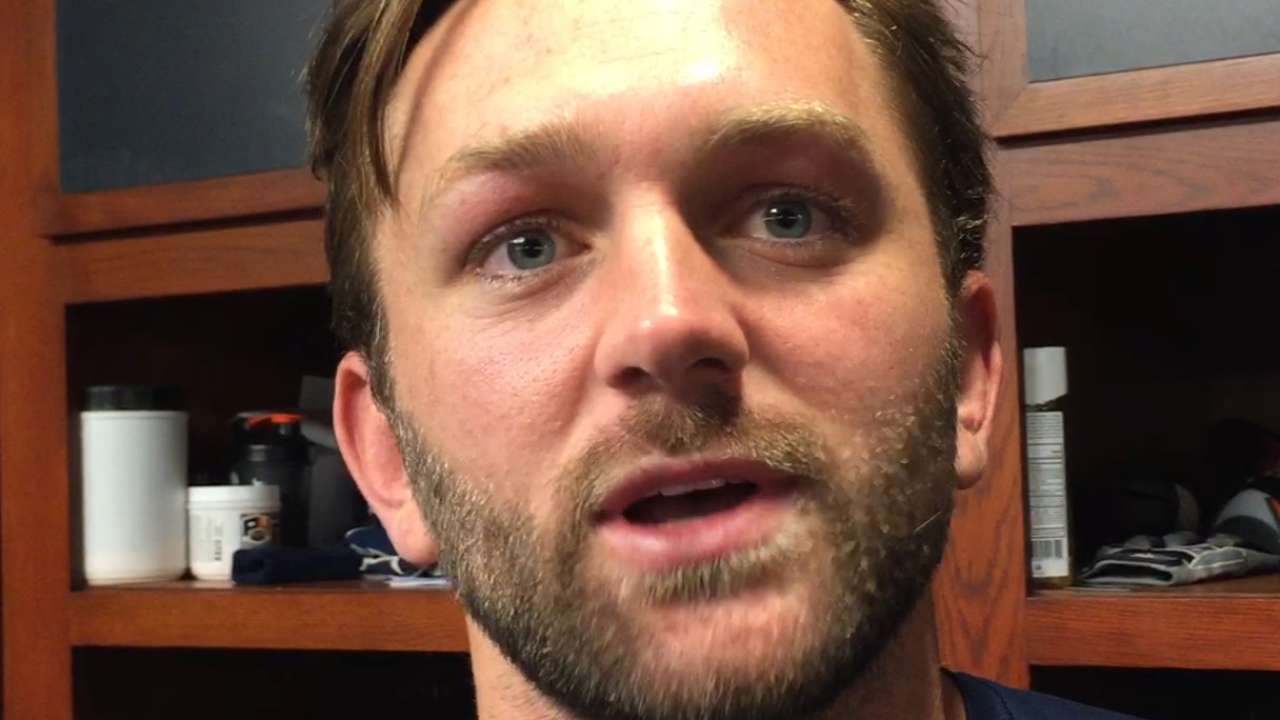 "I think all in all, we're pretty fortunate," Peterson said. "I, especially, am fortunate. We'll see. Hopefully [Herrera] turns out as good as their initial findings."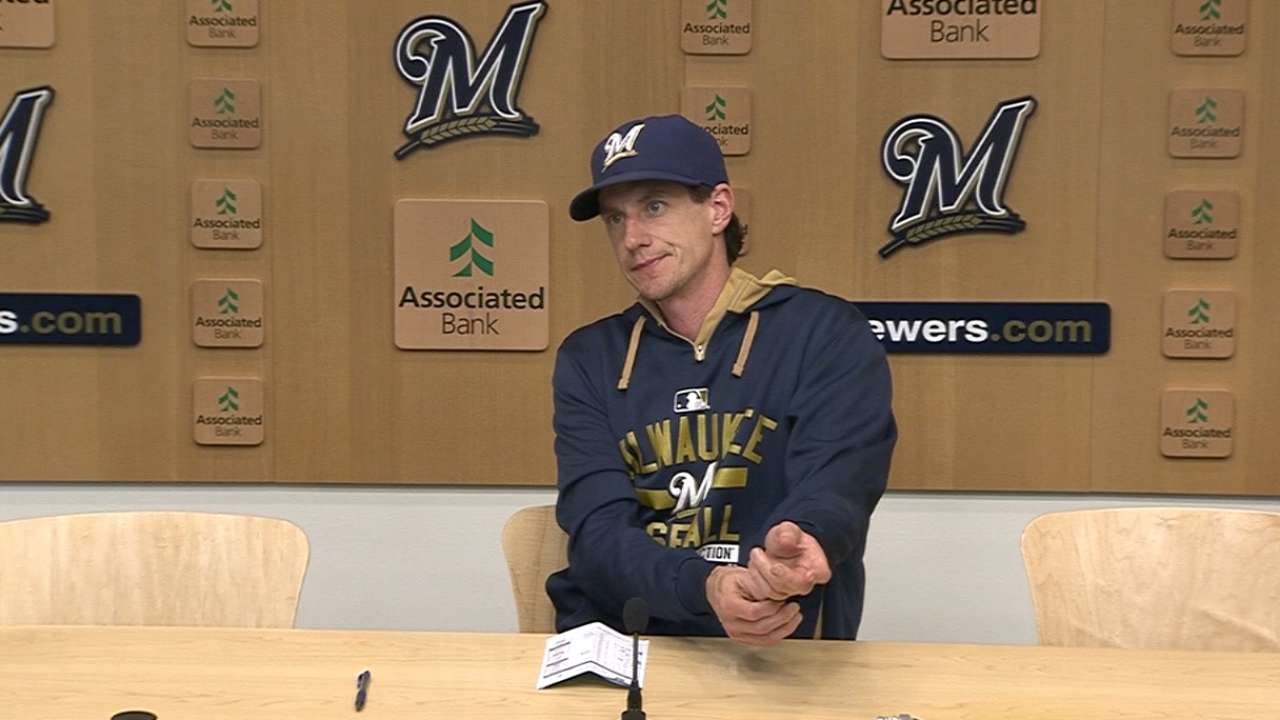 Both players, plus shortstop Jean Segura, gave chase when Skip Schumaker hit a pop fly over third base with two outs in the eighth. Herrera and Peterson slid into each other hard and stayed down on the grass while medical officials rushed to their side. Schumaker was awarded an RBI double that tied the game at 7.
Peterson eventually got to his feet and walked to the dugout. Herrera was placed on a backboard, then a stretcher, and loaded onto an ambulance cart that transported him off the field. He underwent an X-ray at Miller Park that showed no broken bones and was on crutches in the clubhouse.
Herrera said he would address reporters on Sunday.
"Guys giving everything they've got to try to make a play," manager Craig Counsell said. "I applaud them. It was three guys saying, 'I'm doing everything I can to not let that ball drop.'"
"Game was on the line," Peterson said. "Neither of us thought we could really get to it, so neither of us wanted to call it. It's one of those plays that just -- everybody was trying to make the catch."
Said center fielder Logan Schafer: "Any time you have a ball in no-man's land like that one, it's always scary. We're taught different things. The outfielder is supposed to slide feet first and the infielder is supposed to go over the top. When it's in a place like that, especially in that time of the game, we're all going all-out to get it."
It was one of three bloops in the inning off Brewers reliever Tyler Cravy, who fell to 0-7 despite allowing no hard hits. Two batters after Schumaker tied the game, Brandon Phillips gave the Reds the lead with a two-run single over second baseman Scooter Gennett's outstretched glove.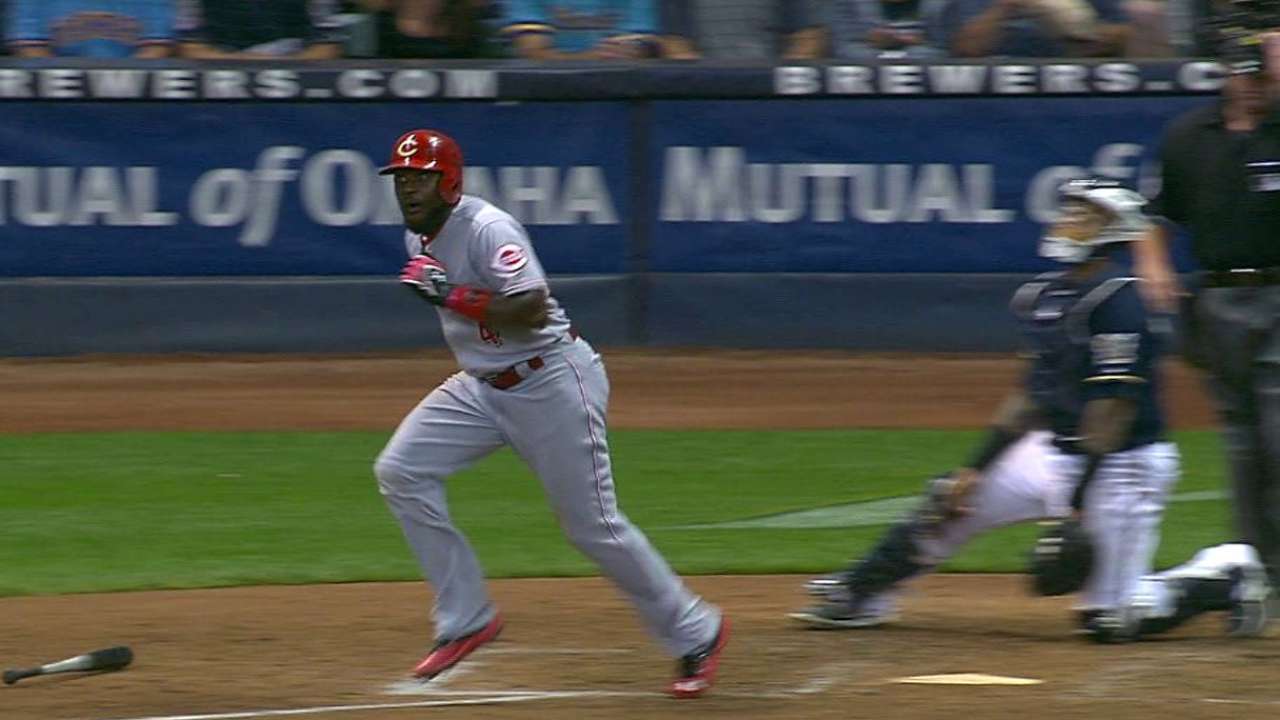 "It's really tough [to see teammates injured]," Cravy said, "especially after seeing Jimmy go down a couple nights ago. You try to just put it in the back of your mind and remember you have a job to do."
• Nelson rejoins team 2 days after scary incident
Counsell said Brewers coaches would meet Sunday morning to discuss their outfield options, with Peterson likely out and Davis questionable. Right fielder Ryan Braun may also have to miss another start with the stuff back that kept him sidelined Saturday.
"I think we had our glove on six or seven balls tonight, we just, for whatever reason, couldn't keep it in the glove," Counsell said. "That inning, you just kind of throw your hands up."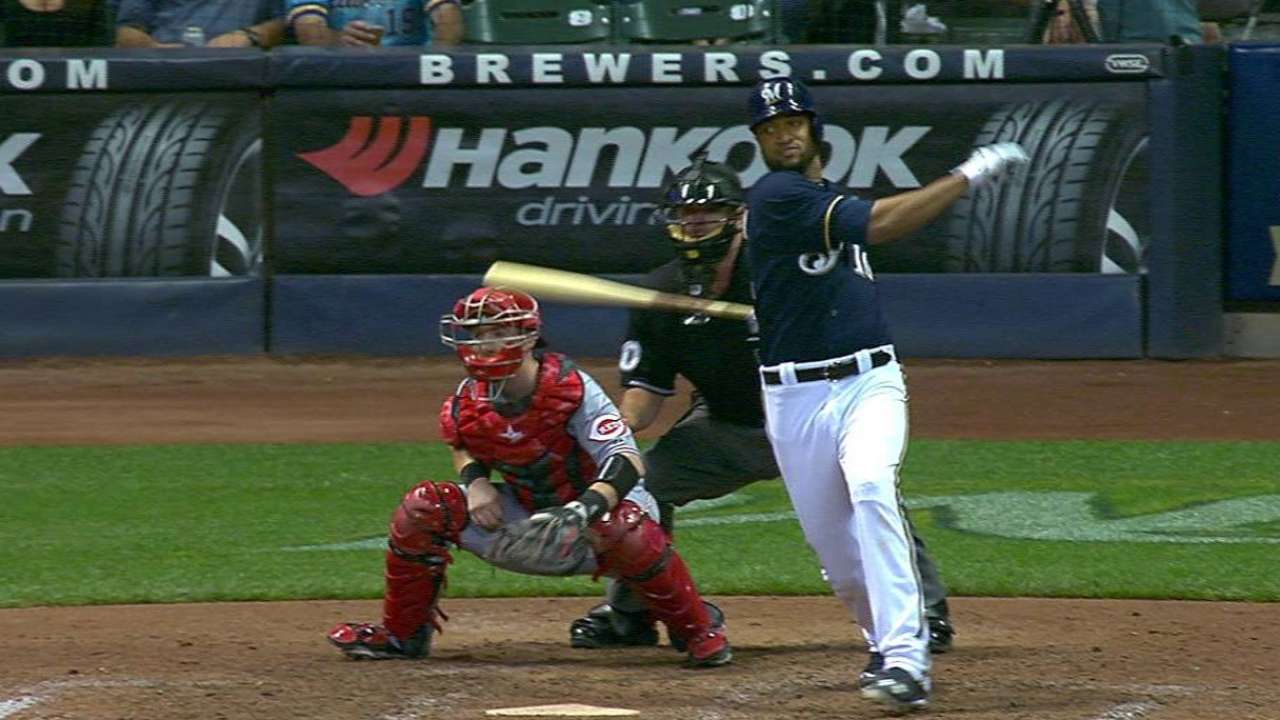 Adam McCalvy is a reporter for MLB.com. Follow him on Twitter @AdamMcCalvy, like him on Facebook and listen to his podcast. This story was not subject to the approval of Major League Baseball or its clubs.