A-Rod, Teixeira, Miller named Esurance nominees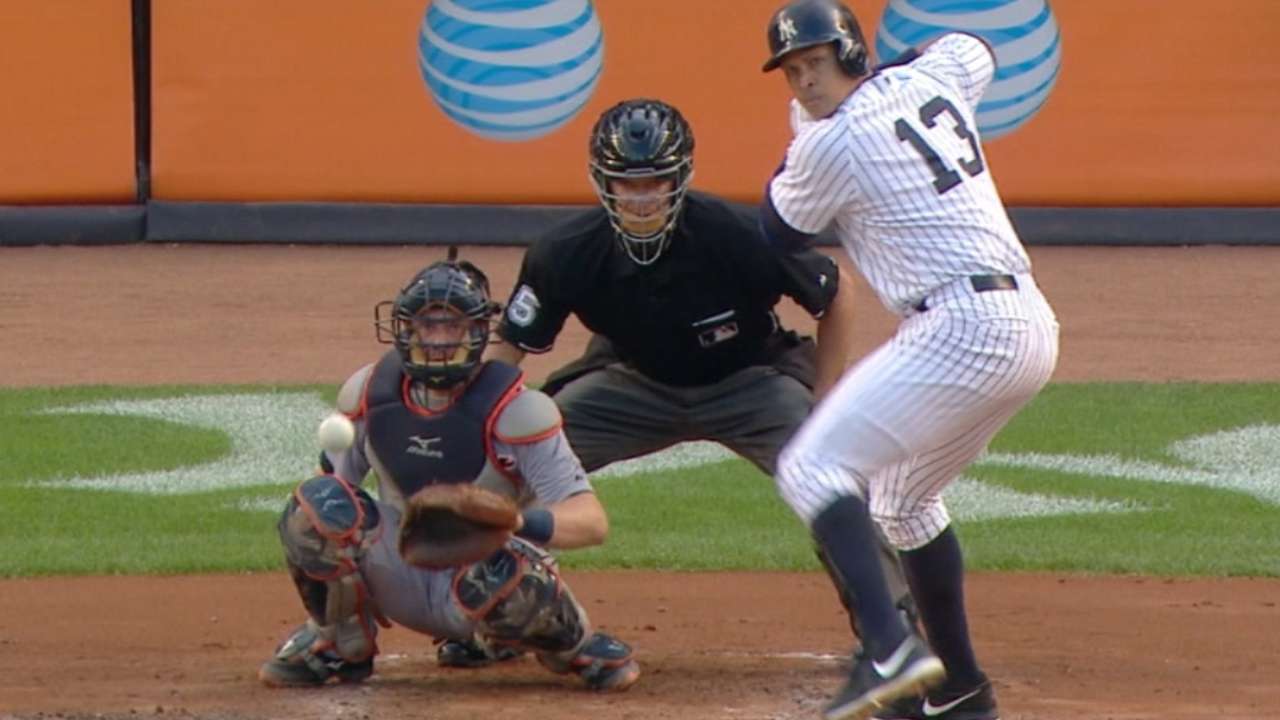 NEW YORK -- The Yankees returned to the playoffs for the first time in three years, and while that experience lasted just nine innings in the American League Wild Card game, their season provided several moments to consider as the 2015 Esurance MLB Awards continue to be rolled out.
Alex Rodriguez did and said all of the right things as he returned from a season-long suspension, reaching the 30-homer plateau for the first time since 2010 as he earned a nomination for Best Bounceback Player. Rodriguez's 3,000th hit, a June 19 home run off the Tigers' Justin Verlander, also received a nod in the Best Moment category.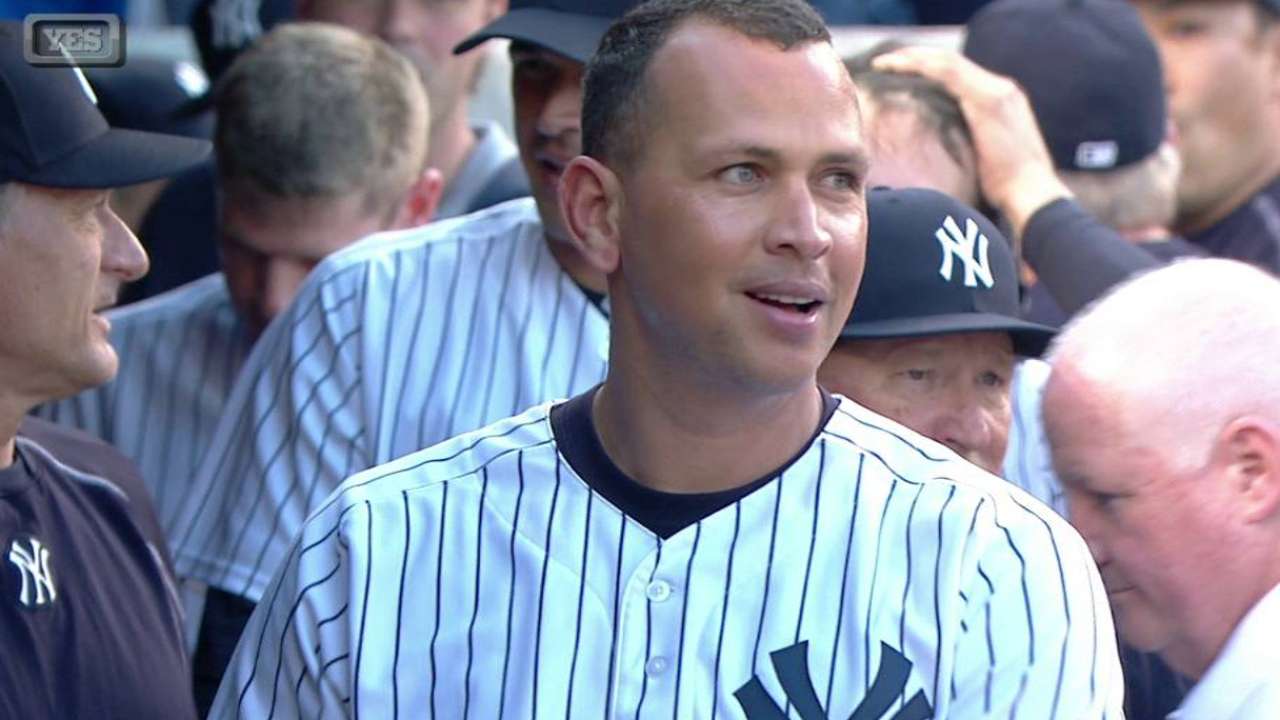 "It starts and ends with our fans," Rodriguez said. "From Day 1, they welcomed me back, so I'm very grateful for that. I'm also grateful to the Steinbrenners and Major League Baseball, our manager and all the guys here in the clubhouse and everyone. I never thought I'd be able to come back and play baseball and have so much fun."
Mark Teixeira reached the 30-homer plateau for the first time since 2011 and was arguably the Yankees' Most Valuable Player before sustaining a season-ending injury, earning a nomination for Best Bounceback Player. Teixeira exceeded his 2014 totals in runs, doubles, homers and RBIs despite playing in 12 fewer games.
Left-hander Andrew Miller was near-automatic in his first assignment as a full-time closer, converting 36 of 38 save opportunities while posting a 2.04 ERA. Miller, who ranked third among all relievers with 100 strikeouts, has been nominated for Best Breakout Player.
"We weren't sure when we came into Spring Training who was going to be the closer," manager Joe Girardi said. "Andrew Miller did a tremendous job."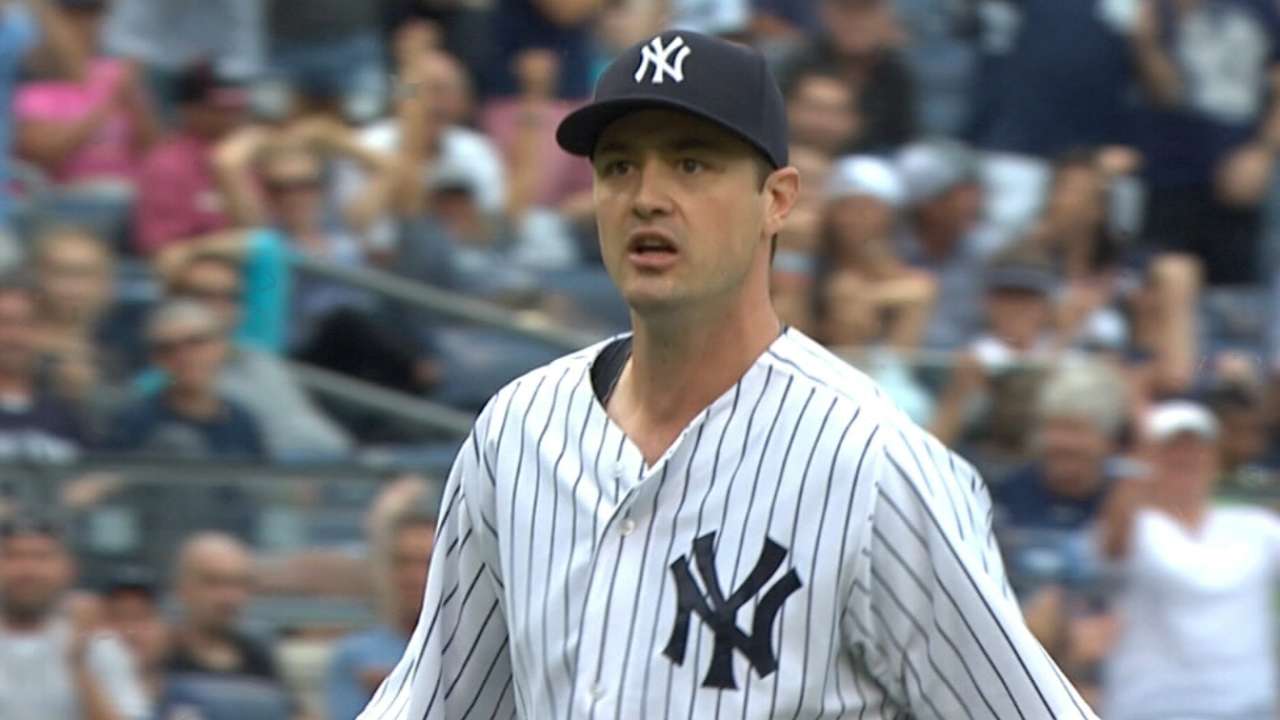 In his eighth year at the helm of the club, Girardi piloted the Yankees to an 87-75 finish, the second-best record in the American League behind the Blue Jays (93-69). Girardi, the only current manager to guide his teams to winning records in each of the past eight seasons, has been nominated in the Best Manager category.
Serving his 18th season as the Yankees' general manager, a run that would have once been unheard of, Brian Cashman picked up a nomination for Best Executive. Cashman's clubs have compiled a .590 winning percentage (1720-1192), claiming four World Series championships, 12 AL championships and 12 division titles.
The Esurance MLB Awards annually honor Major League Baseball's greatest achievements as part of an industry-wide balloting process that includes five components, each of which accounts for 20 percent of the overall vote: media, front-office personnel, retired MLB players, fans at MLB.com and Society for American Baseball Research (SABR) voters.
Individual awards will go to the Best Major Leaguer in addition to the winners in the following categories: The Best Everyday Player, Starting Pitcher, Rookie, Defensive Player, Breakout Player, Bounceback Player, Manager, Executive, Social Media Personality and postseason performer.
Winners will also be recognized for the year's Best Offensive Play, Defensive Play, Moment, Single-Game Performance, Social Media Post, Celebrity Fan, Fan Catch, Interview, TV Call, Radio Call, Player-Fan Interaction, Video Board Moment and Trending Topic.
The Yankees are represented in several of those categories. Despite once starring in the Red Sox love letter "Fever Pitch," late-night host Jimmy Fallon was often seen in the front row behind home plate at Yankee Stadium, even receiving a visit from Paul O'Neill during one game. He has been tabbed as a nominee for Best Celebrity Fan.
Remember Carlos Beltran's three-run homer off Chris Sale on Sept. 24? Beltran was one of the Yanks' most consistent hitters in the second half, but let's not forget the terrific catch by a young boy in the front row of the left-field seats. That has been nominated for Best Fan Catch.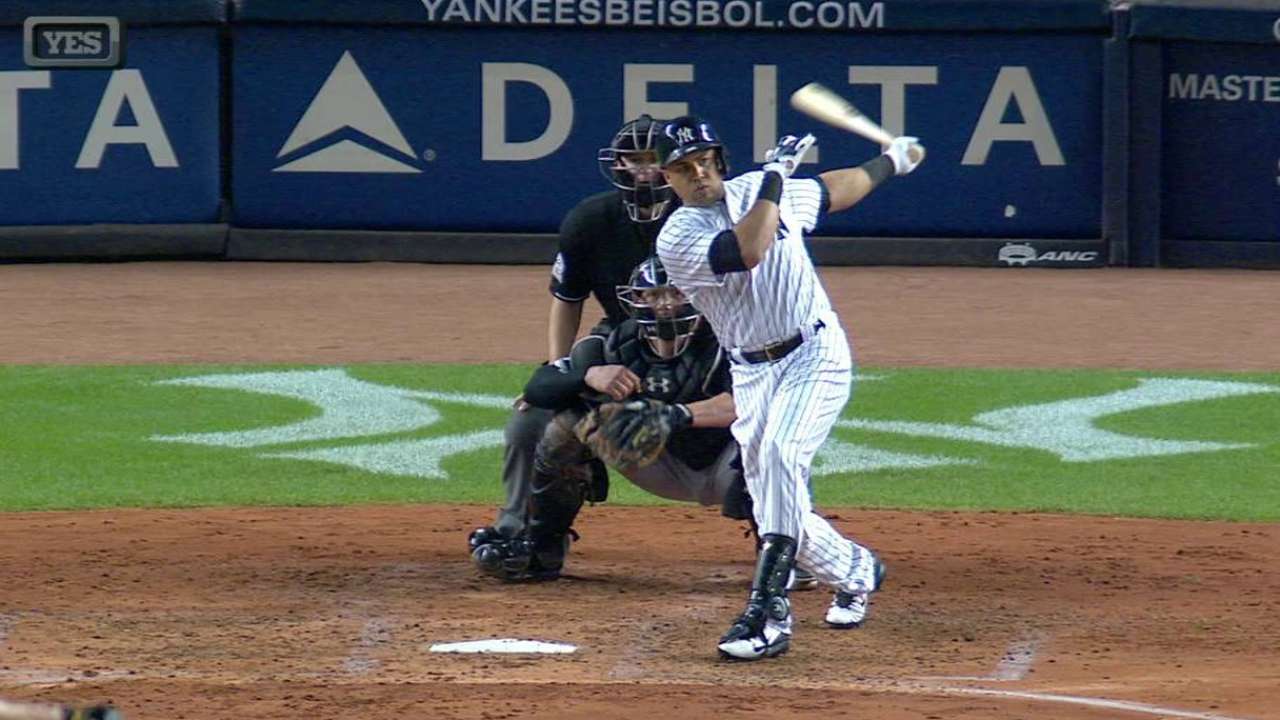 John Sterling is on the ballot, getting props in the Best Call, Radio category for his Sept. 22 call of Greg Bird's go-ahead, 10th inning home run at Rogers Centre that lifted the Yanks to a 6-4 victory over the Blue Jays. Sterling added some trademark flair: "Bye bye, Birdie in the right-field bullpen! It is a three-run home run for the Birdman of New York!"
Finally, the Yankees' team account (@yankees) earned recognition as a contender for Best Social Media Personality, having embraced the digital age by blending their deep tradition with a mix of clever hashtags and timely GIFs.
Voting will remain open through Nov. 13. You can cast your vote by visiting mlb.com/awards. Winners will be announced live on MLB Network and MLB.com on Nov. 20.
Bryan Hoch is a reporter for MLB.com. Follow him on Twitter @bryanhoch, on Facebook and read his MLBlog, Bombers Beat. This story was not subject to the approval of Major League Baseball or its clubs.